My laundry room was awful. And when I say awful, I mean cluttered, messy, inefficient, and crowded. The room itself is small and when we bought this house I didn't care. It was better than what we had in our apartment so I was happy. Now I realize it's more of a hallway to the garage and more of a catch all room than a laundry room.
I think the builder that built my home either got some white wire shelving systems for free, or for a smokin' deal. They put those things ALL OVER my house. In every closet, the linen closet, the laundry room, the pantry, you name it... they put it there! My husband and I hate those stupid things. They're weak, they bend, and things fall through the cracks. Not to mention they're tacky.
Here is the before...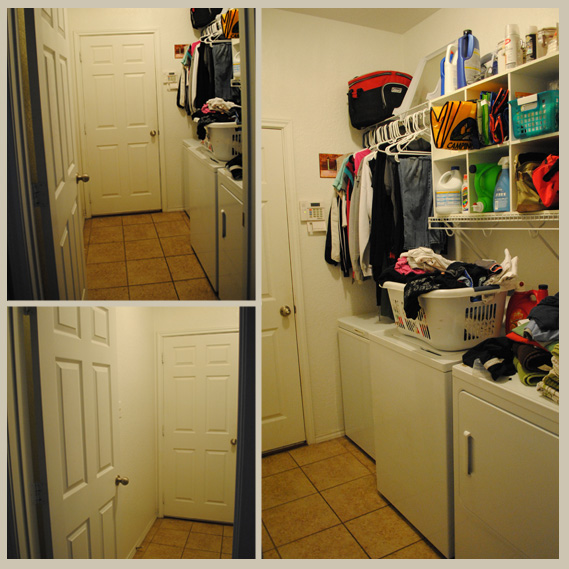 There was actually just the one wire shelf above the washer and dryer. I begged my husband to hang the other one to have something to hang clothes on instead of using the door frame. It worked as ugly as it was. We also took this square shelving unit out of our guest room and stuck it on the other shelf to be able to stack more crap in there.
I'd been wanting to change it up for a while and I knew I wanted cabinets. We finally took the trip to a store on the other side of town where I knew we could get nice cabinets for a great price. We committed, found the ones we liked and headed home. Boy, did I not know what I was in for. The clearing out, the painting, the bending, the back breaking, the cabinet hanging, oh goodness. My back still hates me for it days later!! Future note... recruit extra people to help hang the cabinets. Hindsight is 20/20 right?
After a paint job, hanging cabinets, and a little shelf, here is what it looks like now.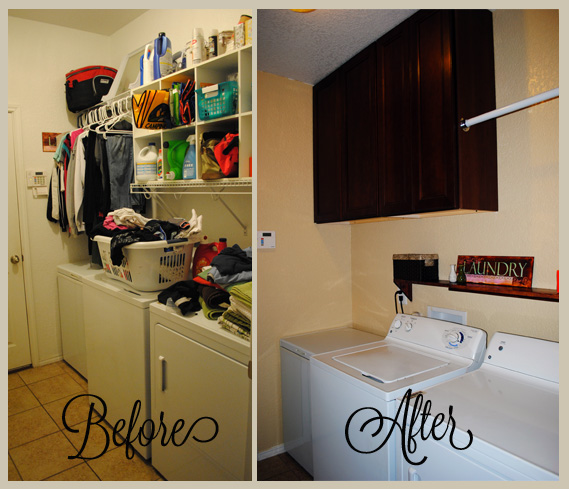 And I love it! We have 10ft ceilings and the 42 inch cabinets really help show that off. The room actually feels larger. Now, the walls match the rest of the house, the wire shelving is gone, and the best part of all, it cost us less than $200 for everything! All it needs now are the front loading washers I recently swooned over in Lowe's. A girl can dream!