Hi there! I'm a wife, sister, daughter, and everyday life enthusiast living deep in the heart of Texas. I am blessed beyond measure and have an unparalleled love for my husband and 2 dogs, Cooper & Sidney. I love crab legs and hate peanut butter. I have a passion for cooking and believe that sitting down to dinner each night is one of the most important parts of the day.
If I'm not cooking something in the kitchen, you'll find me floating the river or snuggling with Cooper & Sidney. Speaking of those two fur babies… meet them!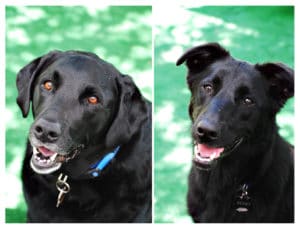 Cooper is our 8 year old, 100lb, full blooded, American Black Labrador Retriever. He's all heart and love. He has the sweetest caramel colored eyes and will "talk" to you all day if you let him. He's by far my biggest kitchen helper. He's sure to taste test everything he can at every opportunity he can. If I'm in the kitchen, you'll be sure to find him there with me. Either staring at me, begging for a taste, or napping at my feet.
Sidney is our 2 year old, 50lb, Black Labrador Retriever/Border Collie mix. She's a rescue from a local shelter here in town. As a puppy, she was kicked by her previous owner's boyfriend. It broke her femur and she required surgery. The previous owner just wanted to put her down, but thankfully the rescue literally came to the rescue! They saved her from that horrible fate and took her in. My husband and I saw one picture of her sweet little face and just had to have her. She's been an absolute joy and bright spot in our lives. She brings so much life to our little family and has a heart of gold. She's the biggest cuddler you can imagine and boy does she love playing in the water! She's a whole lot less interested in being my taste tester and a lot more interested in playing and loving on you!
The two of them are inseparable!
Ahem… now that I've bragged about the two little loves in my life I guess I should get back to me.
I've been cooking since I was a child. I often get asked how I learned to cook, and honestly, I don't remember actually sitting down and being taught. What I remember is getting a stool and constantly helping my mom and grandma in the kitchen from the moment they would let me. It has always been a part of my life and I have always loved it. Even when I was about 7 years old, my grandma would let me make dishes for her potluck lunches at work. I loved every moment of it. As I've gotten older, I've branched out more and more and my skills improved from there. My favorite stress reliever is going in the kitchen and making a big meal or baking something delicious.
All of my recipes aim to be family friendly, and I will often preface when they may not be to everyone's taste. My husband is by far the pickiest eater I have ever met so most of the meals I make are things he enjoys.
I hope you take some time to look around and find some recipes that you and your family will enjoy. From my little family to yours… welcome to Sweetly Splendid!