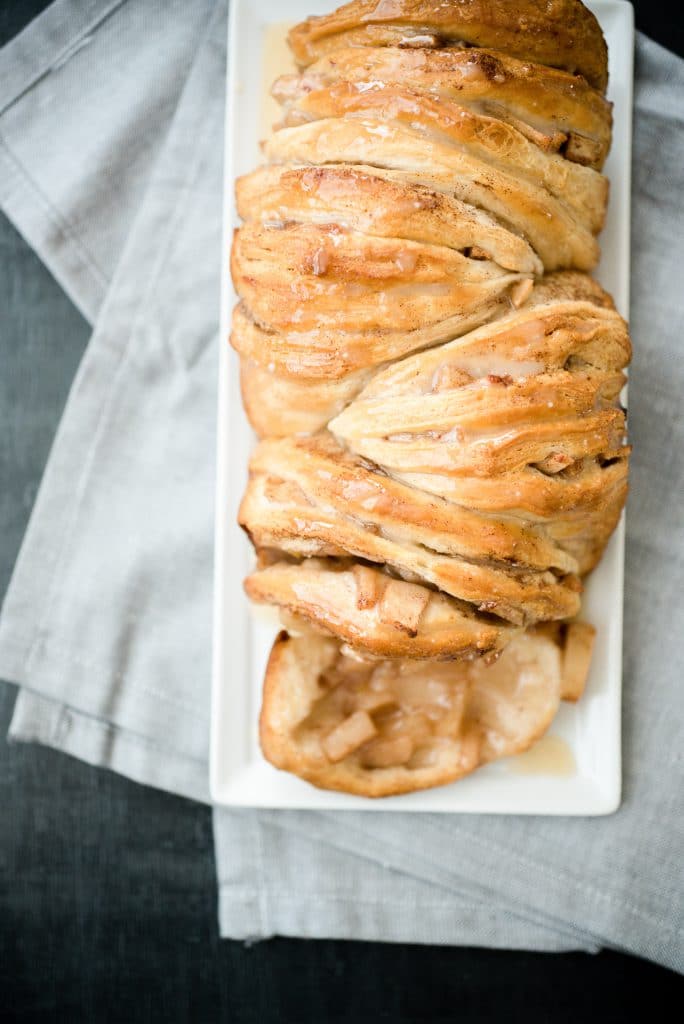 This version of pull apart bread became much more popular than I anticipated! Not only did my husband eat half of this loaf in one sitting, but after also innocently posting it to my snapchat, I got countless messages!
It looks delicious… it IS delicious! It's all of your favorite flavors from apple pie packed into an amazing pull apart bread covered in a delicious glaze.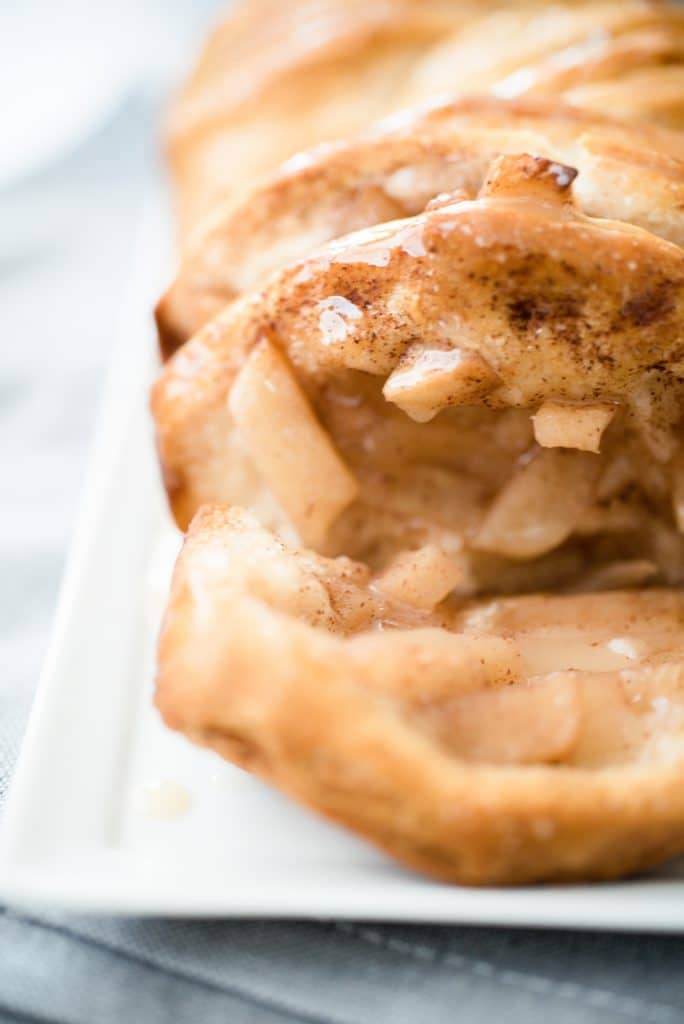 This pull apart bread comes together so easily and really is a breeze to make. When you're putting it together, just be sure to only do stacks of 4 at a time and you'll have no problems at all. I chose to use granny smith apples because I love their taste and texture with cooking. They stand up well and don't get too soggy. If you prefer a different variety of apple, by all means use what you prefer!
I love apple pie, but I'm not always up for making an entire apple pie. I've always loved any version of a pull apart loaf. Whether it's my pizza pull apart (I'll post the recipe soon), or just some old school monkey bread, I love pull aparts. This pull apart loaf brings all the flavors of apple pie in a much easier, much faster version. I have to admit this doesn't last as long as apple pie in my house either!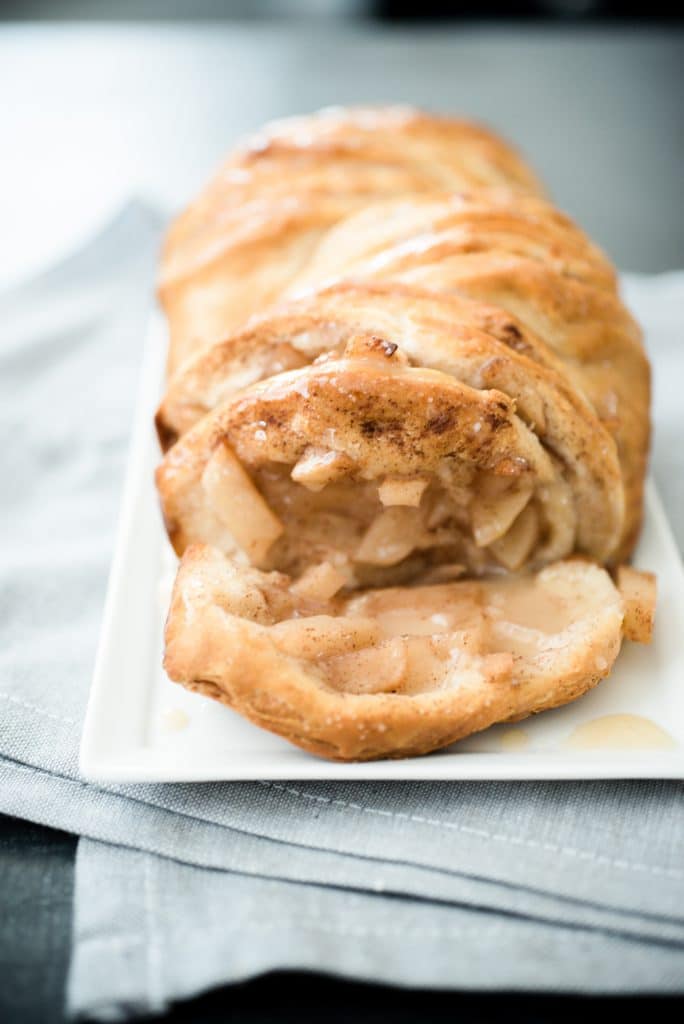 Apple Pie Pull Apart Bread
Author:
Prep time:
Cook time:
Total time:
Ingredients
1 package of Pillsbury Grands Flaky Layers Biscuits
2 large granny smith apples, peeled and chopped
4 tbsp unsalted butter, melted
2 tbsp + 4 tbsp ground cinnamon, divided
2 tbsp + 4 tbsp sugar, divided
1/4 cup powdered sugar
1-2 tbsp water
Instructions
Preheat oven to 350 degrees.
Grease the inside of a standard loaf pan with cooking spray, set aside.
To a skillet, add the apples, 2 tbsp of cinnamon, and 2 tbsp of sugar.
Mix to combine and cook over medium heat until apples have softened.
Remove from heat and set aside.
Take each of the biscuits and peel the layers in half to have 16 thinner biscuits.
Brush butter on to one side of each biscuit.
Sprinkle each biscuit with the remaining cinnamon and sugar (evenly dividing the 4 tbsp of each between all biscuits).
Add a small layer of apples to one of the biscuits.
Top with another biscuit and layer with a small layer of apples.
Continue this until you have 4 biscuits total.
Turn them on their side and lay them in the loaf pan.
Continue this, doing a stack of 4 biscuits at a time to the loaf pan until all biscuits have been used.
Bake in the oven for 15-20 minutes (you need the middle part of the loaf to be fully cooked).
Remove from the oven and allow to cool for 5-10 minutes.
In a small bowl, combine the powdered sugar with water.
Mix until it makes a thick drizzle consistency.
Pour drizzle over loaf and serve!
WW Freestyle Points: 12