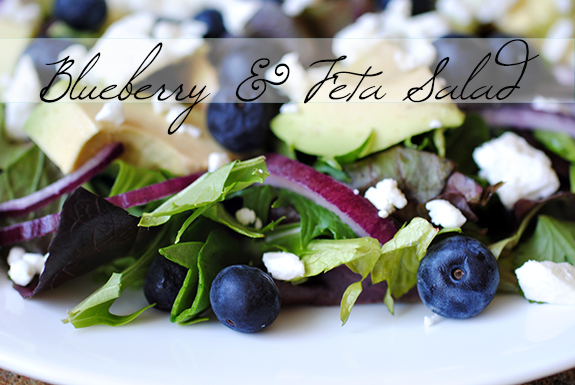 I always like trying new salads and this time was no exception. I like to buy blueberries for things like parfaits, pancakes, and oatmeal, but I never seem to use the whole container. In my attempt to use them up before they went bad, I decided to incorporate them in my salad. It really is a nice little burst of sweet flavor. Like I've said in the past, I buy fat free feta for the protein factor and because I like the taste. You could add chicken to this salad to up the protein, but I like it just the way it is. This salad is also a great source of fiber, packing in 11g per serving.
Blueberry and Feta Salad
Servings: 1
2 Cups Mixed Baby Greens (I used Central Market Herb Garden Mix)
¼ cup Red Onion, sliced
¼ cup Fat Free Feta, crumbled (I used Athenos)
1 cup Blueberries, fresh
¼ cup Avocado, cubed
Place a bed of lettuce on your plate and top with sliced onion and avocado. Place the feta and blueberries on top. Finish off with your choice of vinaigrette dressing. I like using an oregano vinaigrette. Enjoy!
WW Freestyle Points: 3
Nutrition Facts

Servings

1.0

Amount Per Serving
calories

248

% Daily Value *
Total Fat

11

g

17

%

Saturated Fat

2

g

8

%

Monounsaturated Fat

7

g

Polyunsaturated Fat

2

g

Trans Fat

0

g

Cholesterol

5

mg

2

%

Sodium

465

mg

19

%

Potassium

533

mg

15

%

Total Carbohydrate

31

g

10

%

Dietary Fiber

10

g

39

%

Sugars

16

g

Protein

11

g

21

%

Vitamin A

71

%

Vitamin C

54

%

Calcium

19

%

Iron

11

%

* The Percent Daily Values are based on a 2,000 calorie diet, so your values may change depending on your calorie needs. The values here may not be 100% accurate because the recipes have not been professionally evaluated nor have they been evaluated by the U.S. FDA.