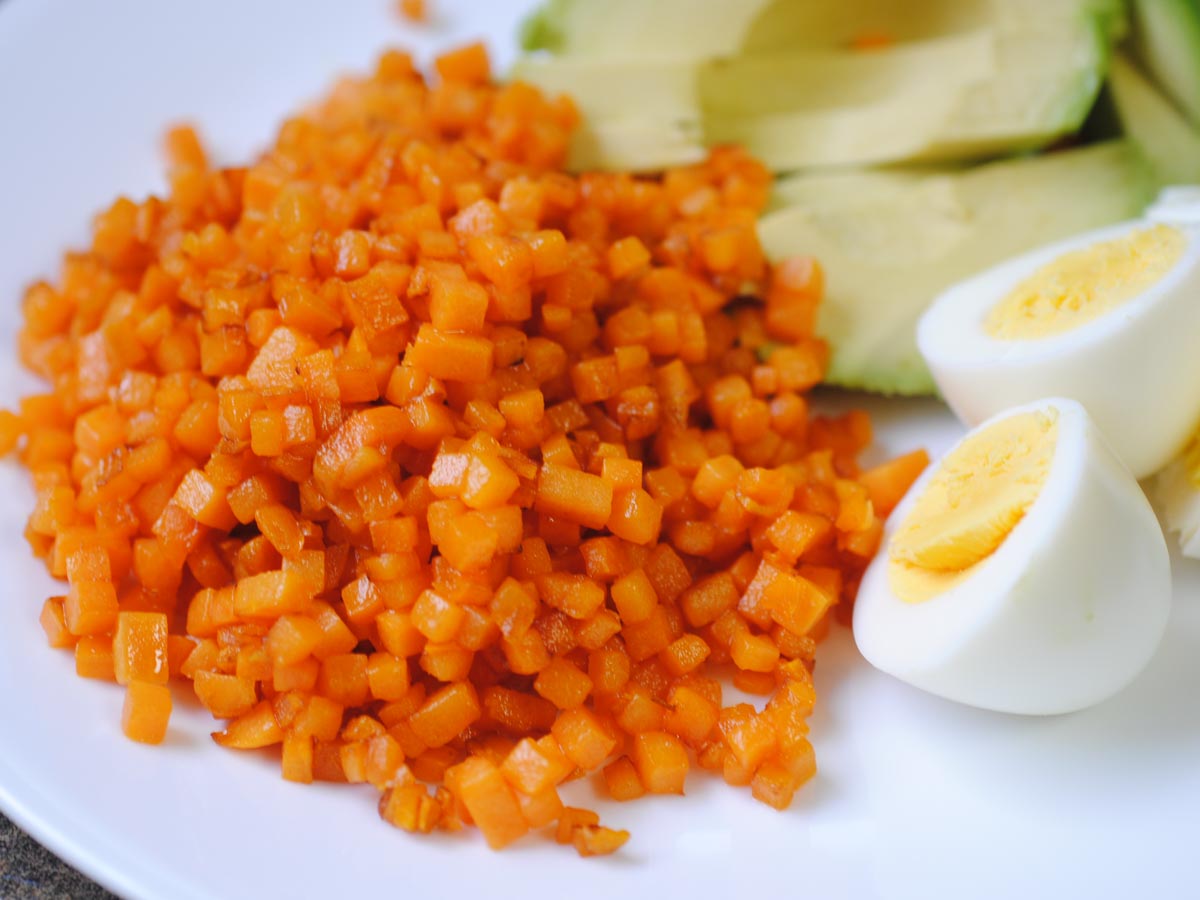 Considering most of the week I'm very strict about my breakfast, either yogurt with granola and fruit, cottage cheese with cantaloupe, or a protein shake, one of my favorite things to have for breakfast on the weekends is sweet potato hashbrowns with eggs and a ½ small avocado. I'm usually up a couple hours before my husband on weekends so for the most part, we usually don't have breakfast together. I get up with the dog around 6:45-7 to feed him and I can't ever go back to sleep. Cooper seems to be able to though! He scarfs it down, goes outside, comes back in and hops back in bed with Jacob. The two of them usually sleep for a couple more hours. I really do enjoy the time though. Our weeks are so busy the past year that it's a couple of hours alone in the morning with my hot green peach tea. Normally I spend that quiet time just reading (which I rarely have time for anymore) and relaxing before the hectic weekend begins.
When I make sweet potato hashbrowns, I always have them with ½ small avocado and 2 eggs. Sometimes I poach my eggs and sometimes I boil them. I'm on a boiled egg kick lately so that's how it's been most recently. The combination of the eggs, the sweet hashbrowns, and the creamy avocado... MMMMM!!!! I don't know what it is but I LOVE this breakfast.
I know these hashbrowns aren't "conventional" hashbrowns, but trust me, if you like sweet potatoes you'll love them! First off, I don't grate my potato, I cube it in tiny little cubes. Hashbrowns can be an undertaking for most people and unless you have experience with them, they usually don't cook evenly. Even when you buy the pre-frozen bagged processed kind from the store. Some people also soak their potatoes before cooking. I don't. I think you get the exact same flavor doing it my way, but without all the work and hassle.
Normally one small sweet potato makes enough hashbrowns for 2 people, or if you're feeling extra hungry...eat it all yourself! (I may or may not have done that before).
Sweet Potato Hashbrowns
2 servings
WW Freestyle Points: 3
1 small sweet potato

½ TBSP Extra Light Tasting Olive Oil
Peel and rinse your sweet potato completely. Cut the potato up into very small cubes. I either use my special chopper or slice the potato into this slices (About ¼") and then cube up the thin slices. Heat a medium sized non-stick skillet over medium high heat. Once the pan is hot, add in the olive oil and sweet potato cubes. Even out the potato on the pan to make sure all the cubes are touching the pan. Let the potatoes cook for about 3 minutes without touching them. Once they start to break down a little, you can then continue to cook stirring them and allowing them to crisp up and become tender on the inside. They'll start to develop a little yellow-ish color and that's when you know they're almost done. Once all the potatoes are cooked, place them on a paper towel lined plate to drain. Even though you used little oil, they still need to drain slightly. Serve up and enjoy!
Nutrition Facts

Servings

2.0

Amount Per Serving
calories

85

% Daily Value *
Total Fat

3

g

5

%

Saturated Fat

1

g

3

%

Monounsaturated Fat

2

g

Polyunsaturated Fat

1

g

Trans Fat

0

g

Cholesterol

0

mg

0

%

Sodium

36

mg

1

%

Potassium

219

mg

6

%

Total Carbohydrate

13

g

4

%

Dietary Fiber

2

g

8

%

Sugars

3

g

Protein

1

g

2

%

Vitamin A

184

%

Vitamin C

3

%

Calcium

2

%

Iron

2

%

* The Percent Daily Values are based on a 2,000 calorie diet, so your values may change depending on your calorie needs. The values here may not be 100% accurate because the recipes have not been professionally evaluated nor have they been evaluated by the U.S. FDA.