Basmati Rice in the Instant Pot is so easy! It's the perfect way to get fluffy rice for your meal prep, weeknight dinners, and family gatherings.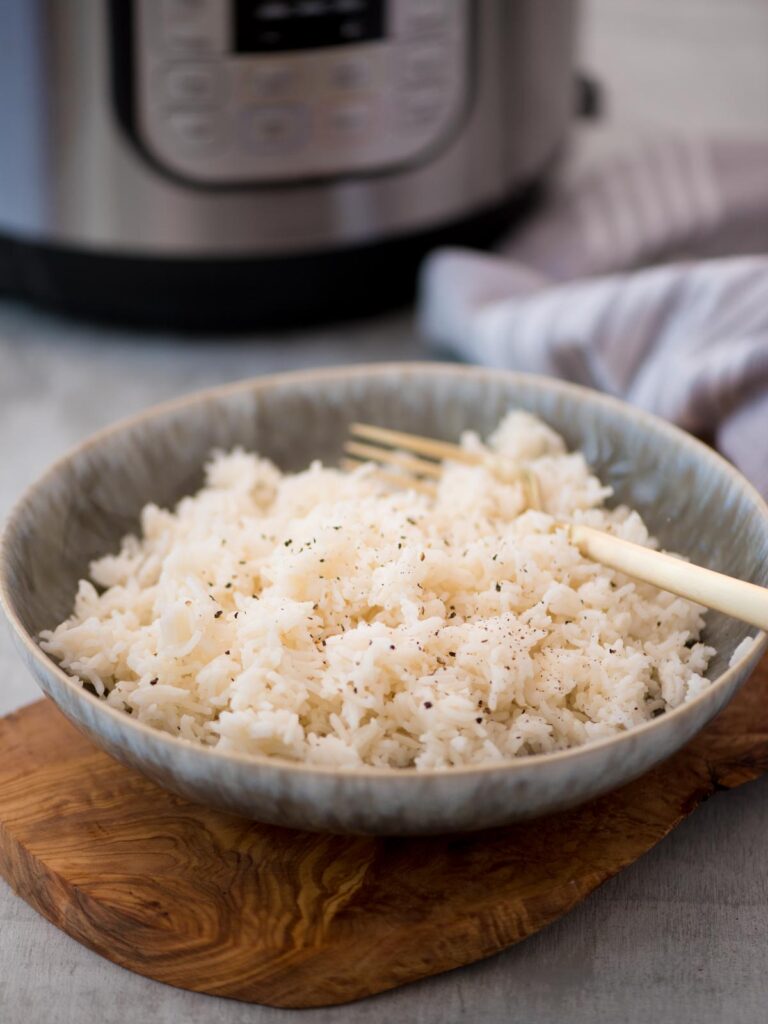 ​​This post may contain affiliate links. This means if you decide to purchase through my link, I may earn a very small commission at no additional cost to you.
basmati rice in the instant pot
Rice is the ultimate side dish. It goes with so many dishes and cuisines!
My favorite type of rice might have to be fluffy basmati rice. It is a flavorful, long-grain rice grown in the Himalayas and Pakistan.
I love that the rice doesn't become sticky and mushy. When you make basmati rice in an instant pot, it gives the perfect fluffy texture with separated rice grains.
In the Hindi language, "bas" means "aroma" and "mati" means "full of," meaning that basmati rice is "full of aroma." It has a slightly nutty flavor and pairs well with Pakistani and Indian foods especially.
Making rice in the Instant Pot is game-changing. Need a quick side dish to go with your dinner or to add to your weekly meal prep routine? Look no further than this easy IP recipe.
why you'll love this instant pot basmati rice recipe
Make basmati rice in the pressure cooker once, and you'll never go back. This is an easy method and simple recipe.
While making white basmati rice on the stove top is easy as well, making it in the Instant Pot has some perks.
Here's why I think you will love this recipe:
With Instant Pot recipes, you can set it and forget it while you do other stuff in the kitchen — or relax on the couch!
You get consistent results from this popular pressure cooker. You will get perfect rice every time.
It's an Instant Pot basic recipe. It's so easy to make and one you will be so glad you know!
No need for an extra "one-use" appliance like a rice cooker.
basmati rice vs. jasmine rice
While both are common types of white rice, Basmati rice is different from Jasmine rice.
The main difference comes down to where they are grown. Basmati is grown in India and Pakistan, while Jasmine rice is grown in Thailand.
They are both long-grain varieties of rice and become nice and fluffy, not sticky when cooked. Jasmine is more plump and soft, while basmati is a bit drier and chewier.
ingredients for perfect instant pot basmati rice
You only need two simple ingredients to make this.
Here's what you need to make this Basmati Rice Instant Pot recipe:
basmati rice – You can substitute brown basmati rice with a couple of caveats. See below for more about this!
water or broth – Use any broth or stock of your choice (I love using chicken broth), or simply use water.
If you substitute brown basmati rice, it will need extra cooking time and potentially additional liquid. Head down to the section below called "Instant Pot brown basmati rice" for more about how to do this.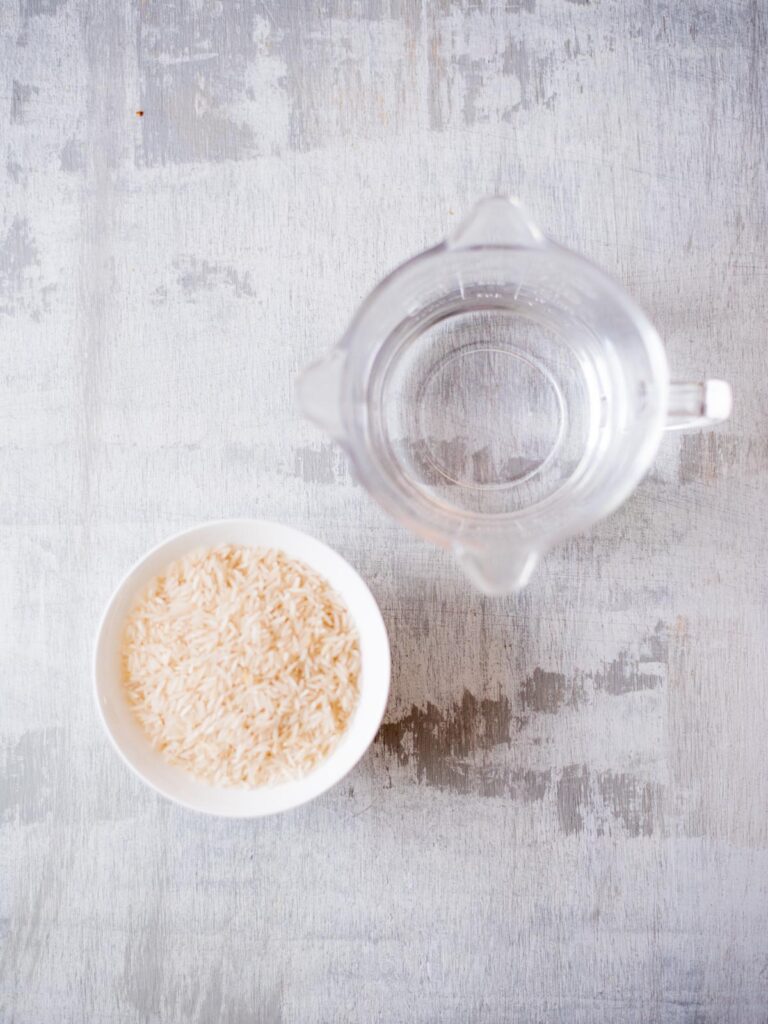 best organic basmati rice
My go-to brand of organic basmati rice is Lundberg California Organic Basmati Rice, but there are others out there. I've also used Seeds of Change and Royal Basmati.
The folks at L'Academie put together a list of the best brands of organic basmati rice if you need more help choosing a brand!
how to make instant pot basmati rice
(A full, detailed, printable recipe card can be found at the bottom of this post)
You are not going to believe how easy it is to make Instant Pot rice! Here's what to do:
Place rice and water into the Instant Pot.
Place the lid on the Instant Pot and set the valve to SEALING.
Cook on HIGH PRESSURE for 6 minutes.
NATURAL PRESSURE RELEASE for 10 minutes.
If there is any remaining pressure, let it quick release.
Open the lid of the pressure cooker and fluff the rice with a fork.
That's it! Seriously, in just under 20 minutes of cook time, you have perfect basmati rice, every single time.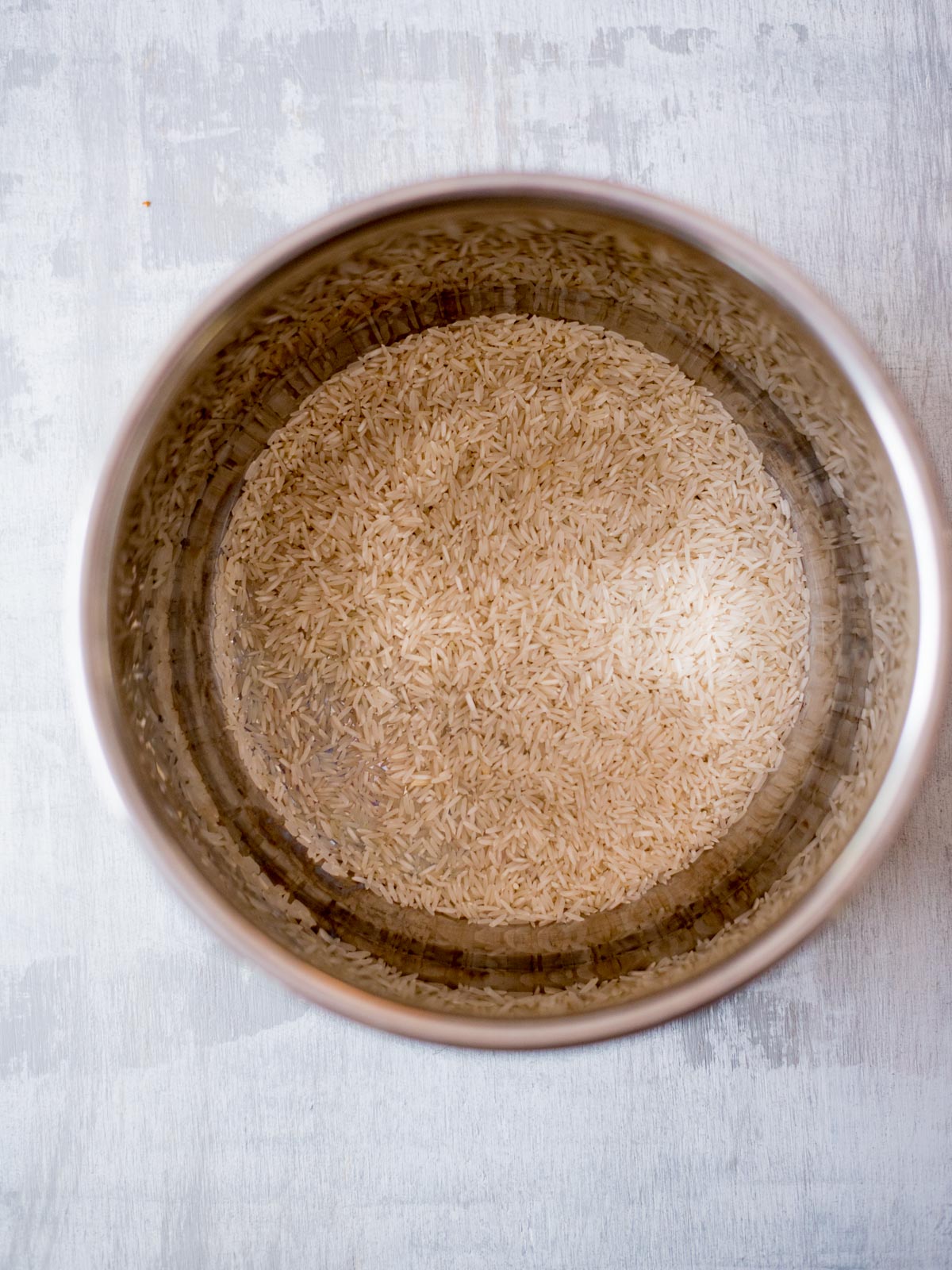 Instant Pot rice ratio
When it comes to the cups of water to cups of rice ratio, for Basmati you'll want to use 1¼ cup of water or broth for every 1 cup of rice.
Other rice recipes made in the electric pressure cooker may need different ratios. That includes instant pot brown rice and basmati brown rice. You'll want to refer to the section titles "Instant Pot brown basmati rice" for the correct cups water.
Having the correct water ratio is important for the best results and perfect texture. Less water will give you a chewier texture while too much water can result in mushy or sticky rice.
tips & tricks for fluffy instant pot basmati rice
If you rinse your rice, it will still have excess water on it so reduce the water amount in the Instant Pot down to 1 cup + 1 tablespoon. The amount of water will make a difference in the end result.
Make sure you are nearby so you hear the timers on your Instant Pot or set up a timer if you have to walk away. You don't want to miss the window to start the natural release of pressure or you risk overcooking your rice!
If you'd like to add more flavors to the rice, feel free. You can add a bit of lime zest and cilantro for Southwest dishes or spices for other cuisines. We love to make this saffron rice sometimes!
how to store rice
Always let the rice cool down before storing it. You can store cooked rice in an airtight container in the fridge. Enjoy within 1 day.
If you prefer to freeze rice, you can! It's a game-changer for quick dinners. Simply Recipes has a great tutorial for freezing rice, but here's the gist:
Place the rice in freezer-safe bags and freeze for up to 3 months. When you're ready to cook it, dump it out of the bag and microwave it, or throw it into a soup like this easy Chicken and Rice Soup!
how to reheat rice
If you stored rice in the fridge, you can easily reheat it in the microwave.
Move it to a microwave-safe container. Then wet a paper towel and squeeze out any extra liquid. Place the paper towel on top of the rice and microwave in 30-second intervals until heated through.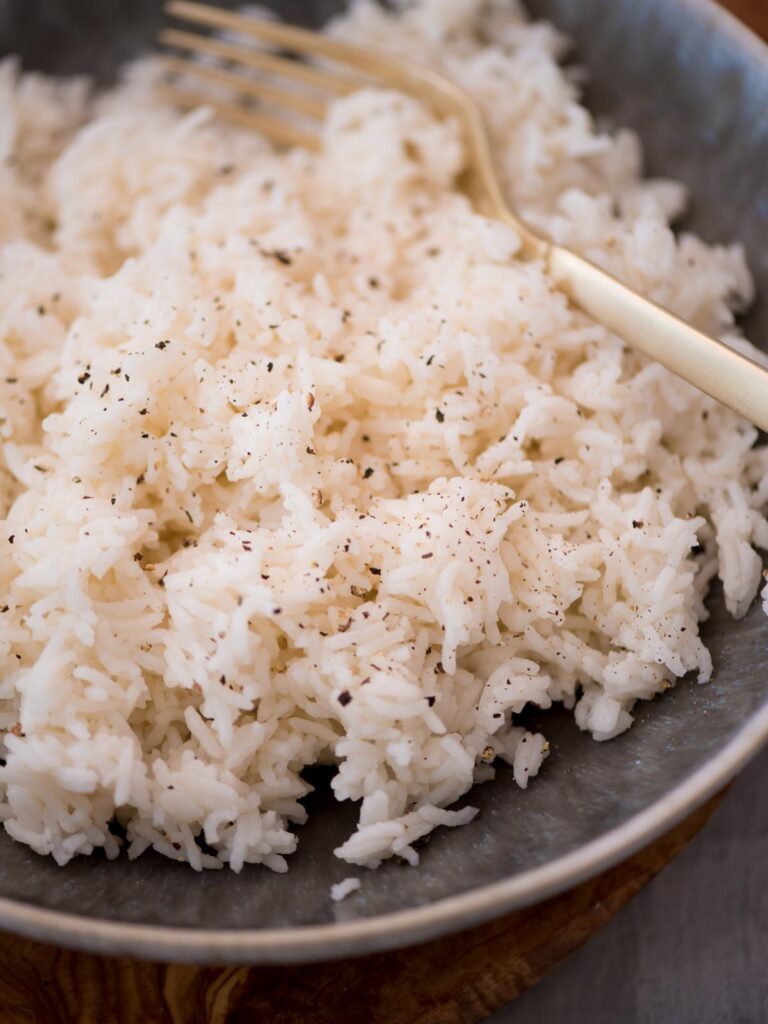 basmati rice substitute
Feel free to use brown basmati rice instead of white (see the next section for cooking details.
If needed you can also use another long-grain white rice in this recipe, such as jasmine rice.
Instant Pot brown basmati rice
Depending on the brand of brown basmati rice, an additional ¼ cup of liquid may be needed for fluffier, softer rice.
It will need to cook for 10 minutes high pressure (instead of 6 minutes) and give it 10 minutes of natural release.
what to eat with basmati rice
Basmati rice is so good with so many dishes! It goes well with all kinds of cuisines, but especially Indian and Pakistani dishes like Egg Biryani, Butter Chicken, or Sheet Pan Curry Chicken. (Don't forget the naan!)
Rice of all varieties goes really well with chicken dishes, like a chicken and rice skillet, a chicken broccoli rice casserole, or chicken meatballs.
At my house, we usually make jasmine rice for Asian dishes, but if we ever run out, basmati is a good substitute. It works well with my beef teriyaki or General Tso chicken.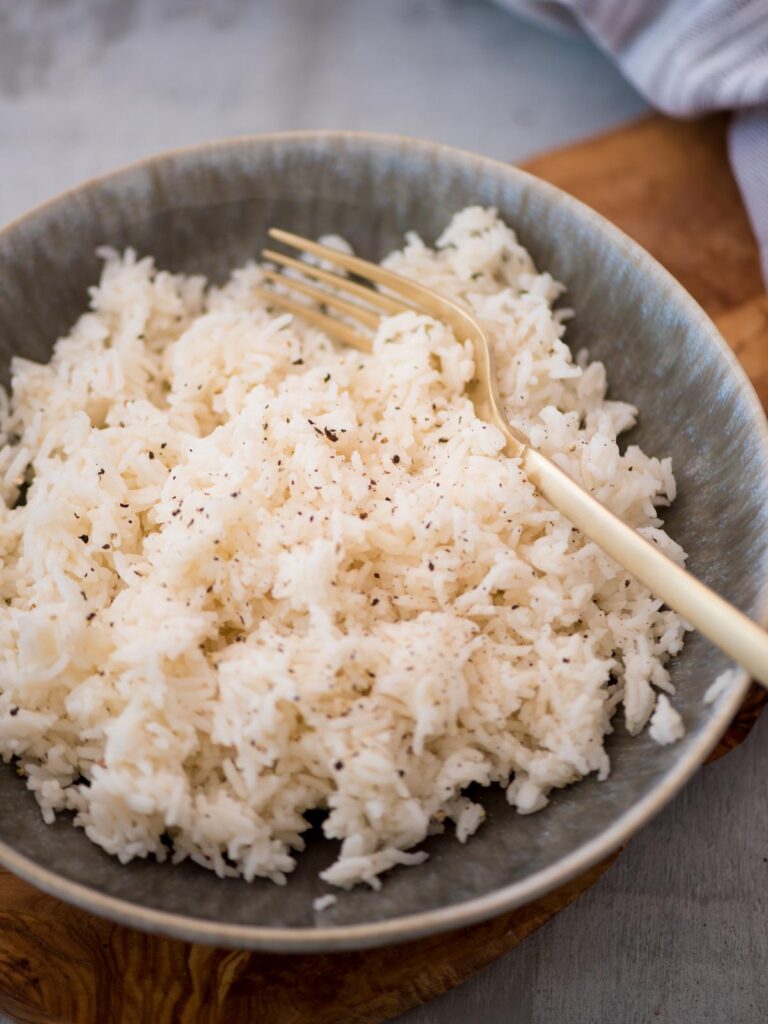 products used to make instant pot basmati rice
frequently asked questions about basmati rice
Is basmati rice healthy?
Basmati rice is gluten-free and cholesterol-free, as well as low in fat and sodium. In addition, brown basmati rice is considered a whole grain.
Is basmati rice vegan?
Yes, basmati rice is vegan if cooked with water or vegetable broth.
Is brown basmati rice gluten free?
Like all rice, brown basmati rice does not contain any gluten.
Is basmati rice gluten free?
Rice does not contain gluten, so it's safe to eat basmati rice if you follow a gluten-free diet.
Can I use the rice setting of my instant pot pressure cooker?
I don't recommend it. Different rice varieties need different cooking times. Some need high pressure, while some might require low pressure. I would stick with manually choosing the settings.
More Instant Pot Recipes
Instant Pot Basmati Rice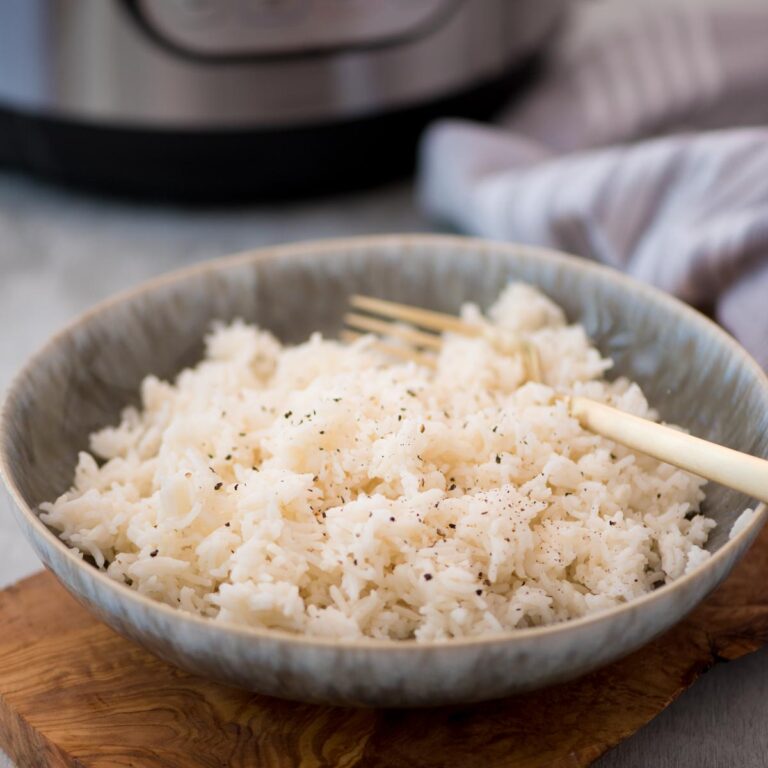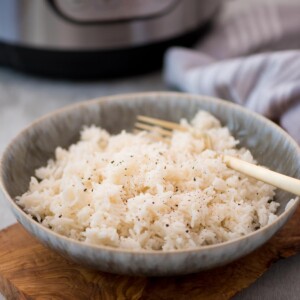 Basmati Rice in the Instant Pot is so easy! It's the perfect way to get fluffy rice for your meal prep, weeknight dinners, and family gatherings.
Instructions
Place rice and water into the Instant Pot.

Place the lid on the Instant Pot and set the valve to SEALING.

Cook on HIGH PRESSURE for 6 minutes.

NATURAL RELEASE for 10 minutes.

Open the lid and fluff the rice with a fork.
Notes
If you rinse your rice, it will still have liquid on it so reduce the water amount in the Instant Pot down to 1 cup + 1 tablespoon
Nutrition
Serving:
1
serving
,
Calories:
34
kcal
,
Carbohydrates:
7
g
,
Protein:
1
g
,
Fat:
0.1
g
,
Saturated Fat:
0.02
g
,
Polyunsaturated Fat:
0.02
g
,
Monounsaturated Fat:
0.02
g
,
Sodium:
3
mg
,
Potassium:
9
mg
,
Fiber:
0.1
g
,
Sugar:
0.01
g
,
Calcium:
4
mg
,
Iron:
0.1
mg
Nutrition information is automatically calculated, so should only be used as an approximation.
Nutritional information is provided as a courtesy. It should only be used for estimation purposes and is not a guarantee of any kind. Nutritional information varies widely between brands and types of ingredients used. It is recommended that you calculate the nutritional information based on your own ingredients and brands used. Sweetly Splendid, LLC makes no guarantees as to the exact nutrition information.