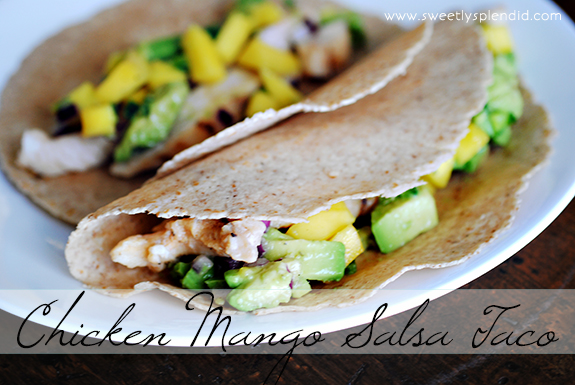 This is a favorite "go-to" of mine and another part of the Super Simple Series. It's super quick, super simple, and has a nice amount of protein, healthy fats, and carbs. I use a specific type of tortilla, but feel free to use whatever kind you like. My nutrition info is based on the specific type though. I really like these for their low carb, high fiber content. These would also be super easy to pack and take with you to work. You could place the two tortillas in zippies, the salsa in a small container and the chicken in another small container. Easy Peasy! It uses the Avocado Mango Salsa recipe I posted a few days ago for a sweet and spicy kick.
Chicken Mango Salsa Tacos
Servings: 1
Nutrition per serving
Calories: 309     |     Carbs: 30     |      Protein: 32      |     Fat: 12
2 La Tortilla Factory Whole Wheat Tortillas, Low Carb, High Fiber (I found them at HEB)
3 oz. fully cooked, sliced, Chicken Breast (I used HEB precooked, seasoned, grilled)
1 serving of Avocado Mango Salsa
Warm up the 2 tortillas in the microwave for about 20 seconds and place on your plate. Lay 1/2 of chicken breast in each tortilla and top each one with avocado mango salsa. Eat up and enjoy!