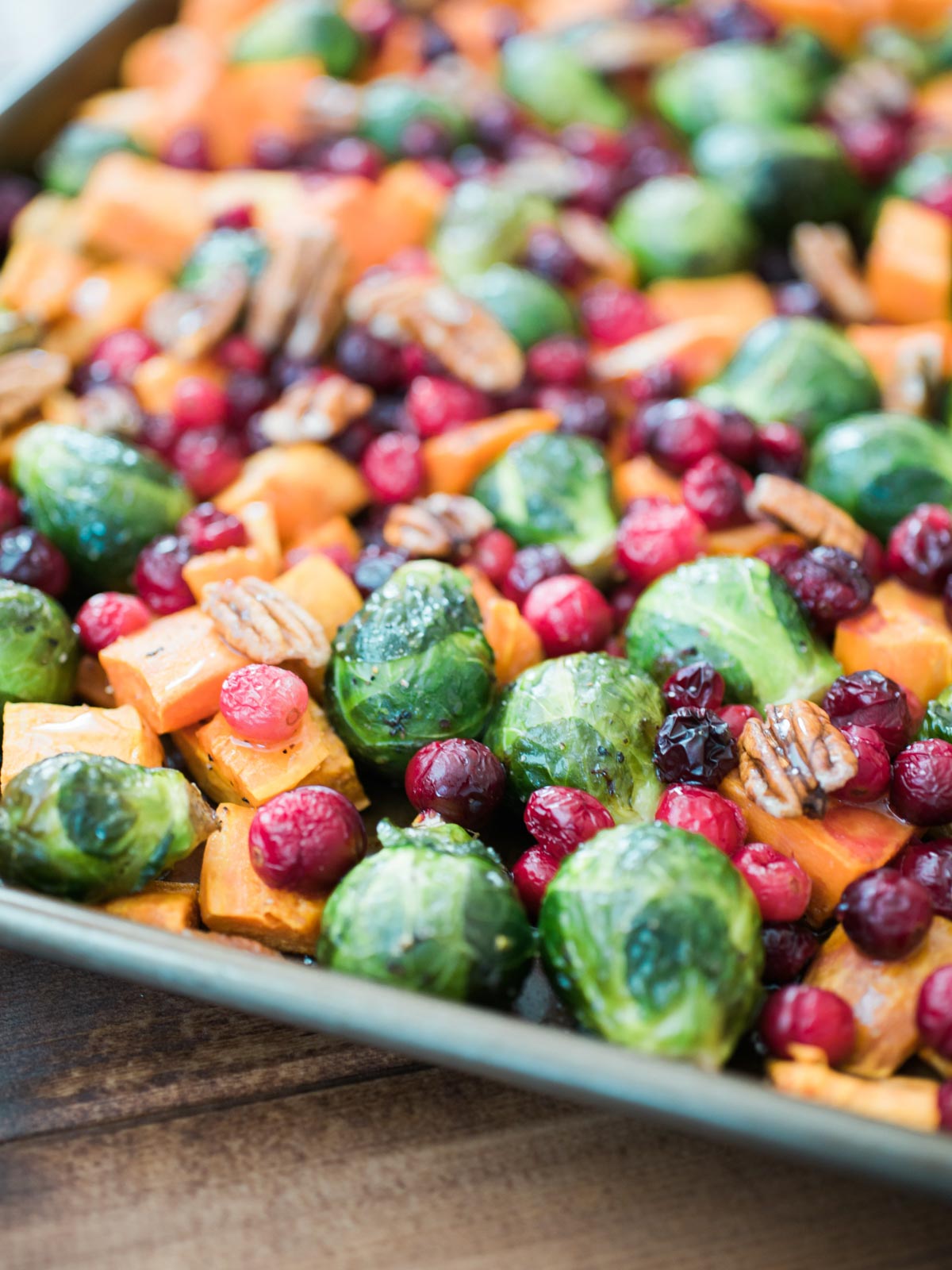 I've been trying to post this recipe for 3 years. THREE YEARS. That's how long ago I made this recipe. For some reason, life got the best of me and I wasn't able to even take pictures of it in 2015. Then, in 2016 I made the recipe again, still loved it and was able to take pictures. Last year in 2017, I told myself (when I wasn't able to cook) that I could still post this because the pictures had been taken and recipe written. Then for some reason or another, it was still never posted. It's a seasonal recipe so I couldn't just post it anytime. Finally, 3 years later, I'm finally posting this.
If you're looking for a Thanksgiving side dish, or even just a lighter Fall side dish, this is your ticket. I used to hate brussel sprouts. I can't ever remember even trying them until high school. My mom and I were on South Beach Diet and one of the recipes called for brussel sprouts. I don't know if it's the way they were cooked or the recipe itself, but they were so bitter. We couldn't even choke them down. On the course of being on that diet, we choked down a lot of things we didn't like, but for some reason those brussels were so bitter we couldn't even get them down. We both spit them out and couldn't finish.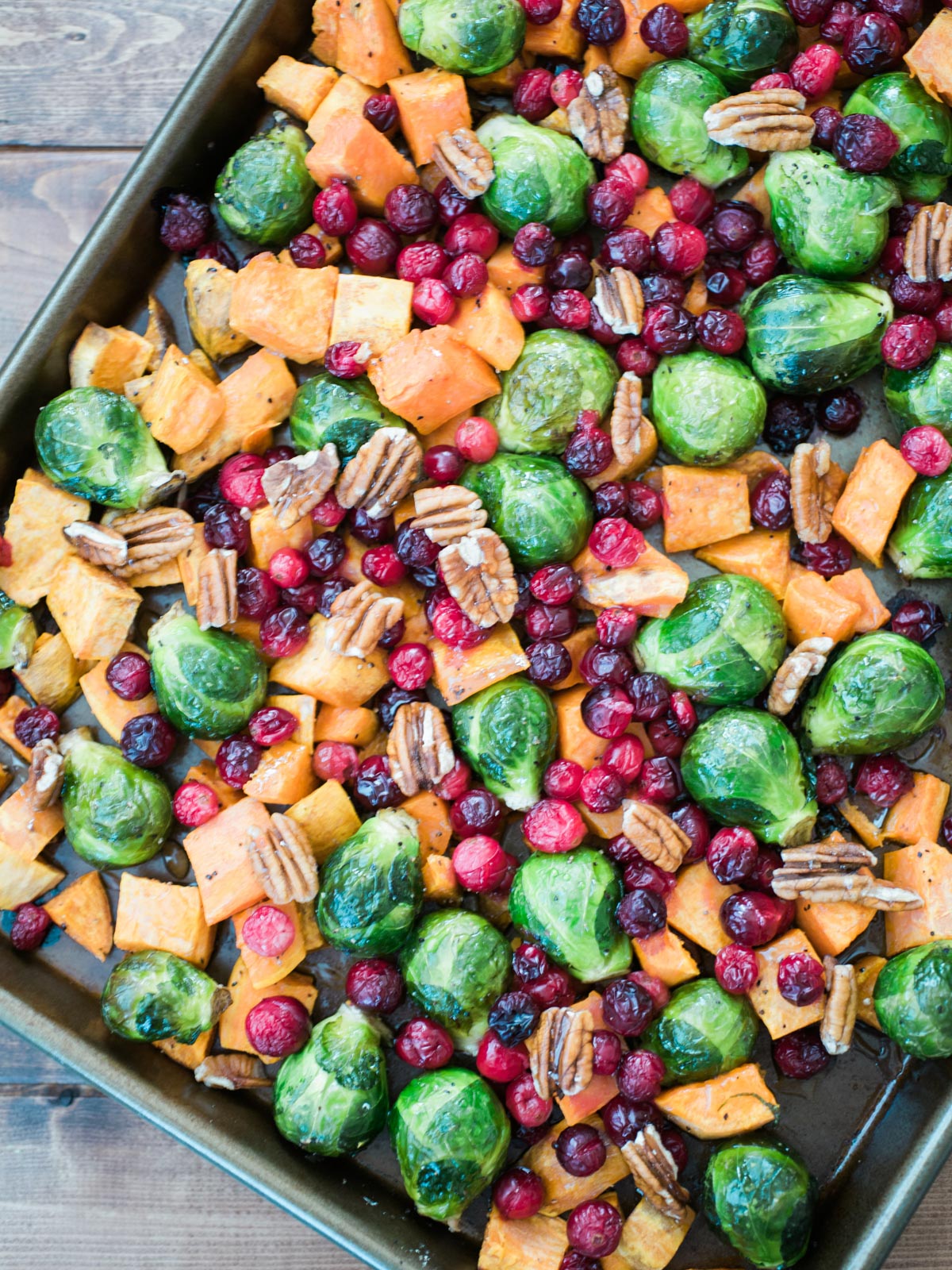 When I was around 26 or 27, I came across some brussels in the freezer section that were covered in some sort of butter sauce. I told myself I was going to give them one last shot. I'm glad I did! They were so good. I jumped back into them and started roasting them from fresh and really truly loved them. Now, I love serving them as a side and even sauteing them and eating them for lunch. So good!
Brussels and butternut squash can pretty much be served pretty plain once they're roasted. They just get better and better when roasted and develop a really great flavor. The honey adds some additional sweetness to the vegetables without being overly powerful.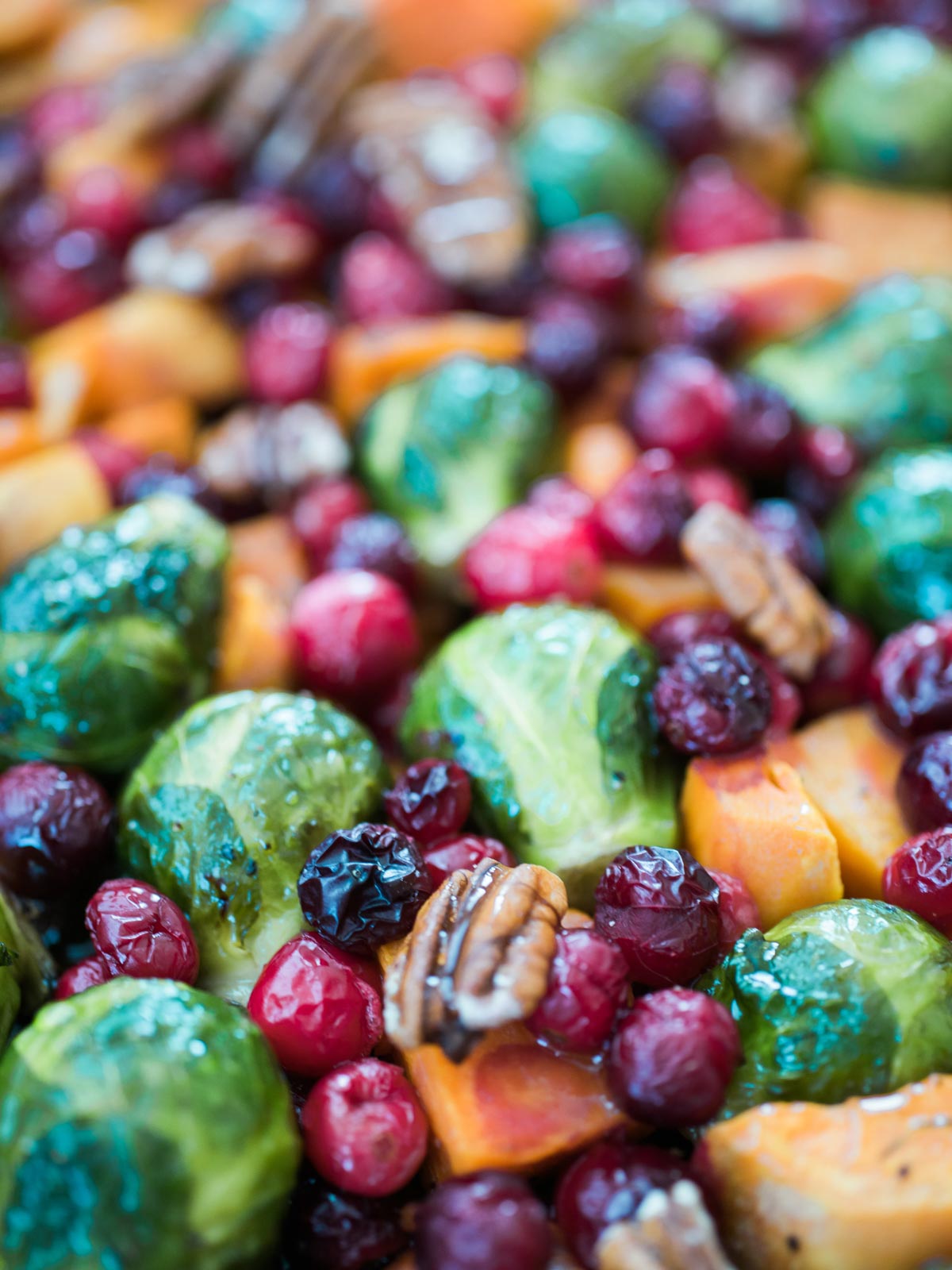 Fresh cranberries are a seasonal food, so be sure to take advantage of these while they're available in your local grocery store!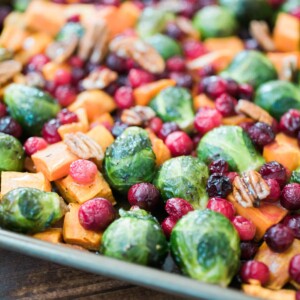 Honey Roasted Vegetables with Cranberries & Pecans
A seasonal, Fall side dish that adds a perfect amount of sweetness to your meal.
Ingredients
1

butternut squash

1

lb

brussel sprouts

2

tbsp

olive oil

1

tsp

salt

1

tsp

pepper

3

cups

fresh cranberries

1.5

cups

pecans

shelled and halved

4

tbsp

honey
Instructions
Preheat oven to 400°F.

Peel the butternut squash and cut in half length-wise. Remove the seeds and cut up into small cubes.

Wash and trim brussel sprouts.

Add butternut squash and brussel sprouts to a large mixing bowl. Add in olive oil, salt and pepper. Mix together until well coated.

Pour squash and brussel sprout mixture onto a foil lined baking sheet.

Roast in the oven for 25 minutes.

Remove from the oven and add cranberries to the baking sheet, stirring the mixture.

Roast an additional 10 minutes.

Remove baking sheet from oven and add pecans. Return baking sheet to oven and roast an additional 5 minutes. Watch closely to prevent nuts from burning.

Remove baking sheet from oven and while the mixture is still hot, drizzle with honey and mix to coat.

Serve hot.
Notes
Adjust the honey amounts to your liking. It will depend on how tart your cranberries are, but I generally find that 4 tbsp is pretty average for myself.
Weight Watchers Freestyle Points: 7 per serving (or 3 per serving if you leave out the pecans)
Nutrition
Nutrition Facts
Honey Roasted Vegetables with Cranberries & Pecans
Serving Size
1 /8 of recipe
Amount per Serving
% Daily Value*
* Percent Daily Values are based on a 2000 calorie diet.
Have you tried this recipe?
Please let us know how it was in the comments or tag us on Instagram @sweetlysplendid!