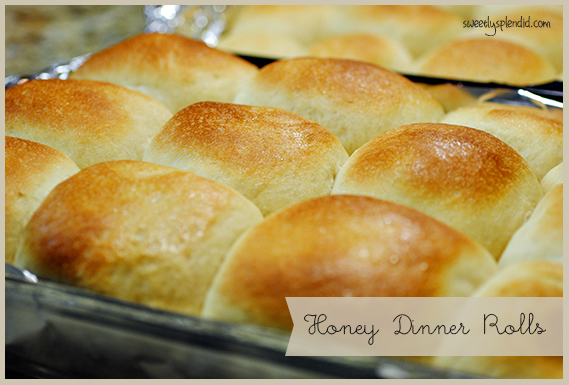 I hope y'all had a wonderful Thanksgiving! Mine was great! We got to spend it at my mom's house in New Mexico this year which meant we only had to travel to one location, rather than 2-3 as it usually is. It made it a lot easier on us with the dog and all of our stuff. I actually enjoyed being able to do a lot of the cooking. Is there something you always make for your Thanksgiving or Christmas dinner? Something maybe that you bring to every gathering? I told my mom ahead of time that I didn't want her to buy rolls this year and I wanted to make them. I'm glad I did! They turned out great! Everyone loved them and the guys even packed some for lunch on their hunting trips after Thanksgiving.
I know that for people who haven't made bread with yeast before, it can seem a little intimidating and daunting at first, but I promise, just try it! You'll find out that its actually more waiting around for it to rise than actual work. I was a little worried my first time making bread with yeast and not a typical quick bread but I'm happy I did!
If you decide to double or triple this batch, make them separately. Make each batch separate, let each batch rise in their own bowl, and bake them in their own dish. I've tried doubling and tripling this recipe and because of the rising and kneeding, I end up breaking it up to make it easier anyway.
These dinner rolls are just the right amount of sweet. They aren't too sweet or rich, but just sweet enough to eat them alone or you can even add honey butter to the rolls!
Note - You can always freeze these rolls and pull them out as needed!
Honey Dinner Rolls
16 Rolls
WW Freestyle Points: 7 per roll
1 Cup water - warmed to the temperature advised on the yeast package
1 -  ¼ ounce packet instant dry yeast
1 large egg
3 TBSP canola oil
¼ cup + 3TBSP  honey
¼ tsp salt
3 ½ cups bread flour
3 TBSP butter
Warm the water in the microwave or on the stove until it reaches the right temperature. I use Red Platinum yeast, so I warm mine to 120F. Once the water is at the right temperature, add it to the bowl of a stand mixer and sprinkle in the instant dry yeast. With the paddle attachment, turn the mixer on low for a couple of seconds just to mix the yeast with the water. Let the yeast and water stand for about 10 minutes.
Add in the egg, canola oil, ¼ cup of honey, and salt to the bowl. Continue to mix on low speed. Once combined, add in 3 cups of bread flour. Continue to mix until well combined. You will most likely need to increase your speed to medium. Once the dough has started to come together, remove the paddle attachment and put on the dough hook. Turn the mixer on low speed and slowly add in the remaining ½ cup of bread flour. You'll want the dough to no longer be sticky. You can keep adding more flour if needed until it is no longer sticky, but your bread will be more dense with the more flour you add. I find that ½ cup is plenty for my rolls. Let the mixer run on low speed with the dough hook for 9 minutes.
Spray a large glass bowl with Pam non-stick spray and put the dough into the bowl. Cover with plastic wrap and allow to rise at room temperature for 2 hours. It should double in size.
Once it has risen, put dough out onto a floured work surface or sil pat. Roll the dough with your hands into a long tube about 2 inches in diameter. Cut the dough into 16 even pieces. Take each piece and roll into a ball. For "pretty" rolls, you'll then want to take the dough ball and basically turn it inside out, exposing a smooth surface. Place the dough balls into a 9x13 casserole dish lined with foil and sprayed with Pam non-stick spray. Preheat the oven to 400F. Cover the casserole dish with plastic wrap and allow the rolls to rise for another 30 minutes.
Place 3TBSP of honey with 3TBSP of butter into a microwave safe dish and melt in the microwave. Stir together and brush the tops of the rolls with the honey butter mixture. Bake for 12-15 minutes. Keep a close eye on them to prevent burning. Allow the rolls to cool in the pan before removing. ENJOY!!
Nutrition Facts

Servings

 

16.0

Amount Per Serving
calories 

183

% Daily Value *
Total Fat 

6

 

g

9

 

%

Saturated Fat 

2

 

g

9

 

%

Monounsaturated Fat 

2

 

g

Polyunsaturated Fat 

1

 

g

Trans Fat 

0

 

g

Cholesterol 

17

 

mg

6

 

%

Sodium 

57

 

mg

2

 

%

Potassium 

40

 

mg

1

 

%

Total Carbohydrate 

29

 

g

10

 

%

Dietary Fiber 

1

 

g

3

 

%

Sugars 

8

 

g

Protein 

4

 

g

8

 

%

Vitamin A

2

 

%

Vitamin C

10

 

%

Calcium

1

 

%

Iron

2

 

%

* The Percent Daily Values are based on a 2,000 calorie diet, so your values may change depending on your calorie needs. The values here may not be 100% accurate because the recipes have not been professionally evaluated nor have they been evaluated by the U.S. FDA.