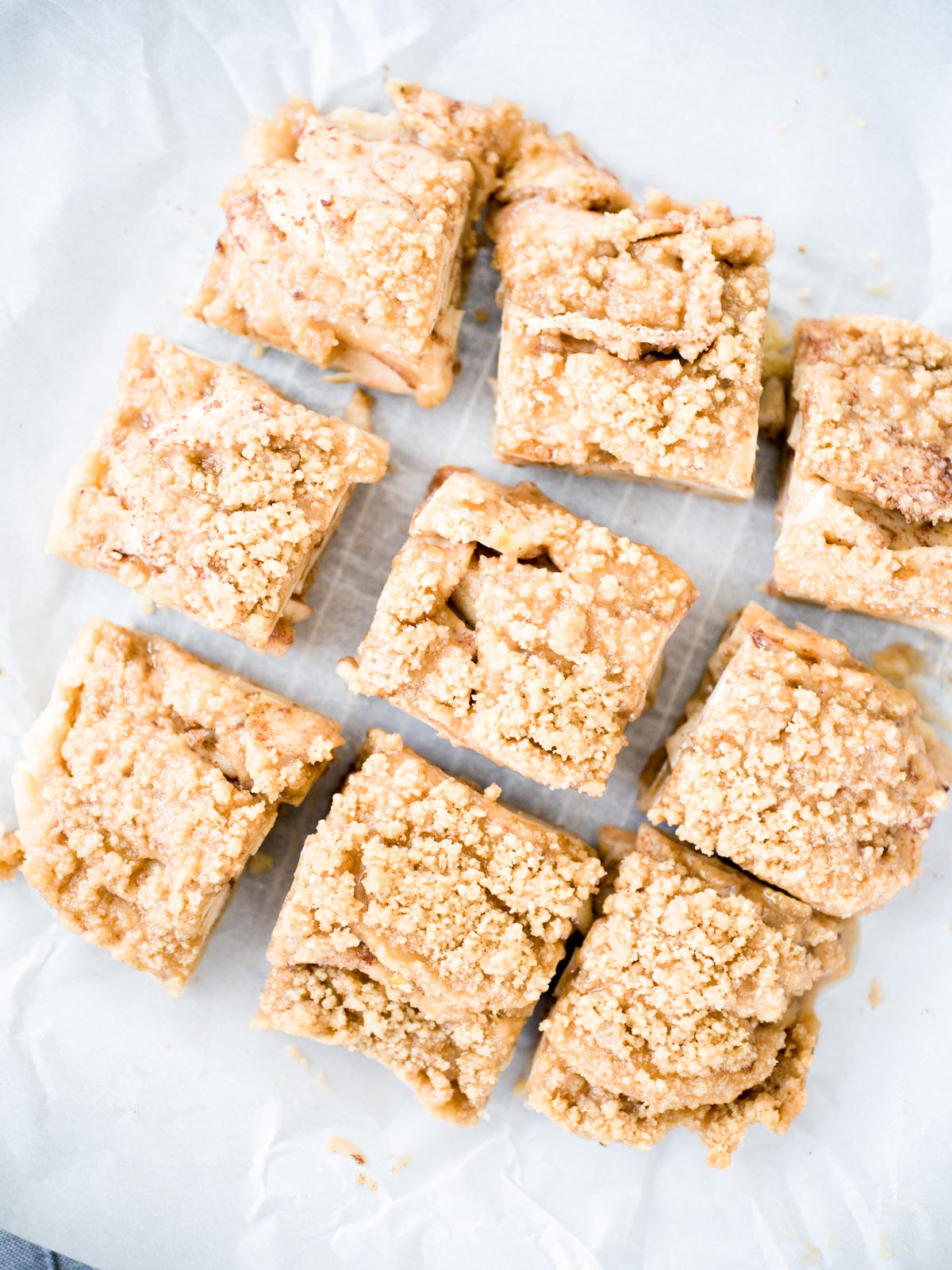 Y'all, these Loaded Apple Pie Squares are heaven! First of all, they are loaded with not 1, not 2, not 3... but FIVE layers of thinly sliced granny smith apples. I'm not your typical pie crust fan. I just don't really like when it gets all dry and crispy up above the pie filling. My preference would be that all pies had a crust where only the filling touched. In this case, I'm making a shortbread inspired crust that is only on the bottom. I didn't want to call these "bars" because let's be honest, they're so tall you have to eat them with a fork.
I used an apple crumble type topping that was inspired by the warm apple crisp that you find at Red Lobster. That dessert is to die for and my husband and I always get it when we eat there, even if we have to take it to go. It's so good. It's served with vanilla bean ice cream and warm caramel sauce.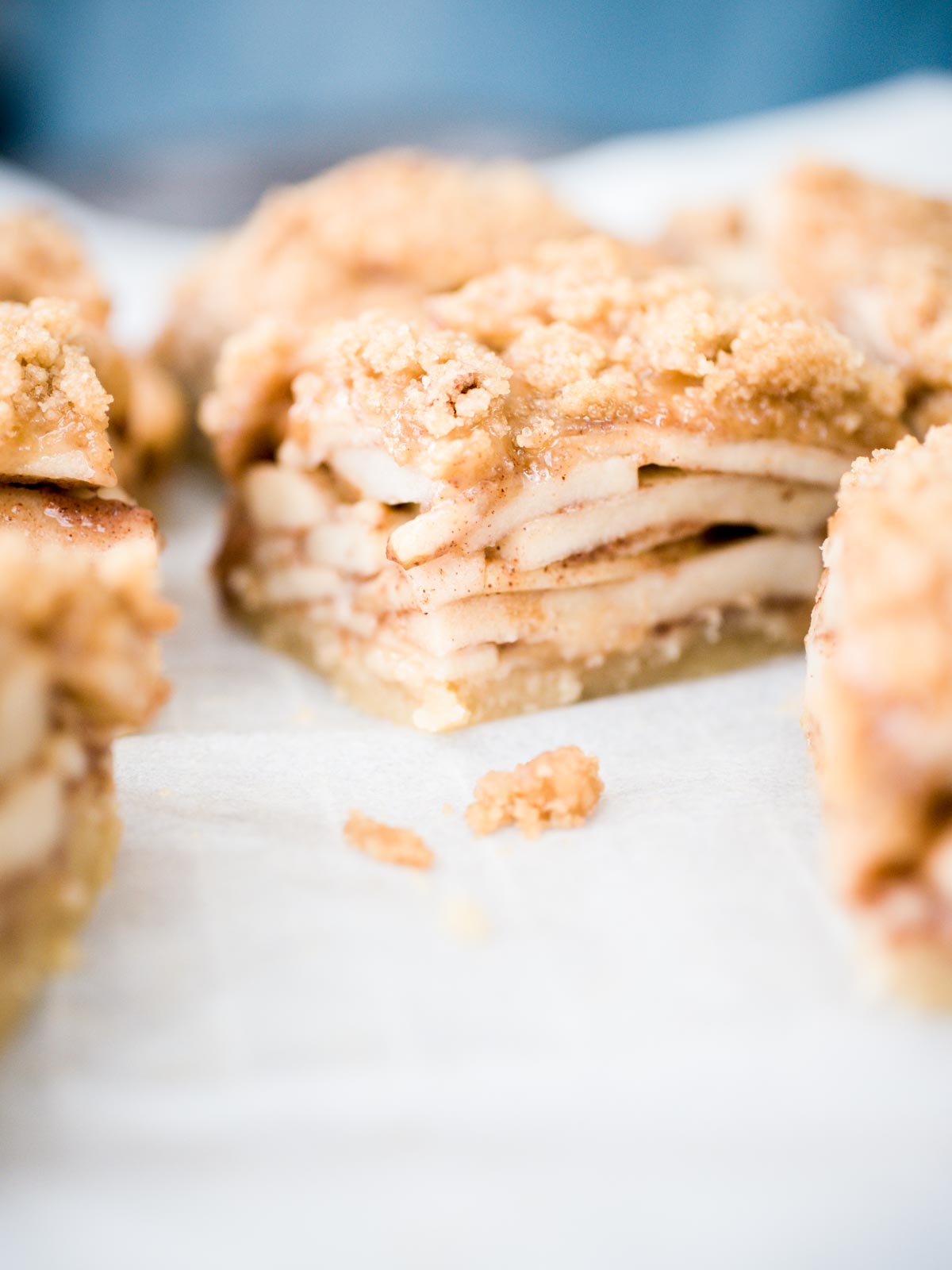 The hardest part about this recipe is that you have to truly wait for it to cool down before slicing it up. The apples will have some extra juice and be so hot that if you start cutting into it too early, it won't hold its shape. I let mine cool for about 30-45 minutes and it cut just fine. Now, keeping my husband away from this while it cooled was a whole other task! It's seriously delicious.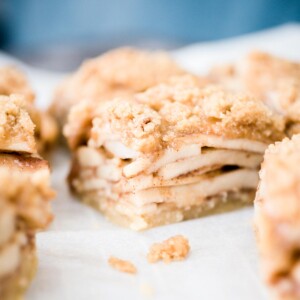 Loaded Apple Pie Squares
Ingredients
3

large granny smith apples

peeled and sliced (thin)

¾

cup

unsalted butter

room temp

¼

+ 2 tbsp sugar

¾

cup

brown sugar

1 ½

cup

+ 2 tbsp all purpose flour

1

tsp

vanilla

1

tsp

ground cinnamon

¼

tsp

ground nutmeg

pinch

of salt
Instructions
Preheat the oven to 300 degrees.

Cream together ½ cup room temperature butter with ¼ cup sugar, vanilla, and salt for about 3 minutes, until fully combined and fluffy.

Slowly add in 1 cup of flour, ¼ cup at a time until mixed well and fully combined.

Place the mixture into a parchment lined 9x9 or 8x8 glass dish.

Bake for 12 minutes.

While your crust is baking, combine apples, 2 tbsp flour, 2 tbsp sugar, cinnamon, and nutmeg in a bowl.

Mix until apples are fully coated in the mixture, set aside.

Mix ½ cup flour and brown sugar in a bowl.

Add in remaining ¼ cup of butter.

With a whisk (that's what I use), cut the butter into the mixture until it resembles chunky sand, set aside.

Take the apples and layer them in 5 even layers over the crust.

Once you layered all of the apples, cover the apples with the chunky sand like topping.

Increase your oven temp to 350 and bake for 25 minutes.

Allow it to completely cool before removing and cutting. Mine was ready to cut in about 30-45 minutes. Enjoy!
Nutrition
Nutrition Facts
Loaded Apple Pie Squares
Amount per Serving
% Daily Value*
* Percent Daily Values are based on a 2000 calorie diet.
Have you tried this recipe?
Please let us know how it was in the comments or tag us on Instagram @sweetlysplendid!