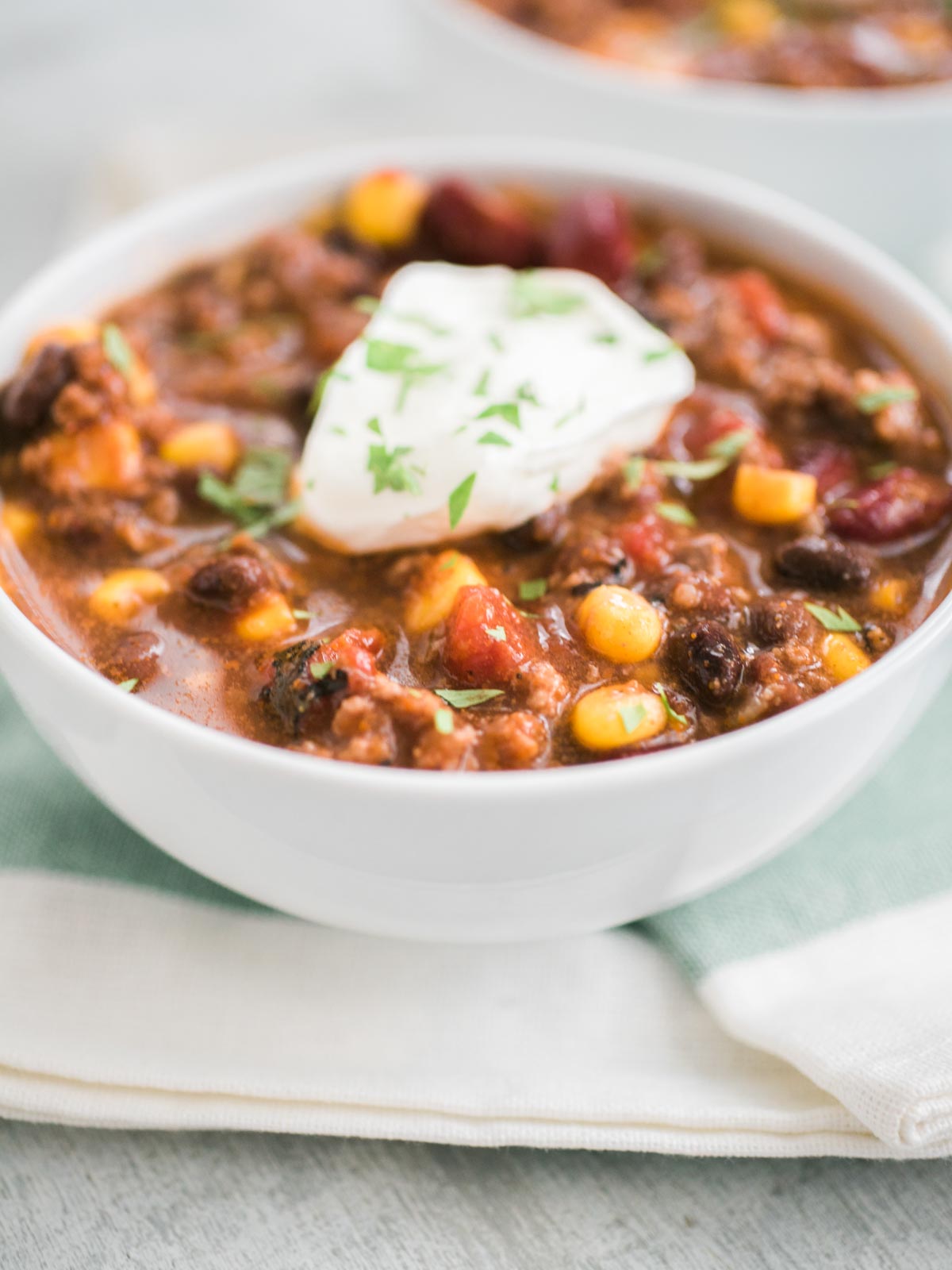 Let's start off with something here. This recipe IS called "Slow Cooker Taco Soup", but it can totally be made outside of the slow cooker, straight on the stove in just a few short minutes. The reason I make it in the slow cooker is that I feel the flavors just really meld together so much better once it's had some time to cook. Don't get me wrong, I've made it plenty of times on the stove when I needed to pull a dinner together and haven't made it to the grocery store. I just prefer it from the slow cooker. What's even better? Leftover Slow Cooker Taco Soup. The flavors just seem to melt together more and more as it sits.
This is the first recipe blog post since announcing that we'll be adding nutrition information and WW points to all of our recipes. I thought, what better way than on TACO TUESDAY with a taco themed recipe and one that is a powerhouse punch on nutrition. This little guy, when made with ground turkey is ZERO WW points! When it's made with ground beef, its only 2! The macros aren't bad either. When made with ground beef, it's only 260 calories with 22g of protein. When it's cold, we love to have soups and stews in our house and since it's the time of year for gluttony, I try to reduce the caloric heavy everyday meals so that we can still enjoy the treats without gaining the dreaded holiday weight.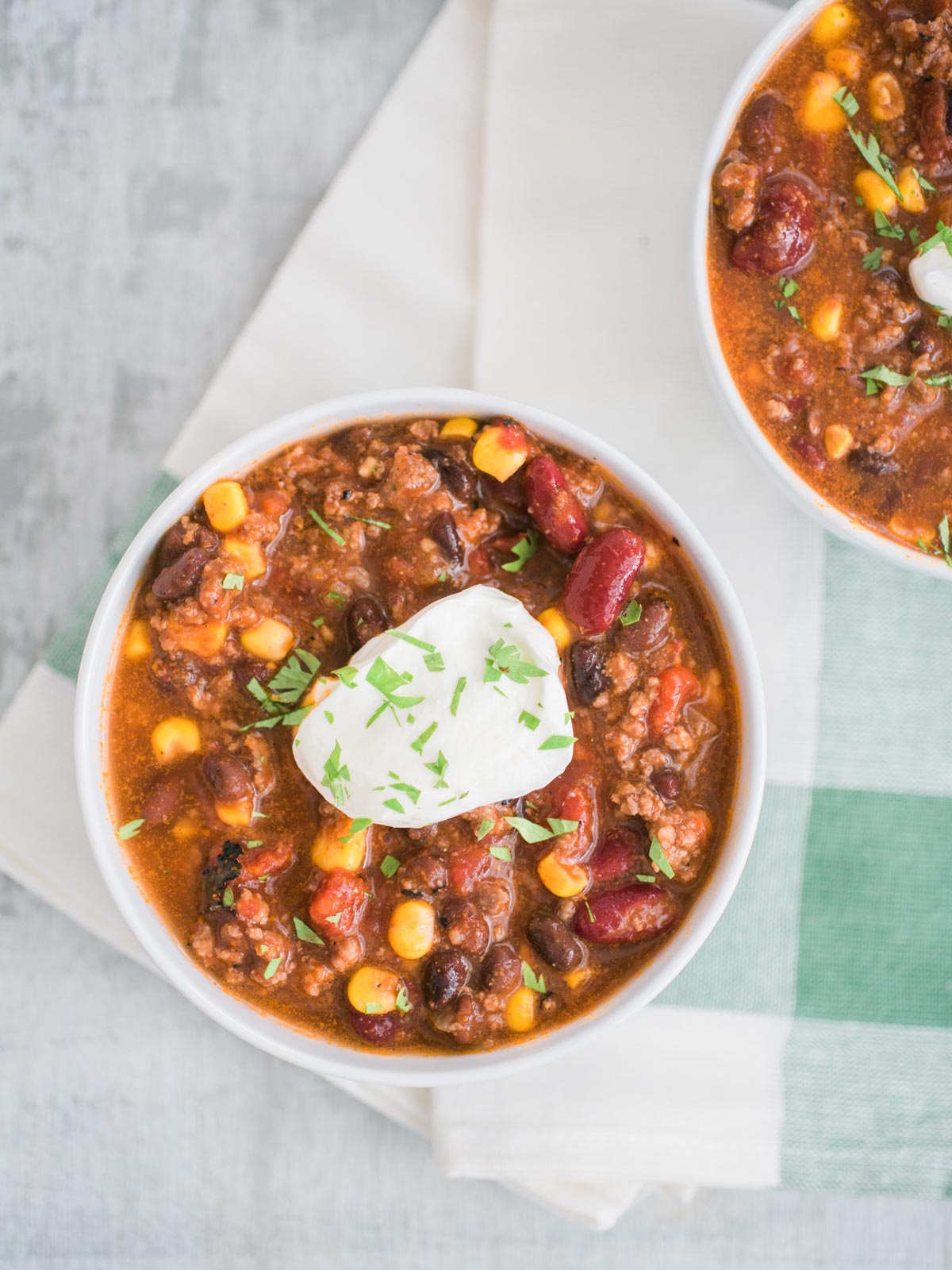 Did you know the average weight gain over the holidays ranges from 2-10lbs?! Just thinking about having to lose an ADDITIONAL 10lbs at the new year because of my inability to stop shoveling candy, sweets, and treats down my throat for 2 months is enough to make me think twice about it. I don't actively try to lose weight during the holiday months, but I do try to at least maintain, which if you've ever been on a weight loss journey and attempted maintenance... it's a beast in and of itself. Prior to some medications I was put on and then pregnancy, regardless of what I ate or how I exercised, the weight still crept on. So, here I am, back on the weight loss journey. I've successfully lost 45lbs, but I'm hoping to get back down to where I feel comfortable and healthy which means about 25 more pounds.
My hope with providing the nutrition information and WW points in my recipes is to not only provide y'all with some delicious, nutritious family meals, but to also hold myself a little accountable here. Being honest, having a food blog and attempting to still lose weight is NOT EASY. BLT's (bites, licks, and tastes) quickly add up and when you make a recipe over and over in testing and keep having to eat it, the calories add up. So hopefully, that means we'll all benefit a little from this new little addition on here.
Anyway, enough about me, calories, and nutrition. Let's get to the real stuff here. THE RECIPE!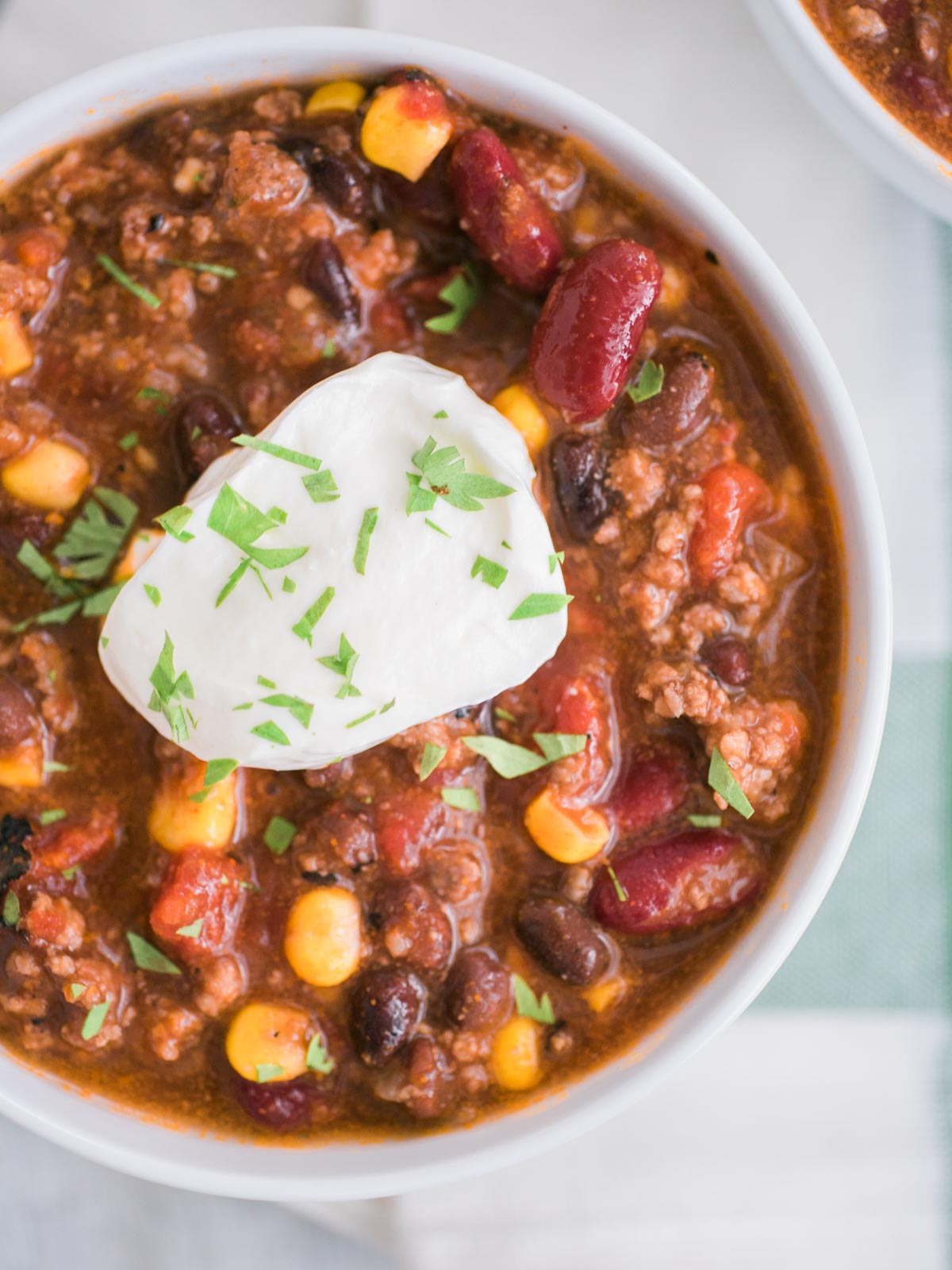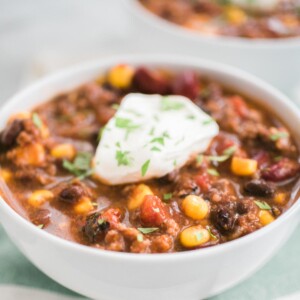 Slow Cooker Taco Soup
Ingredients
1

lb

lean ground turkey or 95% lean ground beef

28

oz

crushed tomatoes

canned

½

cup

roasted green chile

chopped

1

cup

corn kernels

fresh or frozen

15

oz

black beans

canned, undrained

15

oz

kidney beans

canned, undrained

½

medium yellow onion

chopped

4

tbsp

taco seasoning

I use McCormick brand with the red lid
Instructions
Brown ground turkey or beef in a skillet over medium heat, breaking up into small pieces.

Once cooked, add ground turkey and remaining ingredients to the slow cooker. Mix to combine.

Add 1 cup of water to slow cooker.

Cook on low for 4-6 hours.

Serve with your favorite shredded cheese, avocado, sour cream, and tortilla strips!
Notes
WW Freestyle Points (with ground turkey): 0
WW Freestyle Points (with ground beef): 2
***Nutrition information below is for 95/5 ground beef***
To use as a freezer meal - after browning meat, allow to cool and add to a Ziploc freezer bag with remaining ingredients. Lay flat to freeze. On the day of cooking, put into slow cooker, add 1 cup of water and cook on low 4-6 hours.
Nutrition
Nutrition Facts
Slow Cooker Taco Soup
Serving Size
1 /8th of recipe (heaping 1 ¼ cup)
Amount per Serving
% Daily Value*
* Percent Daily Values are based on a 2000 calorie diet.
Have you tried this recipe?
Please let us know how it was in the comments or tag us on Instagram @sweetlysplendid!