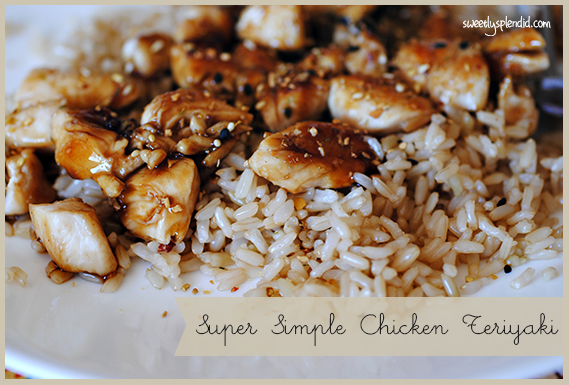 My Super Simple series will feature recipes that are just as they indicate... SUPER SIMPLE! We can't all prepare for dinner or lunch ahead of time, but what we can do is have some go to staples on hand that allow for some Super Simple meals. You've all given a lot of feedback on what you'd like to see on the blog, and I received a resounding "easy" and "healthy" response. I'll keep my focus on easy and healthy, including crock pot meals in there too.
To begin my Super Simple series, I'm starting with my Chicken Teriyaki recipe. Three ingredients. Yep... 3 total ingredients. How much more simple could it get? This is truly one of my favorite meals to go to. The entire meal is 348 calories so it's perfect for lunch. This is a meal that can also easily be packed to take with you to work. It will keep you full all afternoon without lagging. Sometimes I will skip the rice and pop a single serving steamable broccoli in the microwave and have broccoli with my chicken. Mix and match to whatever suits your taste.
Chicken Teriyaki
1 serving
2 All Natural Chicken Tenderloins - cut into 1 inch chunks

1 TBSP Mrs. Dash Sweet Teriyaki marinade
1 container of Minute Ready to Serve Brown Rice
Spray a small skillet with Pam and heat over medium-high heat. Once pan is hot, add in chicken and cook until no longer pink and juices run clear. Once cooked, remove from burner and pile chicken to the center of the pan and pour 1 TBSP Mrs. Dash Sweet Teriyaki marinade on top of the chicken. The residual heat in the pan and chicken will heat the marinade. Stir and let it heat through. While that is heating through, follow the directions on the container of Minute Ready to Serve Brown Rice. You remove the cover and heat in the microwave for 1 minute. Pile brown rice on your plate and top with the teriyaki chicken. Eat and enjoy!
WW Freestyle Points: 7 (includes rice)
Nutrition Facts

Servings

 

1.0

Amount Per Serving
calories 

375

% Daily Value *
Total Fat 

5

 

g

8

 

%

Saturated Fat 

1

 

g

3

 

%

Monounsaturated Fat 

0

 

g

Polyunsaturated Fat 

0

 

g

Trans Fat 

0

 

g

Cholesterol 

65

 

mg

22

 

%

Sodium 

195

 

mg

8

 

%

Potassium 

140

 

mg

4

 

%

Total Carbohydrate 

54

 

g

18

 

%

Dietary Fiber 

5

 

g

20

 

%

Sugars 

10

 

g

Protein 

30

 

g

60

 

%

Vitamin A

0

 

%

Vitamin C

6

 

%

Calcium

0

 

%

Iron

6

 

%

* The Percent Daily Values are based on a 2,000 calorie diet, so your values may change depending on your calorie needs. The values here may not be 100% accurate because the recipes have not been professionally evaluated nor have they been evaluated by the U.S. FDA.