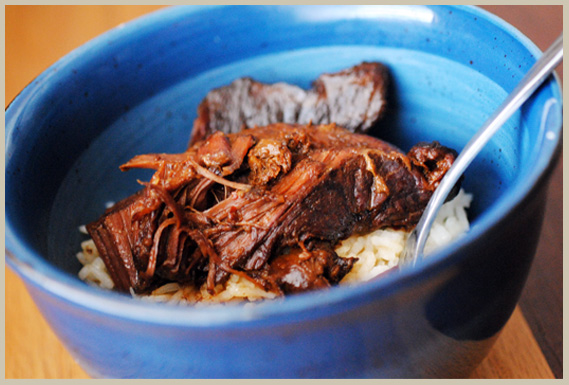 Asian Boneless Rib Recipe
For me, this is a good solid comfort food with perfect timing. I made this on a day where my allergies couldn't have been any worse. The last thing I wanted to do when I got home was cook dinner. That is why I love my crock pot so much. It's used and abused like no other. I parked my backside on the couch with a hot cup of tea in hand while these finished up.
Everyone needs a good Boneless Beef Rib Recipe!
Boneless Ribs are a staple here in my house. I make them a lot of different ways and they taste completely different each time. I'll share a couple of different ways as we go along I'm sure!
When you look for boneless ribs in the grocery store, they may be under a couple of different names. In my grocery store, they usually call them either "country style" or "Texas style". Just be sure they are boneless beef. On to the recipe…
Sweet & Spicy Beef County Style Ribs ingredients
boneless beef ribs
soy sauce
brown sugar
rice vinegar
garlic
ground ginger
sesame oil
red pepper flakes
cornstarch
How to make this Boneless Beef Ribs Recipe
Start by placing the ribs in the crockpot.
In a small mixing bowl, combine the remaining ingredients except the corn starch. Pour the sauce over the ribs.
Cook on low for 8 hours.
Once it has finished cooking, transfer the rubs to a separate bowl and cover it with foil. Be careful, they will fall apart on you (they're that tender!).
Skim the fat from the remaining liquid and discard it.
Should I remove the membrane from the back of the ribs?
Boneless ribs won't have any membrane that you need to remove. They can go directly into the crockpot.
What to pair with Asian Country Style Ribs
Asian Country Style Ribs go really great with a starch and vegetable. My favorites are:
It also goes really great with cucumber salad.
How to store & reheat Asian Boneless Beef Country Style Ribs
Leftover ribs should be stored in an airtight container in the refrigerator up to 3 days.
When you're ready to reheat them, I recommend adding them to a covered over-safe dish at 350°F until heated through.
You can also reheat them in the microwave. Be sure to cover them while heating (to help keep moisture in) and don't overcook them.
Can sweet & spicy Asian Beef Country Style Ribs be made ahead of time?
Sweet and spicy asian beef country style ribs can be made in advance. You can combine all of the ingredients and just throw in the slow cooker when ready to cook, or cook them completely through and reheat them when you're ready.
Sweet & Spicy Country Style Beef Ribs FAQs
Can I bake these Country Style Beef Ribs in the oven?
Yes, you can bake these ribs in the oven. To make sure you get a tender result, be sure to cover them with foil and bake at 300°F for 3 hours.
For the sauce, once they are done cooking, add the sauce to a saucepan on the stovetop over medium heat. Add the cornstarch slurry and whisk until thickened.
Boneless Beef Asian Country Style Ribs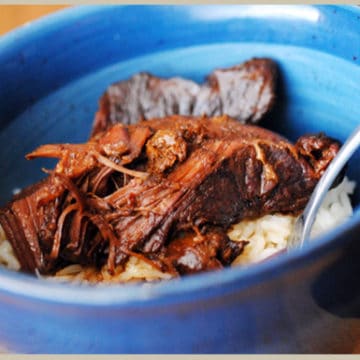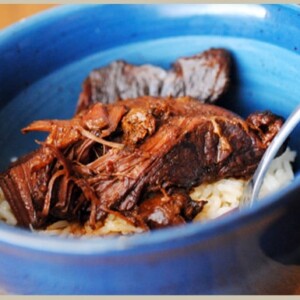 Instructions
Place ribs in the crock pot.

In a small bowl combine all other ingredients except corn starch. Pour over the ribs.

Cook on low for 8 hours.

Transfer the ribs to a separate bowl and cover with foil. Careful! They will fall apart on you (because they're that good)!

Skim the fat from the remaining liquid and discard.

Turn the crock pot on high and in a small bowl, whisk together the cornstarch and 1/4 cup of cold water until smooth and pour into liquid. Whisk until the sauce thickens and pour over ribs.
Nutrition
Serving:
1
/12 of recipe
,
Calories:
367
kcal
,
Carbohydrates:
14
g
,
Protein:
20
g
,
Fat:
25
g
,
Saturated Fat:
10
g
,
Polyunsaturated Fat:
0
g
,
Trans Fat:
0
g
,
Cholesterol:
80
mg
,
Sodium:
689
mg
,
Fiber:
0
g
,
Sugar:
9
g
Nutrition information is automatically calculated, so should only be used as an approximation.