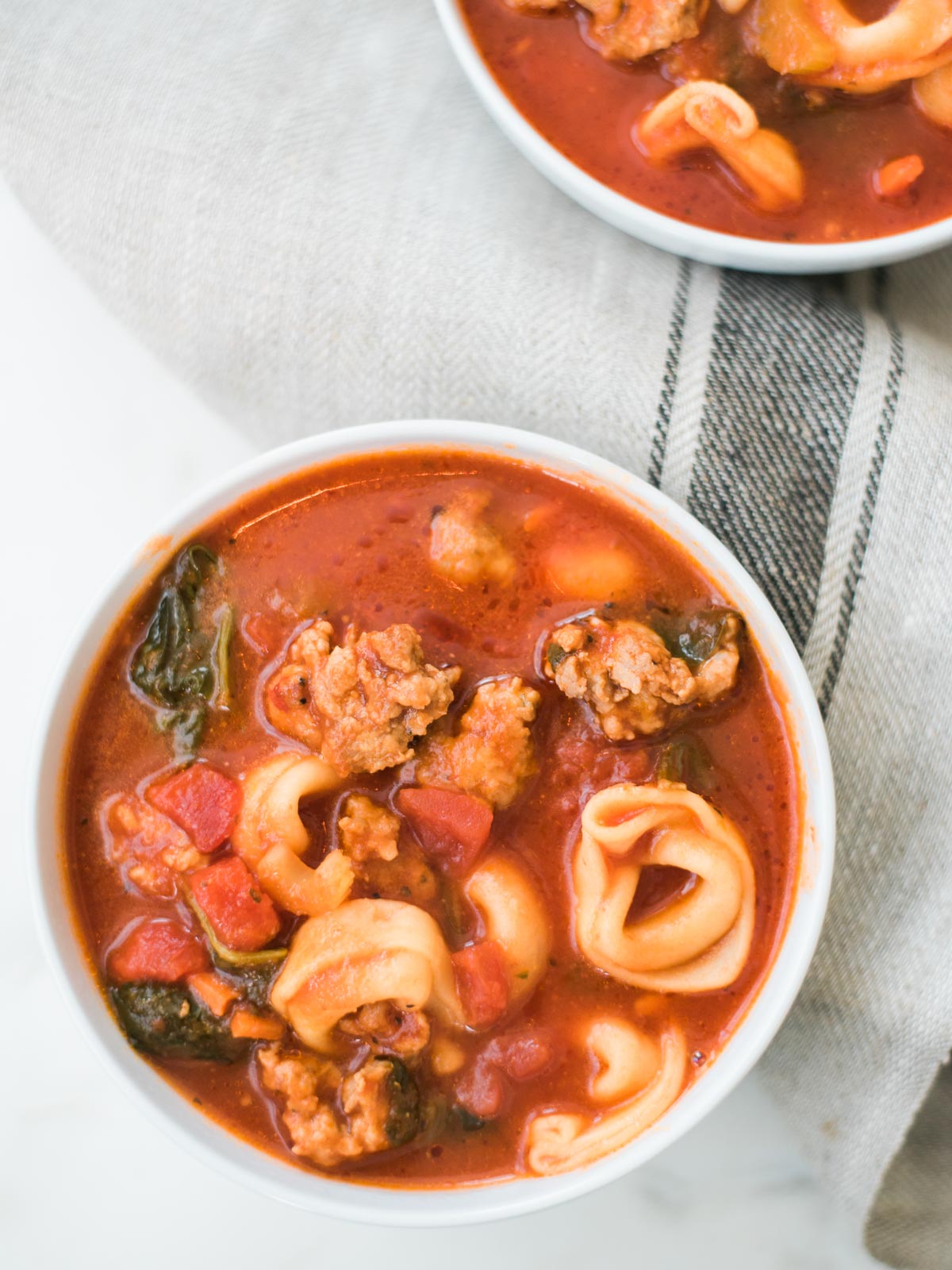 I have my go-to soups, which I'm pretty sure everyone does. Right? Those soups that you keep in regular rotation for your dinner plans or that you always get when you go to certain restaurants? I have some pretty good staples in my life when it comes to soups. My homemade chicken noodle soup which is an adaptation from my mother-in-law's recipe (sorry, that one is staying a family secret, but I know how much my friends and family love it!), the tortilla soup from Alamo Cafe (if you've had it, you know... YOU KNOW), the broccoli cheddar soup from McAlister's, my homemade taco soup (so easy and simple), among some others. You get the point!
So in one of my moods where I decide I'm going to do minimal cooking for a few days, which usually comes after some insane cooking extravaganza, I came across a version of this soup. It had a little less spice and used regular pasta instead of tortellini, but it was still okay. I happened to order it for lunch one day through Favor and I can't even remember where it was from. P.S. if you haven't tried Favor, you should! You can use my code KARAM3X for $5 off your first order. Fair warning, it can be pretty addicting being able to have anything delivered to your door! I knew it could be better and with way more flavor so I decided to experiment and see if I could take it up a notch.
Well, it was a success. I now have another soup that's going to be in regular rotation in my house! It's super simple, ingredients that are regularly at my house, and super flavorful. But hey, don't make the mistake I did and decide to taste it while it's simmering because then you end up with a scorched tongue and a whole lot less taste buds!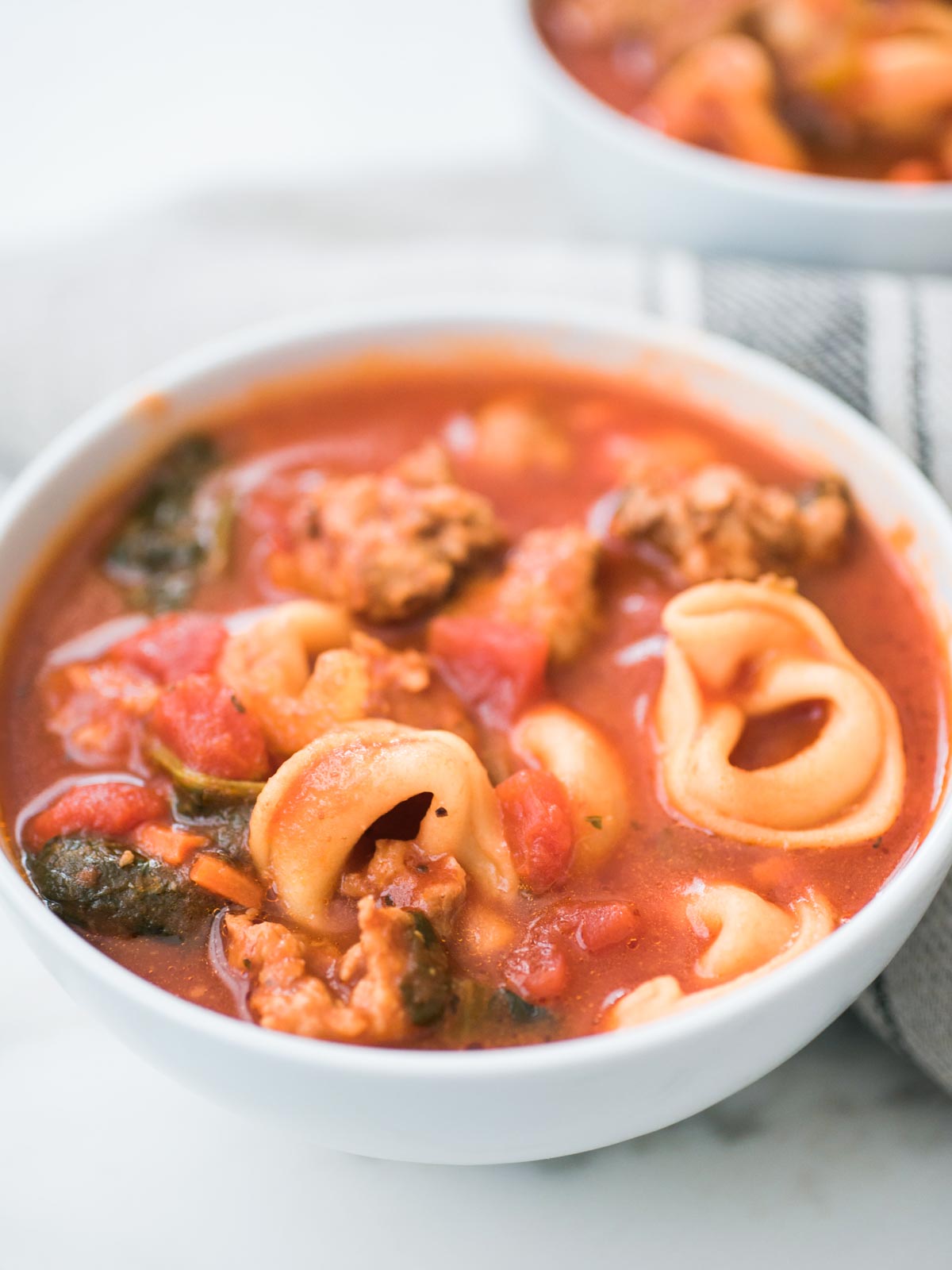 Tortellini Tomato Florentine
Ingredients
1

lb

turkey italian sausage

4

celery stalks

chopped

2

carrots

chopped

6

cups

baby spinach

15

oz

can diced tomatoes with garlic & onions

12

oz

tomato paste

4

cups

water

3

cups

cheese tortellini

2

tbsp

garlic powder

1

tbsp

onion powder

1

tbsp

oregano

salt & pepper to taste

red pepper flakes to taste

Parmesan for topping

optional
Instructions
In a heavy bottomed stock pot, crumble and brown your italian sausage.

One your italian sausage is cooked through, add in your celery and carrots.

Saute your mixture until the vegetables begin to soften.

Add the spinach to the pot and stir occasionally until it begins to wilt.

Add in your diced tomatoes, tomato paste, and water.

Bring the mixture up to a boil and reduce heat.

As the soup is simmering, add in the tortellini, garlic powder, onion powder, oregano, salt, pepper, and red pepper flakes.

Let your soup simmer for 20-30 minutes on low.

Once your soup has simmered, test to see if it needs more salt and enjoy!
Nutrition
Nutrition Facts
Tortellini Tomato Florentine
Serving Size
1 /6th of recipe
Amount per Serving
% Daily Value*
* Percent Daily Values are based on a 2000 calorie diet.
Have you tried this recipe?
Please let us know how it was in the comments or tag us on Instagram @sweetlysplendid!