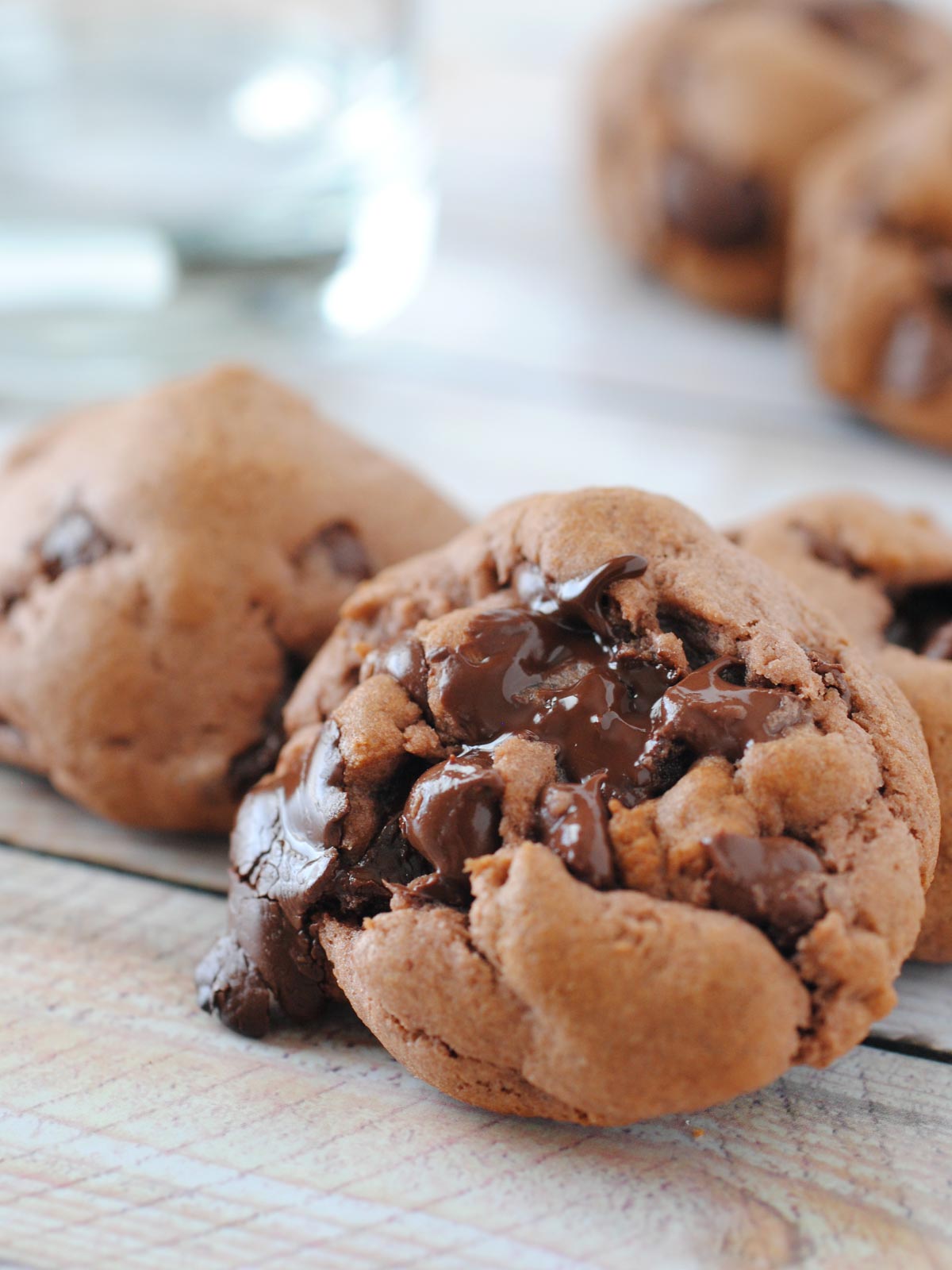 Yes, you read that right. Triple chocolate. As if single or even double wasn't enough. These precious little cookies are a chocolate lovers dream. Lets face it, I'm not even a chocolate lover and I absolutely love these things. The triple chocolate comes from the fact that its a chocolate cookie with two, yes two, types of chocolate chips added in. They're soft, fluffy, and all sorts of chocolate heaven. They're almost like a cookie + brownie hybrid.
Seriously, if you need a chocolate fix. Make them. Now. You won't regret it.
This does make a rather large batch. So large of a batch I actually gave most of them to my neighbors. If you don't need that many cookies all at one time, you can actually take the dough and store it in an airtight container in the freezer to bake for later. I would suggest scooping them and shaping them prior to freezing. It will make it so much easier for you later on when you decide to bake them.
Triple Chocolate Cookies
Servings: 3 Dozen
2 ½ cups all purpose flour
pinch of salt
1 tsp baking soda
¼ cup sugar
¾ cup brown sugar
½ cup unsalted butter, softened (best at room temp)
2 whole eggs + 1 egg yolk
1 ½ tsp vanilla
1 small package instant chocolate pudding (they vary in size at stores from 3.4 - 5oz, get the smallest your store offers)
¾ cup semi-sweet chocolate chips
1 cup 60% cocoa chips (they're with the chocolate chips in the grocery store)
In a bowl, mix together flour, salt, and baking soda. Set aside. Add butter and sugars to a stand mixer with the paddle attachment. Cream together until smooth (about 1 minute). Add in the eggs and vanilla until combined, then add in the pudding mix. Mix on medium-low speed for about 1 minute. Slowly add in the flour mixture a few spoonfuls at a time and continue to mix until fully combined. Remove bowl from mixer and fold in both types of chocolate chips.
Using a cookie scoop, scoop cookies and place on a tray. Cover with plastic wrap. Chill scooped dough for 2 - 24 hours. If you'll be freezing your dough to bake ahead of time, this is the step where you will place them in an airtight container and put in the freezer.
After dough has chilled and you are ready to bake, preheat the oven to 350. Place the cookies on a silpat lined cookie sheet (or nonstick sheet) about 1 ½ inches apart. Bake for 9-10 minutes. After removing from the oven, allow the cookies to cool and set for about 1 minute, then transfer to a cooling rack. Enjoy!
WW Freestyle Points: 6
Nutrition Facts

Servings

36.0

Amount Per Serving
calories

155

% Daily Value *
Total Fat

7

g

11

%

Saturated Fat

4

g

20

%

Monounsaturated Fat

1

g

Polyunsaturated Fat

0

g

Trans Fat

0

g

Cholesterol

22

mg

7

%

Sodium

104

mg

4

%

Potassium

11

mg

0

%

Total Carbohydrate

23

g

8

%

Dietary Fiber

1

g

5

%

Sugars

14

g

Protein

2

g

4

%

Vitamin A

2

%

Vitamin C

0

%

Calcium

1

%

Iron

4

%

* The Percent Daily Values are based on a 2,000 calorie diet, so your values may change depending on your calorie needs. The values here may not be 100% accurate because the recipes have not been professionally evaluated nor have they been evaluated by the U.S. FDA.