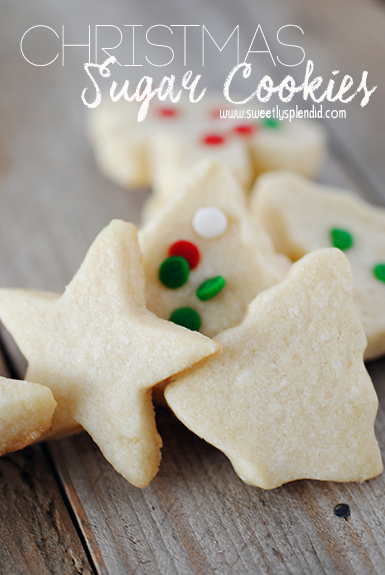 I refer to these as Christmas Sugar Cookies because they are really great for cut outs. Some sugar cookies don't cut well, need to be formed into balls to cook, or when they bake they lose shape. With these, they still remain soft, they're really yummy, and they are easy to cut and retain their shape when they bake.
The secret to making some really easy cookie cutouts, especially if you're baking with children is to roll out the dough between two sheets of wax or parchment paper BEFORE chilling. If you do this and lay on a cookie sheet, it only needs to chill for about 20 minutes. When you go to cut them out, its very easy and they hold together much better. You also don't have to fight to roll out the dough and the best part… no flouring your surface or your rolling pin!
Another big thing for sugar cookies is to BE SURE you spoon the flour into your measuring cup instead of scooping it. By spooning it into the measuring cup, you get an accurate measure and you won't end up with too much. Too much and your sugar cookie dough becomes a sand texture and you have to start over. If you have too much flour, they also get a different flavor and don't bake up right.
Christmas Sugar Cookies
24 cookies
2 sticks unsalted butter, room temperature
1 1/4 cup sugar
2 tsp vanilla extract
1 large egg
3 cups flour
1 1/2 tsp baking powder
1/4 tsp salt
Cream together the butter and sugar for approximately 2 minutes. You want the mixture to be light and fluffy. Add in the vanilla and egg until fully combined. In a separate bowl, combine the flour, baking powder, and salt. If you are using a stand mixture, be sure to switch to the paddle attachment at this point in time. Slowly add in the flour mixture about 1/2 cup at a time until it is fully incorporated. Remove the dough and place on a sheet of wax or parchment paper. Cover with another sheet of wax or parchment paper and roll out to between 1/4 – 1/2″ thickness. Place on a cookie sheet and put in the refrigerator to chill for about 20 minutes.
Preheat the oven to 350 degrees. Once chilled, remove from the fridge and remove the top sheet of paper. Cut out all the shapes, cover in sprinkles if you'd like and place on a silpat lined cookie sheet. Bake in the oven for 8-9 minutes. If you have to go in batches, keep an eye on them as you progress. If the dough has had time to come closer to room temperature, it will need less time to bake. You want them to firm up, but pull them from the oven before they begin to brown at all. Remove from the oven and allow to sit on the cookie sheet for about 30 seconds and then transfer to a cooling rack. Leaving them on the sheet will cause them to over cook.
Once they've cooled completely, you can top with icing if you choose. Have fun baking and enjoy!
WW Freestyle Points: 7 per cookie
Nutrition Facts

Servings

 

24.0

Amount Per Serving
calories 

113

% Daily Value *
Total Fat 

8

 

g

12

 

%

Saturated Fat 

5

 

g

25

 

%

Monounsaturated Fat 

2

 

g

Polyunsaturated Fat 

0

 

g

Trans Fat 

0

 

g

Cholesterol 

28

 

mg

9

 

%

Sodium 

32

 

mg

1

 

%

Potassium 

7

 

mg

0

 

%

Total Carbohydrate 

11

 

g

4

 

%

Dietary Fiber 

0

 

g

0

 

%

Sugars 

10

 

g

Protein 

0

 

g

1

 

%

Vitamin A

5

 

%

Vitamin C

0

 

%

Calcium

0

 

%

Iron

1

 

%

* The Percent Daily Values are based on a 2,000 calorie diet, so your values may change depending on your calorie needs. The values here may not be 100% accurate because the recipes have not been professionally evaluated nor have they been evaluated by the U.S. FDA.