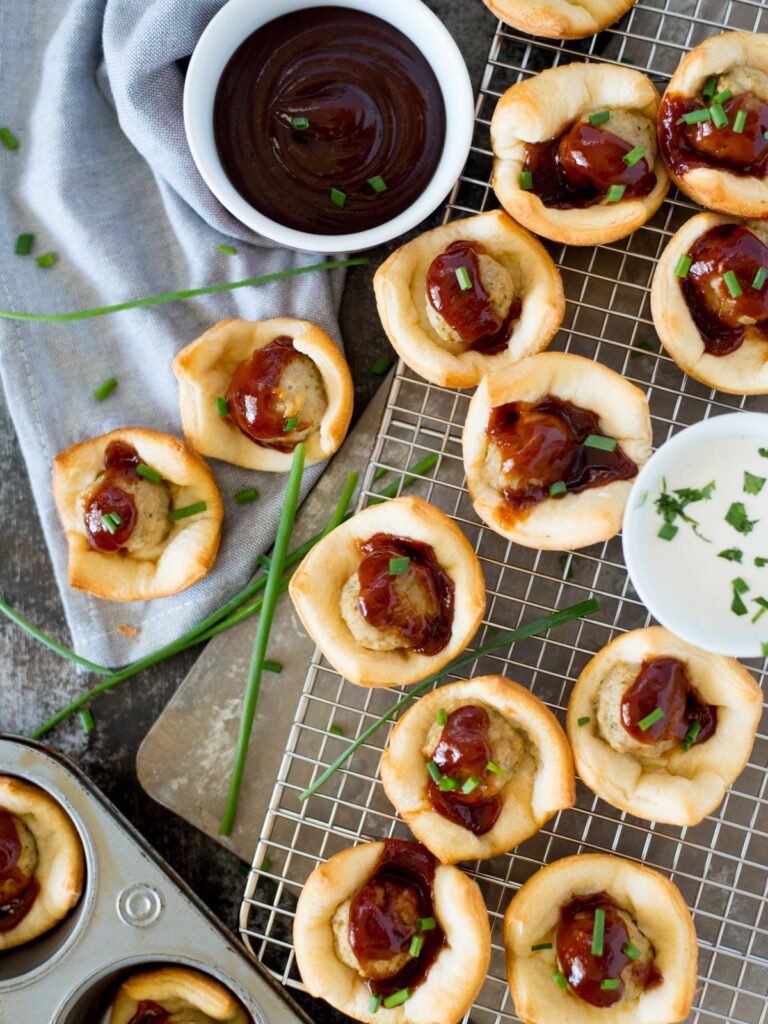 Crescent Roll Meatballs
Football Sunday! I feel like in Texas it's "Football EVERYDAY!" haha! But seriously, there's a football game so many days of the week and it's basically religion around here. The best part about football parties and tailgates? The food! Finger food is the easiest to serve at functions like these because it doesn't require utensils, plates, anything. Just hand them a napkin. What also says football food? BBQ sauce, crescent roll dough, and meatballs! These Game Day BBQ Bites definitely meet that criteria.
What's even better about football food? It's always so good! I'm all about the sides at parties and I feel like football party food is just a big giant smorgasbord of sides.
What are Crescent Roll Meatballs?
Crescent Roll Meatballs are a finger food appetizer that has a bbq coated meatball baked into a crescent roll.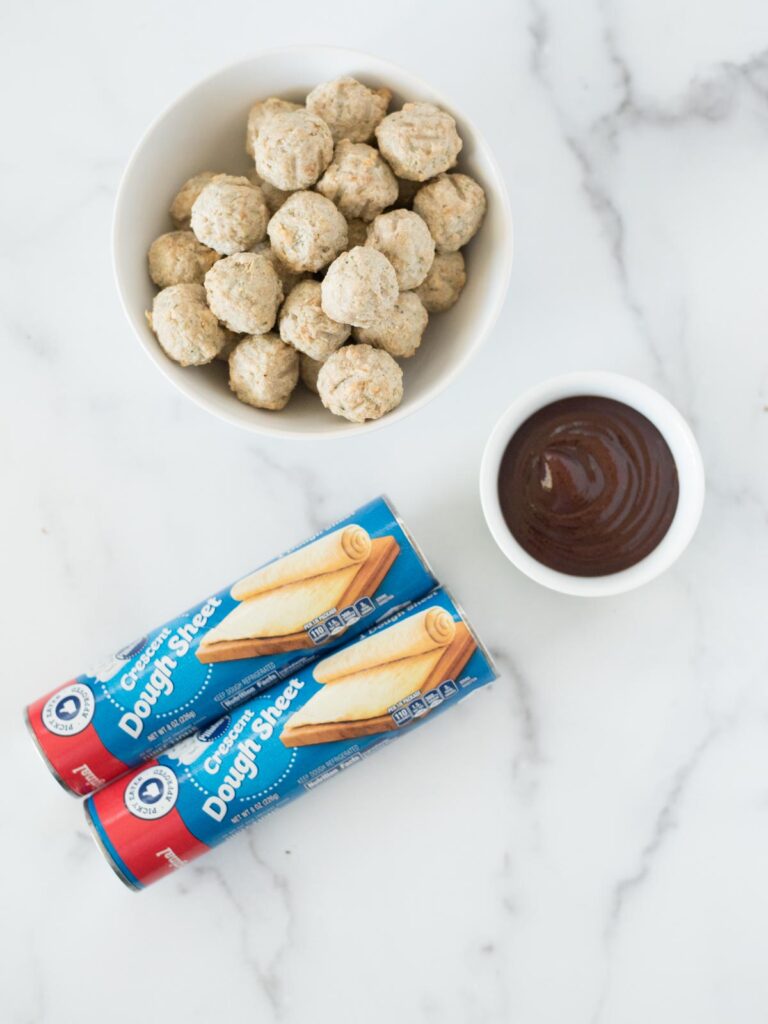 Meatball Crescent Roll Ingredients
Since this is a fairly simple recipe with limited ingredients, it's important to use a great tasting BBQ sauce and a meatball you love. They take center stage here so it will be obvious if you choose one that isn't that great.
You can most definitely use store bought meatballs for this recipe, but we do have two really great meatball recipes on the blog, if I do say so myself. I recommend using either Oven Baked Turkey Meatballs or our Homemade Meatballs.
One thing I wouldn't recommend in this recipe? Strongly Italian flavored meatballs. If you choose to buy store bought meatballs (no shame in that game!), be sure not to get a strongly Italian flavored meatball. It will fight with the BBQ and crescent flavors and quickly seem like a battle of flavors. Stick with a neutral flavored meatball here.
How to Make Meatball Bites
Preheat the oven to 375°F.
Spray any standard-size muffin tin with nonstick cooking spray. I like to use Pam, but any nonstick spray works well here. Even if it's a nonstick muffin pan, I still recommend using the spray.
Roll the crescent roll dough out into one large sheet, pinching all of the seams together.
Cut the crescent dough into 16 equal squares and then place a square into the slots of the muffin tin.
Top each dough square with a meatball.
Drizzle each meatball with a little BBQ sauce. Do not get heavy-handed here. If you use too much bbq sauce, you'll end up with a soggy crescent roll.
Bake them in the oven for 11-13 minutes, just until the crescent dough is golden. Remove them from the oven and allow them to cool before serving.
Game Day Bites Variations
Crescent Dough - Instead of crescent dough, you could use phyllo dough, biscuits, or even wonton wrappers.
Meatballs - Use your favorite meatballs! I don't recommend any strong Italian meatballs because it will not go well with the bbq sauce, but get creative. You can use chicken, turkey, beef, or any combination of meatball you like.
BBQ Sauce - We're partial to Sweet Baby Ray's bbq sauce, but use what you love. If you prefer a Carolina vinegar-based bbq sauce, go with that. You could also use Chili Sauce or even honey sriracha.
Can Game Day Bites be Made in Advance?
I don't recommend making Game Day Bites in advance. Once the BBQ is on the meatballs it will drip down into the crescent rolls. Once placed in the refrigerator, the crescent rolls will lose their fluffy quality and the bbq sauce can make them soggy.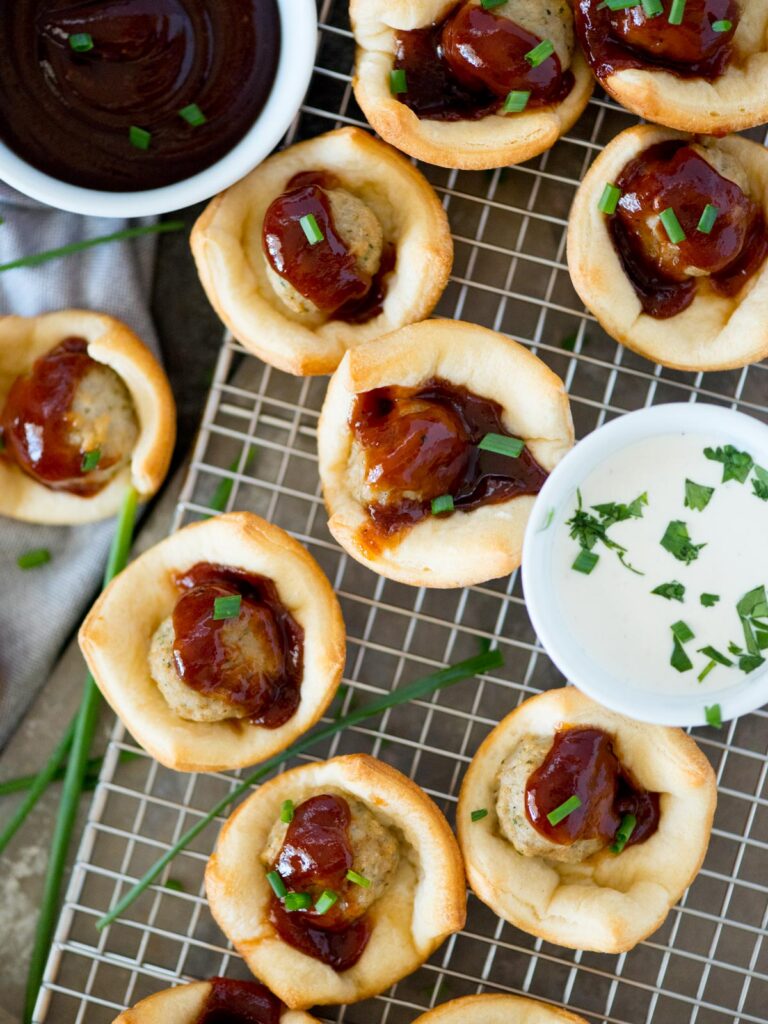 How to Serve a Meatball Wrapped in Crescent Roll
These are best served as an appetizer. Line them up on a tray and let people grab and eat them with their fingers.
How to Store, Freeze, and Reheat Meatball Crescent Rolls
Meatball Crescent Rolls are best eaten fresh. I don't recommend storing them in the refrigerator or freezer as they will lose their texture and taste.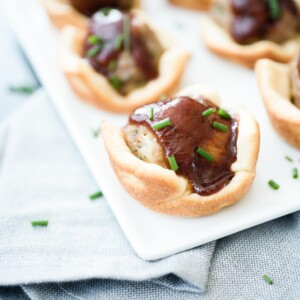 Crescent Wrapped BBQ Meatball Bites
Ingredients
Instructions
Preheat oven to 375°F.

Spray standard size muffin tin with nonstick cooking spray.

Roll crescent roll dough into one large sheet, pinching seams together.

Cut dough into 16 equal squares.

Place a square into slot of muffin tin, top with a meatball pushing down gently.

Repeat with remaining dough squares and meatballs.

Top each meatball with a light drizzle of BBQ sauce. Do not get heavy handed here, it will make them soggy.

Bake for 11-13 minutes or just until crescent dough is golden.

Remove from oven and allow to cool before removing from pan and serving.
Notes
Your nutrition information will vary greatly depending on the meatballs and barbecue sauce you decide to use. 
Nutrition
Nutrition Facts
Crescent Wrapped BBQ Meatball Bites
Amount per Serving
% Daily Value*
* Percent Daily Values are based on a 2000 calorie diet.
Have you tried this recipe?
Please let us know how it was in the comments or tag us on Instagram @sweetlysplendid!