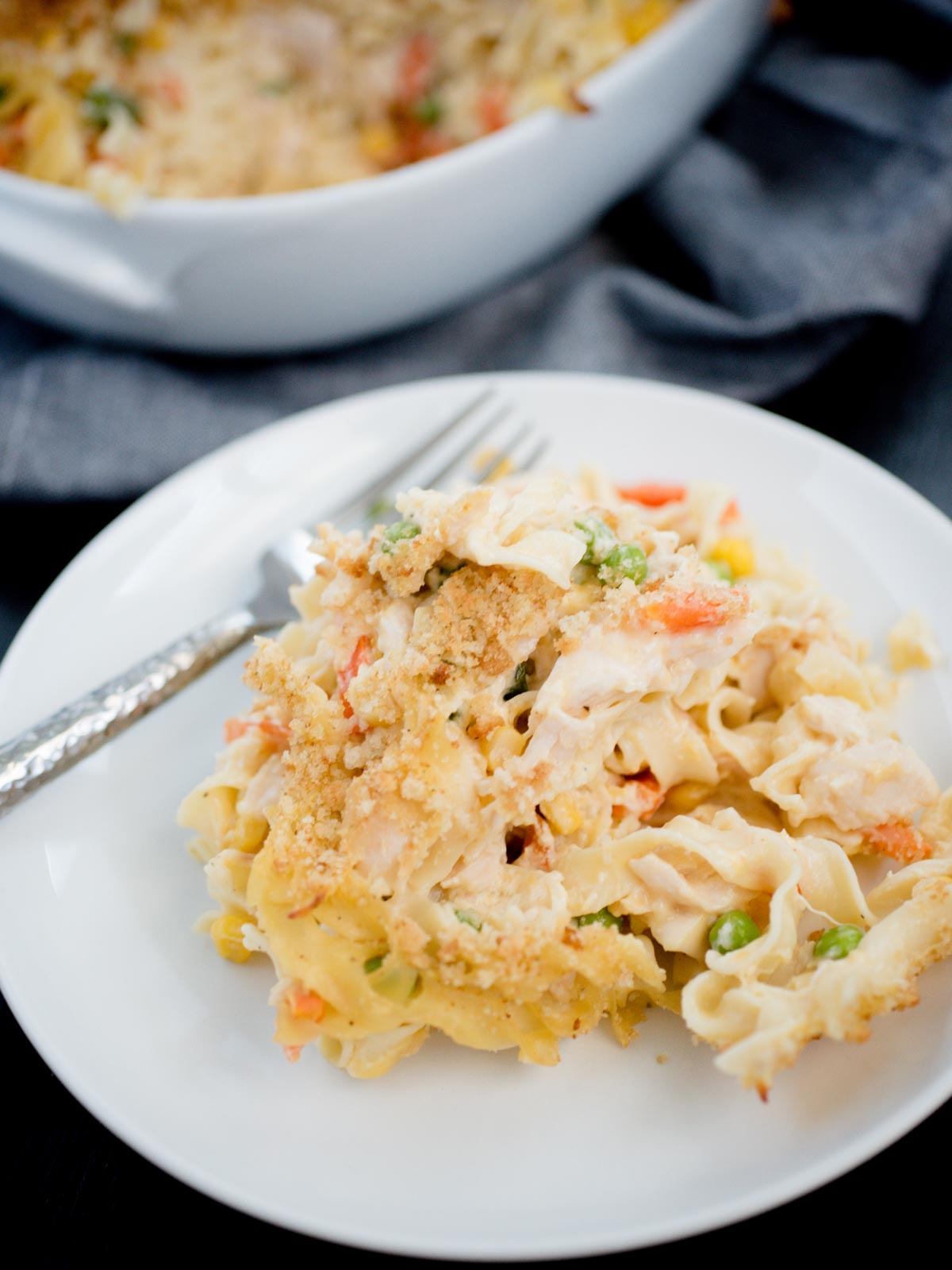 Chicken and Noodles Casserole
Chicken Noodle Casserole takes the things you love about chicken pot pie, adds in some pasta, and swaps the pie crust for a buttery crumb topping. I'm not a huge fan of a thick pie crust and I'm always up for adding pasta to any dish so this hits the spot. It was a winner for our whole house, toddler included!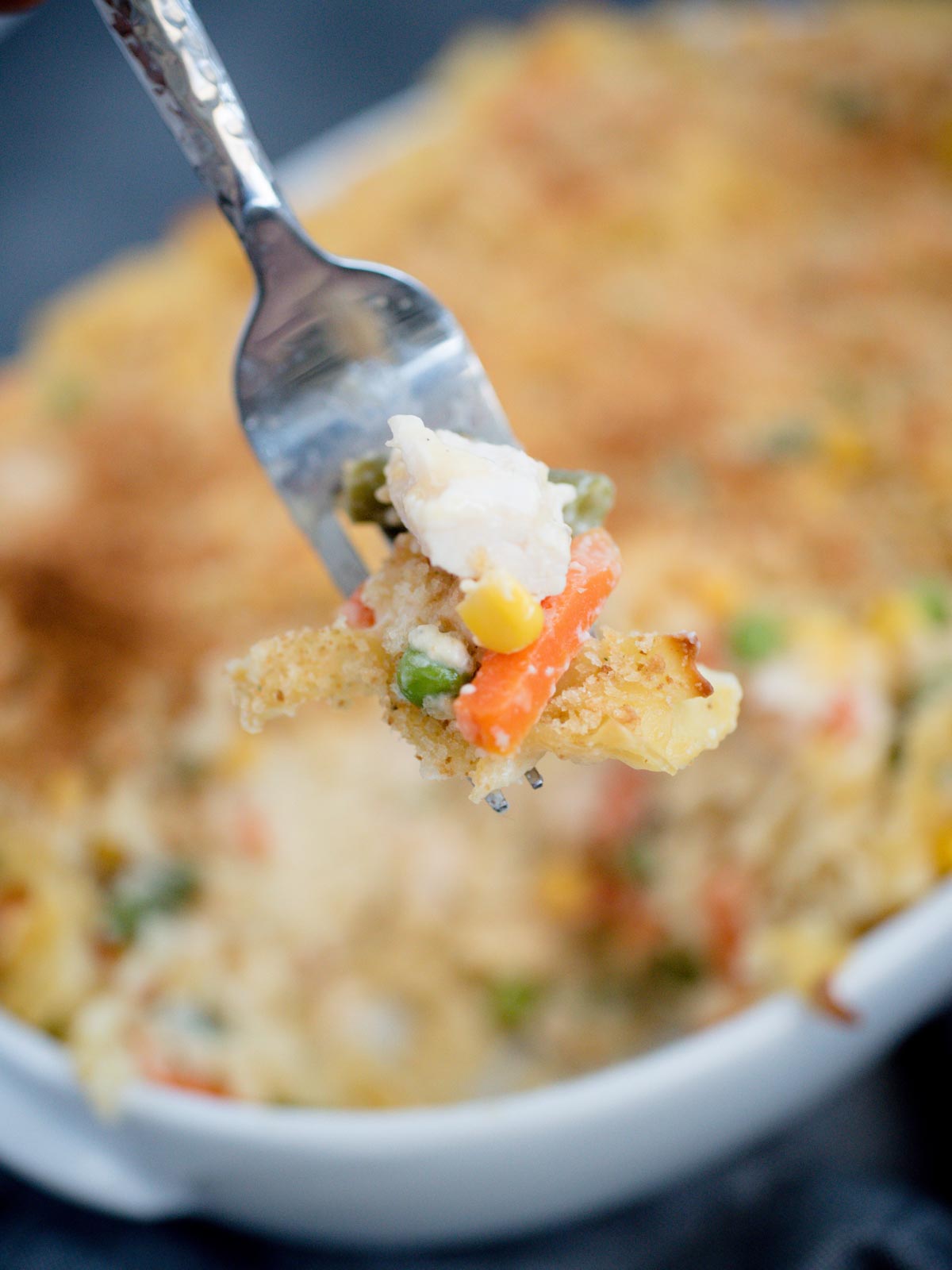 Chicken and Noodle Casserole Recipe Ingredients
frozen vegetables (I use the carrot, corn, pea, and green bean blend)
egg noodles
chicken breast, cooked
cream of chicken soup
sour cream
shredded cheddar cheese
garlic & butter croutons
onion powder
garlic powder
salt
pepper
cooking spray
How to Make Baked Chicken Noodle Casserole with Sour Cream
Heat your oven to 350°F.
While that is preheating, get your egg noodles started by boiling a pot of water and cooking for the time indicated on the package.
While the noodles are cooking, combine your remaining ingredients with the exception of the croutons and cooking spray.
Once the noodles are done, drain and add them to your mixture. Pour the entire mixture into a greased 13×9 casserole dish.
Add your croutons to a food processor and blend until a fine crumb. Sprinkle on top of the casserole and spray lightly with cooking spray. I like to use my Misto with avocado oil.
Bake in the oven for about 30 minutes until brown and bubbly. Enjoy!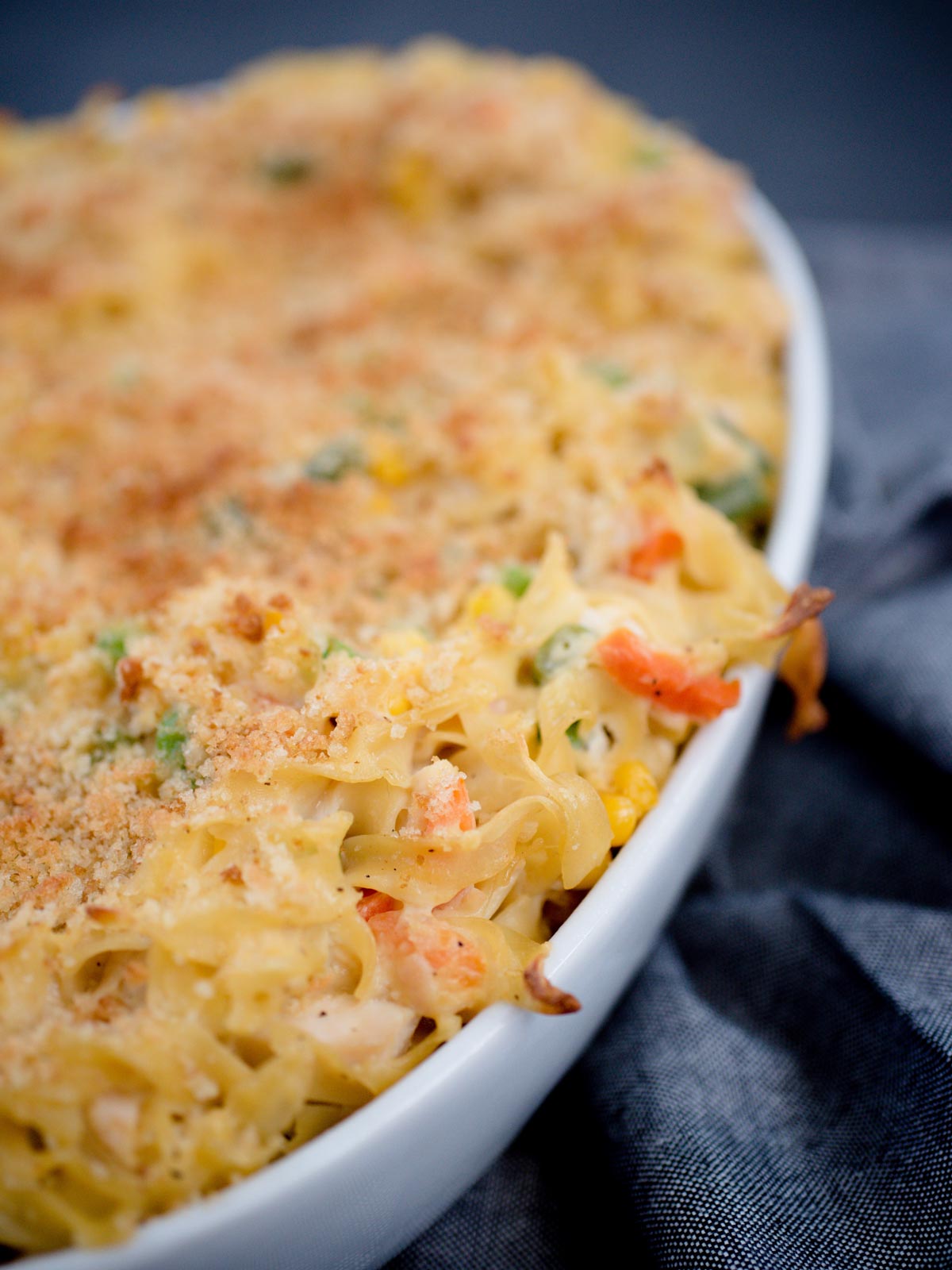 Tips and FAQ for Cream of Chicken Egg Noodle Casserole
I like to buy the large egg noodles because I'm a huge pasta lover, but you can buy medium sized or whatever floats your boat!
It's important to thaw the frozen vegetables prior to using. If you don't, it will delay cooking time and result in a little bit watery of a casserole.
You could swap out any vegetables that you love, our family just really likes this blend.
If your topping starts to brown too early, top the casserole with foil for the remainder of the cooking time.
Do you cook noodles before adding to casserole?
Yes, you need to cook the noodles before adding them to the casserole.
Can you put raw chicken in a casserole?
You can put raw chicken in a casserole as long as you cook it completely. The chicken needs to reach 165°F internal temperature.
How to Store Chicken Pot Pie Casserole with Egg Noodles
How long will Cream of Chicken Egg Noodle Casserole last in the fridge?
When stored properly, cream of chicken egg noodle casserole will last up to 3 days in the refrigerator.
Is Baked Chicken Noodle Casserole Freezer Friendly?
100% YES! It makes a great freezer friendly meal! Cook through to completion, allow to cool, and then put in your freezer. On the day you'd like to eat, you can either go straight from freezer to oven (if you use a dish that allows this!), or you can allow it to thaw in the fridge overnight and then bake up before dinner.
Last time I made this, I actually divided it into freezer safe quart ziploc bags (without the topping), frozen them flat in the freezer and used them for lunches for me and my toddler. I just added the topping before baking. It worked out great.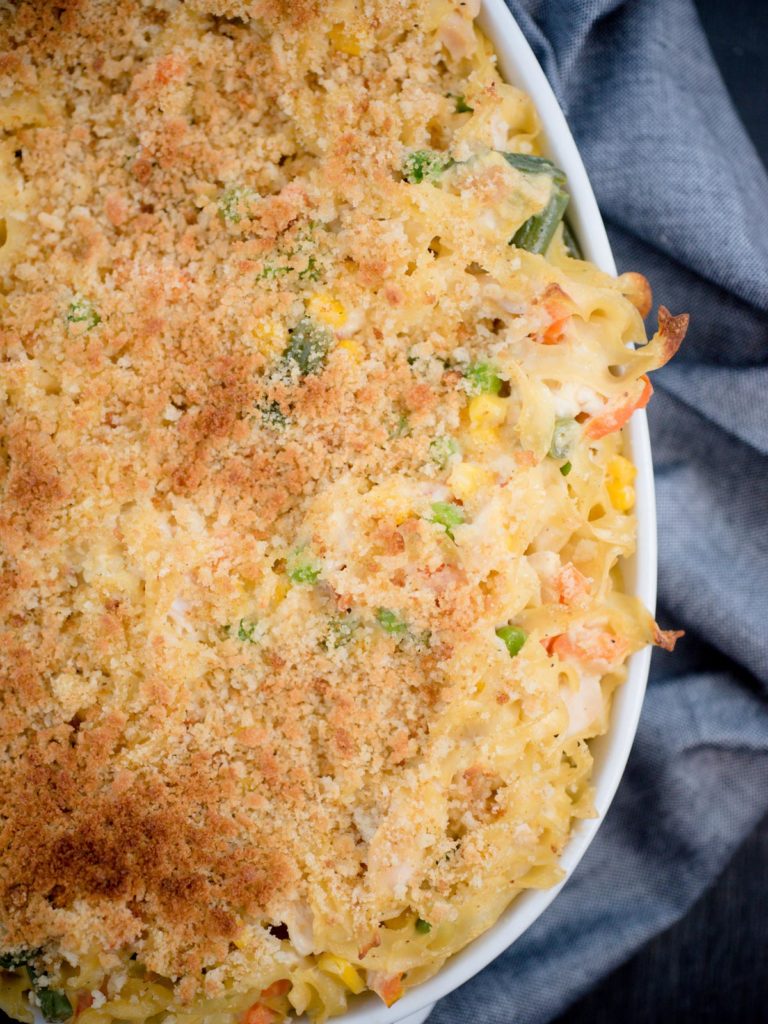 Serving Suggestions for Chicken Noodle Casserole with Sour Cream
One of the great things about Chicken Noodle Casserole with Sour Cream is that it's a meal all on it's own. The vegetables are included in the casserole, but you can serve it alongside extra veggies like roasted broccoli, carrots, or with a dinner roll.
INTERESTED IN OTHER CHICKEN MEALS? TRY ONE OF THESE:
Chicken and Noodles Casserole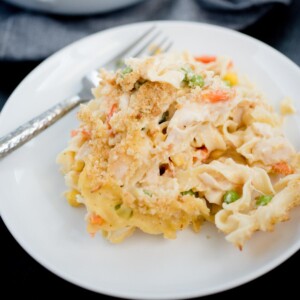 Instructions
Heat oven to 350°F.

Boil the egg noodles for the time directed on package.

While egg noodles are boiling, in a large mixing bowl combine chicken, cream of chicken soup, sour cream, cheddar cheese, mixed vegetables, onion powder, garlic powder, salt and pepper. Mix to combine.

Once noodles are done, drain and add to the mixing bowl.

Add mixture to a greased 13x9 casserole dish and spread evenly.

In a food processor, blend the croutons until they area fine crumb. Spread croutons evenly across casserole. Spray the top lightly with cooking spray. I like to use a Misto filled with avocado oil.

Bake 30-35 minutes until bubbly.
Notes
If your crouton topping begins to brown before the casserole is complete, top with foil for remaining cooking time.
Nutrition
Serving:
1
/8th of casserole
,
Calories:
490
kcal
,
Carbohydrates:
57
g
,
Protein:
46
g
,
Fat:
15
g
,
Saturated Fat:
8
g
,
Polyunsaturated Fat:
3
g
,
Trans Fat:
0
g
,
Cholesterol:
70
mg
,
Sodium:
670
mg
,
Fiber:
1
g
,
Sugar:
4
g
Nutrition information is automatically calculated, so should only be used as an approximation.