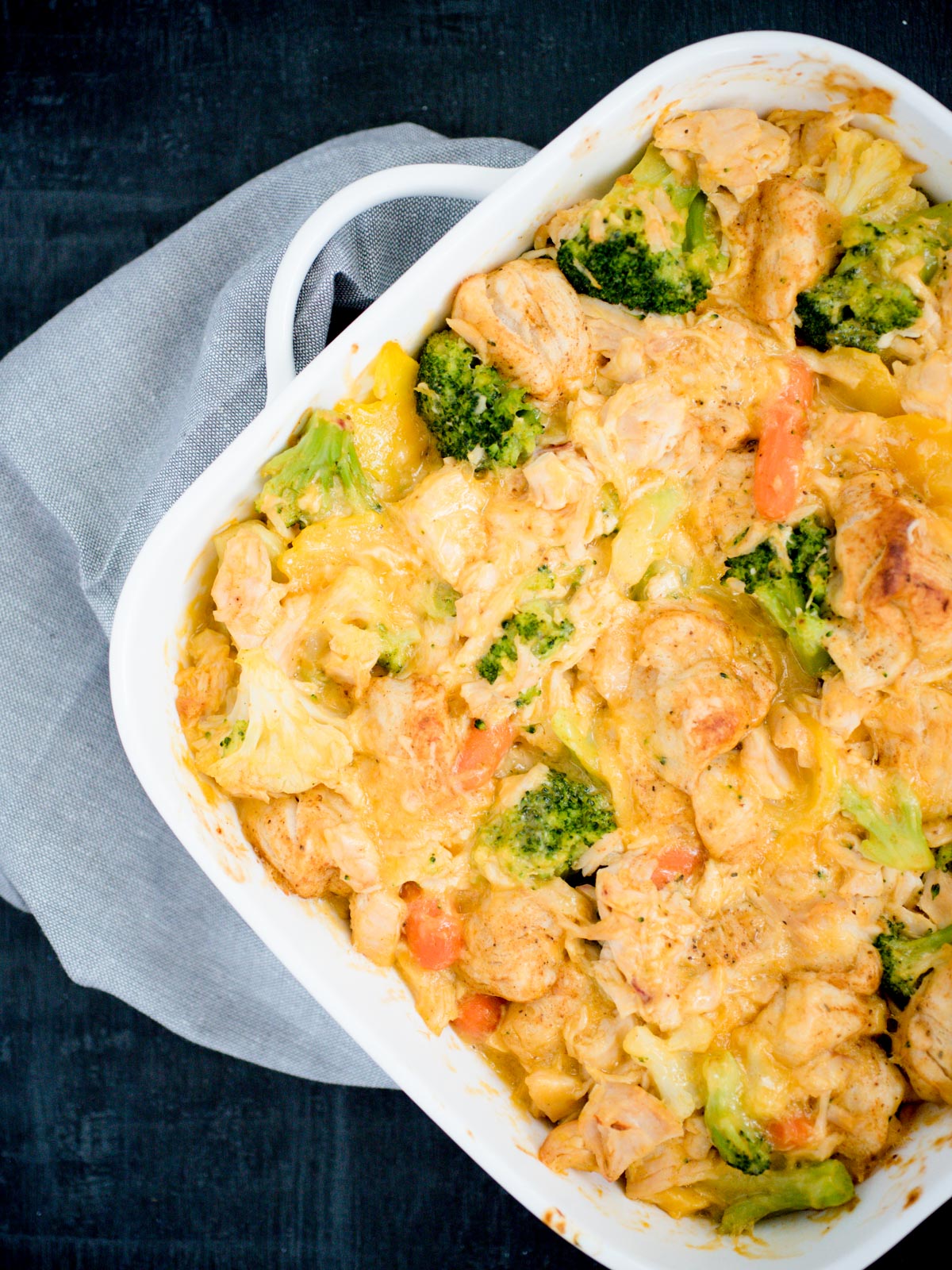 Our family that came in town for Christmas just left this morning so we're over here just cleaning, resting, and trying to get back into our normal routine. The past week was a bit of a marathon cooking session so our upcoming meals are going to be easy, low effort foods! One of those being this Cheesy Chicken & Veggie Bubble Up casserole that I have stashed in the freezer. It's packed with cheese, veggies, biscuits, and a touch of spice with Old Bay seasoning.
Ingredients for Cheesy Chicken with Mixed Vegetables Casserole:
frozen Normandy blend vegetables
cooked, shredded chicken
canned biscuits
condensed cheddar soup
mixed cheese
Old Bay seasoning
garlic power
water
What are Normandy Blend Vegetables?
Normandy blend is a vegetable blend that includes broccoli, cauliflower, and carrots.
Can other vegetables or vegetable blends be substituted in this recipe?
You can substitute the Normandy blend vegetables with your favorite blend. I recommend using hardy, fibrous vegetables so that they stand up to the casserole and don't become mushy.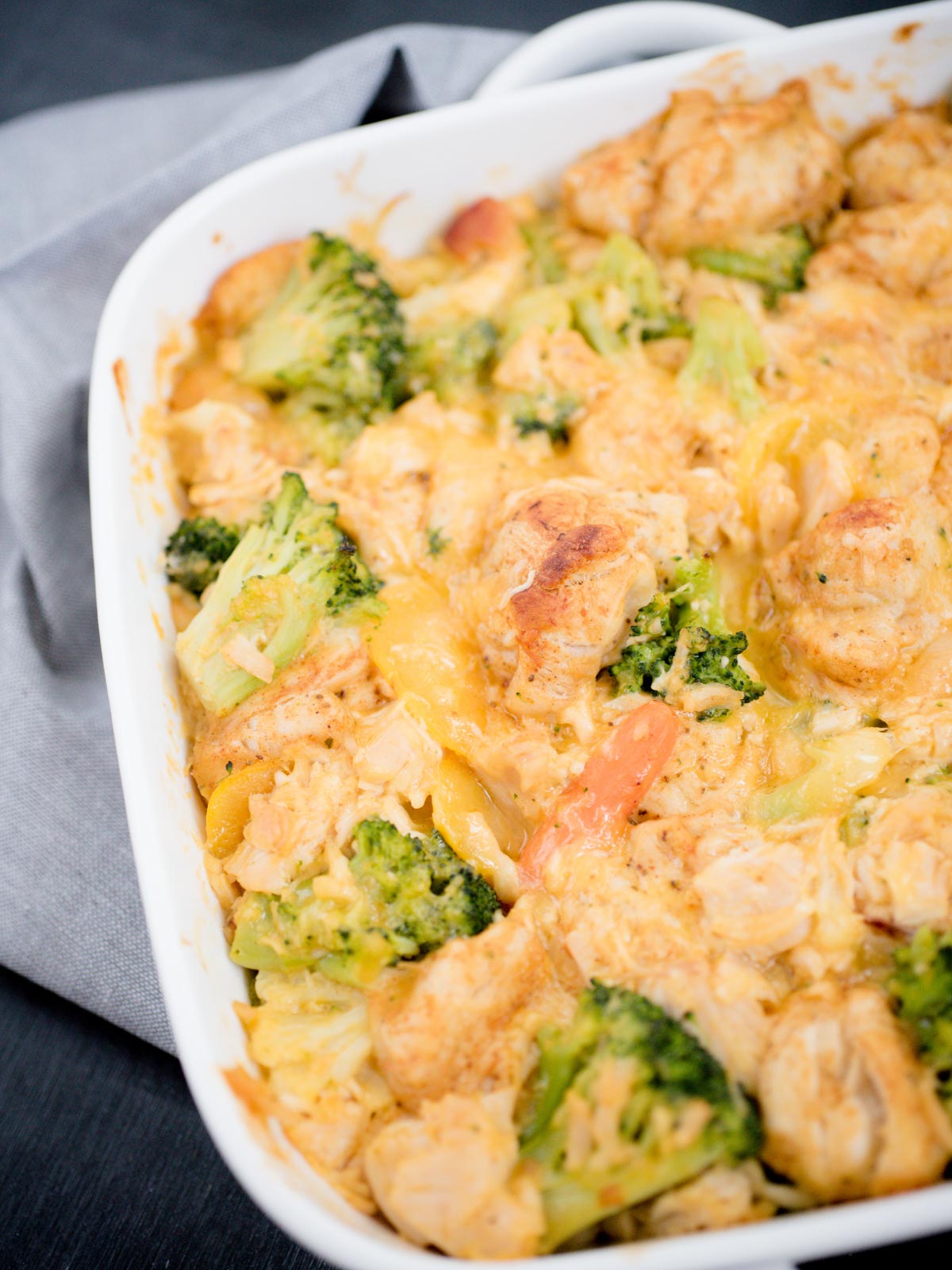 How to make Cheesy Chicken Bubble Up with Normandy Vegetable Blend:
Making this recipe is a cinch! You'll start by preheating your oven and then cutting your biscuits up into 10 pieces each.
Take your biscuits and shake them around & season them in a food storage bag, making sure they are coated.
In your baking dish, you'll combine your remaining ingredients with the biscuits, and bake in the oven to complete.
Tips for Chicken Bubble Up with Normandy Vegetables Recipes
You don't have to cut the biscuits up into 10 pieces each. You can divide them up however you like, I just prefer smaller pieces throughout the dish and find that they cook better that way.
It's important to cook and drain off the frozen vegetables because you don't want them releasing water into the casserole as it bakes.
I chose to use Trader Joe's mixed cheese because it had a lower point value. You can use whatever cheese you like!
You'll want to use a large (9x13) baking dish so that the ingredients are spread out when they bake and the biscuits are able to cook through.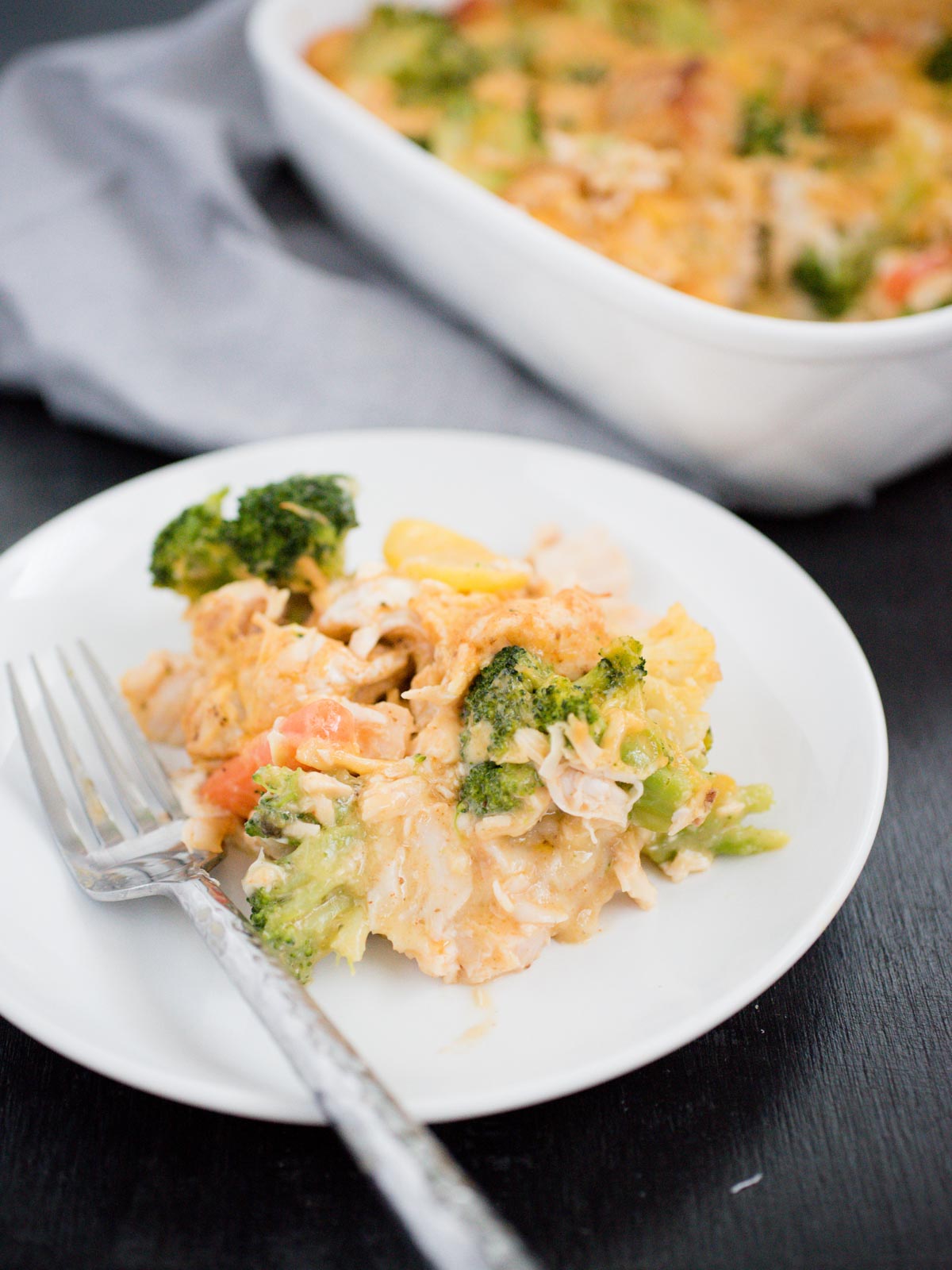 Can this Chicken Bubble Up be made ahead?
You can assemble the casserole in advance the same day prior to cooking. If you plan to serve more than 24 hours later, I recommend baking to completion and storing in the refrigerator or freezer until ready to reheat and eat.
Are Chicken with Normandy Vegetables Recipes freezer friendly?
Absolutely! It actually freezes very well. If you'd like to make this a freezer meal, I recommend baking it to completion and then freezing.
How to store and reheat a Cheesy Chicken Mixed Vegetable Casserole
Allow the cooked casserole to cool completely. Store in an airtight container in the refrigerator up to 3 days or the freezer up to 6 months. To reheat, place it in a microwave safe dish and cover. Microwave for 1 minute at a time until heated through. To reheat the entire casserole, allow the casserole dish to come to room temperature and place in a 350°F for about 15-20 minutes until heated through.
TRY ONE OF THESE OTHER FAVORITES: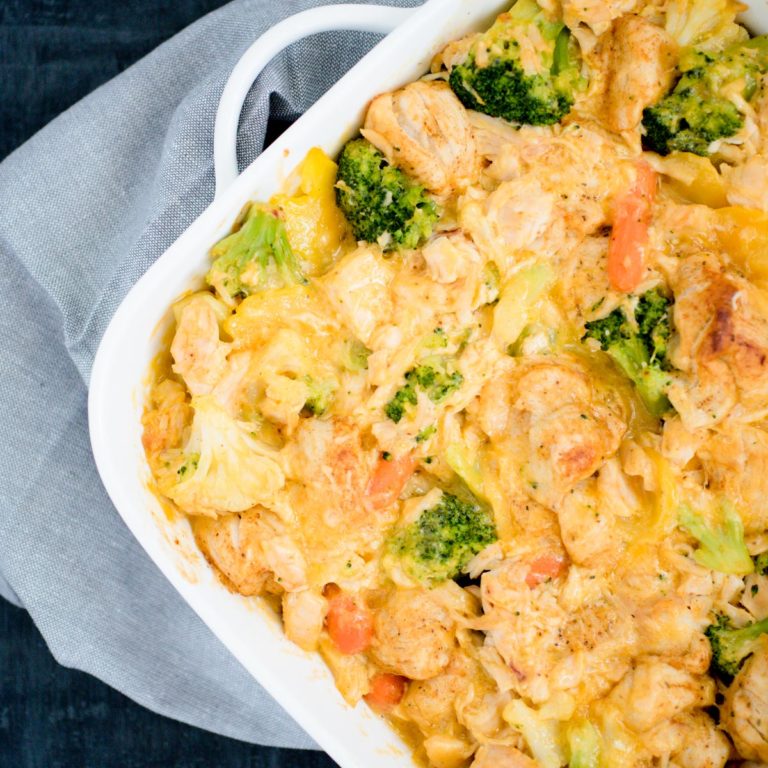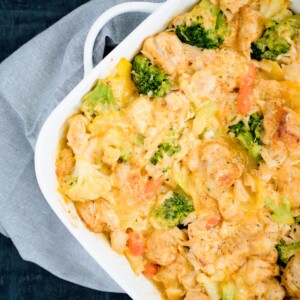 Cheesy Chicken Bubble Up with Normandy Vegetables Recipe
Instructions
Preheat oven to 350°F.

Spray a 13x9 dish with nonstick spray, set aside.

Cook the Normandy blend vegetables according to package instructions and drain well. You don't want any extra water in the casserole, it will prevent the biscuits from cooking properly.

Cut the biscuits into 10 pieces each and place them inside a large food storage bag. 

Add the Old Bay seasoning and garlic powder to the bag and seal. Shake the bag to coat all of the biscuit pieces. Set aside.

Add chicken breast, cheddar cheese soup, and Normandy blend vegetables to the baking dish. Mix to combine. 

Add the biscuits to the mixture. 

Bake for 35-38 minutes until the biscuits are browned and cooked through. Removed from the oven. 

Sprinkle with shredded cheese and return to oven for an additional 2-4 minutes (just until cheese is melted).
Nutrition
Nutrition Facts
Cheesy Chicken Bubble Up with Normandy Vegetables Recipe
Amount per Serving
% Daily Value*
* Percent Daily Values are based on a 2000 calorie diet.
Have you tried this recipe?
Please let us know how it was in the comments or tag us on Instagram @sweetlysplendid!