Smoked Baked Beans bring so much flavor to the table. A quick and easy classic recipe that is perfect for barbecues and potluck dinners.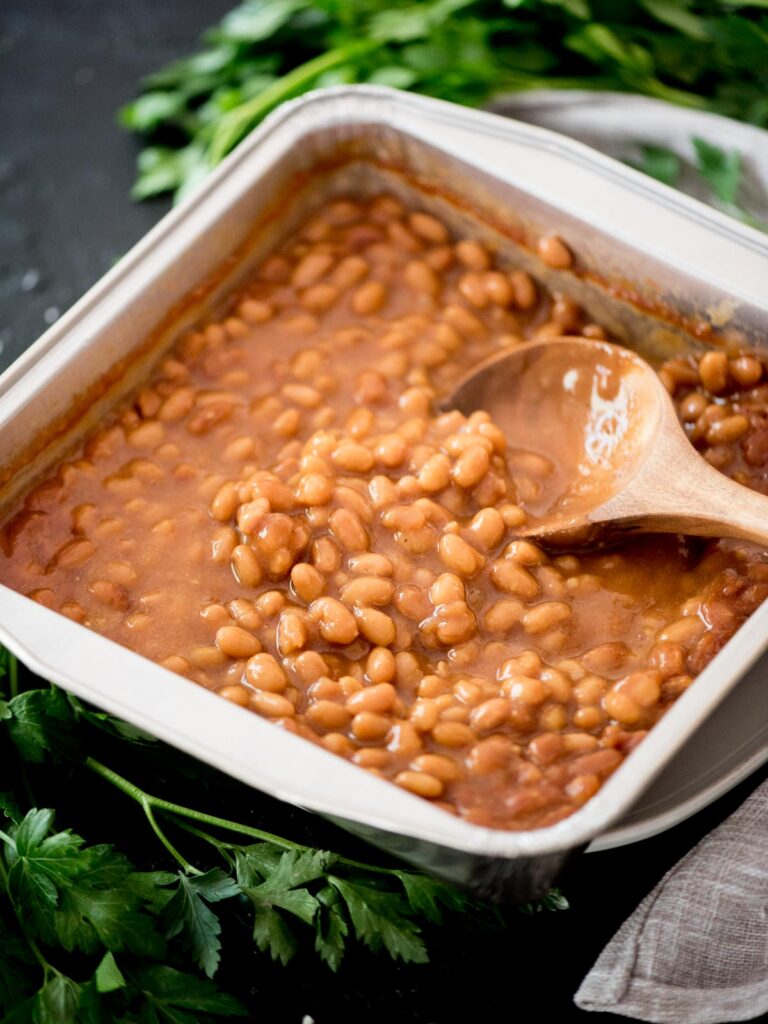 This post may contain affiliate links. This means if you decide to purchase through my link, I may earn a very small commission at no additional cost to you.
Smoked Baked Beans Recipe
Baked beans are a delicious side dish for summer cookouts.
Where there's grilled or smoked meat, there's always pasta salad and some kind of potato (hopefully potato wedges) and there are always baked beans. Smoked White Queso Dip is another easy side to add to the smoker while other food is cooking. It's flavorful and good with chips or good added to smoked and grilled meats.
Have you tried smoker beans? They are baked barbecue beans, only made in a smoker for the ultimate tasty side dish.
If you have a smoker, whether it's a wood or pellet grill, you will love adding this perfect side dish to your barbecue menus or summer potluck.
Why this Smoked Beans Recipe is one of the Best Side Dishes
Smoking baked beans is game-changing and I think you're going to love it. Here's why:
With only four ingredients, this easy recipe comes together in a snap.
Prep time is only a few minutes. Canned beans make it a really easy side dish.
These Pit Boss baked beans are quick to cook in the smoker. They need less than an hour.
They can be made on the smoker while other dishes are smoking.
Smoked BBQ Beans Ingredients
Here's what you will need to pick up from the grocery store to make this easy smoked beans recipe:
pork and beans - Use three cans of pork and beans, drained. You can also use a combination of navy beans with tomato sauce and sugar.
bbq sauce - Barbecue sauce is a must in this recipe, but you can use your favorite. It can be a sweet barbecue sauce or vinegar-based. If you use a mustard-based sauce, you can omit the added mustard if you like. See the section below called Best Barbecue Sauces for my favorites.
mustard - Use any type of mustard, including yellow mustard, Dijon, whole grain, or spicy mustard.
brown sugar - Light or dark brown sugar lends its sweetness to this recipe. You can also use maple syrup for some sweet, molasses flavor.
What beans to use when making baked beans on the smoker
I find that canned pork and beans give the best flavor results. The type of bean will affect the overall taste.
Pork and beans can be replaced with navy beans, but you'll want to add some tomato sauce and a little sugar.
There are a variety of beans available and different types of beans will give you completely different results. Pinto beans could be used in a pinch (with a little sugar and tomato sauce), but I wouldn't suggest using black beans or kidney beans. Their texture and flavor don't blend well with the other ingredients.
If you choose to use dry beans, you'll need to cook them first. If you do decide to go with different beans, keep in mind that you want a perfect balance of sweet and savory flavors.
Best barbecue sauce for baked beans
Since you're making smoked baked beans, I figure you're also serving some sort of barbecue.
My favorite bbq sauces are:
For the ultimate flavor, you can make your own barbecue sauce. A few tablespoons of these would be amazing in smoked beans.
Kitchen tools needed for BBQ Smoked Beans
Best dish for smoked bbq beans
I suggest using a disposable aluminum pan.
You can also use a cast iron skillet.
A glass Pyrex dish can go in the smoker. This type of glass is designed to endure high temperatures up to 914°F.
However, do not put a cold glass dish into the smoker or the quick heat change can cause it to explode.
What pellets to use when smoking baked beans
For smoked bbq beans, choosing the right pellets for the pellet smoker is key for a rich smoky flavor. A sweet type of wood like apple or cherry wood is great because it will add some subtle fruit flavor to the beans.
However, if you're cooking them while cooking meat, use the recommended pellet for the meat — the beans will still taste great!
How to make Smoked Baked Beans
Making baked beans in a smoker is super easy. Here's how to do it:
Preheat the smoker to 225ºF.
Combine the pork and beans, bbq sauce, mustard, and brown sugar together in a disposable 8x8-inch cake pan.
Mix until fully combined.
Add the beans to the smoker and smoke for 50 minutes or just until bubbly.
Allow them to cool for about 10 minutes before serving. I recommend serving them with a large slotted spoon.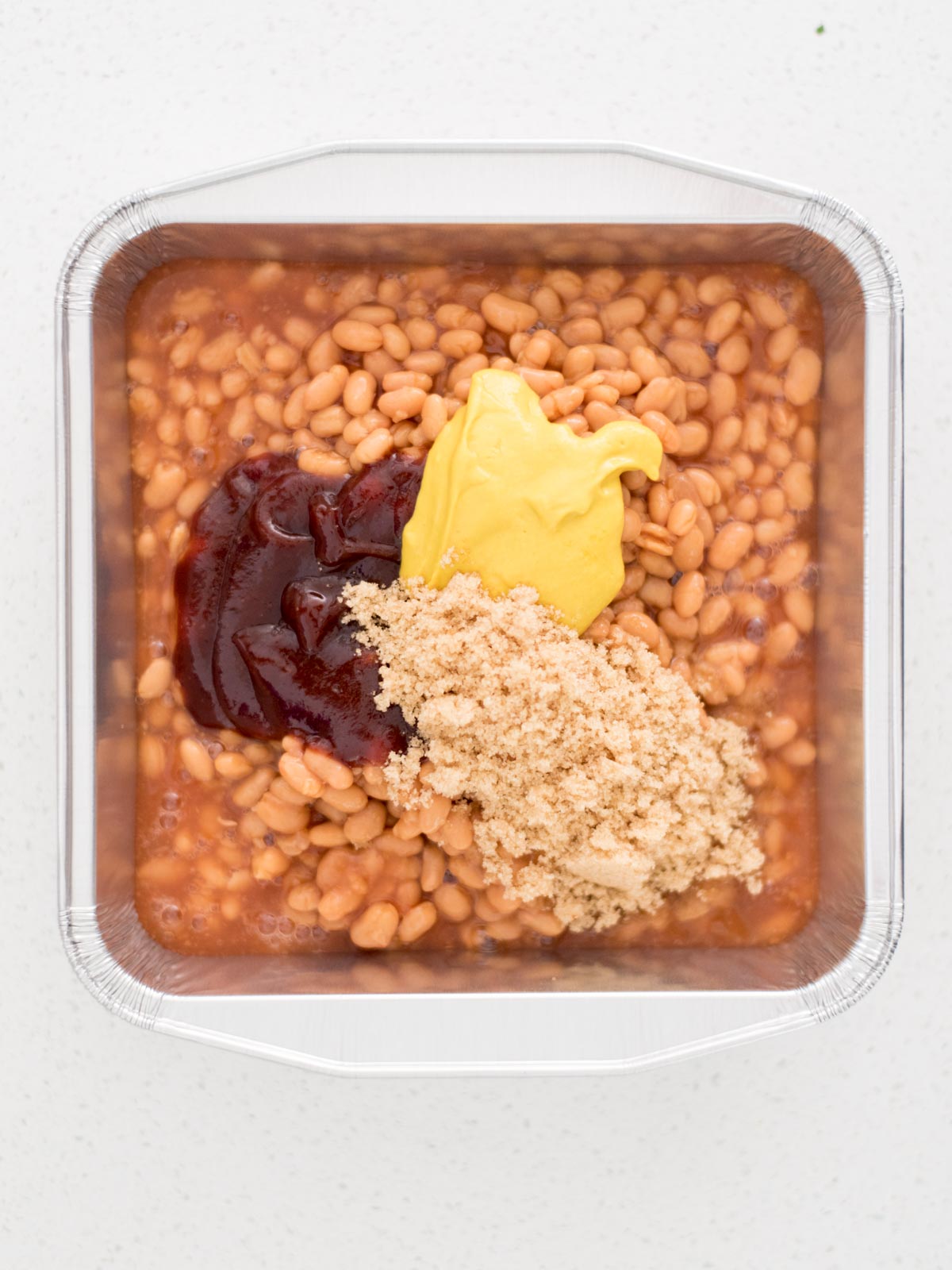 Smoked Beans Tips & Tricks
To tie the flavor in with your meal, use the same barbecue sauce in the beans that you serve with or brush on your meat. (See section below on best barbecue sauce.)
If you want a tangier flavor, you can add more mustard.
Bacon makes a great addition to baked beans. Cut it up into small pieces and then mix it in before baking.
Smoked Beans Recipe variations
Add in finely diced jalapeno pepper for extra spice
Season the beans with freshly cracked black pepper to have a little spice without the heat.
Slice up some hot dogs to give you classic beans and weenies flavor from childhood
Smoke slices of bacon and crumble up the bacon pieces and mix them in. The smoked bacon will add even more smokey flavor. You could also sprinkle the top of the beans with crumbled bacon.
Saute some diced onion and mix it in. You can use white, yellow, or red onion, whatever your favorite chopped onions are. Sauteeing the onion in bacon grease or bacon fat is also a great option for flavor.
Chop up red bell pepper and mix it in
Sprinkle in dry mustard for an even stronger mustard flavor
Add a dash of apple cider vinegar if you're a fan of east coast style barbecue for that tangy, vinegar base.
Add a few splashes of Worcestershire sauce for a salty depth of flavor.
If you have leftover smoked pork belly, add it to the beans.
Add in roasted garlic or garlic powder for extra flavor.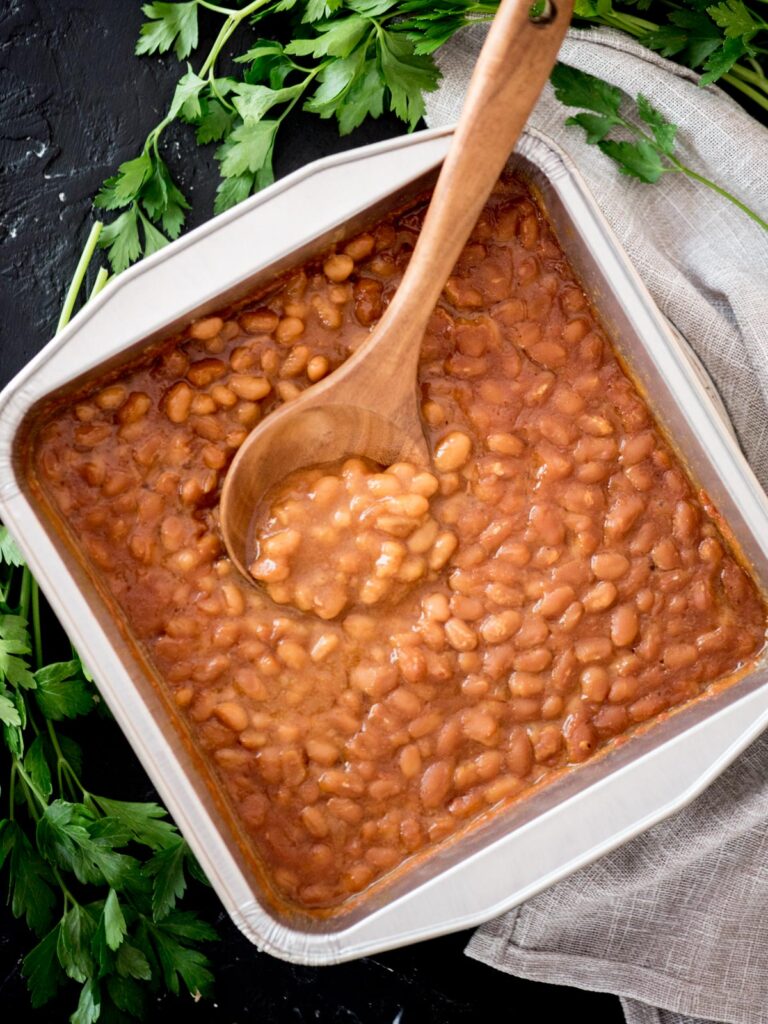 how to make smoked beans on the stove
If you don't have an electric smoker to smoke beans, you can get similar results cooking them on the stove top (or in the oven) with a cast-iron skillet or dutch oven.
Combine all of the ingredients for the bean recipe and then add in a teaspoon of liquid smoke. Stir to combine and heat through over medium heat.
Using the liquid smoke will allow you to still get that smoke flavor without a smoker.
How to Store and Reheat Smoked BBQ Beans
Store baked beans in an airtight container in the fridge. You can also use the same disposable container covered in foil.
To reheat, microwave in 30-second intervals until warmed through. You can also reheat it in the oven at 350°F for 15 minutes or on the stove in a saucepan over low to medium heat.
What to Serve BBQ Smoked Beans with:
Baked beans are a great side dish for barbecues, cookouts, and potlucks.
You can cook and serve them alongside a main dish like Smoked Pulled Pork, Smoked Ribs, Smoked Beer Can Chicken, Smoked Chicken Thighs or beef brisket.
For other side dishes, try one of these ideas:
Smoked Baked Beans Recipe FAQ
Can I make smoked barbecue beans in a slow cooker?
You can. You'll want to follow the same instructions above for making them on the stove, but combine the ingredients in your crock pot.
When it comes to cooking time, you'll want to keep the slow cooker set to low and heat them through for about 2-3 hours.
Can smoked baked beans be made on a grill?
Absolutely! The key to making these successfully on a standard grill or even a charcoal smoker is indirect heat. I'd recommend using a cast iron pan.
You'll want to add a teaspoon of liquid smoke to the baked bean mixture if you're using a standard gas grill.
How long to smoke baked beans at 225
When smoking baked beans, they should smoke for about 50 minutes or just until bubbling.
Let them cool for about 10 minutes before serving. 
How long can you smoke baked beans?
Smoked baked beans should be cooked for 50 minutes at 225ºF.
Can you cook raw beans in a smoker?
You can cook raw beans in the smoker, but they will need to be soaked first and cooked differently.
More Smoker Recipes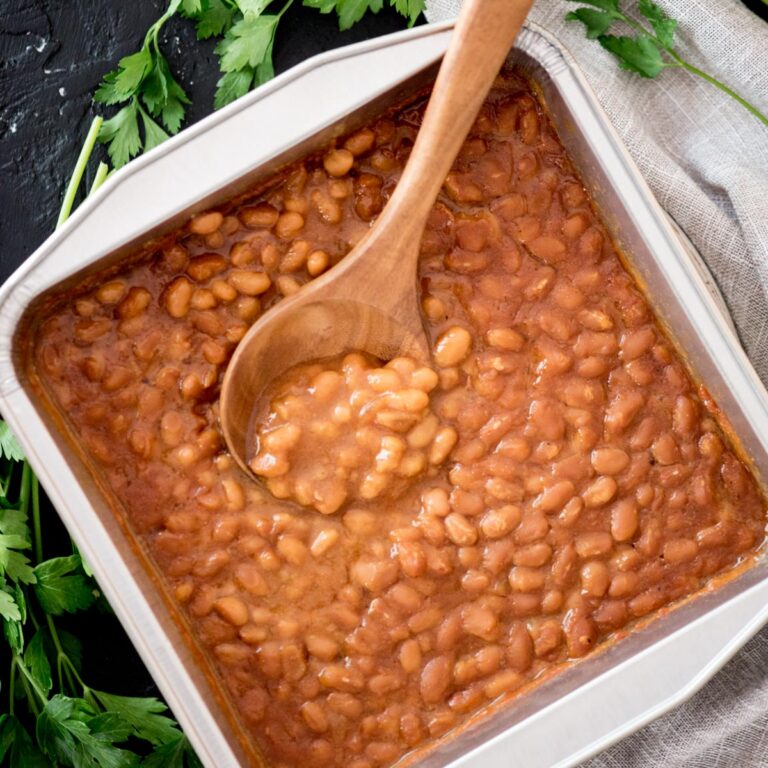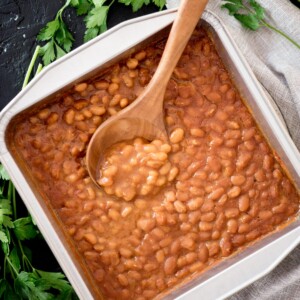 Smoked Baked Beans
Smoked Baked Beans bring so much flavor to the table. A quick and easy classic recipe that is perfect for barbecues and potluck dinners. 
Instructions
Preheat the smoker to 225°F.

Combine the pork and beans, bbq sauce, mustard, and brown sugar together in a disposable 8x8 cake pan.

Mix until fully combined.

Add the beans to the smoker and smoke for 50 minutes or just until bubbly.

Allow them to cool about 10 minutes before serving.
Nutrition
Nutrition Facts
Smoked Baked Beans
Amount per Serving
% Daily Value*
* Percent Daily Values are based on a 2000 calorie diet.
Have you tried this recipe?
Please let us know how it was in the comments or tag us on Instagram @sweetlysplendid!