Bring this Zesty Italian Pasta Salad to all your summer potlucks! There's no mayo involved, so it's perfectly safe for eating outside on hot days.
This pasta salad recipe is an easy version of the classic recipe that your friends and family will beg you to make every time you get together at your summer bbq.
It's an easy recipe your family will love.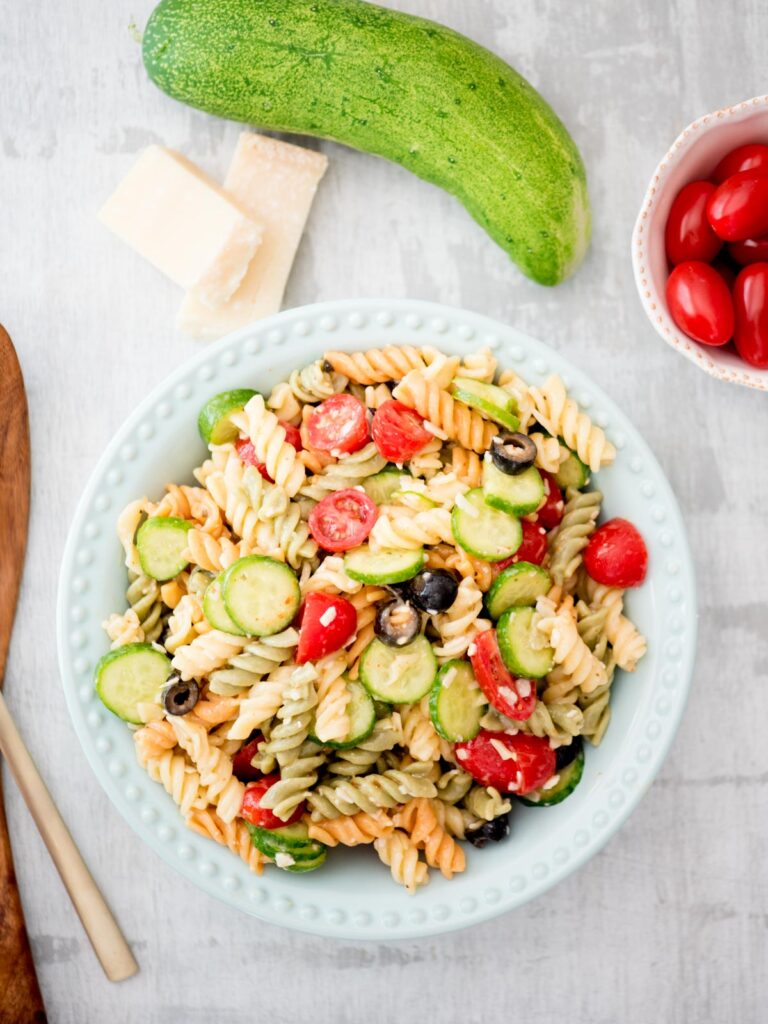 This post may contain affiliate links. This means if you decide to purchase through my link, I may earn a very small commission at no additional cost to you.
Easy Pasta Salad with Italian Dressing
The heat hits San Antonio usually sometime in March. By June, it's in full swing! What that means for us is grilling season starts early!
We love having friends over for a barbecue and trying out new recipes. I usually serve several dishes, but I always, always, always make a summer pasta salad, whether we're having ribs or burgers.
Sometimes I change my pasta salads based on my mood (I have lots of substitutions and ideas for you below), but they always come out great. A cold salad on a hot summer day can be so refreshing!
The one I'm sharing today is a pasta salad with cucumbers and Italian dressing. There's no mayo involved, so it's perfect for hot summer days.
Why you'll love this Summer Pasta Salad with Italian Dressing
It's so easy to make. If you know how to make pasta, you can make this pasta salad!
You can make it the day-of or a day in advance of your gathering — it will taste great either way!
There's no mayonnaise, so it's perfectly safe to serve at an outdoor event like a picnic or barbecue.
You can customize it to your heart's content! Add your favorite veggies and leave out anything you don't love.
Summer Pasta Salad Ingredients
In the summer during BBQ season, I really like to use primarily oil-based dressings for my pasta salads because of the summer sun.
No one wants a creamy, mayo-based salad that gets all gross in the heat! (Not to mention it's kinda unsafe…)
Feel free to mix and match what you put in your salad. I always do, but these are usually the staples that I like to stick to.
Here's what you will need for this recipe:
pasta – I usually use rotini pasta because I like the way the dressing catches in the grooves, but you can use other pasta shapes like penne or farfalle (AKA bowtie). Rotini often comes in a tricolor rotini box, which you can use to add more color. If you need a GF option, use your favorite gluten-free pasta in a similar shape. You just want a type of pasta that can hold on to the dressing.
black olives – You can use olives from a can for this recipe. Olives aren't for everyone, so feel free to omit this if they aren't your cup of tea. I wouldn't recommend making this with green olives.
grape tomatoes – You're going to halve these so they are a little more bite-size. Feel free to use cherry tomatoes instead.
English cucumber – Cool, crunchy cucumber adds texture to this pasta salad. You can use Persian cucumber if you prefer.
a zesty Italian dressing – The dressing is what makes this recipe so good and flavorful! There are some other salad dressings that would work as well. You can use a garlic Italian dressing, champagne vinaigrette or even a Greek vinaigrette instead. My friend Liz makes an incredible homemade Italian dressing with some simple dressing ingredients if you want to make it yourself. You're ultimately looking for a really flavorful olive oil based dressing. The dressing is key to a flavorful pasta salad.
salad seasoning – I love to use McCormick Salad Supreme seasoning (affiliate link) on this pasta salad but feel free to use an all-purpose seasoning instead. You could also try my Tuscan herb seasoning blend.
parmesan cheese – You will want to use shredded, not grated, parmesan for this recipe. You could also use pecorino or romano, or even chunks of fresh mozzarella.
What to put In Cold Italian Pasta Salad
mini pepperoni (or pepperoni that you cut into strips)
salami (cut into small strips)
diced bell peppers (red, yellow, orange, and green bell pepper work well)
pepperoncini peppers (cut into small pieces)
diced red onion or scallions
zucchini, quartered and diced
mozzarella cheese pearls
fresh basil, fresh parsley, or other fresh herbs
sun-dried tomatoes
banana peppers
red pepper flakes
green onions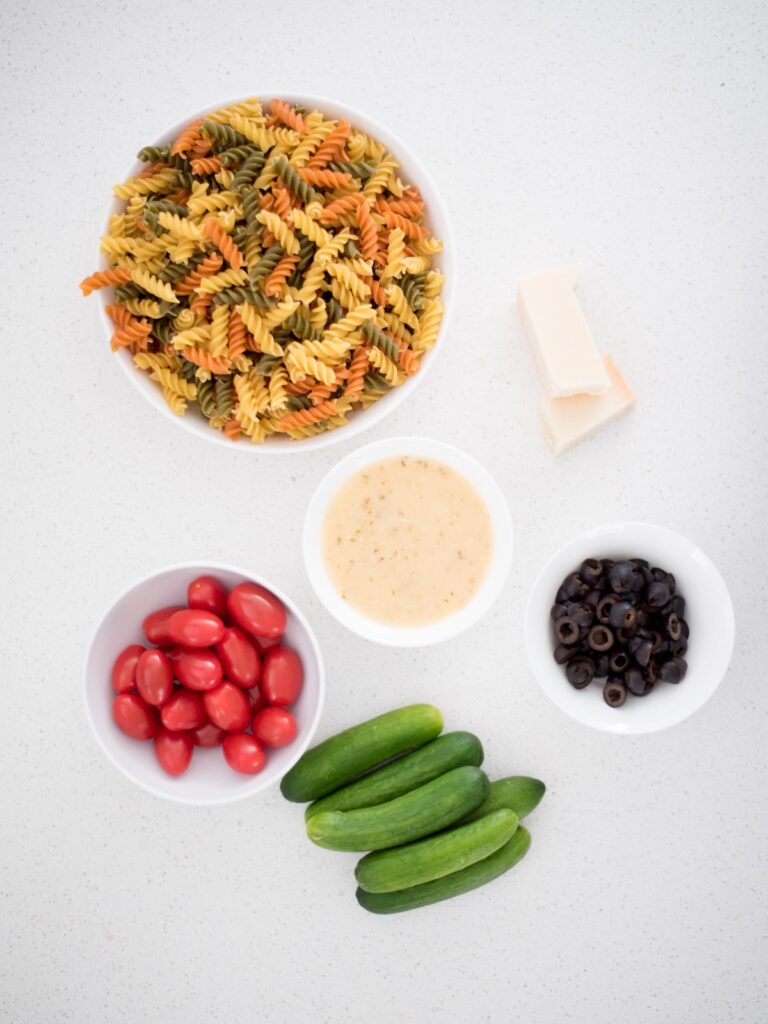 How to make Zesty Italian Pasta Salad
Here's what to do to make this easy pasta salad:
Cook the pasta according to package directions. (Don't forget to salt the water generously! This adds more flavor and is super important.) It's important not to overcook or undercook the pasta. What you are looking for is an al dente pasta, which will hold up best in this recipe. That means it should be tender but still firm to the bite.
Meanwhile, prepare your veggies. The olives should be pitted and sliced, so do that if you are using whole olives. (Use an olive pitter. (affiliate link)) Halve the grape tomatoes and then halve and slice the cucumber, so you have half-moon shapes. Prepare any other ingredients you are planning to add.
When your pasta is ready, drain and rinse with cold water to take the heat out. You want the pasta either room temperature or cold.
Pour the cooked pasta into a large mixing bowl (a large bowl is important to have room to mix!) and add olives, tomatoes and cucumber. Sprinkle with salad seasoning. Stir until everything is evenly distributed.
Then, pour your zesty Italian dressing over the top of the pasta and veggies and stir until everything is well-coated.
Lastly, sprinkle the shredded parmesan cheese on top and mix lightly. Store covered in the fridge until ready to serve. Serve cold.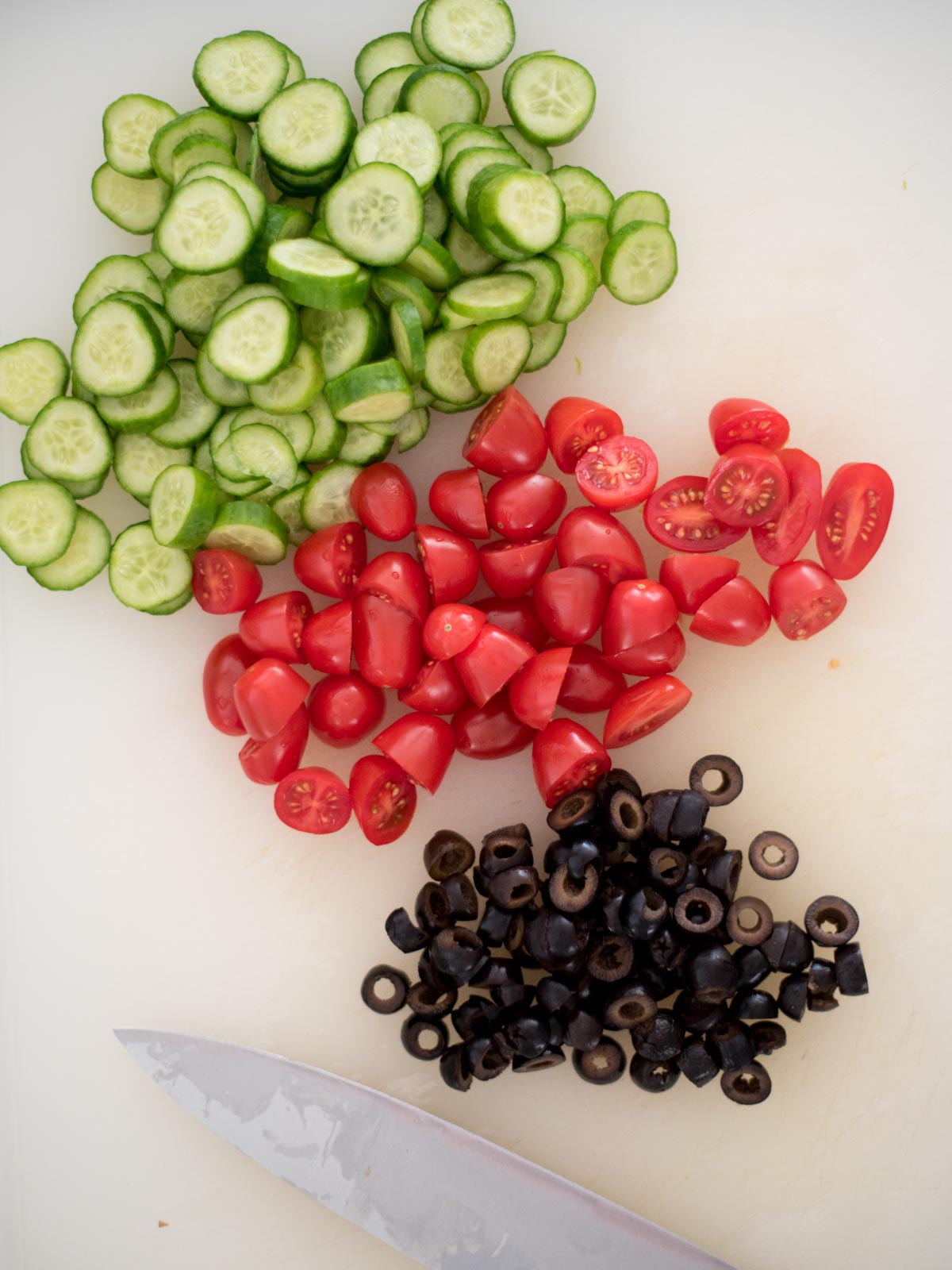 How long does pasta salad with Italian dressing and cucumbers last?
Pasta salad lasts in the fridge for 2-3 days in an airtight container. Making sure you don't overcook the pasta will help it to hold up better.
Personally, I think it tastes best the next day after you make it. The dressing will have had some time to marinate with the pasta and veggies, so it's much more flavorful.
If you like, you can toss ¼ cup more dressing with leftovers to help separate any ingredients that stick together.
What to serve with Zesty Pasta Salad
Because pasta salad is pretty starchy, you will probably want to add some protein to your menu! It's great alongside a main dish like barbecue pork sandwiches and chicken kabobs.
For a more Italian menu, start the meal with a yummy appetizer like caprese salad or pepperoni rolls.
Summer parties just aren't the same without a few more salad options, too. Try this summer corn salad and this grilled peach salad.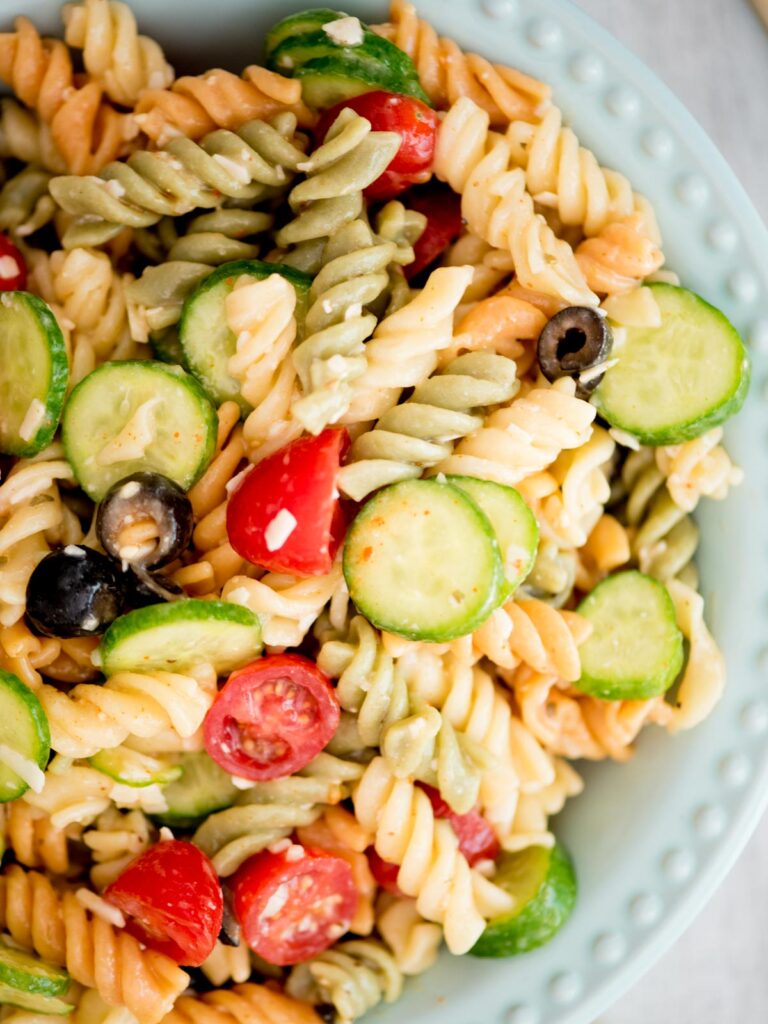 Summer Pasta Salad FAQ
How far in advance can you make pasta salad?
While pasta salad can be made in advance, I'd recommend serving within 1-2 days of making it to have the best results.
Should pasta salad be served cold or warm?
Pasta salad is meant to be served cold.
What does Zesty Italian taste like?
Zesty Italian dressing tastes very similar to regular Italian dressing, but with a stronger garlic and spice flavor.
How do I make my pasta salad less soggy?
To make sure your pasta salad isn't soggy, drain the pasta entirely and then don't over dress the salad. Too much water from the pasta along with too much dressing will both result in soggy pasta salad.
More pasta salad recipes
If you love a cold pasta salad recipe, check out these:
Zesty Italian Pasta Salad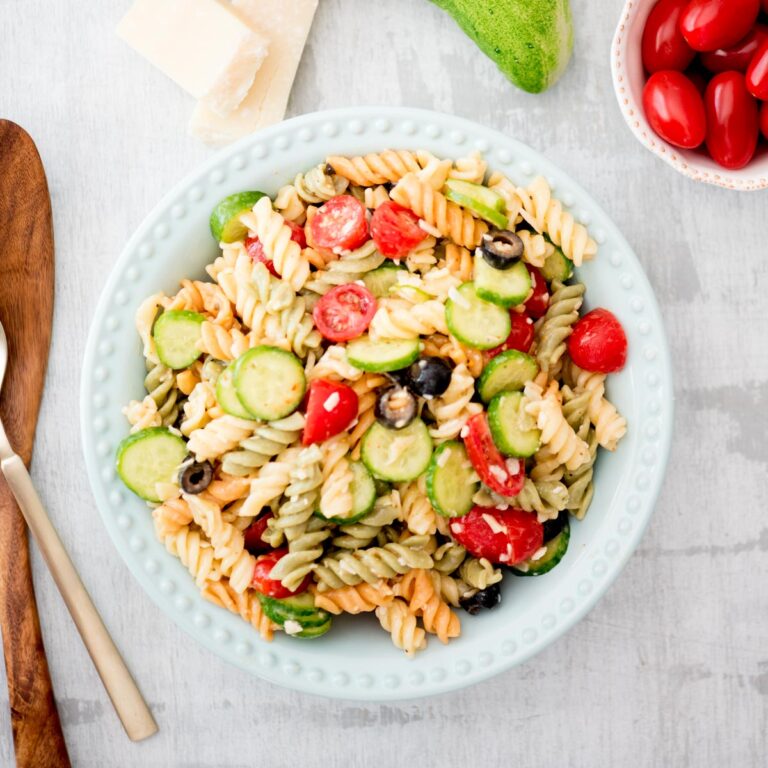 This pasta salad recipe is an easy version of the classic recipe that your friends and family will beg you to make every time you get together at your summer bbq. It's an easy recipe your family will love.
Instructions
Cook the rotini according to package instructions, drain, and rinse with cold water to take the heat out. You want the pasta either room temperature or cold.

Pour pasta into a large bowl and add olives, tomatoes, and cucumber. Mix to combine.

Pour the dressing over the top and stir until well coated.

Sprinkle Parmesan on top and mix lightly. Serve cold and enjoy!
Nutrition
Calories:
169
kcal
,
Carbohydrates:
24
g
,
Protein:
5
g
,
Fat:
6
g
,
Saturated Fat:
1
g
,
Polyunsaturated Fat:
2
g
,
Monounsaturated Fat:
2
g
,
Trans Fat:
0.01
g
,
Cholesterol:
1
mg
,
Sodium:
317
mg
,
Potassium:
86
mg
,
Fiber:
1
g
,
Sugar:
3
g
,
Vitamin A:
54
IU
,
Vitamin C:
0.2
mg
,
Calcium:
36
mg
,
Iron:
0.5
mg
Nutrition information is automatically calculated, so should only be used as an approximation.
Nutritional information is provided as a courtesy. It should only be used for estimation purposes and is not a guarantee of any kind. Nutritional information varies widely between brands and types of ingredients used. It is recommended that you calculate the nutritional information based on your own ingredients and brands used. Sweetly Splendid, LLC makes no guarantees as to the exact nutrition information.