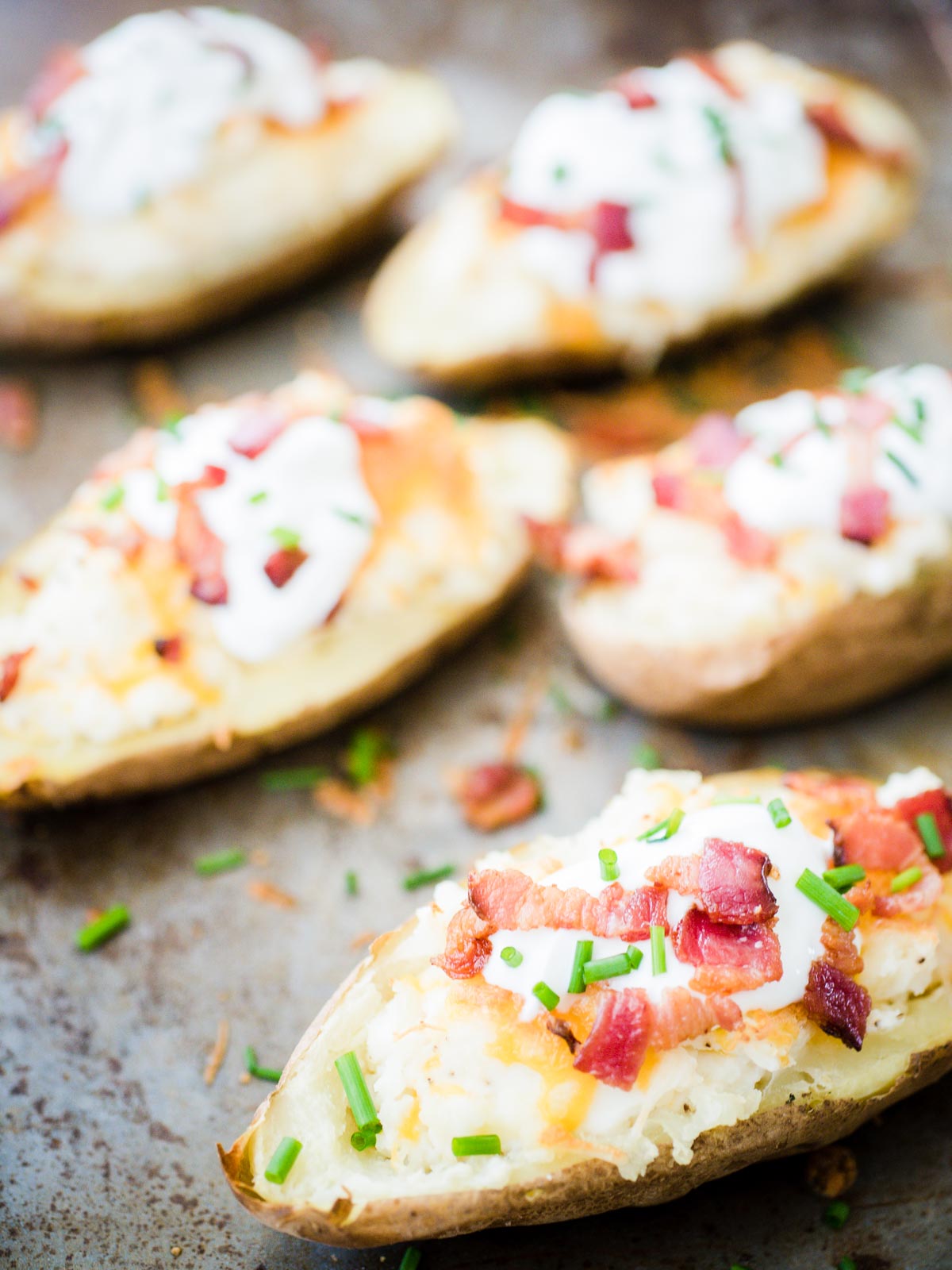 It's confession time. I learned to make these little guys in middle school home economics. Do they even still have Home Ec classes? I love these so much that I learned to make them all those years ago (more than I'd like to admit... ahem), and I haven't stopped making them since. I've made some adjustments over time, but at the end of the day I'm pretty dang thankful that I learned the basics of this.
I loved Home Ec! I think I may have been one of few, but it was a fun class for me. It was about all of the things I enjoyed doing with my grandma. I remember sewing aprons in class and I chose a navy fabric that had glitter gold stars on it. I had been sewing for several years already with my grandma so it was just another fun project for me. I kept that apron for a long time. I still love aprons today, I just happen to buy them rather than sew them. I'd probably sew them if I felt like I had the time to just sit down and enjoy it.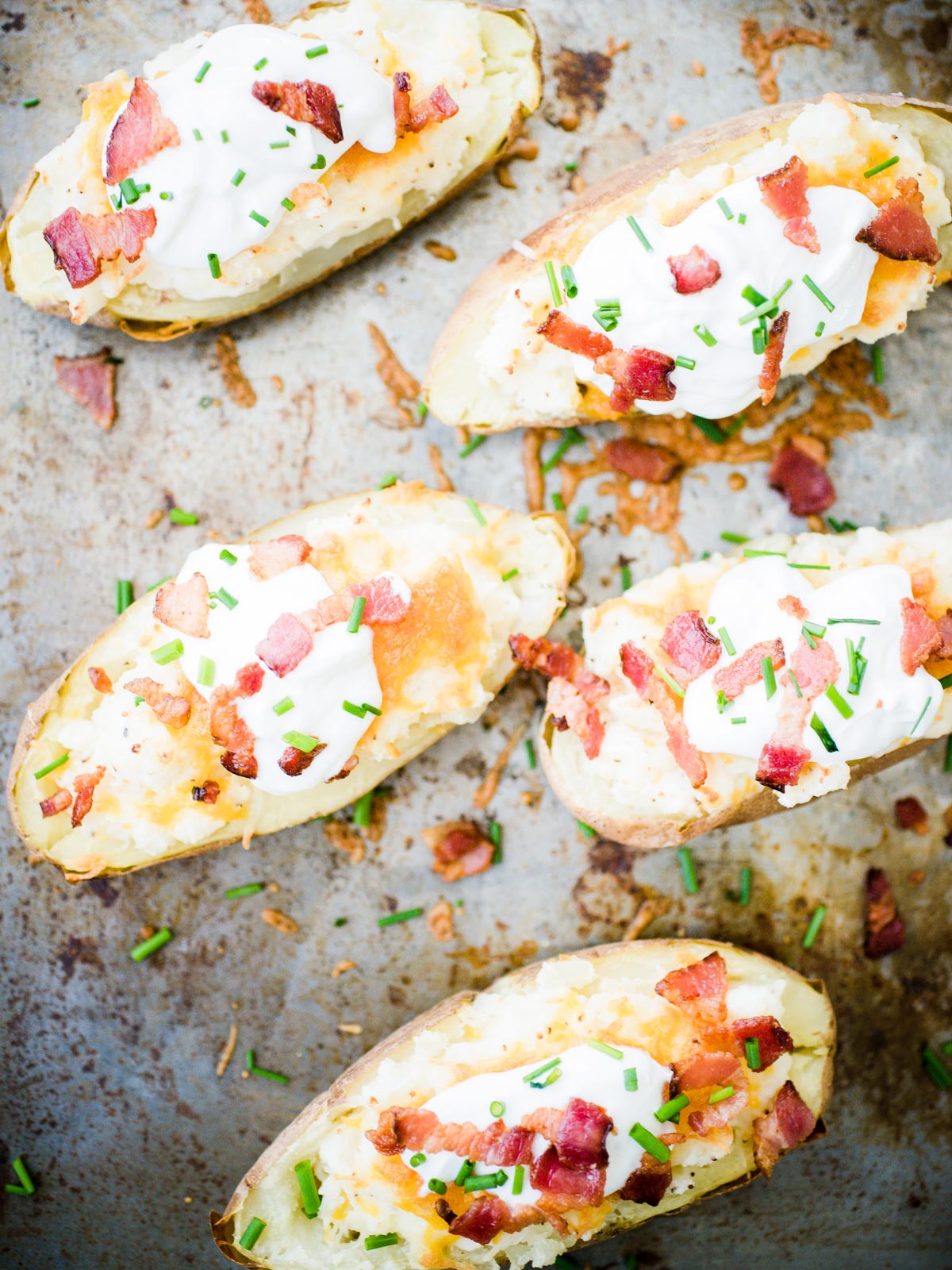 Second confession: I'm not really a huge fan of baked potatoes. I'm not big on just a plain 'ol baked potato. I like them either stuffed to the brim with extras or twice baked. Bonus points if they've been baked in the oven with a crispy, salty skin. Those plain baked potatoes you sometimes get in a restaurant with just a pat of butter... no thanks. Hard pass. I feel like at that point why waste the calories? I'd rather spend those calories on something else or not at all.
The name says it all here --- twice baked. If you're like me and sometimes get a little lazy, you can definitely short cut the first baking by doing them in the microwave. All microwaves and potato sizes are different so it's hard to say just how long. I normally use the potato button my microwave, but it usually ends up being about 5 minutes each. Either way, it's up to you on how you want to bake your tater.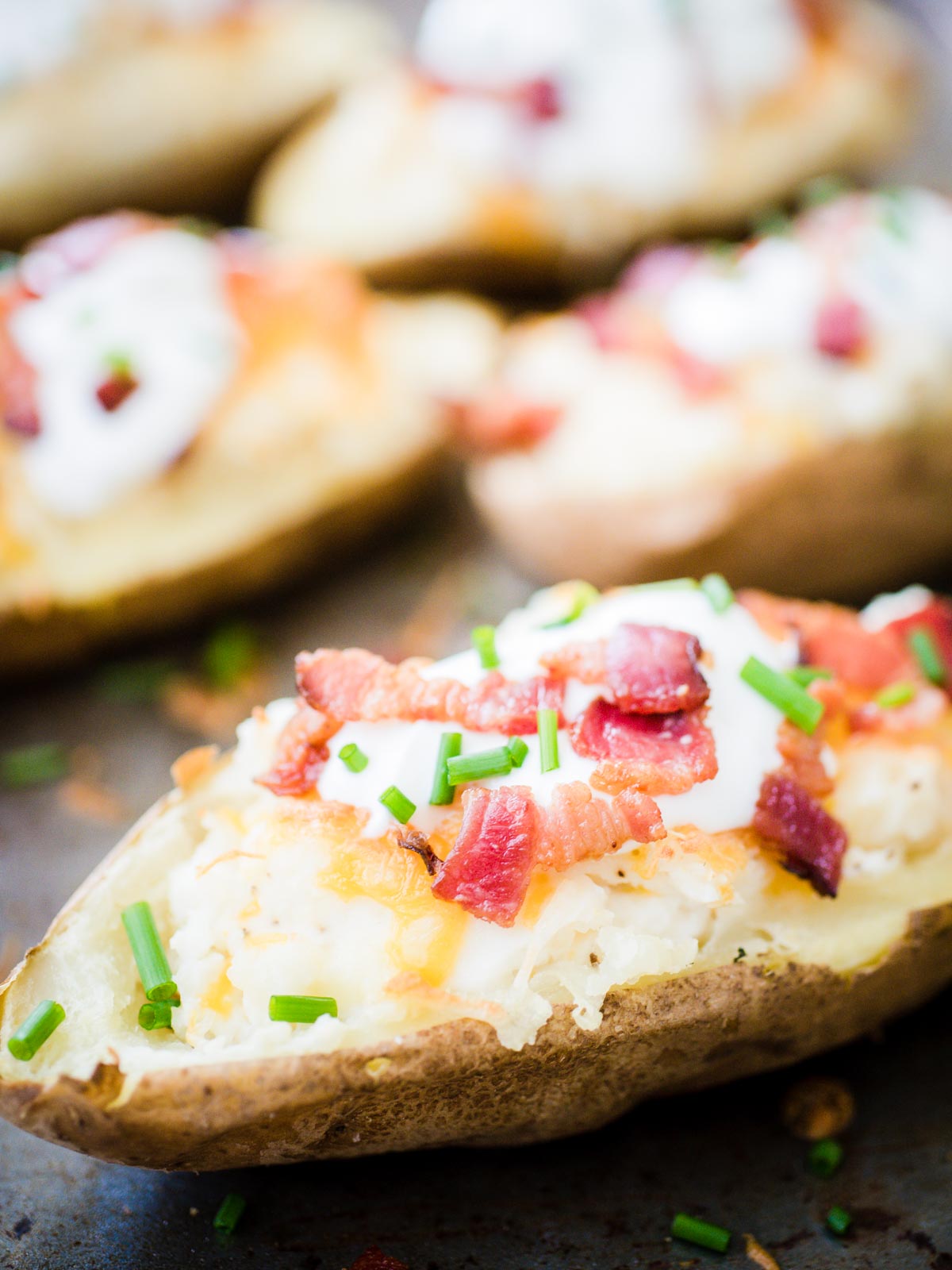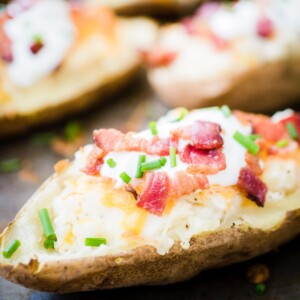 Loaded Twice Baked Potatoes
Ingredients
4

large baking potatoes

1

cup

sour cream + additional for topping

1

cup

sharp cheddar

shredded

6

slices

of thick cut bacon

4

tbsp

butter

splash of milk

I use 2%

1

tsp

garlic powder

1

tsp

onion powder

salt

pepper

chives

for topping
Instructions
Preheat oven to 400°F.

Wash potatoes, poke several holes in each with a fork, and wrap in foil.

Bake in the oven for 1 hour or until tender.

While potatoes are baking, cook bacon in heavy bottom skillet. Once cooked, set aside to cool.

When potatoes have finished baking, remove from oven and allow to cool (approximately 10-15 minutes).

Turn oven down to 350°F.

Take each potato and cut it length-wise.

Scoop the insides of each potato into a large mixing bowl, leaving about a quarter inch border to help hold its shape.

Place potato shells on a foil lined baking sheet.

Into the mixing bowl, add sour cream, ½ cup cheddar cheese, 4 slices of crumbled bacon, butter, garlic powder, onion powder, salt & pepper.

Mix until creamy & smoothe, adding milk as needed. You want it to be thick and not too runny.

Scoop spoonfuls into the potato shells, dividing evenly between all potatoes.

Sprinkle remaining ½ cup of cheese evenly among potatoes.

Return potatoes to the oven and bake for 15-20 minutes, or until cheese is melted.

Remove from the oven and top with a dollop of sour cream, sprinkle of bacon and chives.
Have you tried this recipe?
Please let us know how it was in the comments or tag us on Instagram @sweetlysplendid!
***These can also be made ahead of time. Follow steps 1-13, cover and place in the refrigerator until ready to bake.