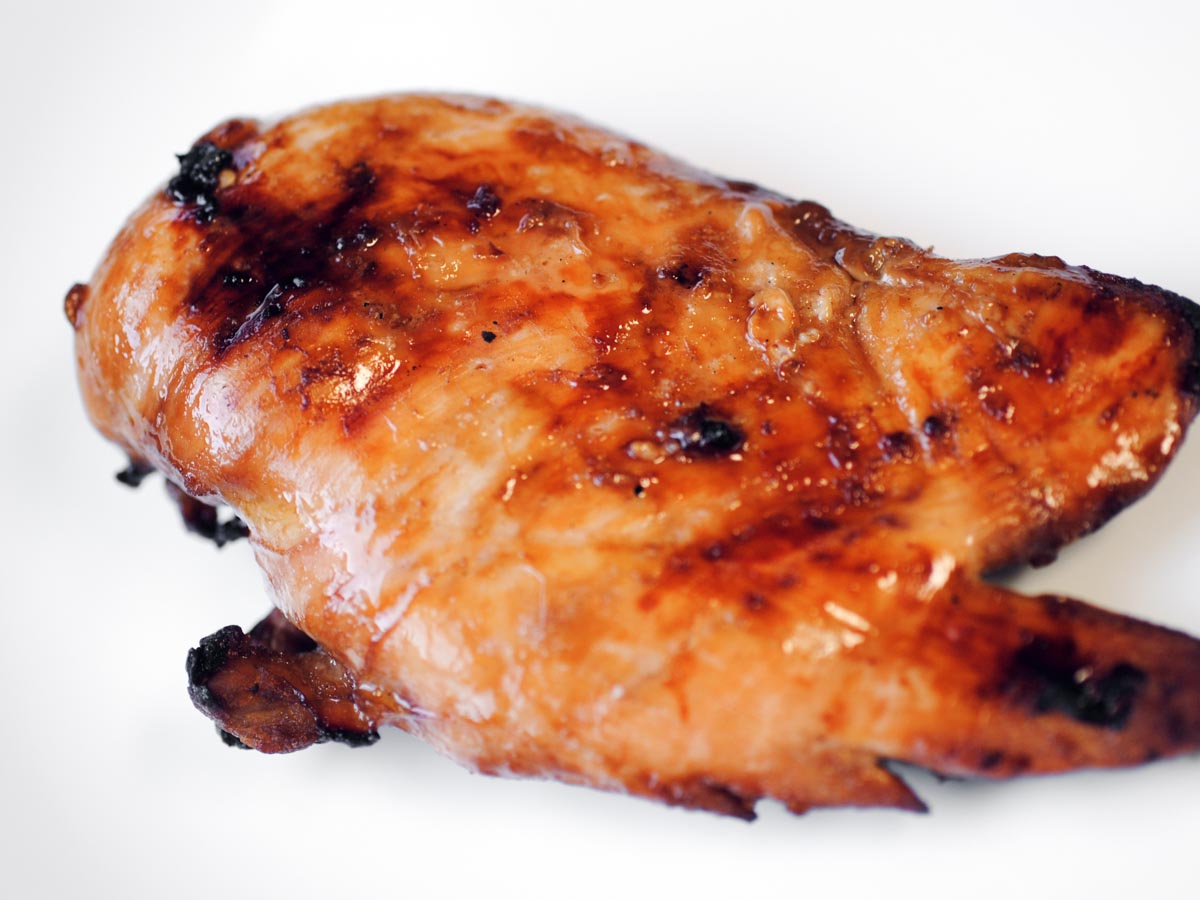 Jacob and I love to grill. The moment the weather starts getting warmer (which is pretty much February here!) I start centering all of our meals around the grill. There is so much less clean-up, it's generally healthier for you, and best of all... the smell. There's nothing better than the smell! Well, maybe eating it of course.
Grilled chicken is one of those things that can go great, or can go horribly wrong. Yes, speaking from experience. I may have been cooking all my life, but you bet your butt I've lit some chicken on fire on the grill before. Whenever possible, we try to do our chicken on the charcoal grill. But, out of convenience that sometimes doesn't happen. The only reason we try to do charcoal when possible with chicken (aside from taste) is to help with the flare ups and temperature.
I can't stress enough that everyone should buy a digital meat thermometer. They are inexpensive and you will enjoy your grilled meat so much more. It especially pays off with chicken. This way, it's definitely cooked through, but most of all it isn't OVER cooked. You don't end up with dry chicken breast like people so often do.
This grilled chicken breast is super easy.
Marinated Grilled Chicken Breast
4 servings | 294 calories per serving
1lb boneless skinless chicken breast (4oz. per serving)

1 cup light brown sugar
1 cup extra light olive oil (you can also use vegetable or canola)
½ cup low sodium soy sauce
½ cup white vinegar
Combine the brown sugar, oil, soy sauce, and vinegar in a bowl and whisk until fully combined. Pour into a gallon size ziploc bag. Place the chicken in the bag and force the air out. Seal up and mix around to make sure all of the chicken is covered. Place in the refrigerator for 4-24 hours. 24 hours is best, but I've even used this stuff 30 minutes before and it turns out great!
When you're ready to grill, take the chicken out of the refrigerator and preheat the grill. All grills are different, but we leave ours between low and medium for chicken. Place the chicken breasts on the grill for about 7 minutes per side depending on thickness. Cook until the internal temperature reaches 165 (always test in the center of the thickest part). Remove from the grill and let them rest for a couple of minutes. Eat up and enjoy! Serve this with any sort of grilled veggies for an easy cleanup dinner.