Easy Chicken Tortilla Soup - This easy chicken tortilla soup recipe is smooth and creamy with a touch of sweetness. It's a one-pot meal ready in less than 30 minutes.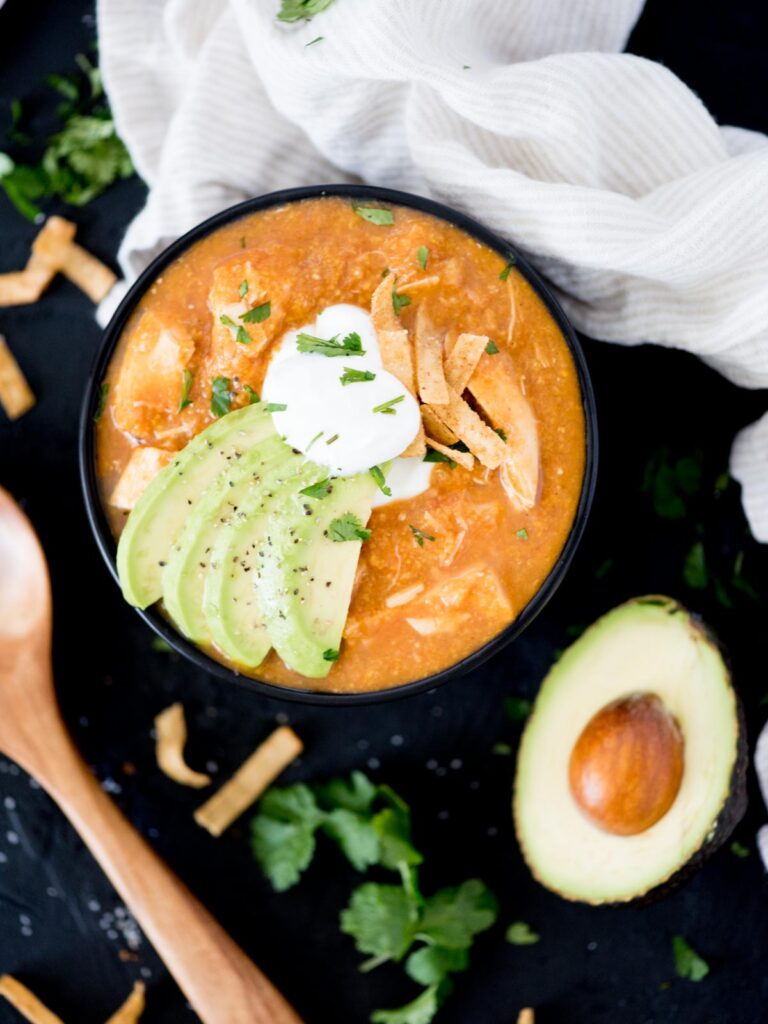 This post may contain affiliate links. This means if you decide to purchase through my link, I may earn a very small commission at no additional cost to you.
A Rave-able Creamy Chicken Tortilla Soup Recipe
I am a self-admitted Chicken Tortilla Soup snob. I blame Alamo Cafe. It's a local restaurant here. It's the first place I tried it and it ruined me. It's the most delicious soup I've ever had. I've tried it so many other places and nothing quite compares. First off, it's not chunky. It's blended smooth and has just the right amount of spice to it. At one point, they switched it up and started trying to put fajita chicken in it instead of shredded and I felt betrayed! Luckily, a friend who used to work there let me in on a little secret that I could still request it with shredded chicken. All was right again in the world!
Creamy Tortilla Soup Ingredients
Chicken Broth
Creamed Style Corn (only if leaving chunky)
Rotel
Frozen Corn Kernels
Cooked, Shredded Chicken Breast
Chili Powder
Cumin
Garlic Powder
Onion Powder
Oregano
Your favorite toppings (sour cream, cheese, avocado, tortilla strips)
Serve Rotel Chicken Tortilla Soup with:
We like serving ours with our favorite toppings (avocado, cheese, and tortilla strips). Sometimes we have cornbread on the side.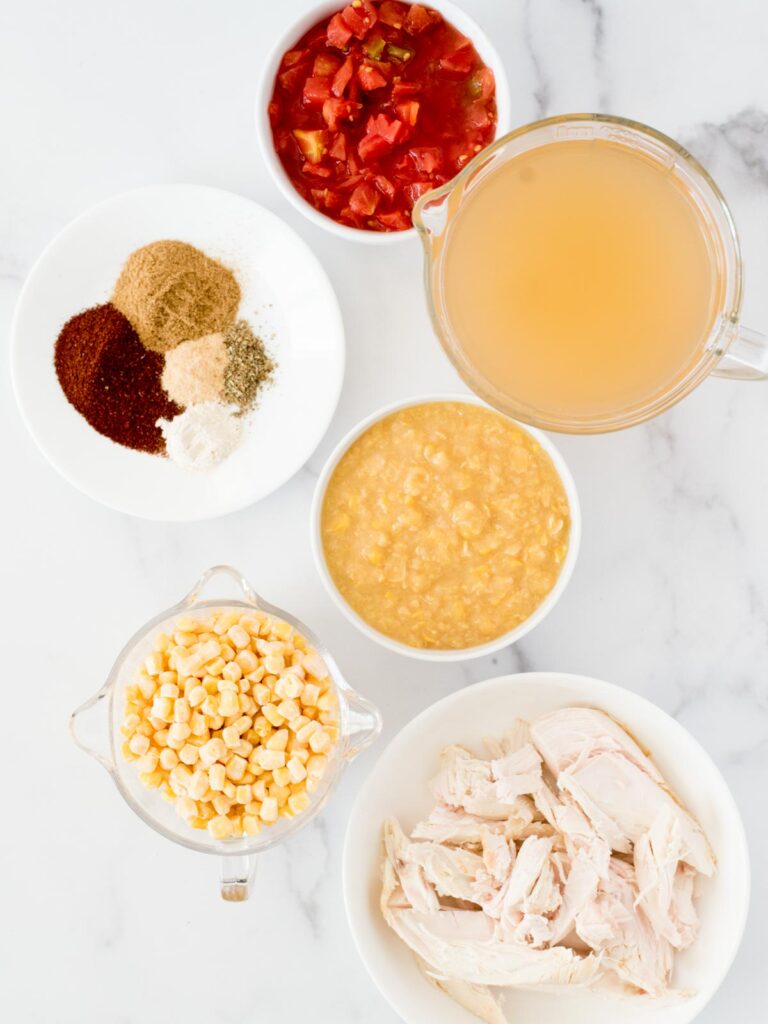 How to Make Creamy Chicken Tortilla Soup with Rotel
Detailed instructions and measurements are listed in the recipe card at the bottom of this page.
Add all your ingredients (except the chicken) to a large, heavy-bottomed pot.
Bring it to a boil over high heat and then turn it down to a simmer.
If you plan to keep your soup chunky (and don't want it blended), you can go ahead and add your chicken now. If you plan to blend your soup, do not add the chicken.
Take an immersion blender and blend the soup directly in the pot until it's smooth.
Add in the chicken.
Simmer for 15 minutes.
Serve hot with your favorite toppings!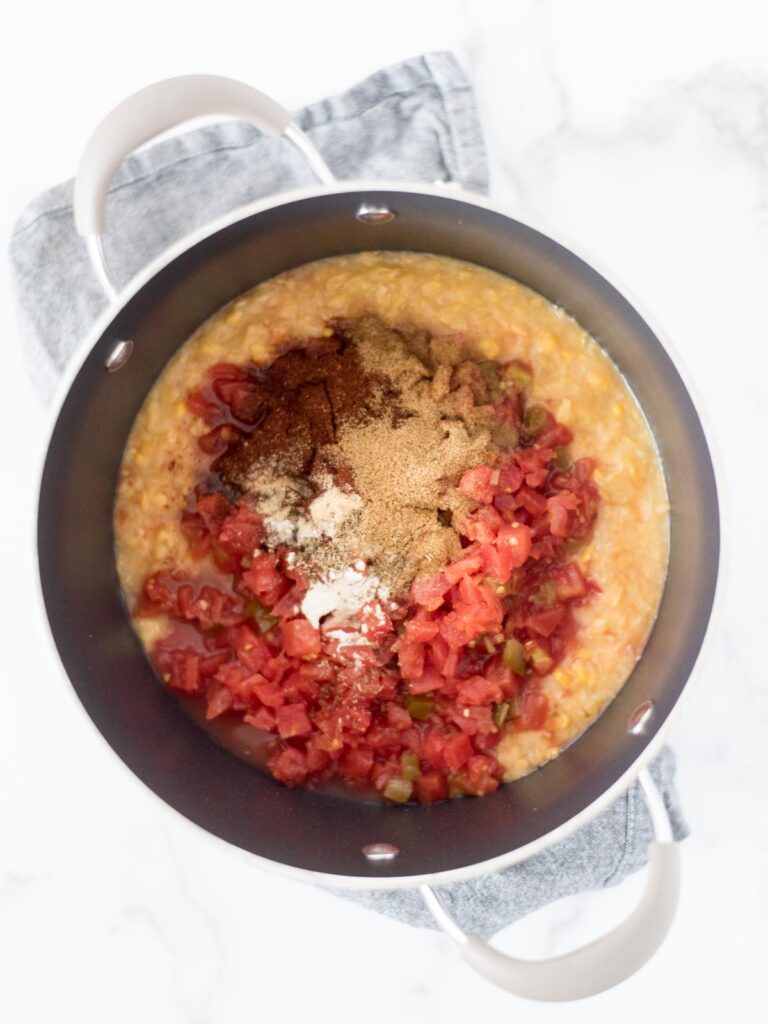 Rotel Chicken Tortilla Soup Tips and Tricks
If you don't have an immersion blender, you can do this step in a blender. Just be sure to cover with a kitchen towel (rather than the lid) since the liquid will be hot!
This soup is great both chunky or smooth. We prefer smooth, but if you do want it chunky, I suggest adding the creamed corn. It gives it a smooth & chunky texture.
This soup is sweeter than a typical, authentic Mexican chicken tortilla soup. If you'd like it less sweet, omit some of the corn.
Use rotisserie chicken! It's flavorful and cuts down on the work.
I like to cook mine in an enamel cast iron dutch oven. Here's a more cost-friendly option.
FAQ for Chicken Tortilla Soup with Rotel
Why is it called chicken tortilla soup?
The exact reason is unknown, but it does originate from Mexico. A fun fact, is that no one really knows where it truly came from!
Is tortilla soup actually Mexican?
Tortilla soup is actually authentic Mexican food. It originated in Mexico City, Mexico. Traditionally, it's made with chicken broth, green chiles, roasted tomatoes, and onions.
Can you make chicken tortilla soup in advance?
You can make chicken tortilla soup in advance. You can make it to completion and then just reheat when you're ready to serve. I find that it tastes better with time so that the flavors have time to meld together.
How do I thicken chicken tortilla soup?
You can thicken chicken tortilla soup by blending some of the corn. By blending the corn, it thickens it right up.
What cream do you add to soup?
To make a soup creamier, you can add either heavy cream, half and half, or cream cheese. You can also top your soup with sour cream or plain, nonfat Greek yogurt.
Is chicken tortilla soup unhealthy?
It depends on how you make it! This recipe is healthy. It uses whole, basic ingredients mixed with spices to give you a healthy, spicy, delicious soup. It only has 193 calories per serving with 12g of protein.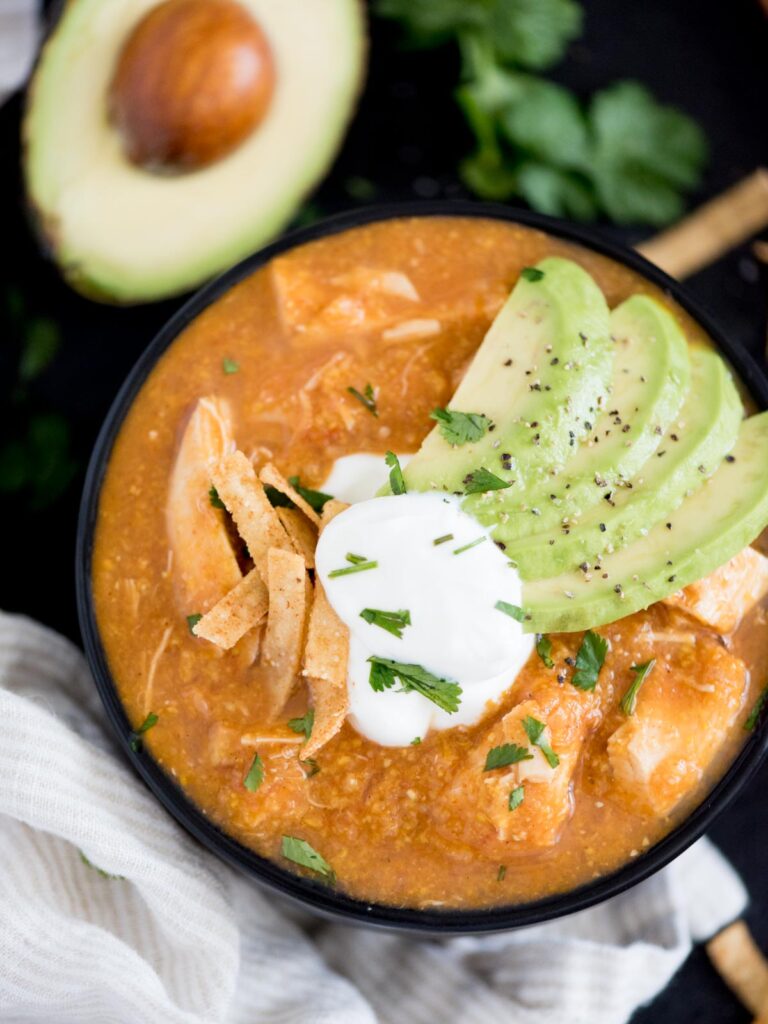 How to Store, Freeze, and Reheat Creamy Chicken Tortilla Soup
To store Chicken Tortilla Soup, place it in an airtight container in the refrigerator up to 5 days or the freezer for up to 6 months. Be sure the soup is cooled before storing. To reheat, allow the soup to thaw (if frozen) and place in a saucepan on the stove over medium heat until heated through. You can also heat it in the microwave if you prefer.
Variations for Creamy Tortilla Soup with Rotel
For extra creaminess - When the soup has finished simmering, turn the heat to low and add in a block of cream cheese. Stir until it's fully melted and combined.
To make it extra spicy - The best way to add extra spice to creamy tortilla soup with Rotel is to use "hot" style Rotel and to also add in extra green chiles. They sell roasted green chiles in cans and jars at the local grocery store. Add as many in as you want, tasting to find the right amount for your spicy preference.
For a vegetarian version - If you want to make this vegetarian, omit the chicken breast and swap the chicken broth for vegetable broth.
To add extra veggies - We could all use more veggies. If you want to add some more vegetables to this soup, you can add in things like onions, broccoli, cauliflower, and bell peppers. I'd recommend just using frozen and letting them cook in the hot liquid of the soup. It'll add great flavor to them.
Alterations to Lower Calories and WW Points
This recipe is low calorie and low WW point as written (on all plans including blue, green, and purple). Be sure to use boneless, skinless chicken breast. You could top it with nonfat plain Greek yogurt instead of sour cream to add protein and save on points.
You may also be interested in these Recipes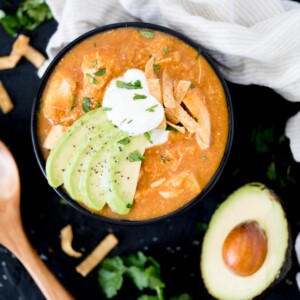 Rotel Chicken Tortilla Soup
This easy chicken tortilla soup recipe is smooth and creamy with a touch of sweetness. It's a one-pot meal ready in less than 30 minutes. 
Ingredients
4

cups

Chicken Broth

28

ounces

Creamed Style Corn

20

ounces

diced tomatoes with green chiles

2

cups

Frozen Corn Kernels

2

cups

Cooked Shredded Chicken Breast

1

tbsp

Chili Powder

1

tbsp

Cumin

½

tsp

Garlic Powder

½

tsp

Onion Powder

¼

tsp

dried oregano

Your favorite toppings

sour cream, cheese, avocado, tortilla strips
Instructions
Add chicken broth to a large pot and heat over medium high heat.

In a blender, blend the 2 cans of creamed style corn, then add to pot with chicken broth.

In the same blender, blend the rotel, then add to the pot with the chicken broth and creamed corn.

Add the frozen corn kernels and 2 ladle fulls of the soup mixture to the blender and pulse a few times.

Add the mixture to the pot along with the shredded chicken.

Add in all spices and stir.

Bring soup to a boil and simmer for 15 minutes.

Serve hot with your favorite toppings.
Nutrition
Nutrition Facts
Rotel Chicken Tortilla Soup
Amount per Serving
% Daily Value*
* Percent Daily Values are based on a 2000 calorie diet.
Have you tried this recipe?
Please let us know how it was in the comments or tag us on Instagram @sweetlysplendid!