Yogurt Fruit Dip is an easy appetizer or snack to share with friends and family. It's perfectly simple and delicious, and you can make it in no time at all.
Yogurt Cream Cheese Fruit Dip
Whenever we have friends over, I am always trying to think of a new appetizer recipe.
It used to come easily to me, but with kiddos around, it's a whole new challenge. Not every kid-friendly appetizer can be super-sweet funfetti cake batter dip, you know?!
Whether it's a casual get-together or a larger meal, I always try to have at least one snacky item for people to nibble on. If I'm having more than one, I like to serve a sweet one and a savory one.
Fruit is a great starting point for a sweet one. If you like to put together a fruit platter for parties, a bowl of good yogurt cream cheese fruit dip makes a great pairing.
Why you'll love Fruit Dip with Yogurt
This recipe is one you will want to add to your recipe box. Here's why:
It has all the flavor of a breakfast yogurt parfait but in delicious, dippable form.
You can serve it with all kinds of healthy options, like apples or pretzels.
Its sweet vanilla flavor will appeal to kids and adults alike. Perfect for parties and fruit platters.
With only four ingredients, this simple appetizer recipe comes together quickly and easily.
I love this recipe to take to potlucks with a big platter of fruit. It also works well for baby showers, bridal showers, game-day snacks, backyard barbecues, pool days and beach days, and even dinner parties.
Sometimes I even enjoy the leftovers with my lunch the next day. I just can't get enough of this dip!
Yogurt Fruit Dip Recipe Ingredients
Here's what to grab at the store to make this delicious dip.
vanilla yogurt - I like to use vanilla yogurt for this recipe. If you like, you can opt for a lighter-fat yogurt. Greek yogurt will make it super fluffy, but you can use it if you like. Another favorite of mine is honey yogurt. You can also use plain yogurt and sweeten it with honey. Other flavors of yogurt could work well too. Be creative and have fun!
cream cheese - You want to get regular cream cheese, not the whipped kind. You can use lower-fat cream cheese if you prefer.
whipping cream - Whipping cream is best for making anything similar in texture to homemade whipped cream, like this fruit dip. Heavy cream will work, but whipping cream is denser so that's what I'd recommend. Don't use half-and-half or any other kind of milk.
vanilla pudding mix - The vanilla flavor is a great starting point, but honestly, you can make this recipe with any flavor of pudding mix that sounds good! See the section called Flavor Variations below.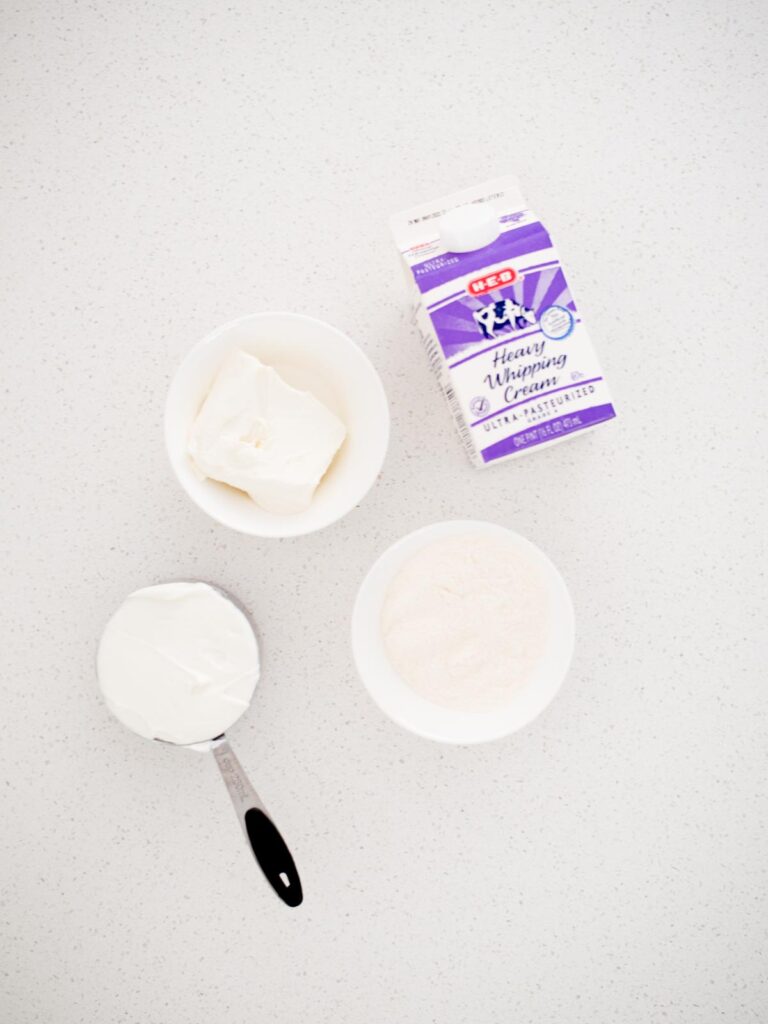 Fruit Dip with Yogurt Flavor Variations
There are a few ways you can mix this dip up to make it your own.
Use caramel pudding mix to make it a caramel dip. This one would be perfect for apples, pears, figs, and other fall fruits.
Try chocolate pudding mix for an utterly decadent, fondue-like experience. This one is especially good with fruits like bananas, apples, and berries.
White chocolate pudding mix would be delicious with most of the fruits on this list, as well as brownies, cookies, and graham crackers. You could even sprinkle on some mini chocolate chips.
Use strawberry pudding mix and strawberry yogurt for a berry dip. Serve it with any kind of berries — strawberries, blueberries, blackberries, raspberries, or cherries.
Lemon pudding mix would give more of a tart flavor that would pair well with berries, citrus, and melon.
Pistachio pudding mix would taste lovely with apples, berries, and grapes. Sprinkle some chopped pistachios on top for a prettier presentation.
How to make Yogurt Fruit Dip
Here's how to make this easy fruit dip:
Combine all ingredients in a large mixing bowl.
Using an electric mixer, whip the ingredients until fully combined.
Serve with your favorite fruit.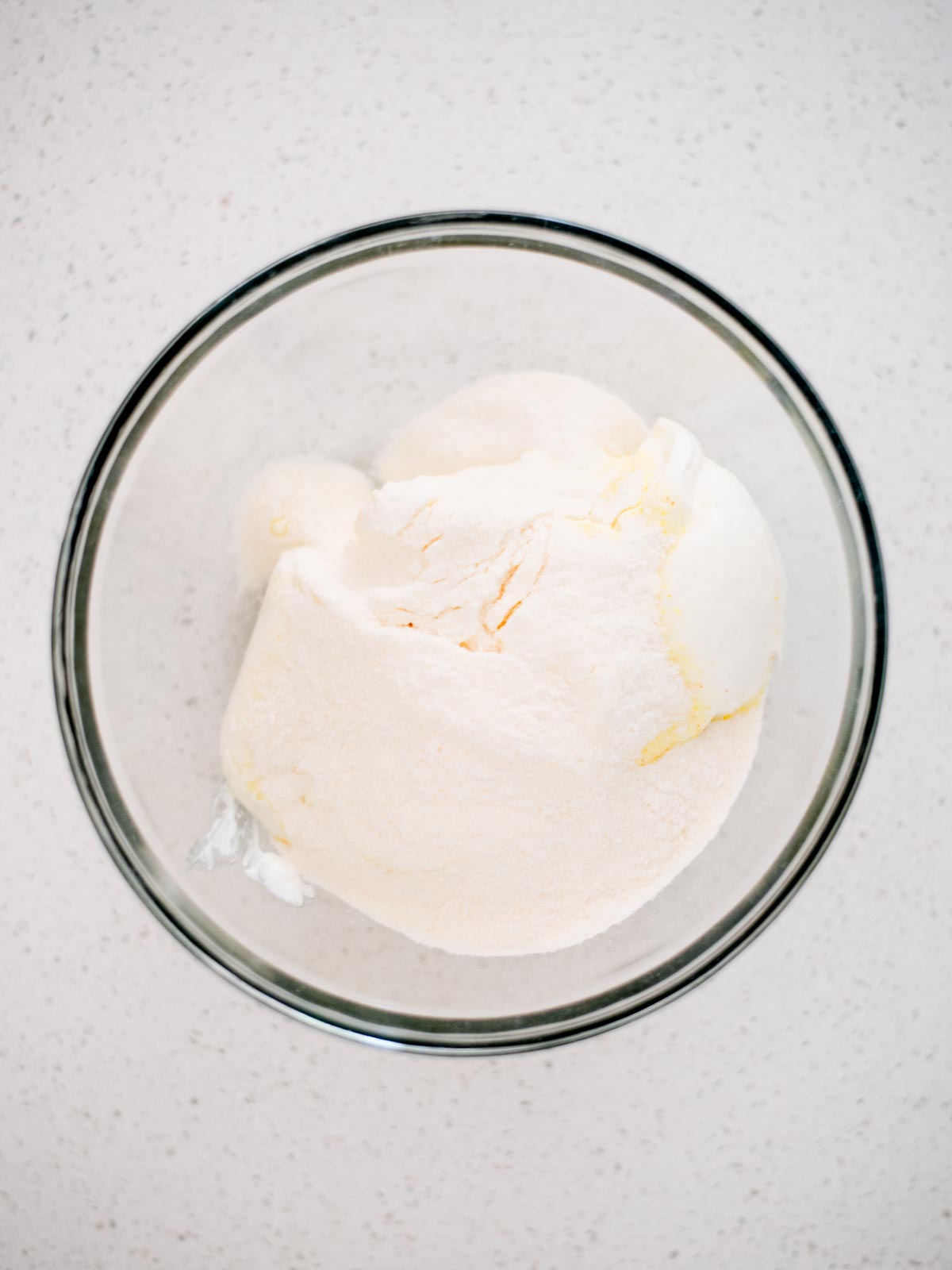 What fruit to serve with Cream Cheese Yogurt Fruit Dip
Now that you've made fruit dip, you're going to need some fruit to dip it in. I recommend using fresh fruit that hasn't been frozen or canned.
You can serve a few kinds of fruit on a platter or you can put it on skewers for people to serve themselves. (Add a spoon to the bowl of dip if you do this so they can put a dollop or two on their plate!)
Apple slices (or even caramel apple slices!)
Bananas
Whole or sliced strawberries
Blackberries
Raspberries
Blueberries
Cherries (make sure you have a bowl nearby for pits!)
Orange slices
Kiwi slices
Pineapple chunks
Honeydew melon chunks
Cantaloupe chunks
Red grapes
Green grapes
Pear slices
More dipper ideas
You don't have to stop at fruit when it comes to little dippers for this fruit dip! Try adding 2-4 of these non-fruit ideas for your platter:
Pretzel sticks
Marshmallows
Cookies — chocolate chip, peanut butter, biscotti, Oreos, or whatever your favorite is!
Graham crackers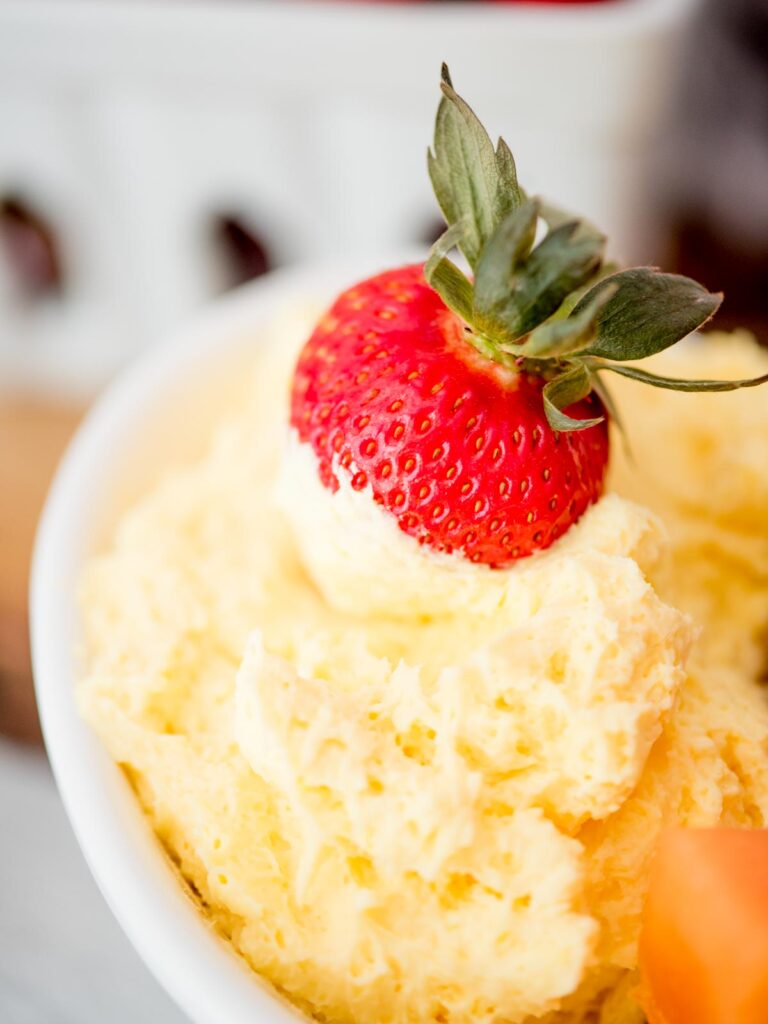 Storing Yogurt Dip for Fruit
The pudding mix in this recipe contains gelatin, which gives it a lovely, silky texture but also causes the fruit dip to firm up.
If you are making this for a get-together, you can absolutely make it in advance but you should make it on the same day as your event. The dip firms up a lot more after about 5 to 6 hours.
Store it in a food-safe, airtight container in the fridge. You can also transfer it to a serving bowl and cover it with plastic wrap, so it's ready to pull out when your guests arrive.
Even though it does firm up, you can still eat it after that 6-hour window (and I often do). It will just be a little more pudding-like. It makes a great next-day snack — if you have any leftovers!
More appetizer recipes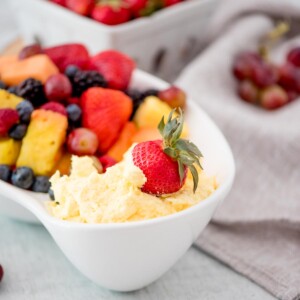 Yogurt Fruit Dip
Yogurt Fruit Dip is an easy appetizer or snack to share with friends and family. It's perfectly simple and delicious, and you can make it in no time at all.
Instructions
Combine all ingredients to a large mixing bowl.

Using an electric mixer, whip the ingredients until fully combined.

Serve with your favorite fruit.
Nutrition
Nutrition Facts
Yogurt Fruit Dip
Amount per Serving
% Daily Value*
* Percent Daily Values are based on a 2000 calorie diet.
Have you tried this recipe?
Please let us know how it was in the comments or tag us on Instagram @sweetlysplendid!