This pineapple pico de gallo is the perfect balance of sweet and spicy. It's easy to make in under 10 minutes.
This fresh salsa recipe is great with chips, in tacos, or on your favorite seafood and chicken dishes. Its sweet flavor from fresh pineapple is an excellent addition to spring and summer.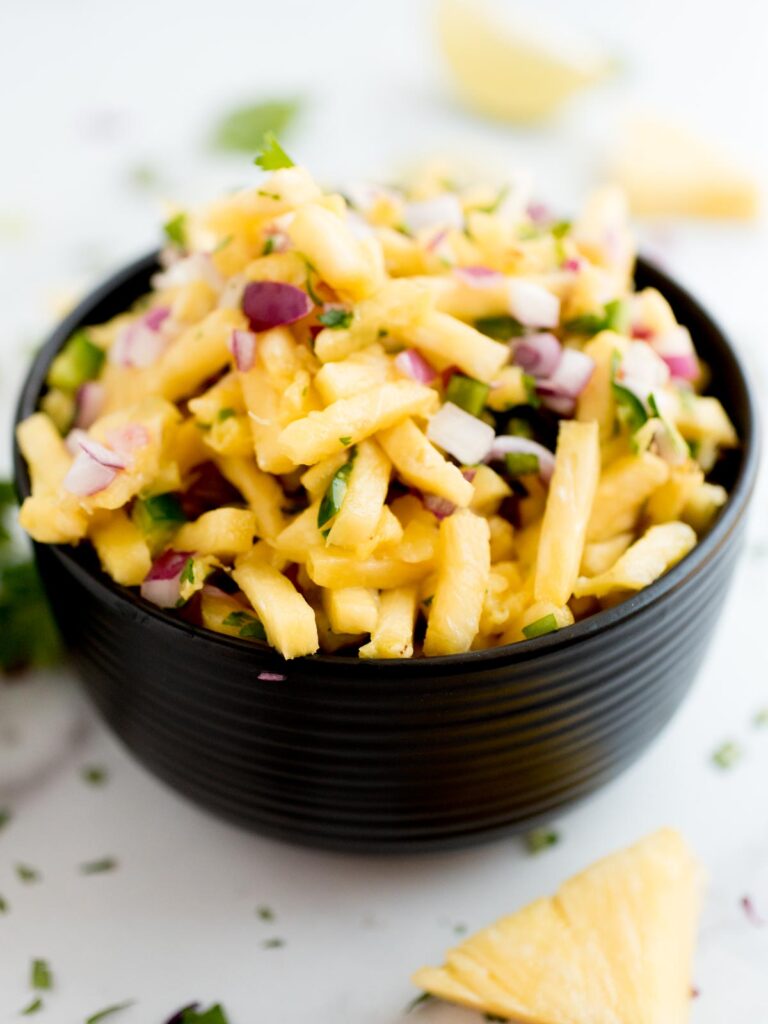 This post may contain affiliate links. This means if you decide to purchase through my link, I may earn a very small commission at no additional cost to you.
why I love pineapple pico de gallo salsa
Great balance of sweet and spicy - the sweetness of pineapple contrasted with the spicy jalapeno and crisp onion create the perfect contrast.
Easy to make - you really only have to chop and combine. There are no complicated steps.
Light and refreshing - the pineapple provides a light and refreshing take on your traditional pico de gallo.
Versatile - this pineapple pico de gallo salsa pairs so well with a variety of dishes.
Healthy benefits - not only is it low calorie and naturally gluten-free but this pico de gallo recipe is also packed full of nutrients and makes a healthy snack.
ingredients you'll need for pineapple salsa
pineapple - I like to grab golden pineapple when available
jalapeno - you'll want to remove the seeds and ribs for less spice
red onion - red onion gives the best flavor
fresh cilantro - key to pico de gallo
fresh lime juice - fresh squeezed will always give the best results
how to make this pineapple pico de gallo recipe
Detailed instructions and measurements to make pineapple pico de gallo are listed in the recipe card at the bottom of this page.
Start by chopping the pineapple, jalapeno, red onion, and cilantro into bite-size pieces. I like to use a vegetable chopper for this to make it easy work. 
Add them all to a medium bowl. 
Slice the lime and squeeze all of the juice over the mixture.
Mix it all to combine and serve!
how to serve fresh pineapple pico de gallo
on pizza
over chicken or seafood
in fish tacos or chicken tacos
with a bowl of chips
as a side dish
in a burrito bowl
in lettuce wraps
tips, tricks, and faqs
Be sure to use a ripe pineapple. It helps with both texture and taste. Fresh ingredients are key to an excellent pineapple fruit salsa.
Make sure your ingredients are finely chopped so that you can have a little of everything in each bite.
When choosing a jalapeno, keep in mind that those with stretch marks are generally hotter and have more spice.
If you want to keep the heat down, be sure to remove the ribs and seeds of your jalapeno before chopping. It will lower the spiciness of your jalapenos.
As soon as your pineapple is ripe (whether you cut it or not), place it in the refrigerator. This will ensure that it doesn't go bad before you use it.
Can I omit the cilantro?
Yes, if you don't like cilantro feel free to omit it entirely.
What is the difference between pico de gallo and regular salsa?
Pico de gallo is a chunkier "fresh" style salsa.
What are the health benefits to eating pineapple?
Pineapple is high in fiber, full of vitamins (vitamin C, manganese, vitamin B6, folate, potassium, magnesium, and more), and contains antioxidants.

Pineapple also contains bromelain which is a group of digestive enzymes. These can help break down protein and make digestion easier.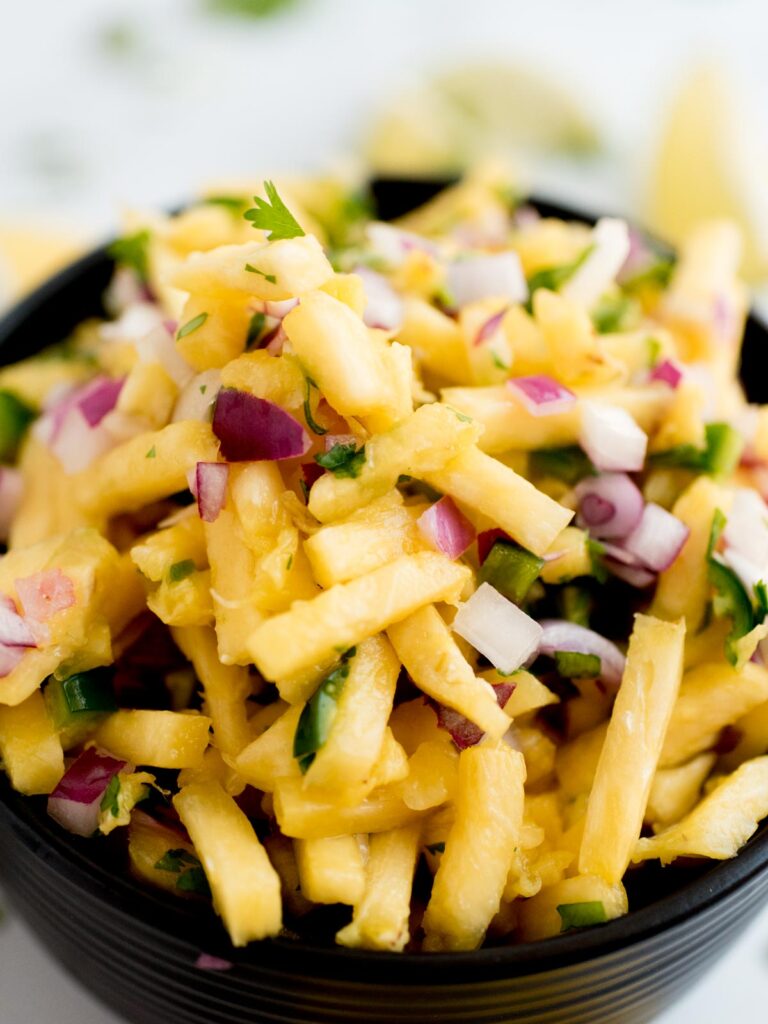 substitutions and alterations
Cilantro - if you aren't a fan of cilantro, you can omit it entirely.
If you find the jalapeno to be too spicy, be sure to remove the ribs and seeds. When shopping for jalapenos, look for those without "stretch marks". The stretch marks indicate that it will be spicier.
You can season with salt as well if you like. Some people like the contrast of salt to the sweet pineapple. 
I would stick with red onion because a sweet onion works best. I would not replace it with yellow onion or white onions. 
I would not use canned pineapple. You really want fresh pineapple cubes for the best results. 
how to choose the best pineapple
Golden pineapples have the sweetest flavor, so if you can find that variety I would choose that type
Look for a pineapple with healthy, green leaves
Avoid any pineapple that is completely brown. It's past it's peak of ripeness.
When you squeeze the pineapple, it should be firm but have a slight give. It shouldn't have any mushy spots.
If you smell the base of the pineapple, it should smell slightly sweet.
how to store
I store mine in the refrigerator in an airtight container. My favorite airtight container is the Rubbermaid Brilliance container.
other salsa recipes you might like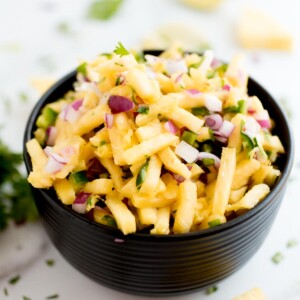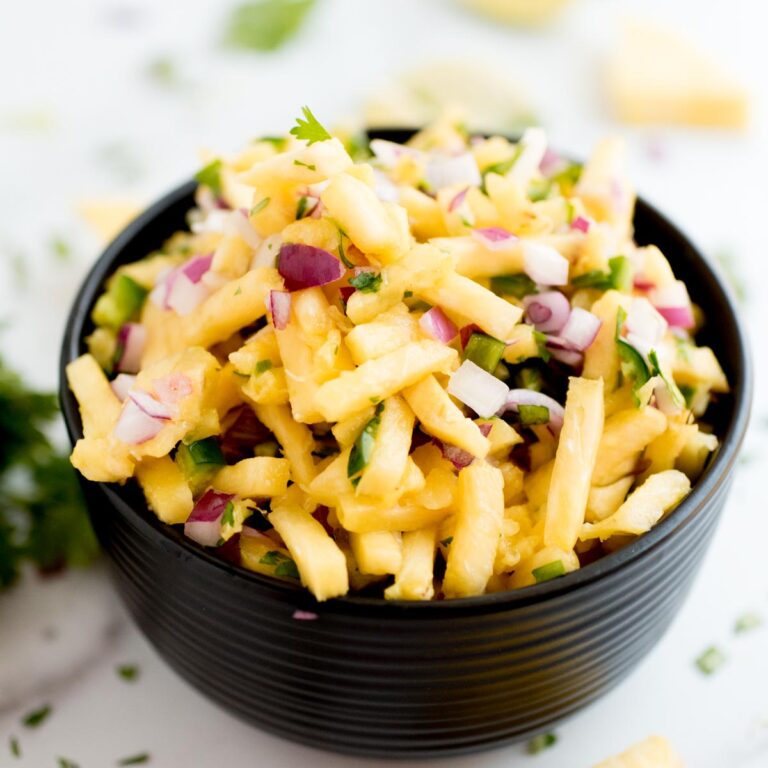 Pineapple Pico De Gallo
This pineapple pico de gallo salsa is the perfect balance of sweet and spicy. It's easy to make in under 10 minutes.
Ingredients
1

whole

pineapple

2

whole

jalapenos

½

whole

red onion

2

handfuls

cilantro

2

whole

limes
Instructions
Chop the pineapple, jalapeno, red onion, and cilantro in bite size pieces. Add them to a mixing bowl.

Slice the lime and squeeze all of the juice over the mixture. Mix it all to combine and serve!
Nutrition
Nutrition Facts
Pineapple Pico De Gallo
Serving Size
0.25 of recipe
Amount per Serving
% Daily Value*
* Percent Daily Values are based on a 2000 calorie diet.
Have you tried this recipe?
Please let us know how it was in the comments or tag us on Instagram @sweetlysplendid!
Nutritional information is provided as a courtesy. It should only be used for estimation purposes and is not a guarantee of any kind. Nutritional information varies widely between brands and types of ingredients used. It is recommended that you calculate the nutritional information based on your own ingredients and brands used. Sweetly Splendid, LLC makes no guarantees as to the exact nutrition information.