This Classic Tuna Fish Salad Recipe makes the perfect quick lunch. It's easy to put together, and the ways to enjoy it are limitless. Try it on salads, wraps, sandwiches, or right out of the bowl!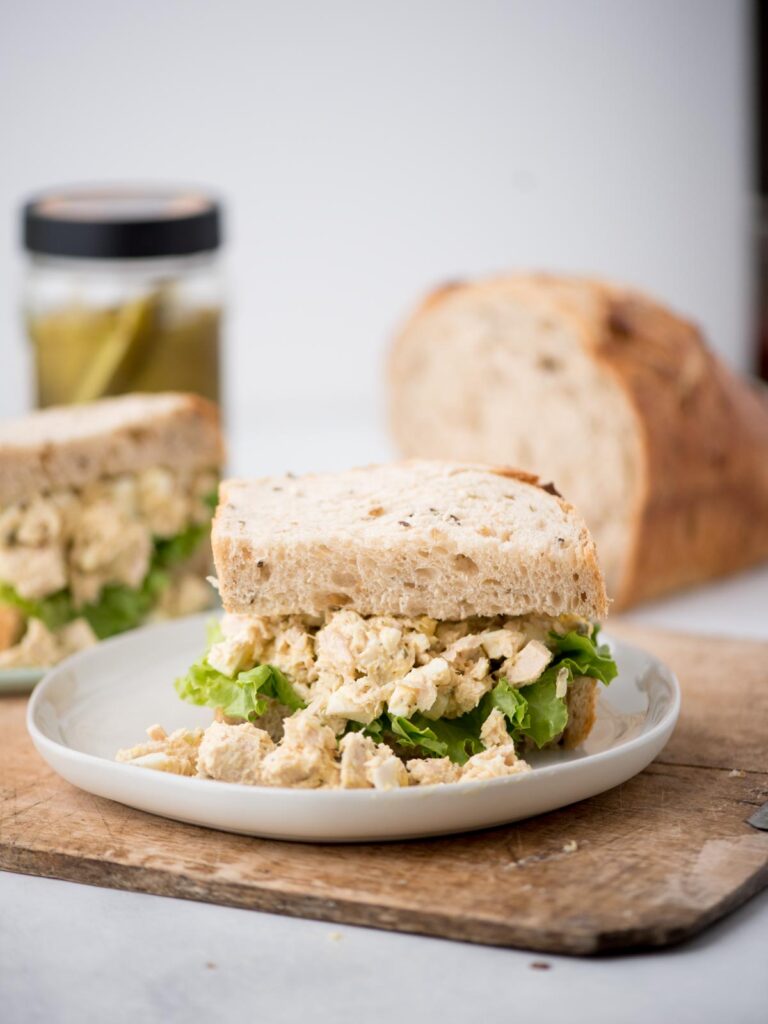 This post may contain affiliate links. This means if you decide to purchase through my link, I may earn a very small commission at no additional cost to you.
Classic Tuna Salad Recipe
Quick and easy lunches are must-have recipes, and tuna salad is right at the top of the list.
This simple tuna salad recipe is perfect for a quick lunch. It is also a great recipe to meal prep for the week to add to salads, sandwiches, wraps, and more.
With just five ingredients, this recipe is a delight to make and eat.
Why you'll love this recipe
This easy tuna salad is a favorite (and the best tuna salad recipe in my opinion), for a few reasons:
Convenience: It only takes a few minutes to pull this recipe together. With just five simple ingredients (plus a few more if you're feeling fancy) this is an easy recipe to add to your lunch rotation.
Flavor: Tuna salad is creamy and delicious. A combo of sweet and savory with a mixture of mayo, mustard, and sweet relish.
Versatile: You can take your favorite tuna salad and turn it into so many things from a classic tuna salad sandwich to a tuna melt to a salad topping on a bed of crisp lettuce.
Classic: Tuna salad is a classic recipe everyone should know.
Customizable: You can add so many different additions and variations to make it your own.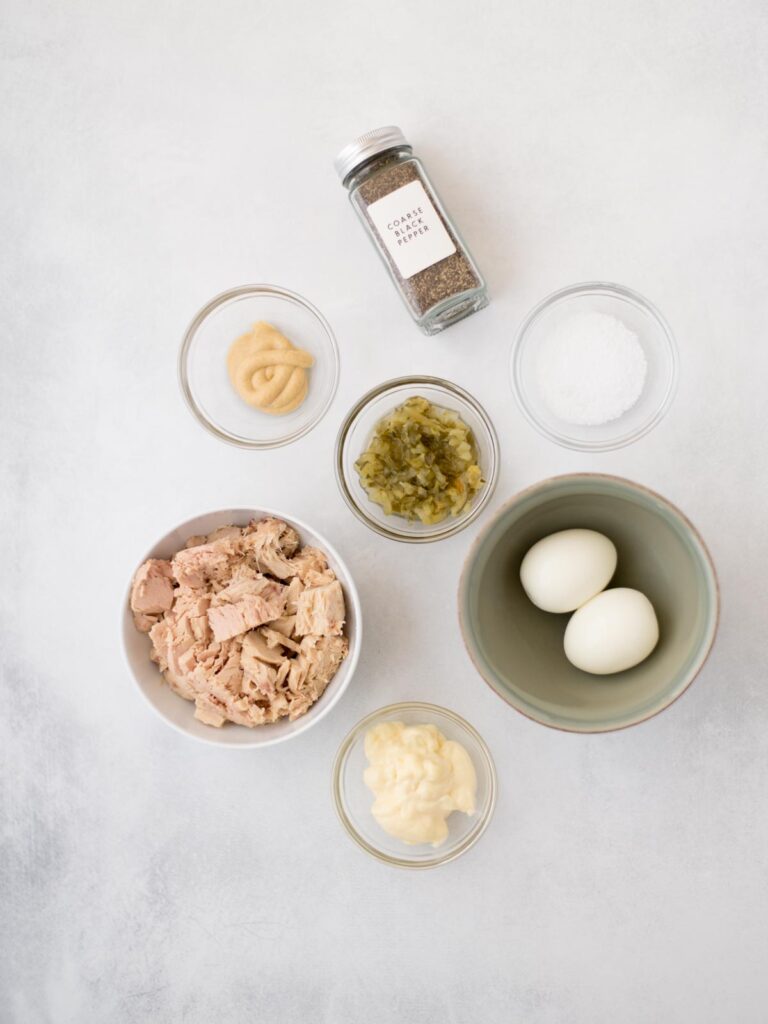 Tuna Salad Ingredients
canned white tuna – Get the kind of tuna that is packed in water. My favorite can of tuna is Sam's Club Albacore Solid White Tuna. There are also cans of oil-packed tuna packed in olive oil, but water packed works best for this. I think the albacore tuna gives the best taste and texture.
mayo – Duke's is my favorite, but Miracle Whip works too. You can use light mayo if you prefer.
dijon mustard – Dijon adds the best flavor but you could use yellow mustard too.
sweet pickle relish – Dill pickle relish or chopped dill pickles are also really nice. If you don't have relish on hand, chop the sweet pickles into small pieces.
hard-boiled eggs – Make your hard-boiled eggs in the Instant Pot.
salt and pepper – Sea salt or kosher salt and fresh-cracked black pepper work wonders in any recipe.
Substitutions, additions & variations
The great thing about tuna salad is it is super easy to customize. This makes it great for picky eaters or those days when you are out of a lot of your usual staples.
Instead of mayonnaise, you can substitute plain Greek yogurt, hummus, or smashed avocado.
Dill relish is a fine replacement for sweet relish.
No onion? You can sub onion powder instead. You can also use green onion.
To play with flavor, try adding celery salt, lemon pepper, red pepper flakes, or everything bagel seasoning. If you like things spicy, check out my Buffalo Tuna Salad recipe.
You can also experiment with add-ins like diced jalapeños, avocado chunks, or chopped red onion or shallot.
How do you make Tuna Salad
This recipe comes together so quickly and easily. Here's what to do:
First, add all of the ingredients to a medium bowl.
If you are adding any mix-ins, you can add those now too.
Stir everything to combine until it's mixed thoroughly and the mayo is evenly distributed.
Give it a taste, and add more salt, pepper, and/or seasonings to taste.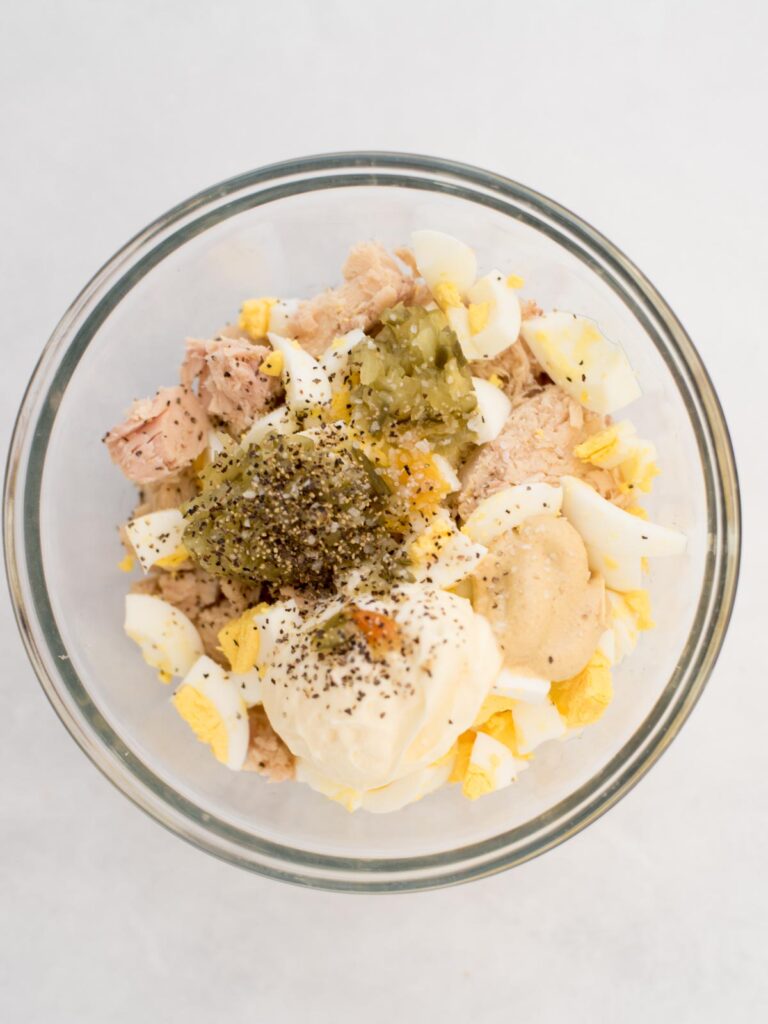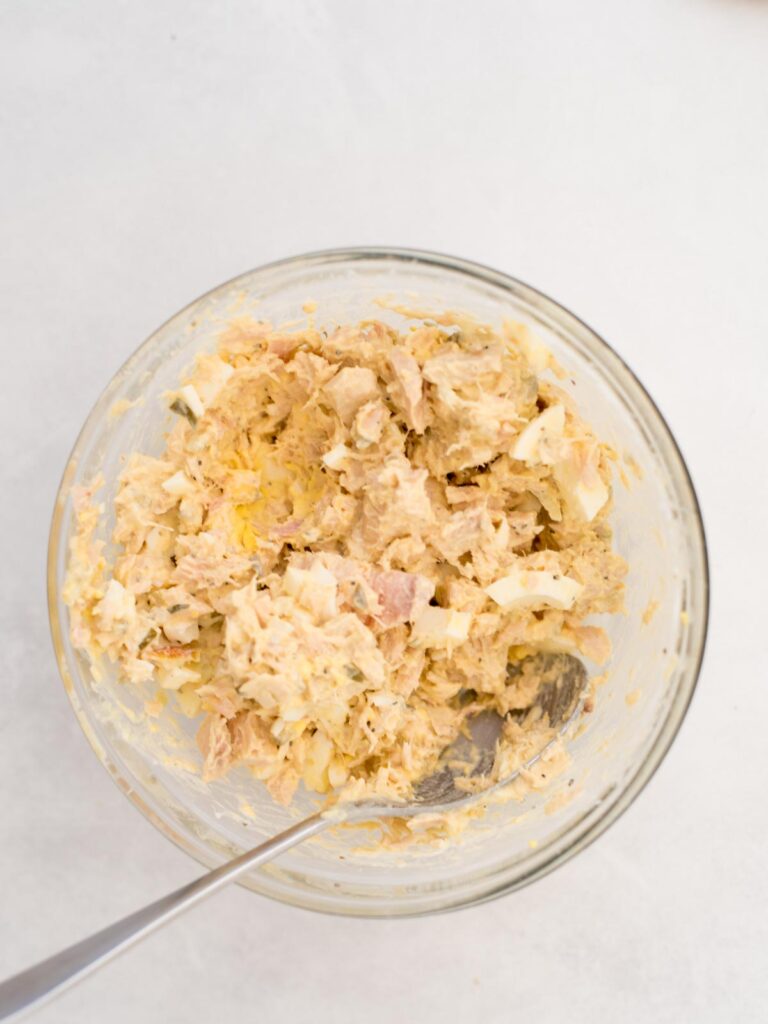 How to serve this recipe for Tuna Salad
If you can keep yourself from eating it all straight out of the bowl (good luck!), here are some ideas for serving tuna salad.
Wraps: Spread some tuna salad on a wrap or tortilla along with some lettuce, cucumber, avocado, and/or diced onion to make a tuna salad wrap. You can also use lettuce leaves to make lettuce wraps.
Salads: A big scoop of tuna salad on a bed of lettuce is a great and easy lunch. You can also add it to bell pepper halves (or mini bell peppers) for a lovely presentation.
Tuna Salad Sandwiches: Add tuna salad to your favorite sandwich bread along with some avocado, cucumber, lettuce, and onion to make a delicious tuna fish sandwich.
Tuna salad dip: Serve it with some potato chips, pita chips, or veggies like cucumber slices and celery as an appetizer.
Tuna melt: Amp up a standard tuna sandwich by turning it into a melt. To make creamy tuna melts, butter one side of your bread and place the bread buttered side down on a sheet pan. Top with tuna salad in a thick layer and then top the tuna with a slice of cheese. Place the baking sheet in the oven for 2-3 minutes under the broiler, just until the cheese is melted and bubbly and the bread is toasted.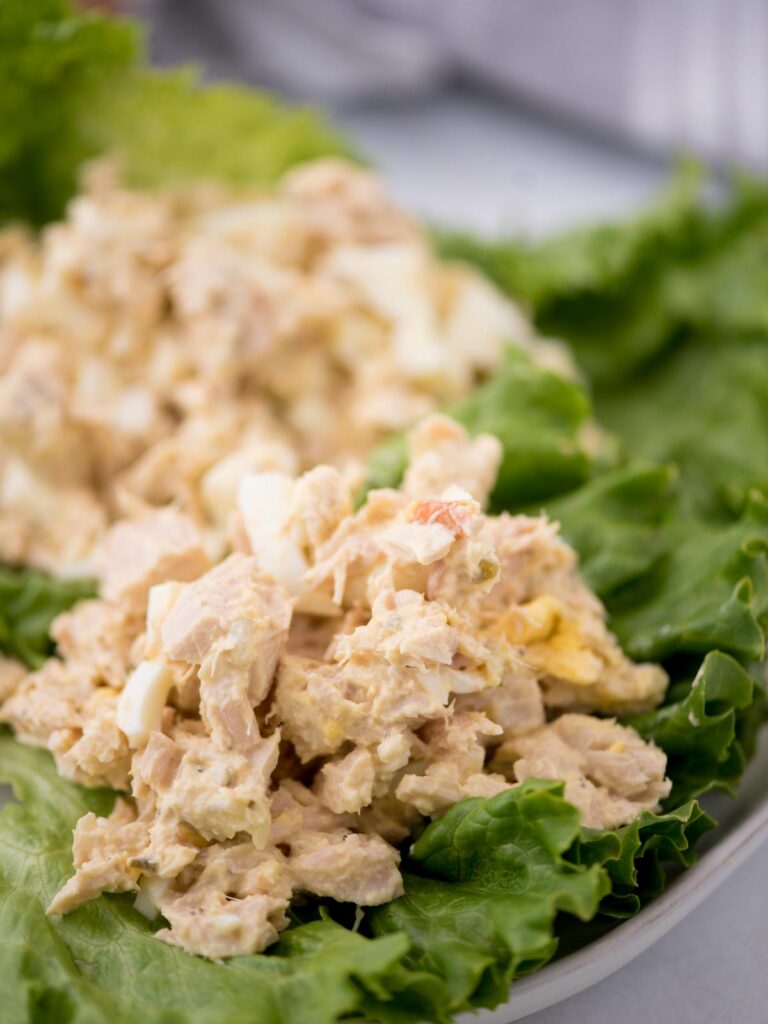 kitchen tools needed for tuna salad
How to store tuna salad
Store tuna salad in a food-safe, airtight container in the fridge and enjoy within 3 to 5 days.
If you are taking it in a lunch box, make sure it is insulated and has an ice pack.
How long does tuna salad last in the fridge?
If stored properly, tuna salad will keep for about 3 to 5 days in the fridge before it begins to spoil.
Can you freeze tuna salad?
While you technically can freeze tuna salad, it isn't recommended. The mayonnaise will separate when frozen, which can change the texture of the tuna fish salad.
FAQs
What canned tuna is best for tuna salad?
Tuna salad works best with canned white tuna packed in water. The "chunk"-style cans of tuna will create a creamy tuna salad. Popular brands are Bumble Bee, Starkist, and Chicken of the Sea. Be sure to drain it well so your tuna salad isn't watery.
What mixes well with tuna?
Tuna goes well with avocado, cucumbers, onion and eggs. It works incredibly well in tuna salad with creamy mayonnaise, relish, and mustard, too.
What seasoning is good on tuna?
Salt and pepper are enough to flavor tuna, but you can also experiment with other seasonings like ranch, lemon pepper, seasoning salt, celery salt, red pepper flakes, hot sauce, and everything bagel seasoning.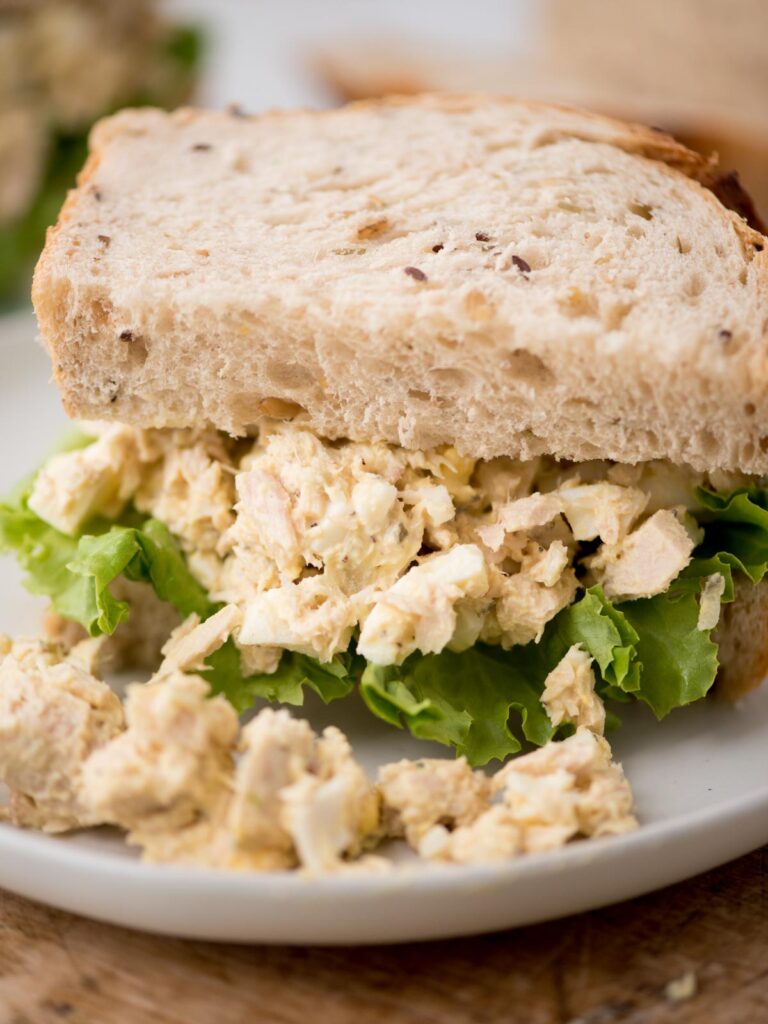 Tips & Tricks for delicious tuna salad
Keep your tuna salad from becoming watery by making sure you drain the tuna really well.
Once everything is combined, taste it and add more salt, pepper, or seasonings.
Wish it were creamier? You can add avocado or some more mayo for a creamier texture.
To amplify the flavor, add some fresh herbs and lemon juice. It'll give an even better depth of flavor.
More Salad Recipes
If you make this recipe and love it, we would love a 5 ⭐️⭐️⭐️⭐️⭐️ rating! It helps us continue to provide free recipes.
Best Tuna Salad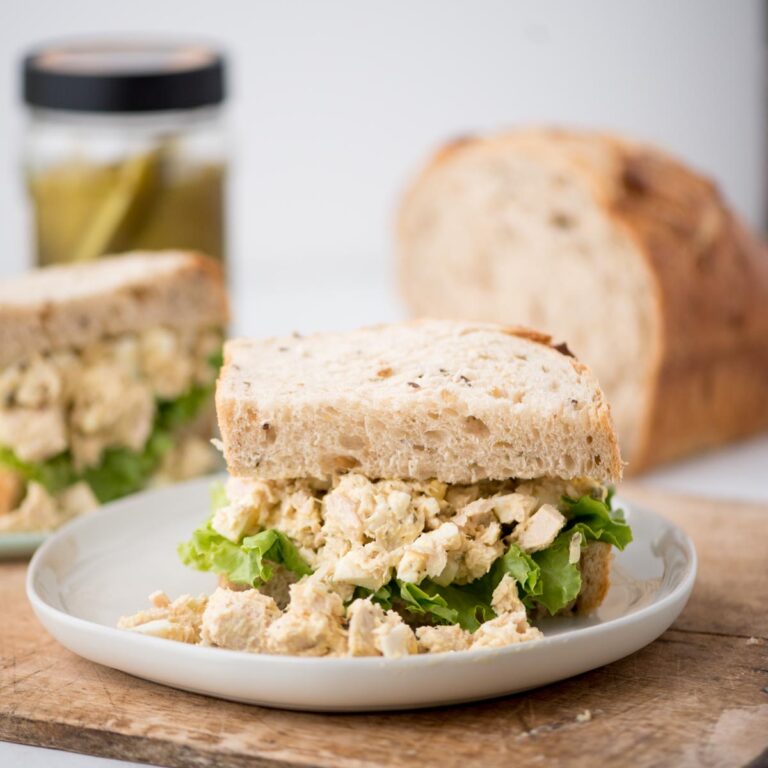 This Classic Tuna Fish Salad Recipe makes the perfect quick lunch. It's easy to put together, and the ways to enjoy it are limitless. Try it on salads, wraps, sandwiches, or right out of the bowl!
Instructions
Add all of the ingredients to a mixing bowl.

Stir to combine until it's mixed thoroughly.

Enjoy the tuna salad in a wrap, on a sandwich, straight from the bowl or any way you like!
Notes
Tips & Tricks
use sliced cucumbers for dipping
use celery for dipping
stuff into bell pepper or mini bell pepper halves
Nutrition
Serving:
1
serving
,
Calories:
369
kcal
,
Carbohydrates:
9
g
,
Protein:
40
g
,
Fat:
18
g
,
Saturated Fat:
4
g
,
Polyunsaturated Fat:
7
g
,
Monounsaturated Fat:
5
g
,
Trans Fat:
0.02
g
,
Cholesterol:
252
mg
,
Sodium:
1054
mg
,
Potassium:
418
mg
,
Fiber:
0.3
g
,
Sugar:
6
g
,
Vitamin A:
499
IU
,
Vitamin C:
0.2
mg
,
Calcium:
49
mg
,
Iron:
2
mg
Nutrition information is automatically calculated, so should only be used as an approximation.
Nutritional information is provided as a courtesy. It should only be used for estimation purposes and is not a guarantee of any kind. Nutritional information varies widely between brands and types of ingredients used. It is recommended that you calculate the nutritional information based on your own ingredients and brands used. Sweetly Splendid, LLC makes no guarantees as to the exact nutrition information.