When making chicken recipes, you need the best chicken rub for cooking up delicious flavor in every bite. This easy recipe uses pantry staples to make a dry rub you can keep on hand any time you want to make smoked chicken.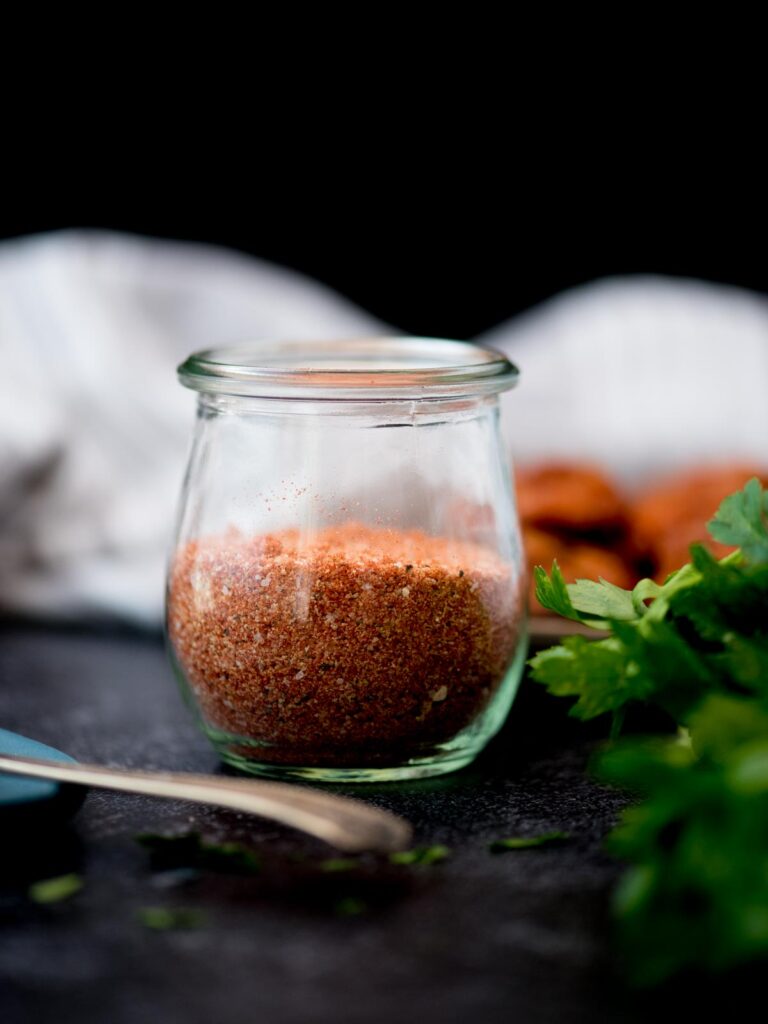 ​​This post may contain affiliate links. This means if you decide to purchase through my link, I may earn a very small commission at no additional cost to you.
Smoked Chicken Rub recipe
Using a smoker to cook proteins is so easy and a great way to infuse lots of flavor into regular dishes.
Chicken is one of my all-time favorite things to cook on the smoker. Whether I'm making smoked chicken breasts, wings, drumsticks, thighs or a whole beer can chicken, I am always in love with the flavor you get from the smoker.
A big part of that flavor comes from the rub you use. A smoked chicken rub is a spice mixture that you massage into the meat before putting it in the smoker. It helps to infuse even more flavor into every bite and helps attain that nice crispy outer crust, even on skinless chicken.
I've tried a lot of store-bought rubs and they can be really great. But again and again, I turn to this homemade dry rub. It really is the best chicken rub for a smoker.
There are a lot of bbq rub recipes out there, but I like that the combination of spices in this bbq chicken rub is primarily sweet but also savory. One of the great things about a delicious rub is that you don't have to add anything else to make the chicken taste great.
While bbq sauce is a great addition, this homemade rub can stand on its own.
Why you'll love this dry rub recipe
This easy chicken rub recipe is so very easy to make
You can make it with pantry staples that you probably already have on hand
It's sweet and salty and has tons of flavor that pair beautifully with the smokiness.
Works great on any cut of chicken, from wings to chicken legs to breasts to the whole chicken.
The blend of spices is versatile and can be used when cooking chicken in different ways. You can use it as chicken seasoning whether you're smoking, grilling, baking, or even cooking chicken in the instant pot. The smoked paprika will still give you a hint of smoke flavor.
Ingredients in smoked chicken seasoning
To make your own smoked chicken rub, here is what you will need:
brown sugar - both light and dark brown sugar work in this recipe
smoked paprika - regular paprika will work as well, but this variety gives an even more smoky flavor
salt - Coarse sea salt or coarse kosher salt works great. Stay away from table salt, though
garlic powder - for the best flavor, make sure your garlic powder is fresh and not expired
onion powder - for best results, make sure it's still fresh and isn't bland and expired
ground mustard - See more about this ingredient below!
ground black pepper - Pepper from a pepper grinder is so flavorful.
Also known as dry mustard or mustard powder, ground mustard is probably the only one on this list that you might not have on your spice rack, but I highly recommend you add it. You can order it online or buy it at your local grocery store where the other spices are sold.
It is made from ground mustard seed, which is the same seed used to make the mustard you know and love for burgers. In recipes, it adds a hint of mustard flavor. You can use it in everything from deviled eggs to barbecue sauce.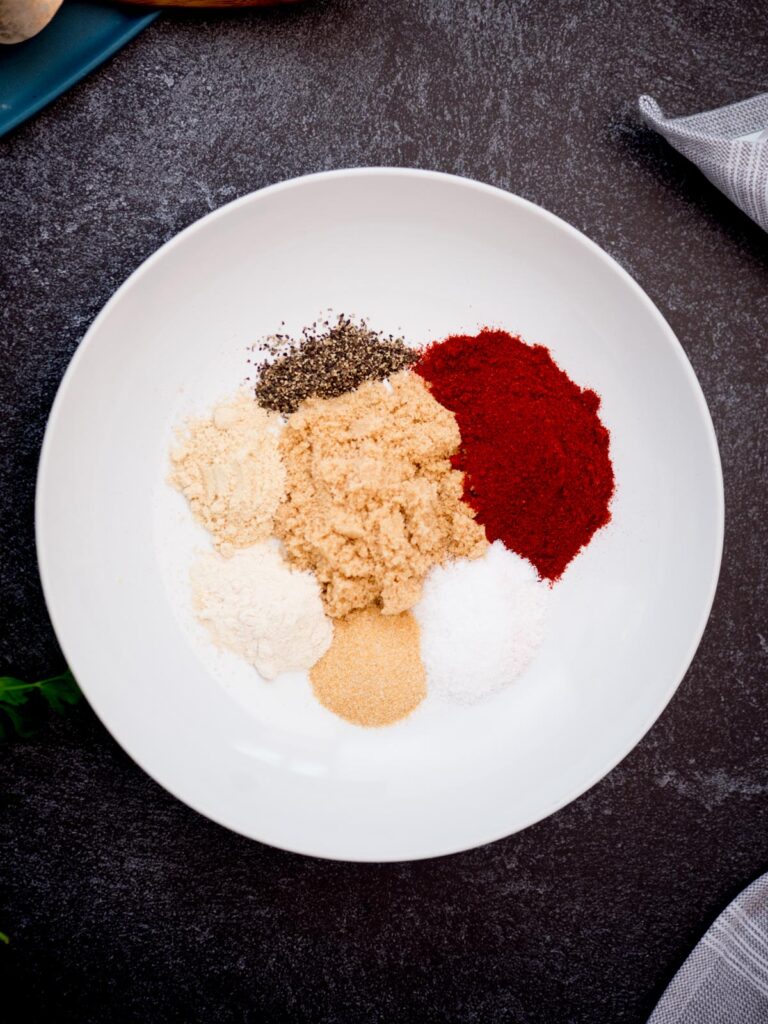 Binder for smoked chicken rub
Another ingredient you can add to your shopping list might be a binder — it's totally optional though.
Avocado oil and olive oil both work well, but I don't find a binder to be all that necessary.
This rub sticks to the chicken quite perfectly all on its own.
How to make a dry rub for smoked chicken
(The printable recipe card with the full measurements and details can be found at the bottom of this post)
Making homemade seasonings is a simple way to get great flavor. Here's what to do.
Combine all the ingredients together and mix until fully combined. That's it!
I like to use a mason jar or a spice bottle and then drop in all the ingredients, then shake it up right there in the jar (like it's a cocktail!). That gets everything nice and mixed up.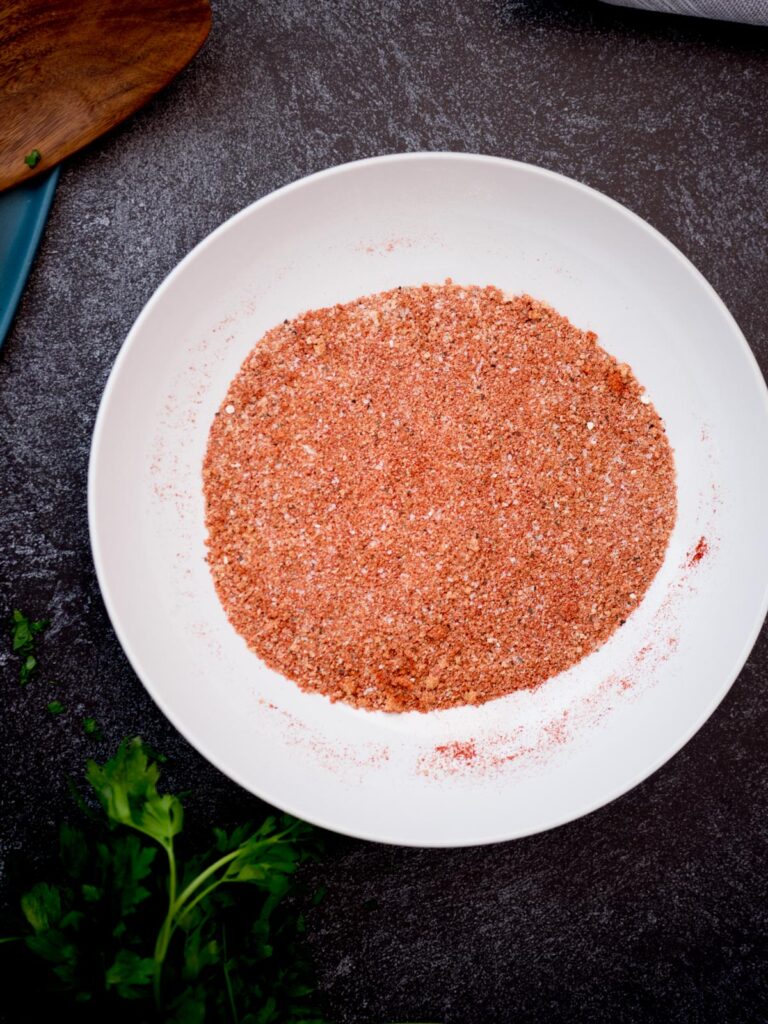 How to store chicken rub
Store your smoked chicken rub in an airtight container in a dry place in your pantry.
Before you mix everything together, look for the ingredient with the soonest expiration date. That's how long you should keep your spice rub in your pantry.
You can write that date on a label or a piece of masking tape on the bottom.
Tips and tricks for the best dry rub
Make sure your spices aren't expired! They are easy to forget about, especially if you don't use them often.
I suggest you check your spices once a year and throw away any that have expired or will expire soon, then replace the ones you will need and set a calendar reminder for next year!
Storing in an airtight container makes a big difference as the flavor can escape. If you like to make your own seasonings, you can buy a box of empty spice jars to keep them in.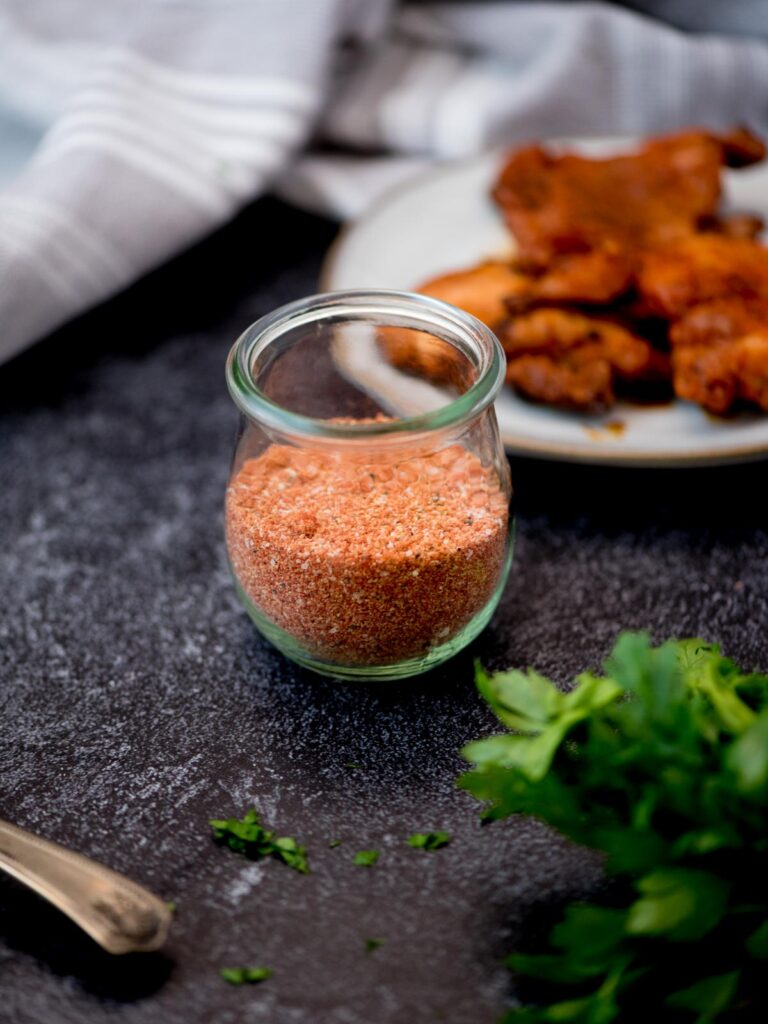 How to use chicken rub
Chicken rub is great on every single part of the chicken. You can use it on a whole chicken or just on smaller cuts like chicken thighs or chicken quarters.
If you use a binder such as avocado oil or olive oil, put a little bit on the chicken with your non-dominant hand, then use your dominant hand to rub it in until the piece is thoroughly coated in oil. (Again, using a binder isn't really necessary!)
Whether you use a binder or not, the next step is the same. With your non-dominant hand, sprinkle some of the chicken rub over the chicken. With your dominant hand, massage the rub into the chicken until it is thoroughly distributed.
Let it rest for at least 15 minutes before cooking it so the flavor has lots of time to seep into the meat. Longer is better, so if you have a couple of hours, place it in the refrigerator and let the chicken really soak up all that flavor before tossing it in the smoker or pellet grill.
Be sure to smoke your chicken until the internal temperature reaches 165ºF when measured with a digital thermometer.
If you are looking for a smoked chicken recipe to use this chicken dry rub on, you can try these smoked chicken breasts.
Chicken wing rub
Chicken wings are easy to make and they taste so good with this chicken wing rub.
Make sure to rub the spices into every nook and cranny of the wings so they have lots of zing in every bite.
You can also use this rub to make chicken wings in the air fryer.
Then brush the wings with your favorite wing sauces, like honey sriracha, or serve them dry with homemade buttermilk ranch.
Dry rub for chicken thighs
You can also use this rub for smoked chicken thighs.
Treat them the same as chicken wings and make sure every inch of the chicken thigh is covered in the rub.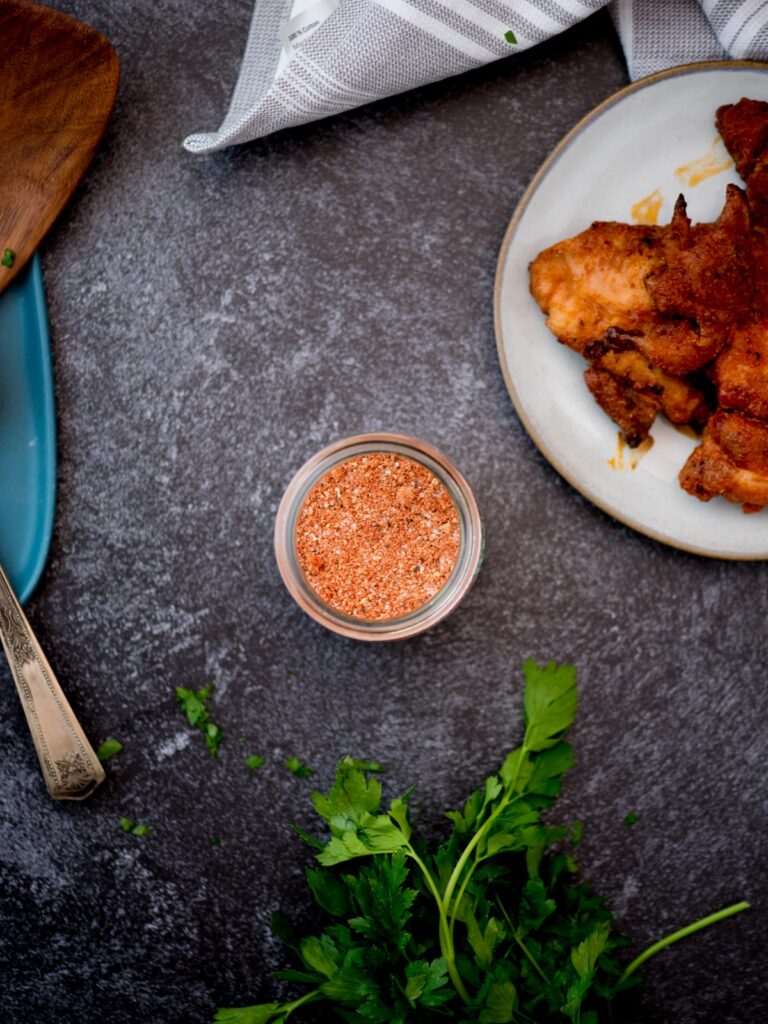 Other uses for smoked chicken rub
You can use this poultry rub for dishes other than chicken.
Feel free to try it on pork, fish or steak for a sweet and salty flavor. It goes great on pork ribs.
You can even sprinkle it on chicken skin if you like to cook those!
It also works on vegetables like green beans or potatoes.
products used for chicken rub seasoning
How long should dry rub sit on the chicken?
The dry rub should be left on the chicken for at least 15 minutes to absorb the spice mix's aromas and flavors. Like with a marinade, letting the chicken and spices rest in the fridge for even longer, such as an hour or two, will help to intensify the rub's flavor. 
Do you oil chicken before adding dry rub?
You can, but you don't have to. Raw chicken is sticky enough for dry rub to adhere to the meat without an oil binder. 
Do you rinse off dry rub? 
No, dry rub shouldn't be rinsed off. It is intended to infuse and cook with the meat for the strongest taste.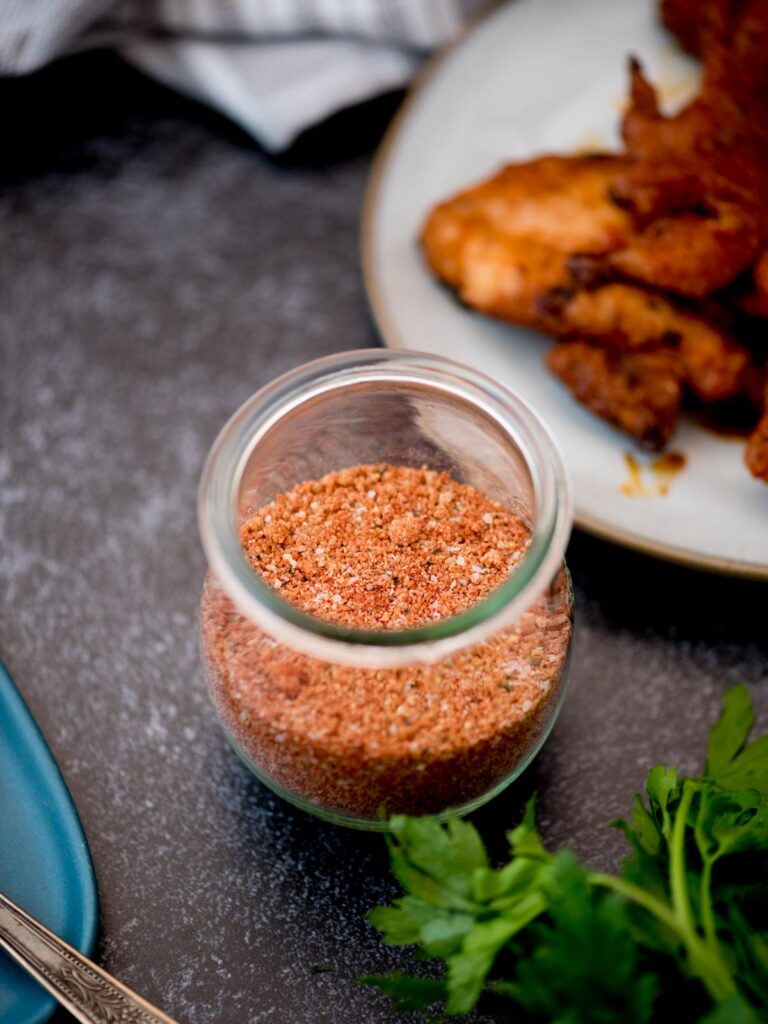 Spicy chicken rub
This is naturally a sweet rub recipe, but you can easily adjust it to make it a little spicy.
You can add chipotle powder, chili powder, or cayenne pepper to your personal preference.
More Seasoning Recipes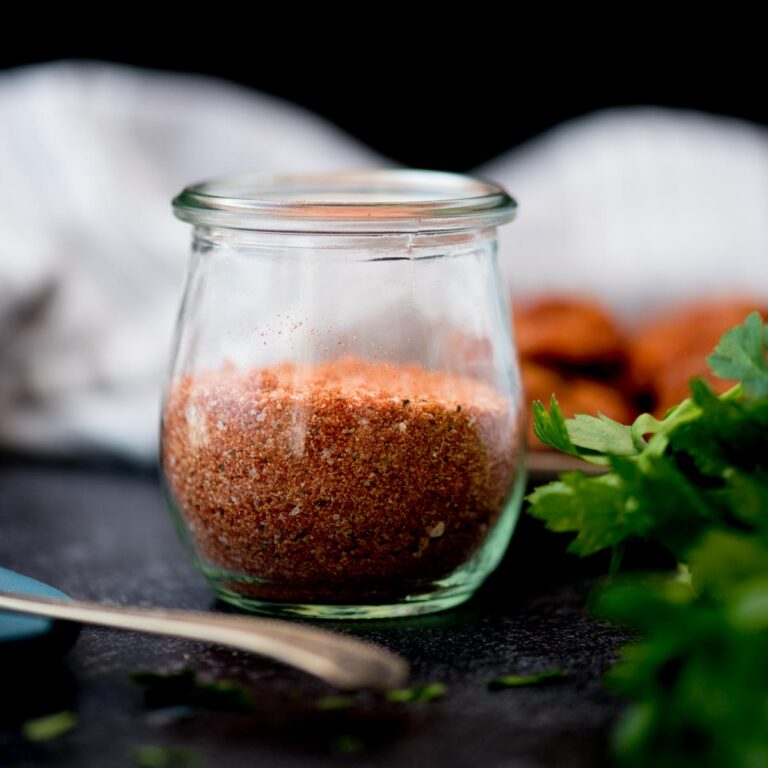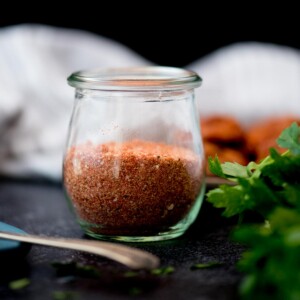 BBQ Chicken Rub
When making chicken recipes, you need the best chicken rub for cooking up delicious flavor in every bite. This easy recipe uses pantry staples to make a dry rub you can keep on hand any time you want to make smoked chicken. 
Instructions
Combine all ingredients together and mix until fully combined.

Store in an airtight container.
Notes
Make sure spices aren't expired
Storing in an airtight container makes a big difference
Nutrition
Nutrition Facts
BBQ Chicken Rub
Amount per Serving
% Daily Value*
* Percent Daily Values are based on a 2000 calorie diet.
Have you tried this recipe?
Please let us know how it was in the comments or tag us on Instagram @sweetlysplendid!
Nutritional information is provided as a courtesy. It should only be used for estimation purposes and is not a guarantee of any kind. Nutritional information varies widely between brands and types of ingredients used. It is recommended that you calculate the nutritional information based on your own ingredients and brands used. Sweetly Splendid, LLC makes no guarantees as to the exact nutrition information.