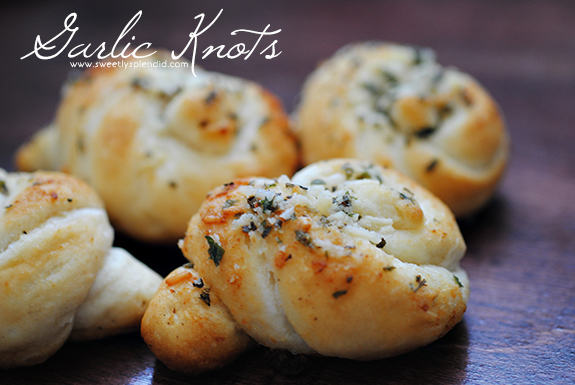 If you're looking for a super easy, super simple, flaky garlic bread to go with your meal, these Super Simple Garlic Knots are perfect. They are so easy and quick to make that they are totally worth the few steps it takes to create. You can adjust the garlic to your liking, but I do suggest keeping with the garlic powder and not using fresh, raw garlic. Using fresh, raw garlic may result in burned garlic in the oven and if you've ever burned garlic before, you know that it will absolutely ruin whatever you are making.
These little guys are so good! They are flaky, buttery, and garlicky. I absolutely love that they are so easy to make. I pair them with any sort of Italian dish and they work perfect for mopping up sauce.
Garlic Knots
Servings: 16 Garlic Knots
Ingredients:
1 container of Pillsbury Grands! Flaky Layers Biscuits
½ stick of butter
¼ - ¾ tsp garlic powder
¼ tsp salt
½ tsp dried parsley
½ tsp dried oregano
1 ½ TBSP shredded Parmesan cheese
Preheat oven to 350. Melt butter in a bowl in the microwave. Set aside and let cool slightly. While butter is cooling, remove biscuits from container and cut each biscuit in half. Take each half and roll into a long thin tube. Take each tube and tie in a knot. Tie it as if you were tying string. Place each knot on a greased or silpat lined baking sheet. Add garlic (use to your liking, and use sparingly until you reach your desired level of garlic - ¾ tsp is VERY garlicky), salt, parsley, oregano, and Parmesan cheese to butter. Mix thoroughly. Brush about ¾ of the butter and spice mixture on the knots. Bake in the oven for about 8-12 minutes until they are cooked and golden. Be careful not to burn. Remove them from the oven and brush remaining butter and spice mixture over the top of the knots and enjoy!
WW Freestyle Points: 4
Nutrition Facts

Servings

 

16.0

Amount Per Serving
calories 

113

% Daily Value *
Total Fat 

6

 

g

9

 

%

Saturated Fat 

3

 

g

16

 

%

Monounsaturated Fat 

1

 

g

Polyunsaturated Fat 

0

 

g

Trans Fat 

0

 

g

Cholesterol 

8

 

mg

3

 

%

Sodium 

270

 

mg

11

 

%

Potassium 

5

 

mg

0

 

%

Total Carbohydrate 

13

 

g

4

 

%

Dietary Fiber 

1

 

g

2

 

%

Sugars 

2

 

g

Protein 

2

 

g

4

 

%

Vitamin A

2

 

%

Vitamin C

0

 

%

Calcium

1

 

%

Iron

3

 

%

* The Percent Daily Values are based on a 2,000 calorie diet, so your values may change depending on your calorie needs. The values here may not be 100% accurate because the recipes have not been professionally evaluated nor have they been evaluated by the U.S. FDA.