You only need a few basic ingredients for this simple 4-Ingredient Guacamole Recipe. It is the perfect dip or addition to taco night! The best part is customizing it with your favorite mix-ins and flavors, plus you can make it creamy or chunky to your liking.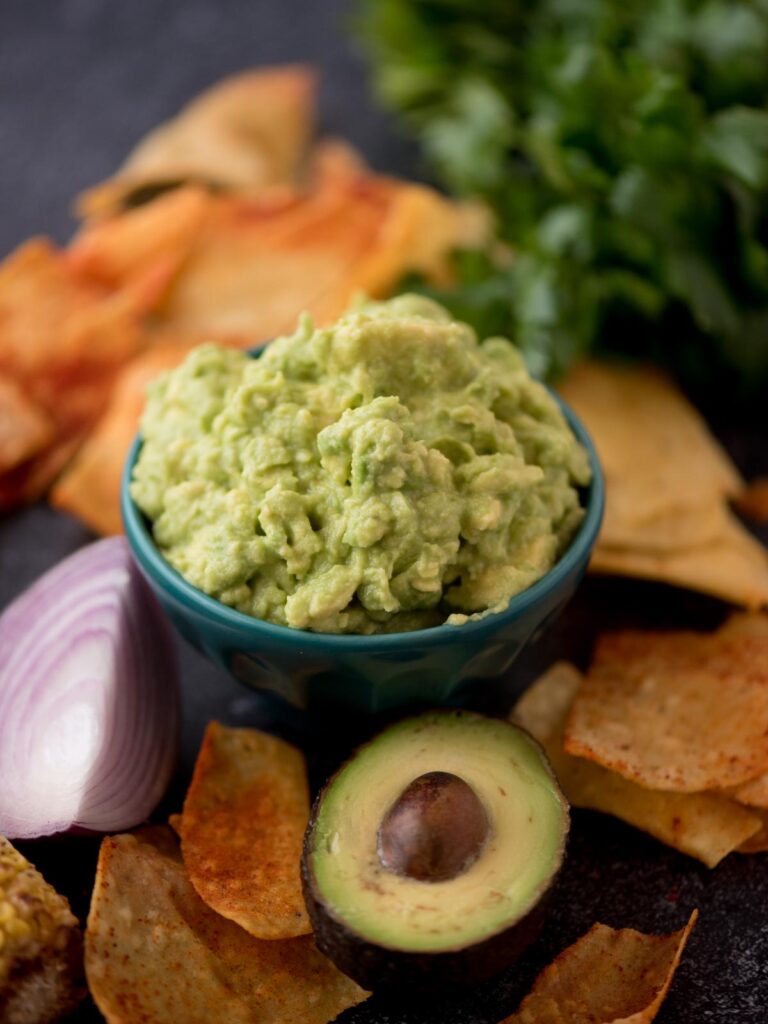 ​​This post may contain affiliate links. This means if you decide to purchase through my link, I may earn a very small commission at no additional cost to you.
4 Ingredient Guacamole Recipe
Tortilla chips are more fun with the ultimate dip trio: creamy smoky queso, spicy (or mild) tomato salsa, and delicious guacamole.
There isn't much better than this trifecta of pure perfection if you ask me!
Guacamole seems like it would be difficult to make, but it is actually pretty hard to mess up!
With this basic guacamole recipe, you'll be making it for every occasion from tailgates to taco night.
Why you'll love this simple guacamole recipe
Serving chips with guacamole has never been easier! You'll never want to buy guac again after trying this recipe.
This delicious guacamole recipe has only four ingredients!
It's so easy and it's ready in less than 5 minutes.
Guacamole can be creamy or chunky, and you can customize it with your favorite mix-ins.
It makes a perfect snack or side dish.
Creamy avocados combined with fresh lime juice are a great way to enjoy healthy fats!
All of the ingredients for this guac recipe can be found at your local grocery store.
It's a great dip that makes an easy appetizer for parties.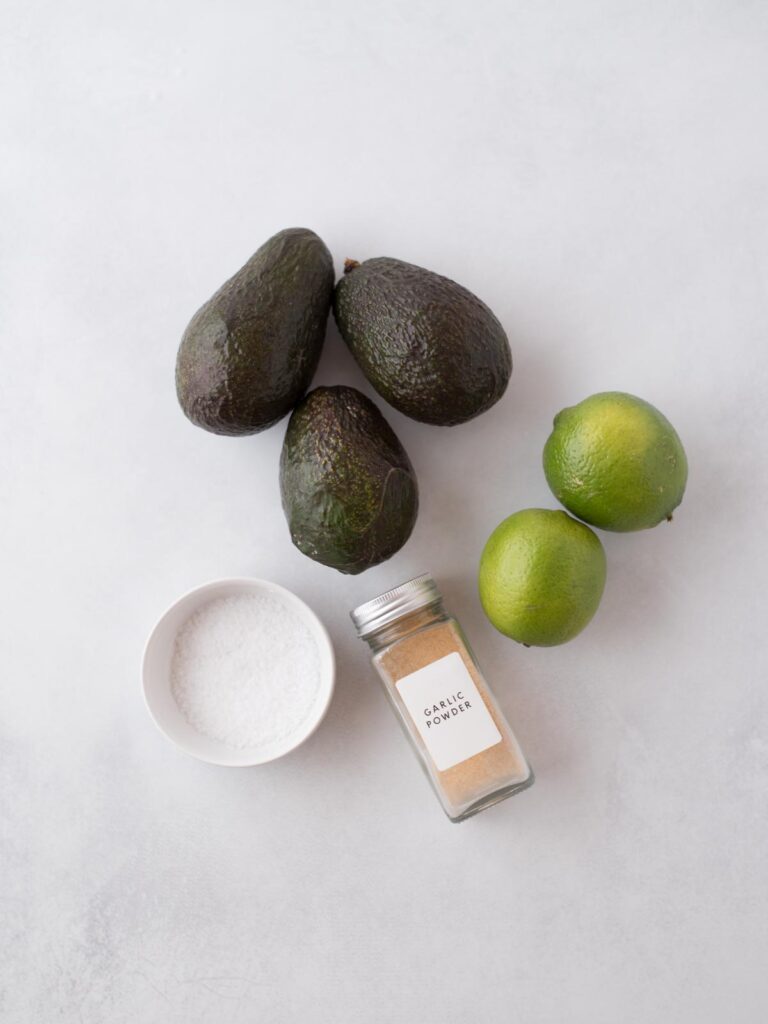 Simple Ingredients
This recipe is absolutely great on its own, but you can also view it as a great base recipe.
In other words, it's an easy guacamole recipe with no tomato, cilantro, or jalapeño, but if you want to add that stuff, you totally can!
Here are the four ingredients you need to start with:
avocados – they need to be ripe, otherwise, they won't blend up well!
limes – you are going to use them for juice and zest, so don't skimp and use the bottled lime juice concentrate,
garlic powder – You can use garlic salt instead, but only add extra salt to taste. Fresh garlic cloves also work here. I recommend grating or mincing finely if going with fresh.
coarse kosher salt – Sea salt also works here, but I don't recommend using table salt.
Best Guacamole Mix-Ins
This creamy guacamole recipe is a great blank slate for adding your favorite mix-ins and flavors. While this avocado dip is a delicious dip on its own, here are some ideas to add extra flavor:
jalapeño peppers or serrano peppers (for spice)
diced tomatoes (roma tomatoes work great)
diced onions (red onion or white onion)
cotija cheese*
sour cream*
hot sauce
cilantro
black pepper
taco seasoning
cayenne pepper
fresh minced garlic
bacon*
shredded cheese*
*Keep in mind if you add any of these ingredients this will no longer be vegan or dairy-free guacamole! If that's a concern for your crowd, leave these out or serve them on the side.
Best avocados for guacamole
The most widely consumed avocado is the Haas avocado. They have dark brown skins and rich green fruit inside. Haas avocados are the most prevalent in American grocery stores, and they make the best guacamole.
However, most avocados aren't grown in America. Mexico is the top producer of avocados, and about 90% of the ones grown in the U.S. are grown in California.
Avocado trees are native to Central America and northern South America. They thrive in humid, tropical, and subtropical regions.
Using ripe hass avocados is one of the best ways to have a great guacamole.
How to tell if an avocado is ripe
Finding the perfect avocado with the best creamy texture can seem hard, but here are a few tips!
Avocados begin the ripening process once they are picked from the tree. Sometimes they will still have a greenish color flesh of the avocados. If they are still green, they are not yet ripe.
Even so, all-black skin doesn't necessarily indicate ripeness. Give the avocado a gentle squeeze.
If it still feels hard, it's not yet ripe. But if you feel a little give and some softness, it's ready to use.
The last step to confirm ripeness is to remove the stem at the top. If you see green below, it is ripe. However, if this is removed too soon you may see a brown color there even when the avocado is ripe.
Tip: If your avocados aren't yet ripe a day or two before you need them for guacamole, you can place them in a brown paper bag with a banana. Fold over the top to seal the bag and place it in a sunny area or outside for 24-48 hours. The banana will release chemicals that will help to ripen the avocados.
Once your avocados are ripe or close to it, you can store them in the fridge to extend their lives for a few more days.
How to Make Homemade Guacamole
A recipe card with a complete list of ingredients, measurements, and full instructions is located at the bottom of this page.
First, peel and pit your avocados. (Here's a tutorial on cutting avocados.)
Add the avocado fruit to a mixing bowl.
Add the juice and zest from both of the limes to your mixing bowl along with the garlic powder and salt.
Mash to your desired consistency with a fork or an avocado masher. You can even use a potato masher.
Mix until fully combined.
If you want to add in some mix-ins, do that now!
Then serve it with your favorite chips and dippers in a cute guacamole bowl.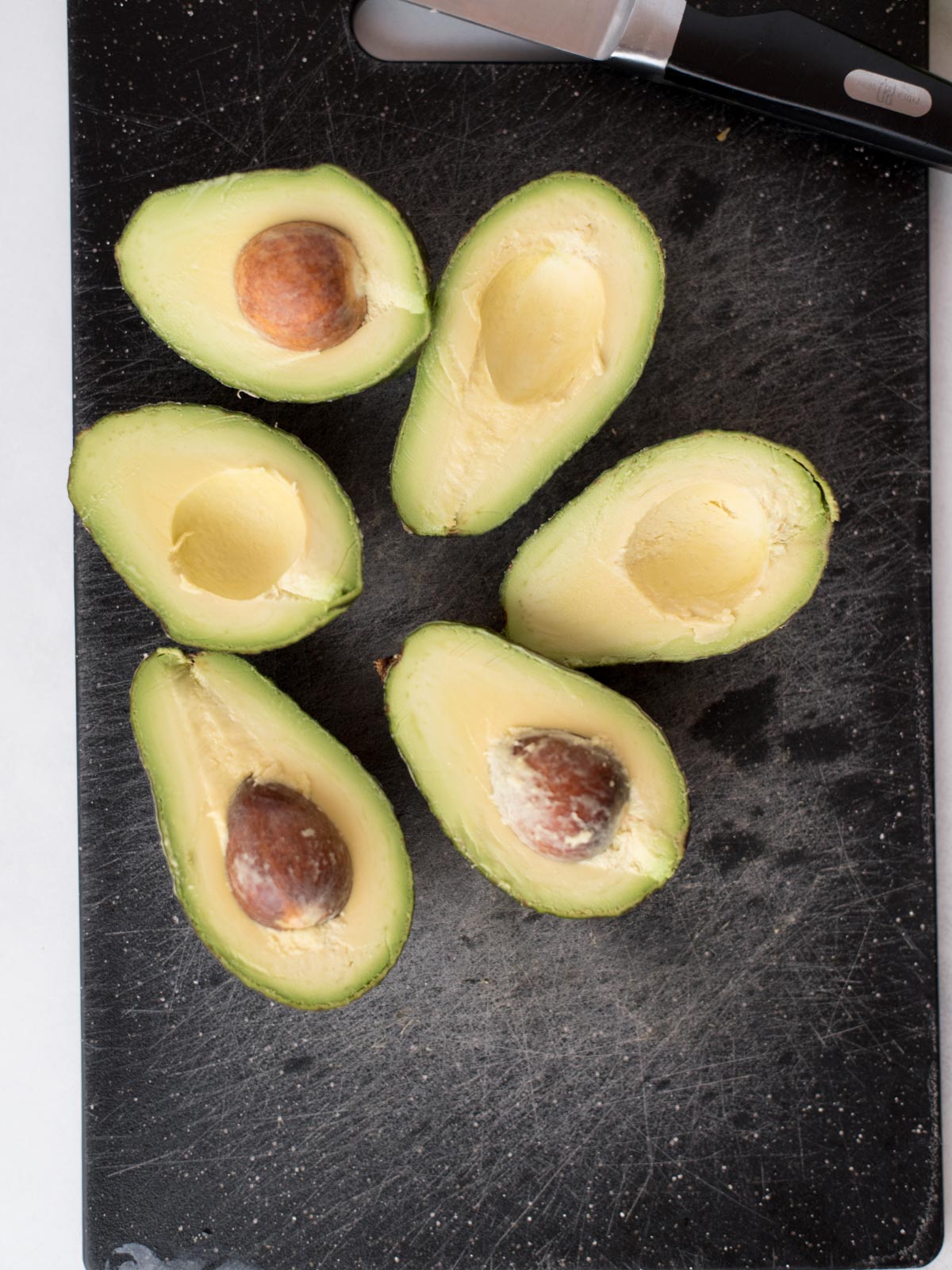 Tips & tricks for the best guacamole recipe
Don't use unripe avocados or you will wind up with chunky guacamole that will never quite be smooth. The best results come from using ripe avocados.
If there are brown spots on your avocados, they are still safe to eat. You can cut them away if you like before mashing them, but a few spots won't affect the final outcome, I promise!
If you like chunky-style guacamole, try mashing two of the avocados and saving the third. Once you've mixed the ingredients together, dice the last avocado into chunks and gently fold it in.
If you like a really smooth guacamole, you can add all of the ingredients to a food processor and process it until it's smooth. It'll take all of the hard work away from you!
What to dip with guacamole
This easy homemade guacamole recipe is a great appetizer or snack. Serve it alongside some of these dippers:
your favorite tortilla chips (chips and guacamole is a classic!)
pita chips
red radish slices
red peppers
cucumber slices
cauliflower florets
broccoli florets
carrot sticks or baby carrots
French fries
bell peppers
celery sticks
Avocado toast is also a great way to enjoy guacamole dip! Just spread it over the top of your favorite toasted bread and enjoy!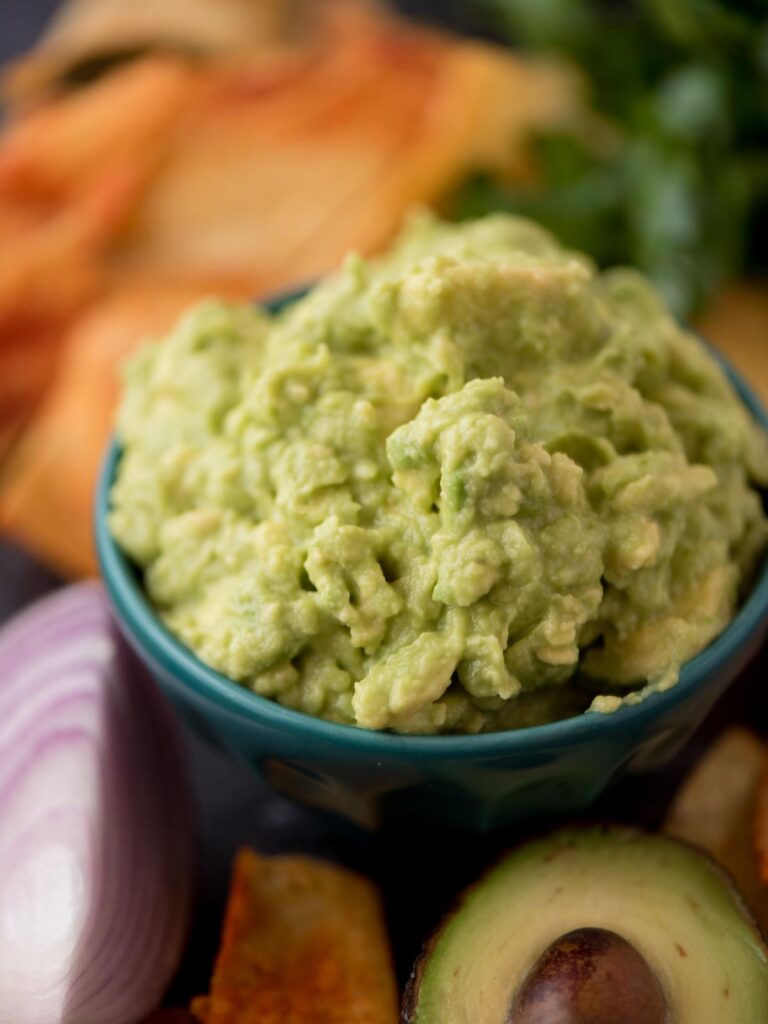 Dinner ideas with guacamole
Guacamole isn't just an appetizer. It also goes really well with a number of Mexican and Latin dishes.
I recommend pairing it with your favorite Mexican recipe.
First things first: It's amazing on tacos. Try it with BBQ Chicken Tacos, Carne Asada Tacos and Chili Lime Shrimp Tacos.
You can also go taco-adjacent and add it to your burritos, burrito bowls, breakfast burritos and fajitas.
It's also so good with anything taco-inspired, such as Chile Relleno Casserole, Taco Soup, Walking Taco Casserole or even Taco Pasta.
And have you ever tried guacamole on a burger? I highly recommend it!
products used to make guacamole
How to store guacamole
Guacamole can be stored in a food-safe airtight container and kept in the fridge for 1-2 days.
Before adding the lid, give the guac another squeeze of lime juice on the surface of the guacamole. The acidity of the lime juice will help to preserve the green color.
If you think you will have leftover guacamole, save the avocado pits and place one or two in the container with the guac. This helps keep them green as well. It sounds weird, but trust me, it works!
You can also place a piece of plastic wrap across the top of the guacamole before placing the lid on it to help avoid browning as well.
How to keep guacamole from turning brown
Guacamole and avocados will turn brown the longer they are exposed to oxygen. If you leave a bowl of guac out for a few hours, it might be dark green or brown by the end of the night.
Adding lime or lemon juice to the guacamole will help keep it from turning brown. You can also store it with the avocado pit, which releases chemicals that slow the browning process.
Can you make guacamole ahead of time?
Guacamole is always best when made fresh (and it only takes 5 minutes to make!) but you can make it about a day ahead of time.
Be sure to use my tips for storing it (scroll up just a tad!) with lime juice and the avocado pit.
Can you freeze guacamole?
Guacamole can be frozen without affecting the taste or color. Add it to a ziptop bag and squeeze out as much air as possible.
Place it in the freezer for up to 3 months. To thaw it, place it in a bowl of cold water for 30-40 minutes or microwave it on the lowest setting. Use it immediately.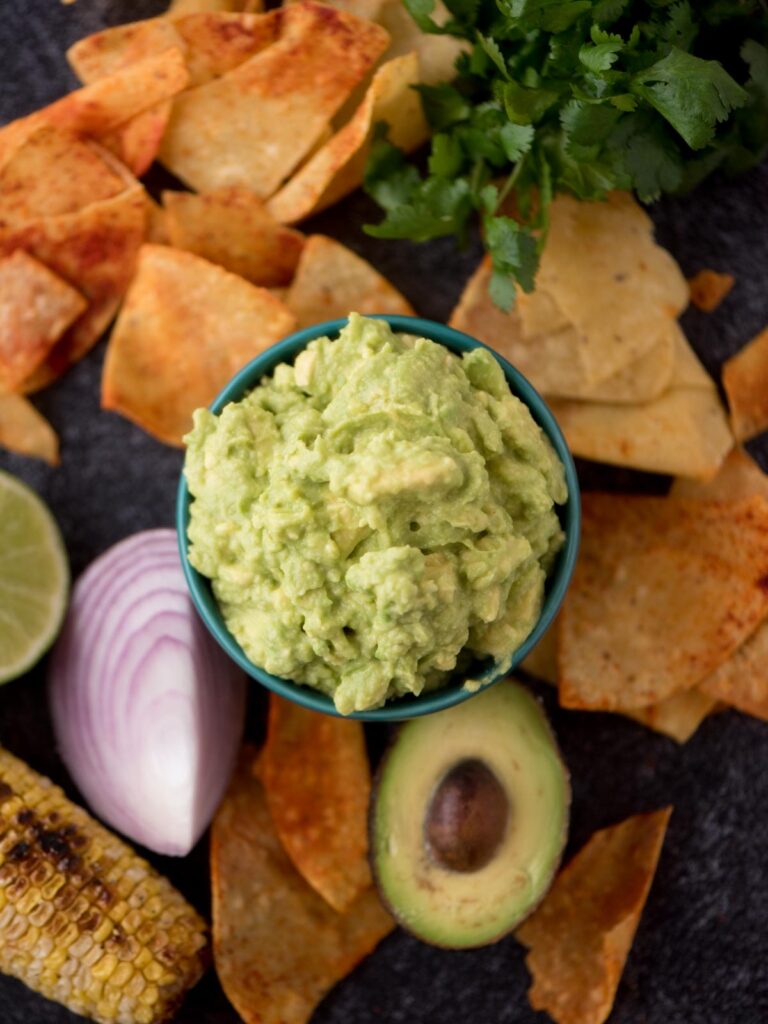 FAQ
Is guacamole vegan?
Yes, guacamole is typically vegan if it is just made with avocado, lime juice, salt, and garlic. However, some popular mix-ins like cheese, sour cream, bacon and chorizo are not, so always ask about ingredients if non-vegan products are a concern.
What is traditional guacamole made of?
Guacamole is made from mashed avocados, salt, lime juice, and garlic. Sometimes it has tomato, onion, jalapeño, and cilantro added, as well as other spices like cayenne pepper.
What can I add to guacamole to make it taste better?
Guacamole is delicious on its own. If it doesn't taste awesome, add a spritz more of lime juice and maybe some more salt. You can also try adding in flavorful mix-ins like hot sauce, onion, cilantro, or taco seasoning to give it more flavor.
How do restaurants keep their guacamole from turning brown?
Air is the enemy of guacamole. Restaurants press a layer of plastic wrap onto the surface of the container before adding the lid to trap out any air from reaching the dip. The piece of plastic wrap works to keep air bubbles out.
How long does guacamole last in the fridge?
Guacamole will last for about 2 days in the fridge when stored in an airtight, food-safe container.
What is the main ingredient of guacamole?
Mashed avocados are the main ingredient in guacamole. They are usually seasoned with garlic, lime juice, and salt, as well as other mix-ins like tomatoes, onions, and sometimes jalapeños.
Can you heat up guacamole?
Yes, guacamole can be heated in the microwave or on the stovetop. It won't turn brown or go bad, but the texture may change if the avocados are cooked, versus just being warmed up.
More 4-Ingredient Recipes
Want more simple recipes? Check out my 4 Ingredient Recipes eBook below:
More Dip Recipes
If you make this recipe and love it, we would love a 5 ⭐️⭐️⭐️⭐️⭐️ rating! It helps us continue to provide free recipes.
Easy 4-Ingredient Guacamole Recipe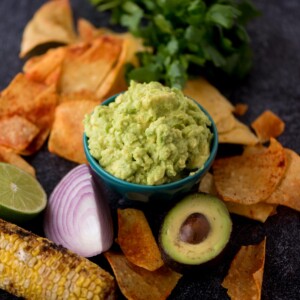 You only need a few basic ingredients for this simple 4-Ingredient Guacamole Recipe. It is the perfect dip or addition to taco night!
Instructions
First, peel and pit your avocados.

Add the avocados to a mixing bowl.

Add in the juice and zest from both limes along with the garlic powder and salt.

Mash to your desired consistency.

Mix until fully combined.

Serve with your favorite chips and dippers!
Notes
If you like a chunky style guacamole, try mashing two of the avocados and saving the third. Once you've mixed the ingredients together, dice the last avocado into chunks and gently fold it in.
Nutrition
Serving:
1
serving
,
Calories:
172
kcal
,
Carbohydrates:
12
g
,
Protein:
2
g
,
Fat:
15
g
,
Saturated Fat:
2
g
,
Polyunsaturated Fat:
2
g
,
Monounsaturated Fat:
10
g
,
Sodium:
396
mg
,
Potassium:
526
mg
,
Fiber:
7
g
,
Sugar:
1
g
,
Vitamin A:
158
IU
,
Vitamin C:
17
mg
,
Calcium:
21
mg
,
Iron:
1
mg
Nutrition information is automatically calculated, so should only be used as an approximation.
Nutritional information is provided as a courtesy. It should only be used for estimation purposes and is not a guarantee of any kind. Nutritional information varies widely between brands and types of ingredients used. It is recommended that you calculate the nutritional information based on your own ingredients and brands used. Sweetly Splendid, LLC makes no guarantees as to the exact nutrition information.