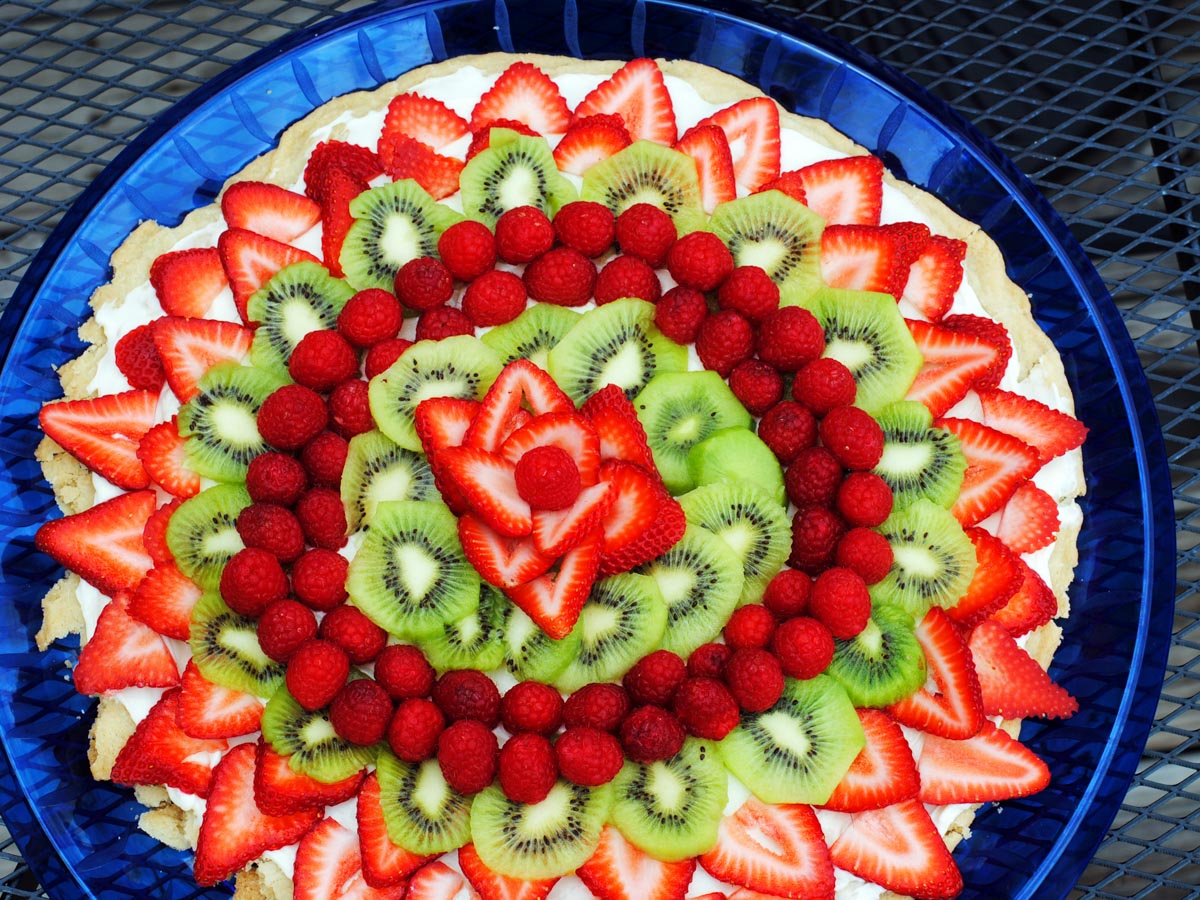 If you're like me, summer time is BBQ time. Obviously that means I want to spend more time outside in the sun instead of cooped up in the kitchen. When we BBQ at our house, I always cook the main meat dish, several sides to appeal to all types, and then one or two desserts. I love making my fruit pizza because it's super quick, super easy, and not heavy. When I make this, I like to make the crust and frosting ahead of time and put in the fridge. I usually top it with fruit shortly before everyone arrives. I use different fruit every time also. Use whatever your little heart desires. Just a word to the wise, using bananas means putting them on right before eating because those little guys WILL turn brown and no one wants a brown fruit pizza.
This recipe is so simple that a lot of my friends ask for the recipe and now make it for their BBQ's and parties. You can use all fruits that don't need to be cut (raspberries, blueberries, blackberries) and even use pre-made refrigerated dough. You can go as simple or as intricate as you'd like.
Fruit Pizza
WW Freestyle Points: 9
Sugar Cookie dough
8oz reduced fat cream cheese
¼ cup sugar
2 tsp vanilla extract
any fruit you desire
Roll dough out into a large circle (about the size of a large pizza). Place on a greased cookie sheet and bake until done. Always remember to grease your cookie sheet or pizza stone because I promise you, that cookie WILL stick if you don't and you'll demolish your fruit pizza trying to serve it. Remove the cookie dough from the oven and allow it to completely cool. In a medium size bowl combine the cream cheese, sugar, and vanilla with an electric mixer until combined and fluffy. Spread frosting over cooled cookie dough. Top with whatever fruit you choose.
Nutrition Facts

Servings

12.0

Amount Per Serving
calories

220

% Daily Value *
Total Fat

10

g

15

%

Saturated Fat

4

g

20

%

Monounsaturated Fat

0

g

Polyunsaturated Fat

0

g

Trans Fat

0

g

Cholesterol

17

mg

6

%

Sodium

222

mg

9

%

Potassium

5

mg

0

%

Total Carbohydrate

30

g

10

%

Dietary Fiber

0

g

0

%

Sugars

21

g

Protein

3

g

5

%

Vitamin A

5

%

Vitamin C

0

%

Calcium

1

%

Iron

0

%

* The Percent Daily Values are based on a 2,000 calorie diet, so your values may change depending on your calorie needs. The values here may not be 100% accurate because the recipes have not been professionally evaluated nor have they been evaluated by the U.S. FDA.