Chicken salad with Grapes is a classic recipe that everyone loves. Tender chicken combined with a creamy dressing and sweet grapes that goes perfectly in a sandwich or on a bed of lettuce. It's fresh, easy, and quick to throw together.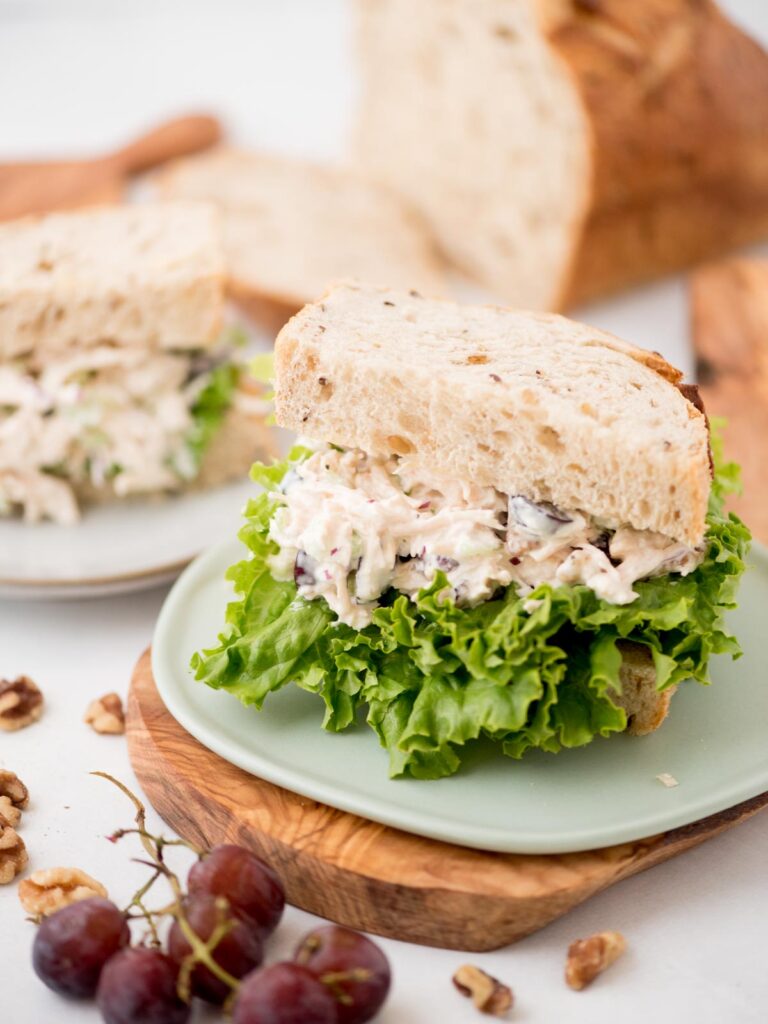 This post may contain affiliate links. This means if you decide to purchase through my link, I may earn a very small commission at no additional cost to you.
the best chicken salad recipe
I could eat chicken salad for lunch, dinner, a snack, and maybe even breakfast. Yes, now that I think about it, chicken salad is great on toast.
This grape chicken salad recipe has everything you love about chicken salad. Perfectly shredded chicken, creamy mayo, crunchy stalks of celery, flavorful onion, juicy grapes, and crispy walnuts are all combined together.
You will love this Chicken Salad with Grapes Recipe
This is such an easy chicken salad recipe. It's also super quick to make. You can have it ready in under 10 minutes.
It's versatile too: You can substitute or omit most of the ingredients and still have a delicious chicken salad.
Chicken salad works well on sandwiches, wraps, salad greens, crackers or you can even just eat it with a spoon.
Meal prepping for the week ahead means you have a delicious lunch every single day.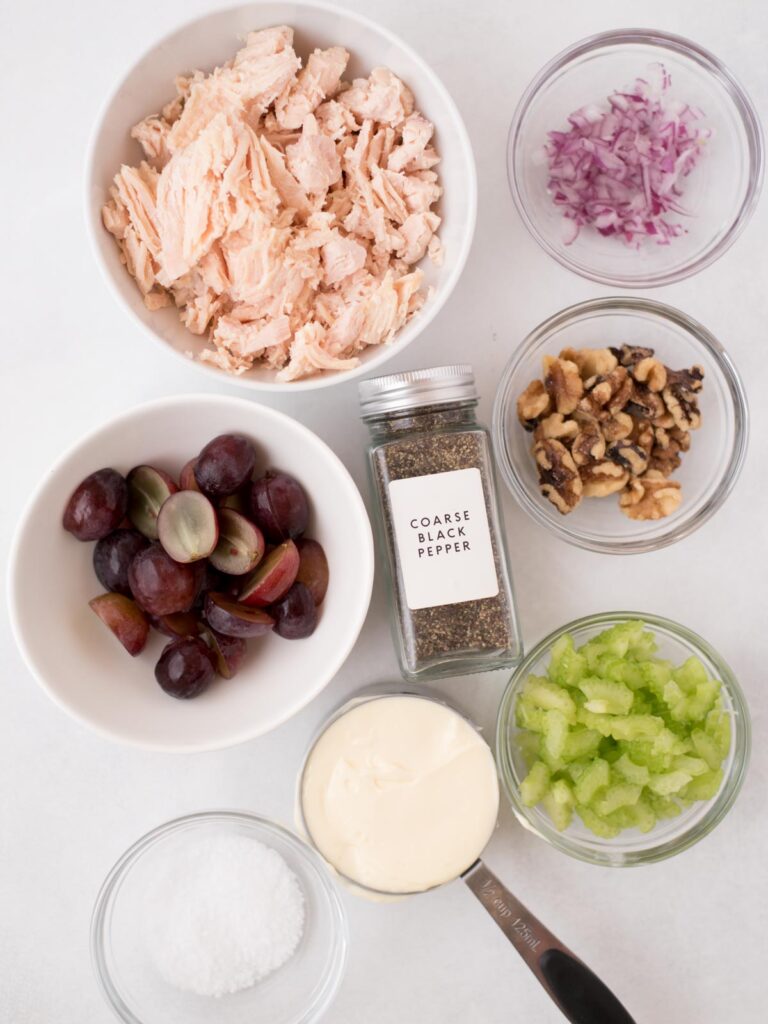 Homemade Chicken Salad Ingredients
Here's what you will need to make this delicious chicken salad:
mayonnaise – Duke's is my go-to, but you could use Miracle Whip or even plain Greek yogurt. Plain Greek yogurt will give it a slight tang.
chicken breast – Cook chicken breasts in your favorite or preferred way. You can use dark meat too, but white meat has the best texture for chicken salad.
celery – Celery adds a lovely crunch. Cut it finer if you don't like big pieces, or omit it altogether.
red onion – You can also use white onion or sliced green onion if you like. You can also omit the onion altogether.
grapes – Green grapes or red grapes both work. You can also use dried cranberries, Craisins, or raisins in place of the grapes. The recipe calls for 1/2 cup, but you can use more or less to your level of sweetness.
chopped walnuts – Other crunchy nuts like chopped pecans or pistachios work in place of walnuts. You can buy them pre-chopped or chop them finely yourself.
salt and pepper – to taste
If you want to level things up, adding fresh dill is oh-so-delicate and flavorful.
You can also add mustard (the spread or mustard powder) for an earthier flavor.
Curry powder is also a popular (and tasty) addition to coronation chicken salad.
You can also add a squeeze of lemon juice for some extra tang.
How to make Chicken Salad with Grapes and Walnuts
Putting together this chicken salad is super simple.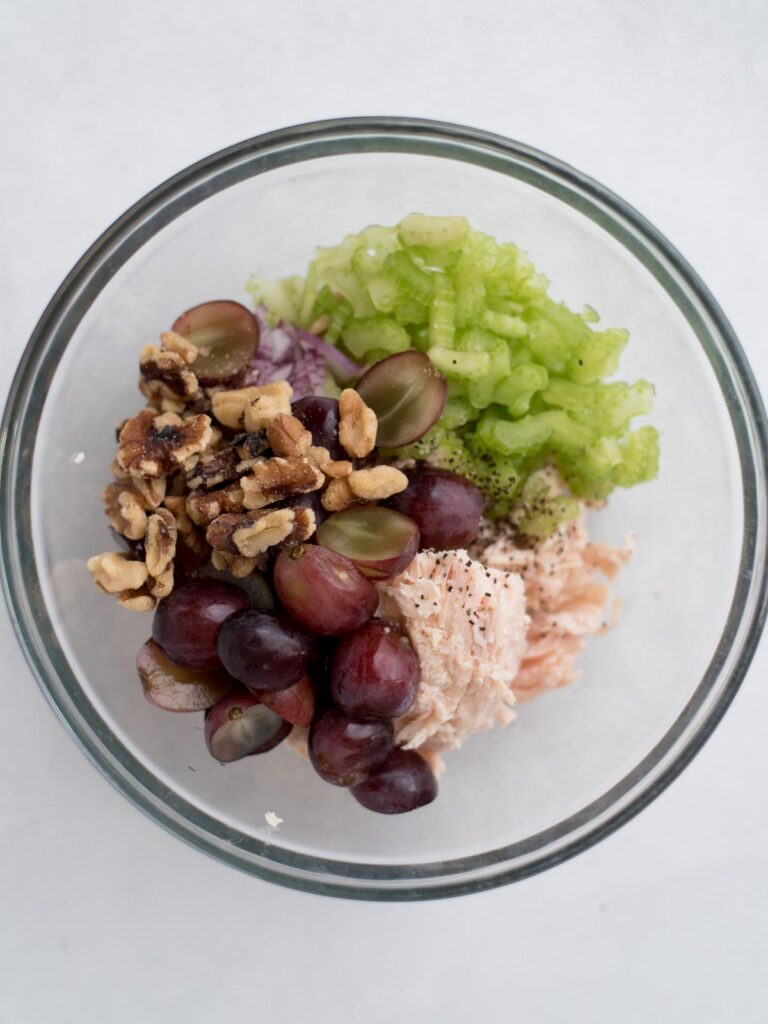 Step 1
Prepare your chicken. You can shred it or chop it, but it needs to be small, bite-size pieces.
Add the chicken, celery, grapes, red onion, salt, pepper, and walnuts to a bowl.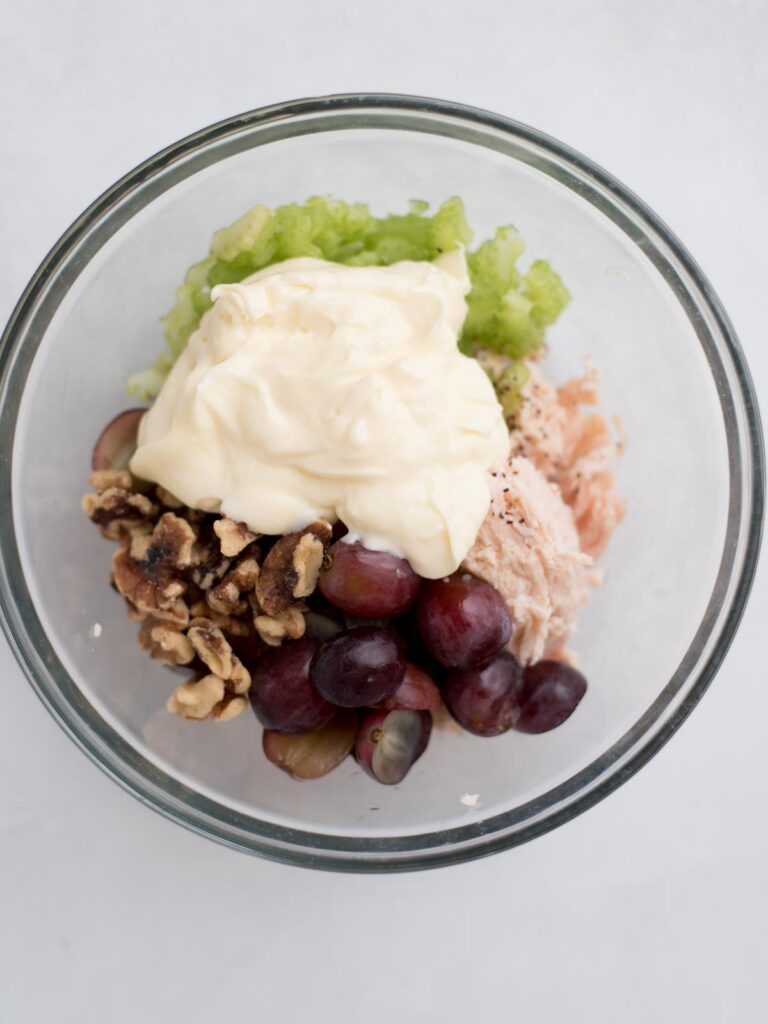 Step 2
Add the mayo to the bowl with the other ingredients.
Step 3
Use a spatula or large spoon to mix it all together. You want all of the veggies, grapes, and chicken to be evenly coated in the mayonnaise mixture.
How to cook chicken for chicken salad
You can cook chicken in all kinds of ways for chicken salad. You can even use leftover chicken. The only kind I wouldn't necessarily recommend is using a breaded chicken, like panko chicken. The breading will become soggy.
Oven baked chicken breasts – Bake seasoned chicken in the oven at 350°F for 20-30 minutes. Make sure it has an internal temperature of 165°F (74°C).
Smoked chicken breasts – This brings a delicious smoky flavor to chicken salad.
Grilled chicken skewers – Charred marks from the grill add both flavor and texture.
Beer can chicken – The hoppy flavor of the beer will shine with the other ingredients.
Instant pot chicken breasts – If you have an Instant Pot, you will love how easy it is to cook chicken in it.
Slow cooker chicken breasts – The slow cooker is another easy method if you want to set it and forget it for a few hours.
No matter what method you use, it's important that your chicken is cooked to an internal temperature of 165°F (74°C). Use an instant-read meat thermometer.
Using rotisserie chicken, canned chicken, or cooked-from-frozen chicken is also totally fine. Do what's most convenient for you.
Once you have cooked the chicken, let it cool, and then you can prepare it for chicken salad.
You can either shred the chicken or chop it. Sometimes I shred it, and sometimes I shop it. Occasionally, it ends up as a mix of both which is my favorite.
kitchen tools to make creamy chicken salad with grapes
Tips & Tricks for creamy chicken salad
Save time and use a rotisserie chicken or canned chicken! This is one of my favorite shortcuts.
A stand mixer is great for shredding chicken! Take cooked cooked chicken breasts and put them in the stand mixer bowl. Turn it on low to shred the chicken. Check out this tutorial for shredding chicken in a stand mixer.
If you are sensitive to onion flavor, you can soak the onion in cold water to lower the intensity of flavor.
Try adding all-purpose seasoning, Greek seasoning, fresh dill or other fresh herbs, mustard or curry powder to adjust the flavor. This is a great recipe to experiment with.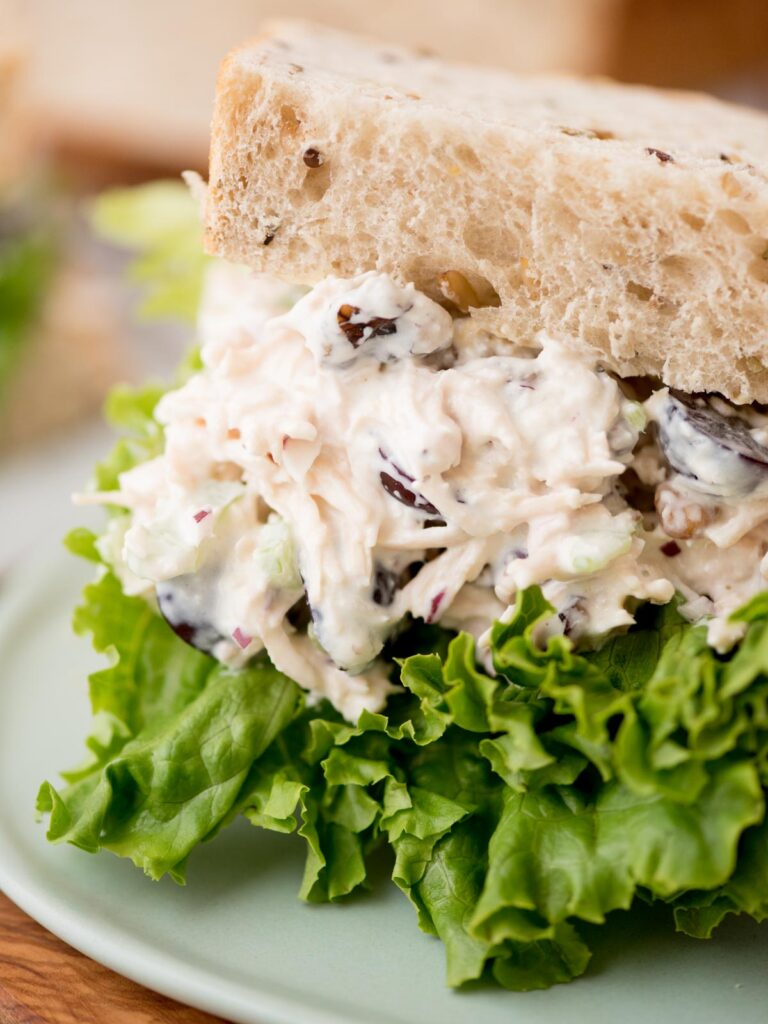 How to serve this Classic Chicken Salad Recipe
Chicken salad is a great dish to eat for lunch. It's a great way to meal prep for the week. It's also a great dish to serve for a luncheon or daytime party like a baby shower or wedding shower.
Here are some of the best ways to serve chicken salad:
On sandwiches: Add lettuce and a scoop of chicken salad to your favorite bread for chicken salad sandwiches.
In a wrap: Add lettuce and chicken salad to a tortilla or wrap bread, then roll it up. You can use large lettuce leaves to do a lettuce wrap.
As an appetizer: Spread chicken salad on crackers for a great appetizer.
On a salad: Serve a scoop of chicken salad on a bed of greens for a hearty lunch.
In an avocado: Halve an avocado and remove the pit, then serve scoops inside the fruit.
Stuffed in peppers: Hollow out bell peppers and serve them with chicken salad inside.
You can use a scoop like this one to make beautiful rounded scoops for a great presentation.
How to store this Homemade Chicken Salad Recipe
Because it contains chicken and mayo, chicken salad should always be stored in the fridge in an airtight container. It should be enjoyed within three to five days.
If you're taking it for lunch to school or work, make sure to use an ice pack!
How long does chicken salad last in the fridge?
According to FDA guidelines, prepared and homemade salads like chicken salad and tuna salad should be stored in the fridge for up to 3 to 5 days.
Can you freeze chicken salad?
No, FDA guidelines do not recommend freezing chicken salad.
Chicken Salad with Grapes FAQs
Is chicken salad healthy?
Chicken salad is filled with hearty chicken plus natural ingredients like veggies, nuts and fruits, which are mixed together with mayonnaise. For a lighter version, you can use a light mayo or Greek yogurt.
Why do people put grapes in salad?
Grapes are a sweet and juicy addition to salads like chicken salad. They add a crispy, juicy texture and give the recipe a sweet-and-salty flavor.
How do you cut grapes for salad?
Grapes should be cut in half for salads like chicken salad.
What can I add to chicken salad to give it more flavor?
Chicken salad is delicious on its own. Start by adding salt and pepper, then tasting it and add more if needed. You can also mix in mustard, seasonings, fresh herbs like dill or curry powder.
Why should you wash grapes before eating?
Grapes naturally produce a waxy, whitish film on their skins, called "bloom." It is safe to eat, but it can have a bitter and chalky flavor. It's best to rinse grapes for the best flavor.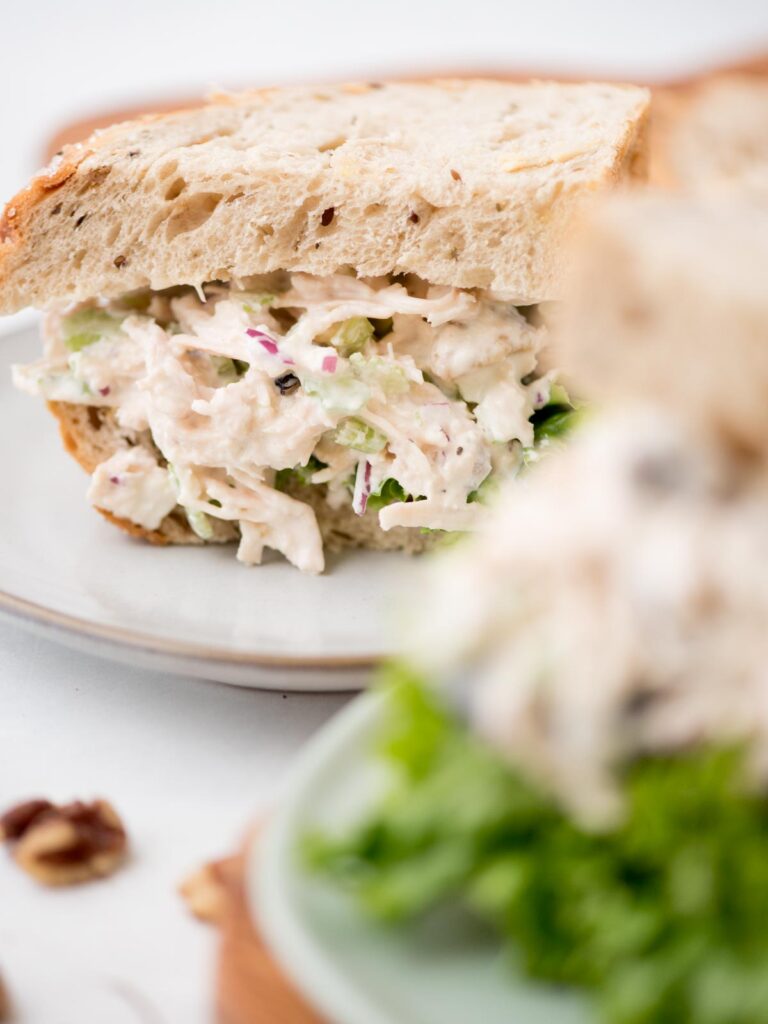 More Easy Salad Recipes
If you make this recipe and love it, we would love a 5 ⭐️⭐️⭐️⭐️⭐️ rating! It helps us continue to provide free recipes.
Chicken Salad with Grapes and Walnuts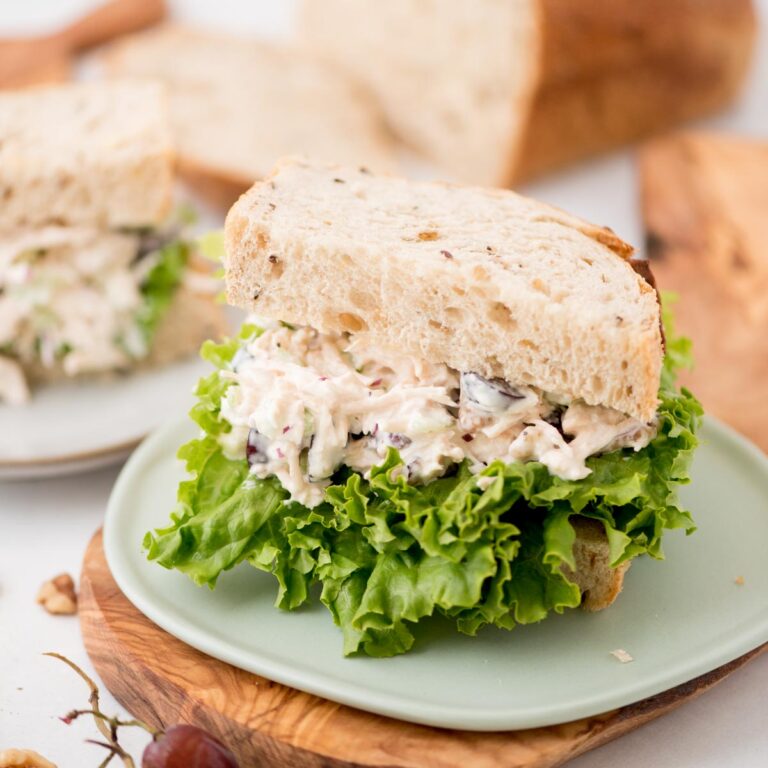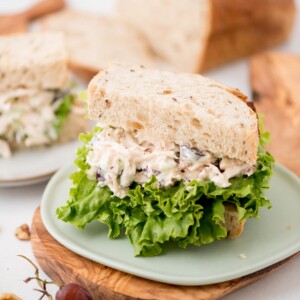 Chicken salad with Grapes is a classic recipe that everyone loves. Tender chicken combined with a creamy dressing and sweet grapes that goes perfectly in a sandwich or on a bed of lettuce. It's fresh, easy, and quick to throw together.
Instructions
Add all of the ingredients to a mixing bowl.

Mix to combine.

Serve on sandwiches, in a wrap, on crackers, or even on lettuce.
Notes
Soak the onion in cold water to lower the intensity of flavor
Delicious stuffed inside half of an avocado
Nutrition
Serving:
1
serving
,
Calories:
524
kcal
,
Carbohydrates:
29
g
,
Protein:
16
g
,
Fat:
40
g
,
Saturated Fat:
5
g
,
Polyunsaturated Fat:
24
g
,
Monounsaturated Fat:
8
g
,
Trans Fat:
0.1
g
,
Cholesterol:
54
mg
,
Sodium:
1026
mg
,
Potassium:
596
mg
,
Fiber:
3
g
,
Sugar:
17
g
,
Vitamin A:
329
IU
,
Vitamin C:
5
mg
,
Calcium:
55
mg
,
Iron:
1
mg
Nutrition information is automatically calculated, so should only be used as an approximation.
Nutritional information is provided as a courtesy. It should only be used for estimation purposes and is not a guarantee of any kind. Nutritional information varies widely between brands and types of ingredients used. It is recommended that you calculate the nutritional information based on your own ingredients and brands used. Sweetly Splendid, LLC makes no guarantees as to the exact nutrition information.