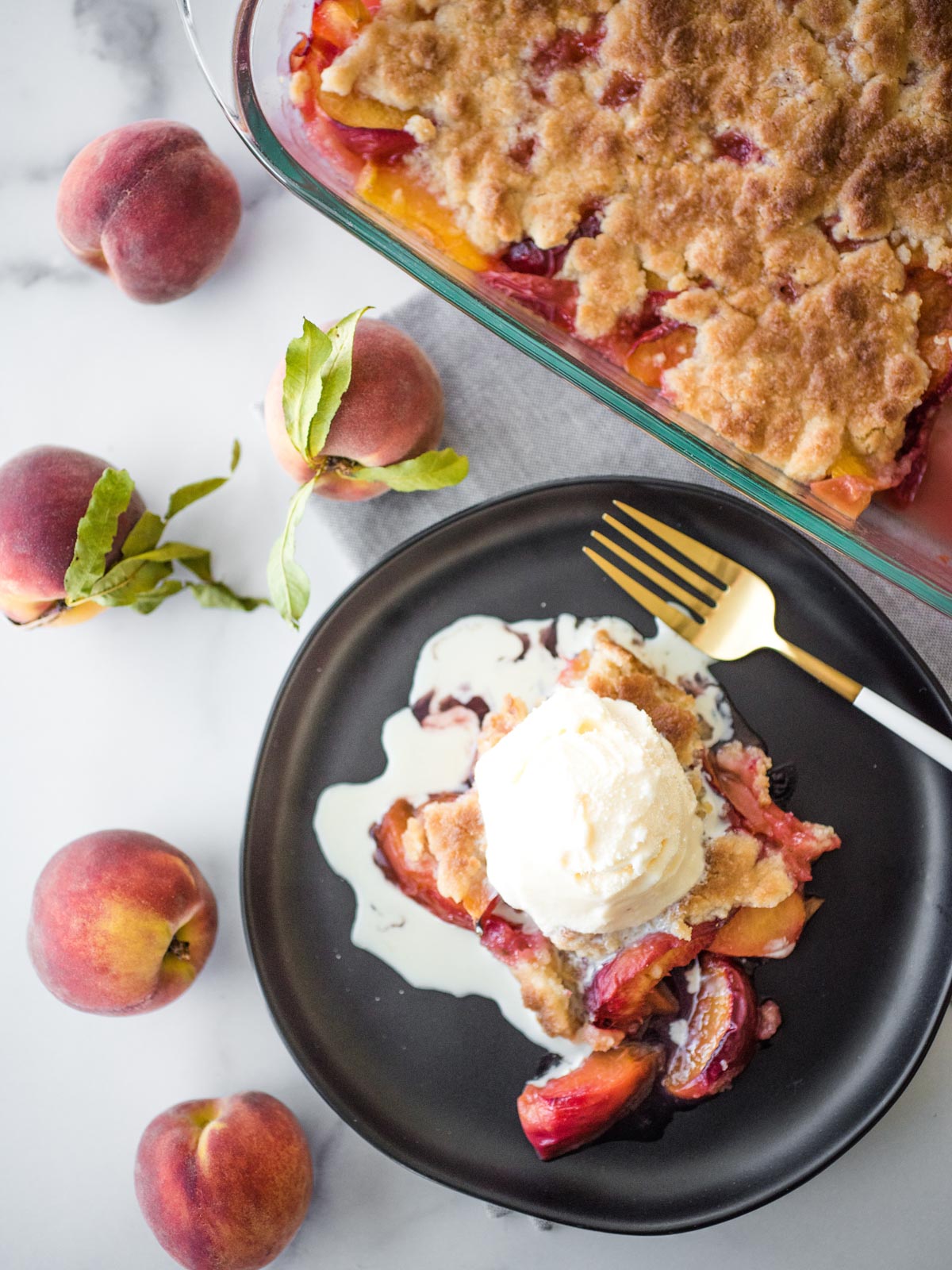 It's peach season! We're a little spoiled around here where we are able to get Fredericksburg peaches. I'm probably biased, but they are the best peaches around. They're always so juicy and so flavorful! What better way to eat them, than in this insanely delicious peach cobbler?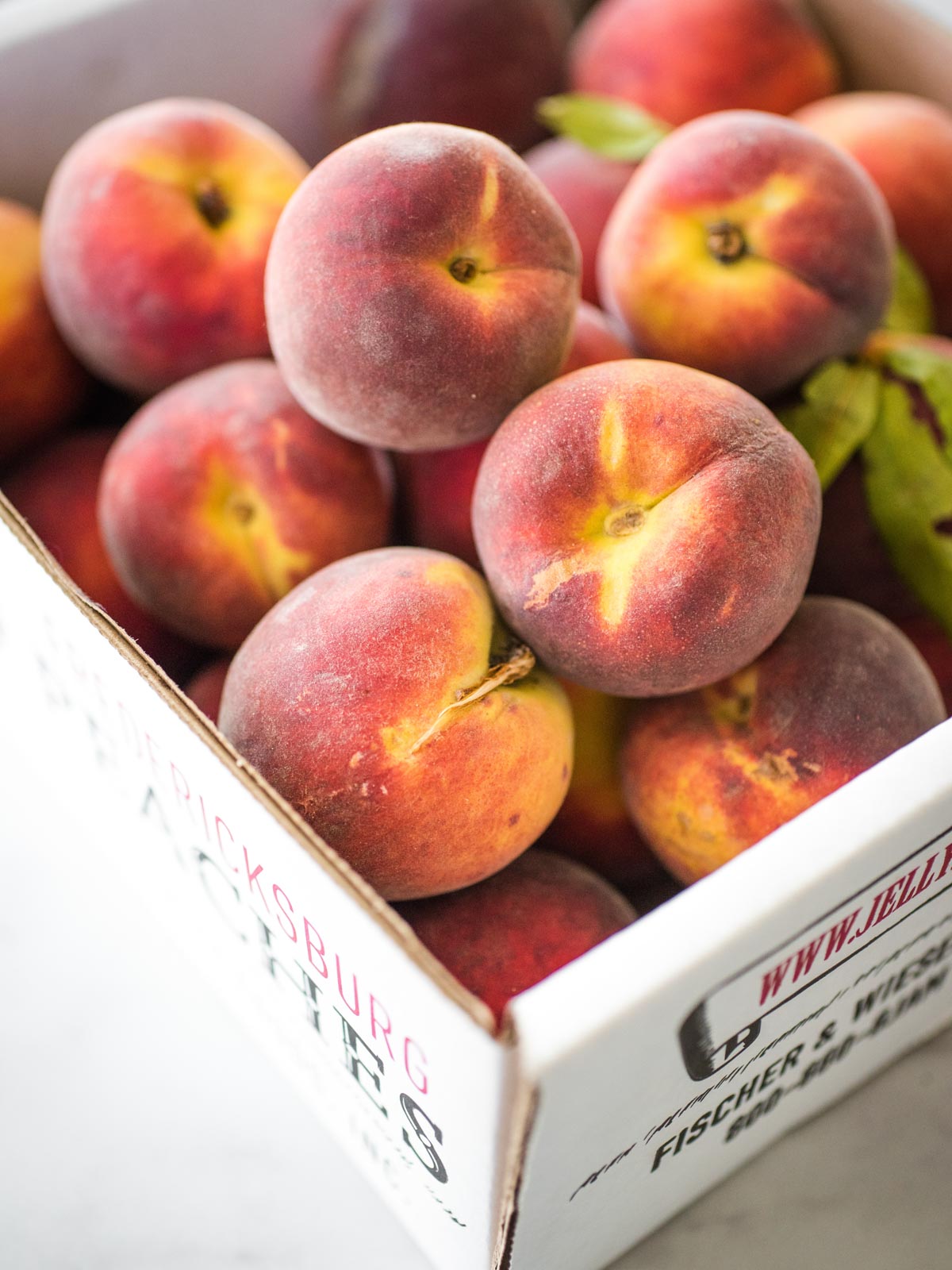 Homemade Peach Cobbler Ingredients
fresh peaches
sugar
unsalted butter
vanilla
all purpose flour
baking powder
salt
Do you have to peel peaches for cobbler?
You do not have to peel peaches for cobbler. Peach skin is very tender, especially when they are in season.
What is the easiest way to peel peaches?
The easiest way to peel peaches in by blanching them in boiling water for 30 seconds and then immediately placing them in an ice bath. The skin will come right off.
Can this cobbler be made with frozen peaches instead of fresh?
You can make this cobbler with frozen peaches. You just need to allow them to completely thaw before using them.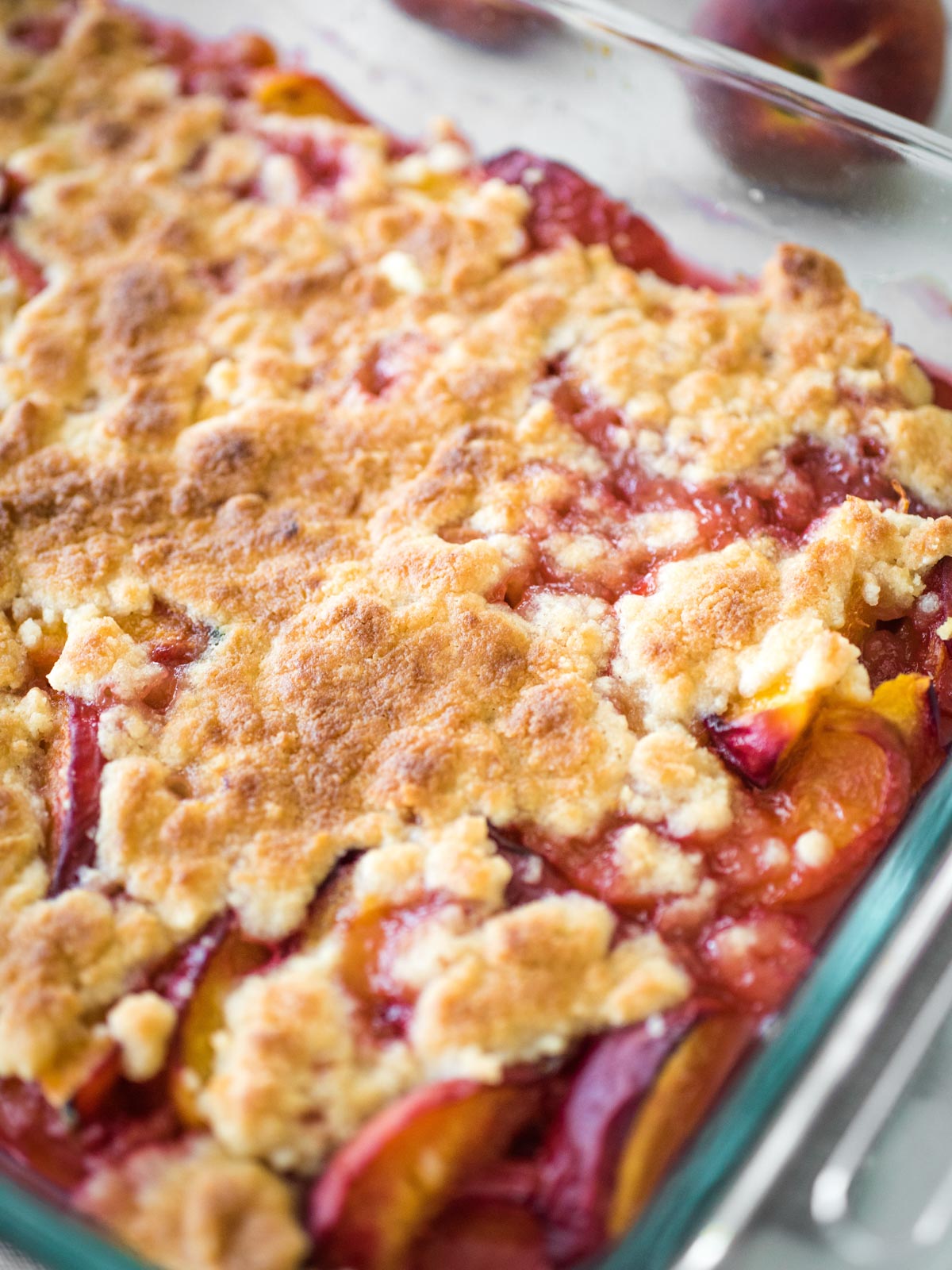 How do you make Peach Cobbler
Pit and slice your peaches. The thinner you slice them, the faster it'll cook.
Combine your peaches with a portion of the sugar.
Add your peaches to the non-stick sprayed casserole dish.
Combine your remaining ingredients and mix until they form a dough.
Add spoonfuls of the dough to the top of the peaches, spreading with your fingers.
Bake in the oven for 30 minutes, and finish by broiling to get the crust nice and crispy.
Tips, Notes, and FAQs for Peach Cobbler with Fresh Peaches
As hard as it is, allow it to cool completely before diving in. The entire consistency changes as it cools. It may seem a little watery when it first comes out, but if you allow it to completely cool, it becomes thicker and just perfect!
The crust doesn't have to be perfect, just try to get the top covered as best you can.
When you put it under the broiler, it's important to keep a close eye! It can quickly burn.
If your peaches aren't quite ripe, you can add a little extra sugar to the peaches and bake it a little longer. You can also add some extra butter.
Should you use ripe peaches for cobbler?
Ripe, in-season peaches are best for cobbler.
Do you boil peaches before baking?
No, it is not necessary to boil peaches before baking.
How do you make peach cobbler not runny?
The key is to make sure you allow the peach cobbler to cool. It may seem a little runny when it comes out of the oven, but it will thicken as it cools.
What is the difference between a peach cobbler and a peach crisp?
Peach cobbler has a thicker, biscuit/cookie style crust. Peach crisp is made with oats and streusel-style topping.
Does the batter go on the top or bottom of a cobbler?
The batter goes on top of a cobbler with the fruit on bottom.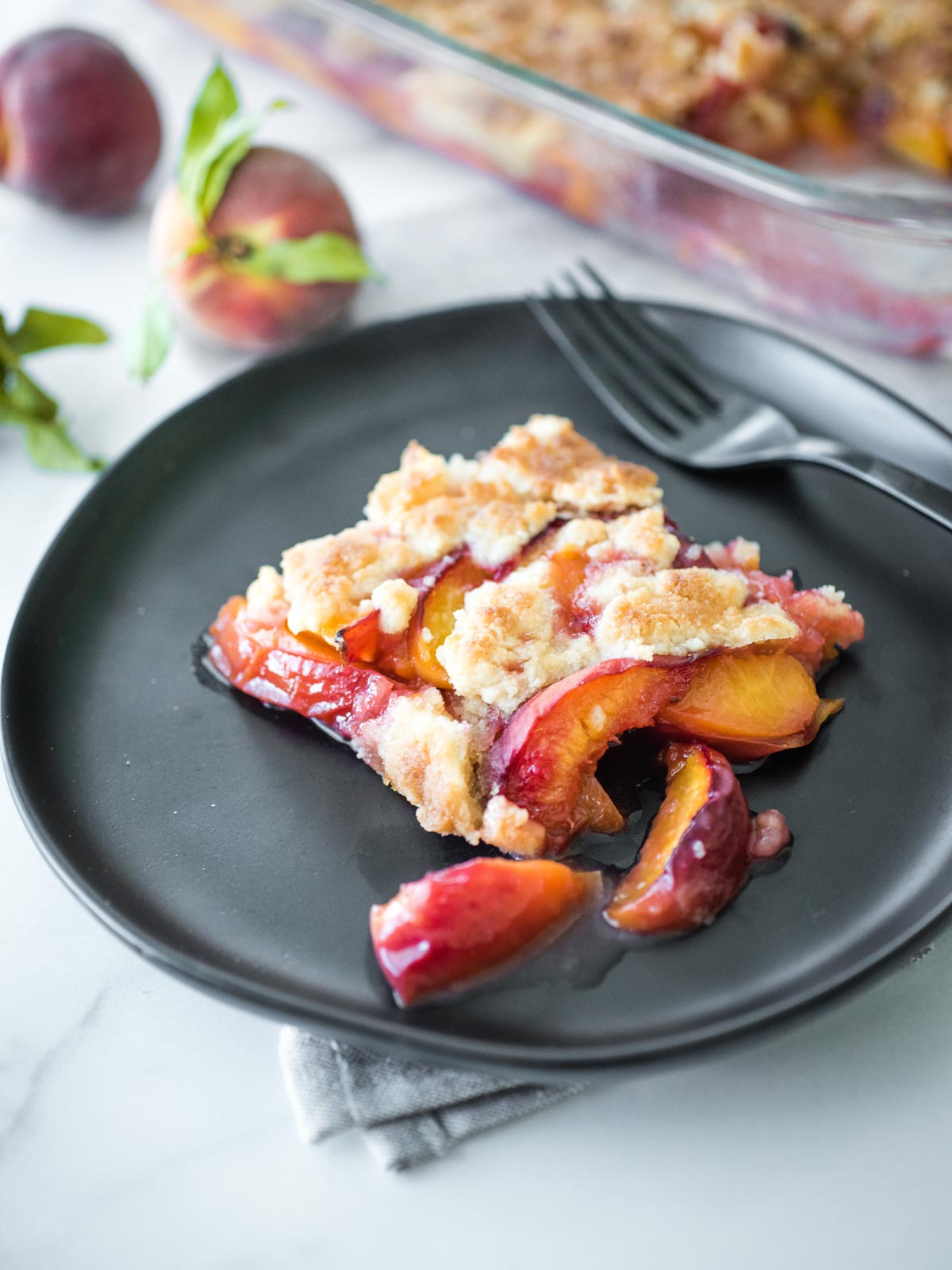 Can you make Peach Cobbler ahead of time?
Yes! I actually encourage it. That way, you have time to allow it to completely cool before serving. You can assemble it all the way up to the point of baking and then wait to bake it (keep in the fridge in the mean time), or you can bake it to completion and refrigerate until you're ready to serve and just reheat before serving.
Can you prepare peaches in advance?
Cut peaches can brown very quickly. I don't recommend preparing them in advance, but if you choose to, be sure to add a little lemon juice and store them in an airtight container.
Storing and Reheating Fresh Peach Cobbler
Do you refrigerate Peach Cobbler?
Yes, any leftover peach cobbler should be stored in an airtight container in the refrigerator.
Can you leave Peach Cobbler out overnight?
I do not recommend leaving peach cobbler out at room temperature overnight. It is best stored in the refrigerator.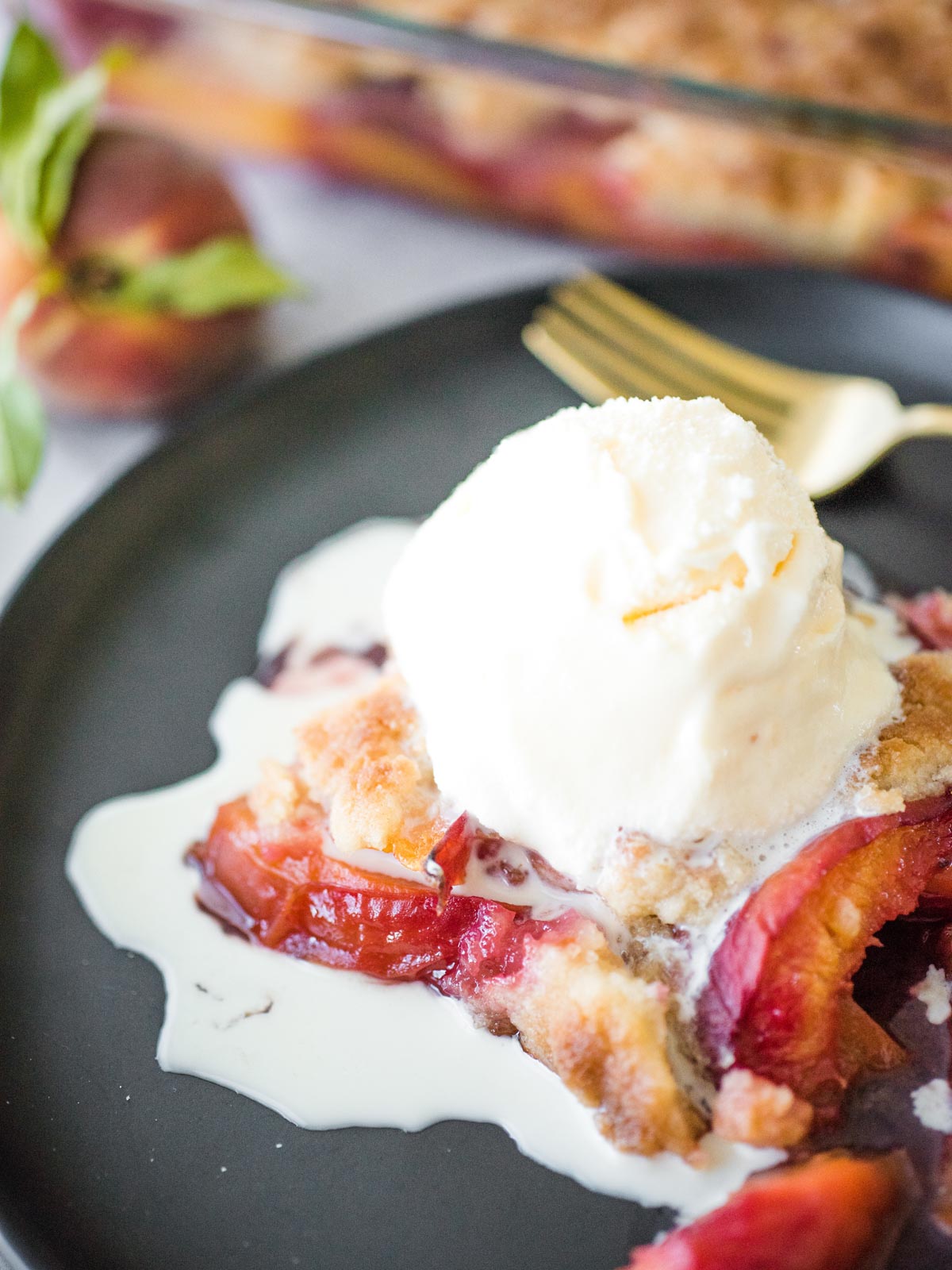 INTERESTED IN SIMILAR MEALS? TRY ONE OF THESE: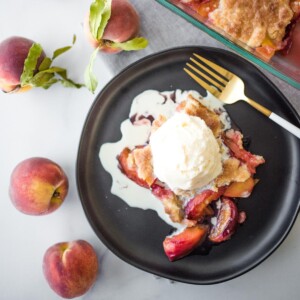 Homemade Peach Cobbler with Fresh Peaches
Ingredients
10-12

small fresh peaches

1

cup

sugar

½

cup

unsalted butter

2

tsp

vanilla

1

cup

all purpose flour

1

tsp

baking powder

pinch

of salt
Instructions
Preheat oven to 350°F.

Spray 3qt casserole dish with non-stick cooking spray.

Pit and thinly slice the peaches, adding them to a large mixing bowl.

Add 2 tbsp of sugar to the peaches (if ripe, 2 tbsp is plenty - if not ripe, add a little more)

Mix the peaches with the sugar until they are coated. Add peach mixture to the casserole dish and spread them out evenly.

Melt the butter and allow it to cool slightly.

Mix together melted butter, remaining sugar, vanilla, flour, baking powder, and salt until it is thoroughly mixed.

Scoop spoonfuls of the batter on to the top of the peaches and spread with your fingers. You'll want to push down and smooth out to cover the peaches.

Bake for 30 minutes.

Turn on the broiler and broil for 1-2 minutes (KEEPING A CLOSE EYE TO AVOID BURNING!) to allow the top to brown and become crispy.

Remove from oven and allow to cool completely. I know it's hard to wait, but if you do, it becomes the perfect consistency!
Nutrition
Nutrition Facts
Homemade Peach Cobbler with Fresh Peaches
Amount per Serving
% Daily Value*
* Percent Daily Values are based on a 2000 calorie diet.
Have you tried this recipe?
Please let us know how it was in the comments or tag us on Instagram @sweetlysplendid!