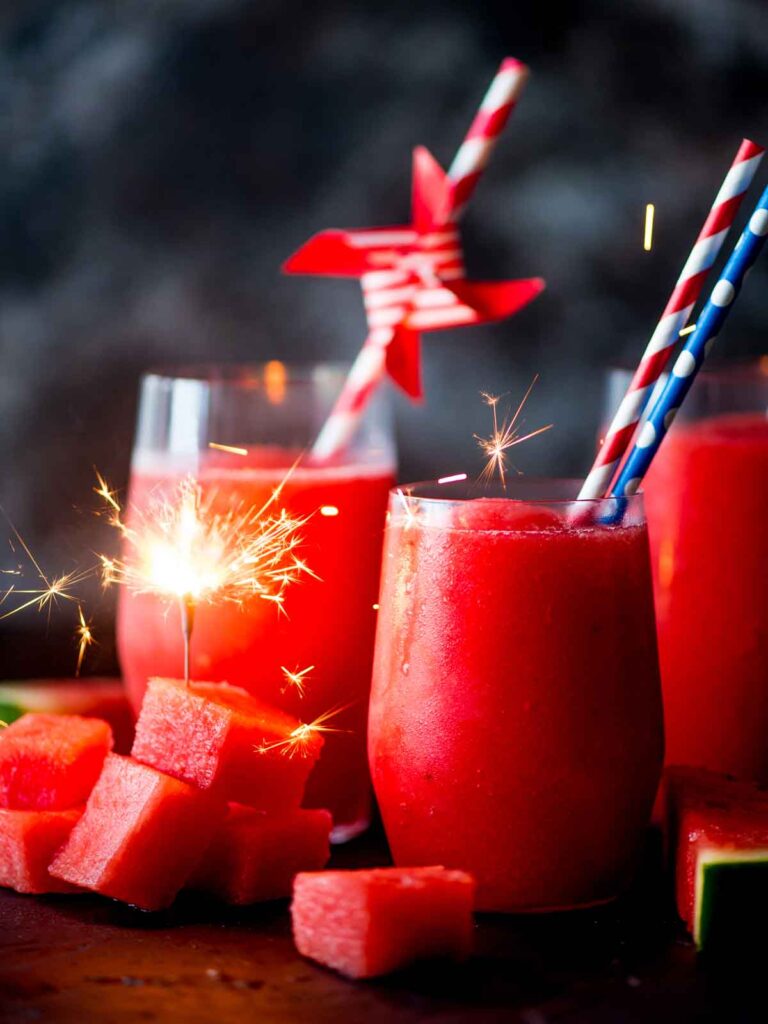 Watermelon Slush
This drink screams summer. Between the Malibu, watermelon, and lime, you just can't get more summer than this Boozy Watermelon Slush! I had this drink in mind for a while, and what better way to celebrate National Watermelon Day? When it came together, it tasted even better than I expected. One thing that surprised me was how delicious frozen watermelon is. Everyone raves about frozen grapes, but when I took a bite of the frozen watermelon, it was like its sweetness factor went up a dozen notches. It was amazing!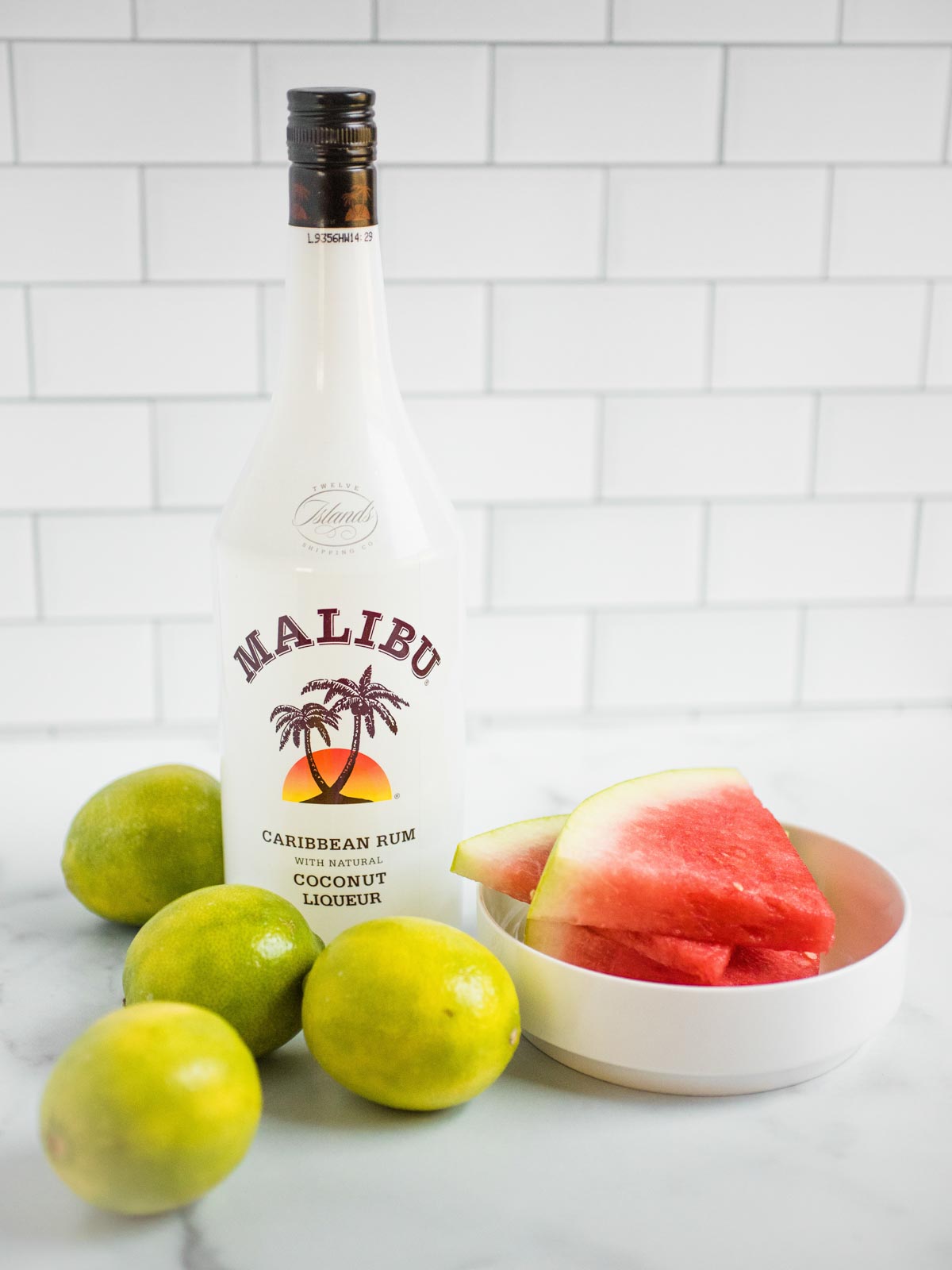 Frozen Watermelon Cocktail Ingredients
watermelon
limes
sugar
water
Malibu rum
Watermelon Slush Cocktail Substitutions
If you'd like to make this non-alcoholic, you can combine rum extract and coconut extract to mimic the flavor of Malibu Rum without the alcohol content.
How to Make Watermelon Rum Slush Cocktail
(full recipe card below)
Peel and cut your watermelon into thin, small slices. Lay them on a wax paper lined cookie sheet and freeze.
While the watermelon is freezing, make your lime simple syrup.
In a saucepan, combine the water, sugar, and zest from your limes.
Bring to a boil and allow to simmer until all of the sugar has dissolved.
Remove from the stove and allow it to completely cool. Once cooled completely, place in a container and put in the fridge to chill.
Once your watermelon is frozen, remove from the freezer and add it to the blender. Yes, the entire watermelon.
Pour in your simple syrup, and the juice from your limes.
Blend until a slushy consistency.
If you need it a little more "slushy", add in a few cubes of ice and blend.
Garnish with additional watermelon and lime.
Tips and Notes for Watermelon Slushy Alcohol Drinks
The thinner you slice your watermelon, the faster it will freeze.
If you want a stronger lime flavor, you can squeeze in extra lime after its poured into your glass.
Get creative and rim your glass with lime juice and sugar.
If you want it more of a slushy flavor without adding ice, you can blend the watermelon and freeze in ice cubes. I wouldn't recommend freezing the syrup.
How to select the best Watermelon
When choosing a watermelon, you want one with a thick, firm rind. Look for one with an orange colored field spot and large webbing. I also find that watermelons that are more round and uniform vs. elongated have a sweeter flavor.
Can Watermelon be frozen?
Yes, watermelon can be frozen. Because of it's water content, it freezes really well. Not only is it delicious as a snack when frozen, it helps the slush have a great texture and consistency.
How long can you keep cut watermelon in the freezer?
Watermelon can be frozen for up to 6 months when stored properly in an airtight container.
Can Watermelon Slushies be made ahead of time?
I wouldn't recommend it. You can freeze the watermelon in advance, but I'd make these right before serving.
TRY ONE OF THESE OTHER FAVORITES: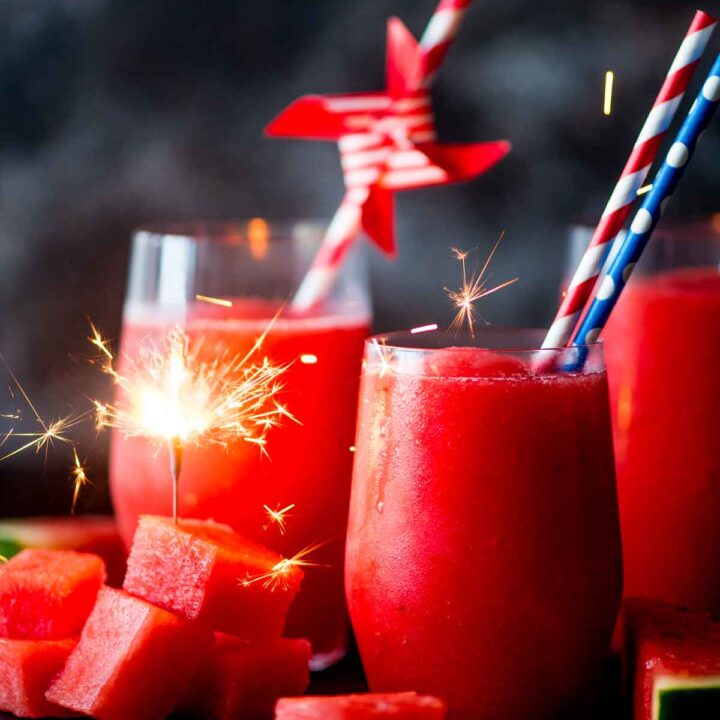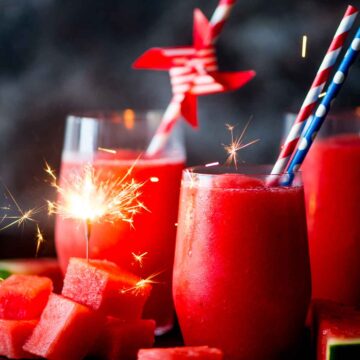 Boozy Watermelon Slush Cocktail
Ingredients
4

large limes

½

cup

sugar

½

cup

water

½

cup

Malibu rum

more or less to your liking
Instructions
Peel and slice your watermelon into small thin slices. Place on a wax paper lined baking sheet. Place the sheet in the freezer to freeze your watermelon. Remember, the thinner the slices, the faster it'll freeze.

While your watermelon is freezing, make your simple syrup. Add sugar, water, and the zest from 1 lime into a sauce pan.

Heat until boiling, reduce heat and simmer, stirring until all sugar is dissolved. Remove from heat.

Allow the syrup to cool completely and then place in the refrigerator to cool even further.

Once the watermelon is frozen completely and the syrup cooled, add both to a blender along with the Malibu rum and juice from all limes.

Blend until smooth. If you'd like it to be even icier, add in some cubes of ice and blend.

Enjoy with an extra squeeze of lime into your glass if you prefer.
Notes
The thinner you slice the watermelon, the faster it will freeze
The key to a good slush is to make sure all of your ingredients are very cold, with the watermelon being completely frozen.
You can opt to blend your watermelon and then freeze in ice cubes if you prefer.
Do not freeze the syrup, your final result won't taste the same.
Nutrition
Nutrition Facts
Boozy Watermelon Slush Cocktail
Amount per Serving
% Daily Value*
* Percent Daily Values are based on a 2000 calorie diet.
Have you tried this recipe?
Please let us know how it was in the comments or tag us on Instagram @sweetlysplendid!