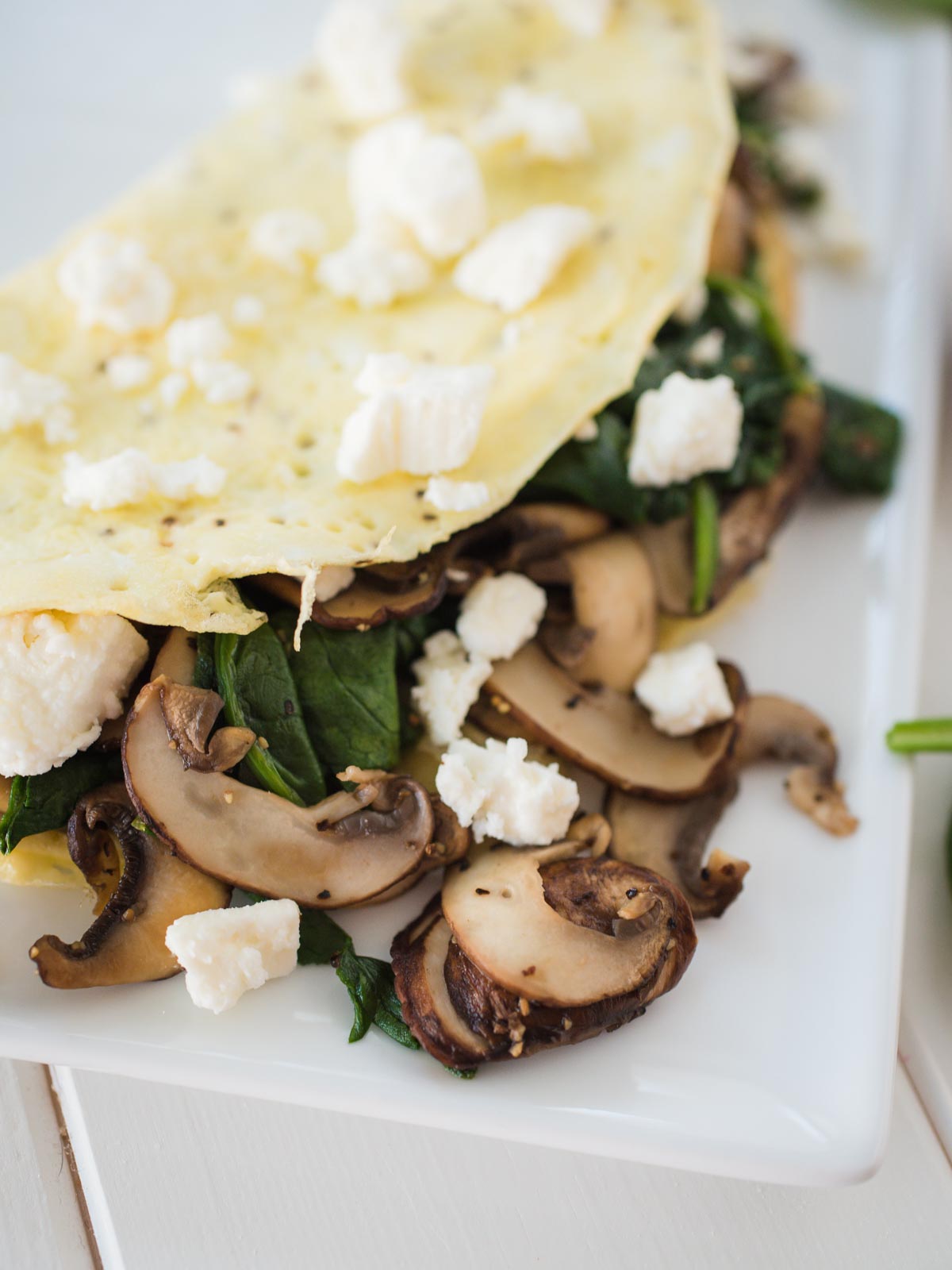 Spinach Mushroom Omelette
If you're looking for an easy, savory breakfast that will keep you full, this omelette is perfect. A savory breakfast omelette is a classic dish that's not only versatile, but easy to make.
This omelette is packed full of eggs, mushrooms, spinach, and feta cheese. The technique of making an omelette can feel overwhelming, but with a few basic ingredients, you'll have a filling breakfast the family will love.
Even though the omelette is vegetarian, the mushrooms pack a meaty punch that will not have you missing the usual ham or sausage. You can also top it with extras too. Some great toppings include onions, garlic, pico de gallo, sriracha, and roasted green chile for a spicy kick.
Ingredients for Spinach and Mushroom Omelette with Feta
Baby Bella Mushrooms (sliced) - Baby bella mushrooms are meatier than other variaties, but white and button also work well in this recipe.
Baby Spinach - Kale can be substituted for the baby spinach, but will require a little extra cooking time.
Whole Egg
Egg White - You can use two whole eggs instead of using egg whites. The use of egg whites helps add a fluffier texture to the omelet.
Reduced Fat Feta Cheese - Full fat feta works as well or you could substitute gorgonzola or even blue cheese.
Salt & Pepper
How many eggs go into an Omelette?
2 eggs (or 1 whole egg and 1 egg white) are used when making an omelette for one.
How to Make Spinach Feta Omelette
Start by spraying a skillet with nonstick spray.
Add in the sliced mushrooms and saute, stirring occasionally until the mushrooms begin to soften.
Once the mushrooms have softened, add in the baby spinach. Saute until wilted, adding in the salt and pepper to taste.
Once the mushrooms have cooked through and spinach is wilted, remove them from the skillet and set aside.
To a small bowl, add the egg and egg white whisking until light and fluffy.
Return the skillet to the heat and spray again with nonstick spray.
Pour the eggs into the skillet. Be sure not to stir or break up the eggs.
Once they begin to firm (about 1-2 minutes), run a rubber spatula around the edges and then flip it completely over.
Add the spinach, mushrooms, and feta to half of the omelet. Fold the other side over the mix.
Remove from the stove and serve with extra feta on top.
How long do you cook an omelette before flipping
Cook an omelette for one about 1-2 minutes before flipping.
What is the best type of pan to use when making omelettes?
A nonstick skillet that is the size of the omelette you would like works best.
More Favorite Recipes from Sweetly Splendid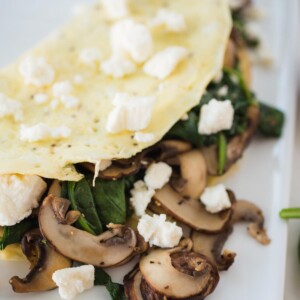 Spinach Feta Omelette with Mushrooms
Instructions
Coat a small pan with non-stick spray.

Add mushrooms and cook until softened.

Once mushrooms have softened, add in spinach.

Cook spinach until wilted.

Add salt and pepper to taste.

Once mushrooms and spinach are cooked, transfer to a plate and set aside.

In a small bowl, add the egg and egg white with a little salt and pepper.

Whisk until fluffy.

Re-spray the pan with non-stick spray.

Add eggs to pan and cook over low heat. Do not stir, do not break up.

When the eggs are almost cooked thoroughly, carefully run your rubber spatula around the edges. Carefully flip the omelet over.

Add the mushroom and spinach mixture to half of the omelet with half of the feta cheese.

Fold the other half over it and sprinkle with remaining feta.

Serve and enjoy!
Nutrition
Nutrition Facts
Spinach Feta Omelette with Mushrooms
Amount per Serving
% Daily Value*
* Percent Daily Values are based on a 2000 calorie diet.
Have you tried this recipe?
Please let us know how it was in the comments or tag us on Instagram @sweetlysplendid!