Korean Ground Beef Rice Bowls are a quick and easy recipe that's ready in less than 20 minutes. Ground beef is spiced with garlic and ginger over greens and rice, topped with a spicy mayo sauce. A great recipe for meal prepping.
This post may contain affiliate links. This means if you decide to purchase through my link, I may earn a very small commission at no additional cost to you.
The Best Easy Korean Beef Bowl Recipe
Great for meal prep – I love this recipe for meal prep. You can make them in advance and have lunches for the week.
Versatile – You can customize the way you eat your bowls. You can serve them over rice and greens or any combination of the two. They are also great over vegetables!
Family Loved – Even my pickiest eaters love these.
High Protein – One serving is 30 grams of protein making this a high protein meal. Not only is it high protein, but it's also low in saturated fat.
Low calorie – with only 340 calories for the entire bowl, including rice, it makes for a low-calorie lunch or dinner option.
Quick to make – while traditional Korean beef bulgogi requires marinating overnight, this ground beef bowl version only needs a few minutes. From start to finish you can have dinner on the table in 20 minutes.
Dairy–free – if you are looking for a dairy-free, easy meal these are perfect. Make sure your mayo is dairy-free.
Many Korean beef bowls call for thinly sliced beef. I decided to go ahead and use ground beef in this one to make it easier, more accessible, and more budget-friendly.
Using thinly sliced beef often requires marinating overnight. In order to make this an easy, weeknight, quick meal, ground beef was used in place of sliced beef. You end up with a version of ground beef bulgogi.
Korean Ground Beef Ingredients
lean ground beef
shallot
ginger paste (or grated fresh ginger)
garlic powder
onion powder
salt
coconut aminos
fish sauce (optional)
lettuce mix (I like spring mix or baby spinach)
rice (optional)
mayo (homemade or diet compliant)
sriracha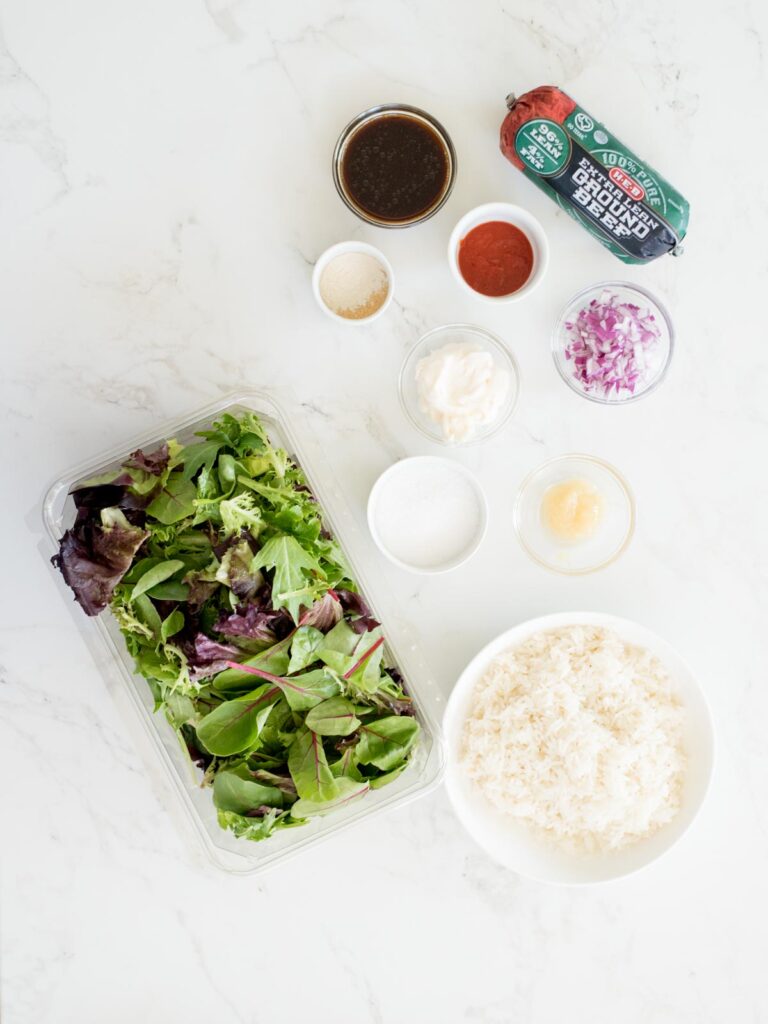 Adding Vegetables to this Korean Beef Bowl Recipe
These bowls have greens in them, but if you want to bulk them up with more veggies, here are some you could add:
carrots
cucumbers
zucchini
bell peppers
broccoli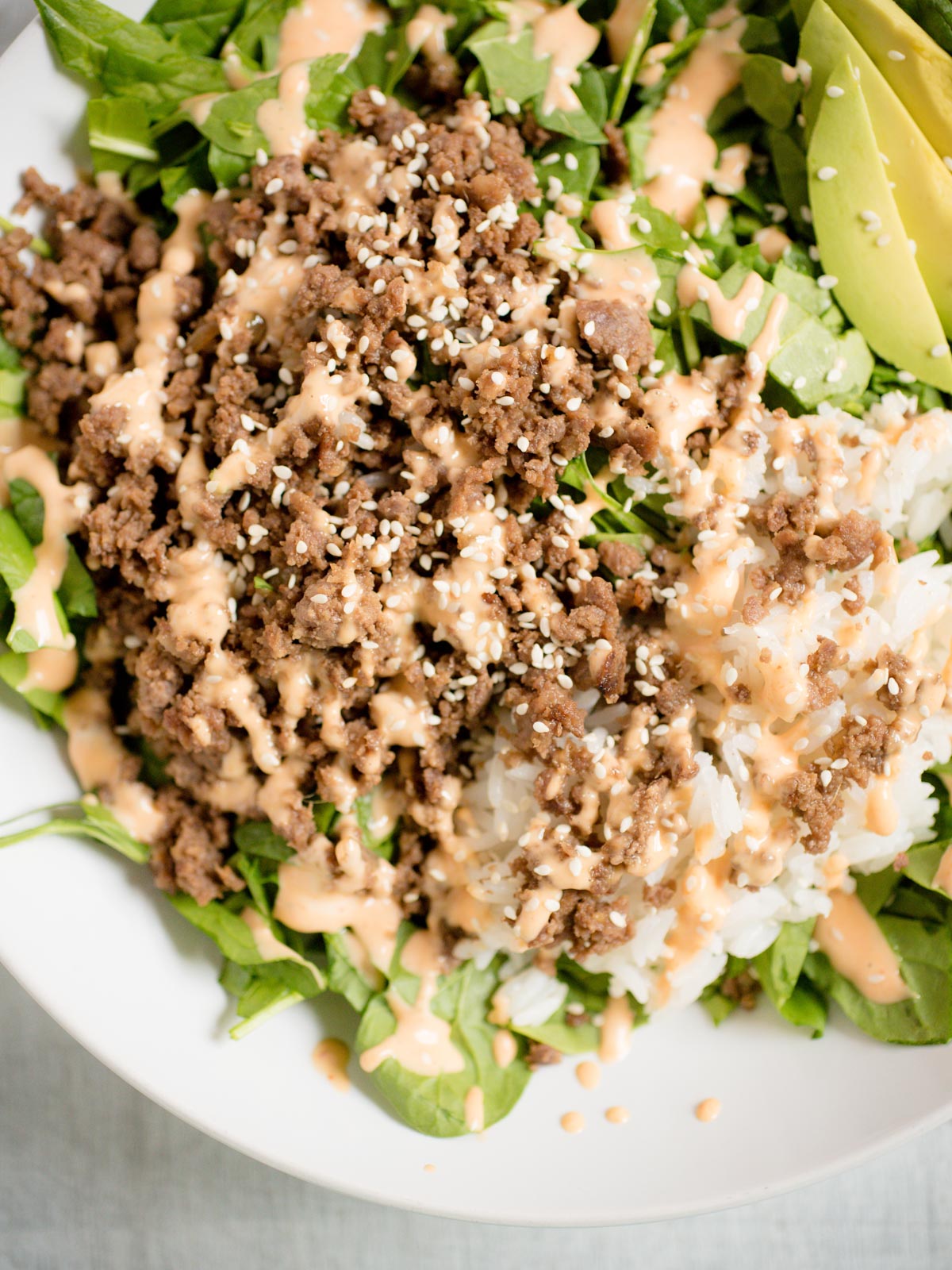 How to Meal Prep a Korean Ground Beef Bowl with Rice
These make a great meal prep recipe! I actually feel like they don't lose any flavor at all being reheated. I store my meat and rice together and then add them to my lettuce mix when ready to serve.
Start by cooking your beef mixture and your rice. Allow it cool completely.
Make the spicy mayo topping but keep it in a separate small container.
Add your beef mixture and rice to your meal prep container and place your small container of sauce inside. I highly recommend you keep your greens in a separate container or small bag inside the container with the beef.
When you're ready to eat, remove the greens and spicy mayo from the container and heat the beef and rice together. Once heated through, add your greens and spicy mayo.
Store them in the refrigerator for up to 4 days. I recommend using airtight containers for storage.
Freezing a Korean Bulgogi Beef Bowl
While you can freeze the meat mixture, I do not recommend freezing the spicy mayo, greens, or rice.
If you do decide to freeze the meat mixture, you can store it in an airtight, freezer safe container. When you're ready to eat, thaw the meat and heat in the microwave for a couple of minutes.
How to Cook Bulgogi Ground Beef
Add your raw ground beef to a skillet. Turn the burner on to medium-high heat.
Break up the ground beef as it cooks. I like to use a meat chopper tool. It makes breaking it up easy work.
Continue to cook the ground beef until it's no longer pink. According to usda.gov, your ground beef should reach a temperature of 160°F.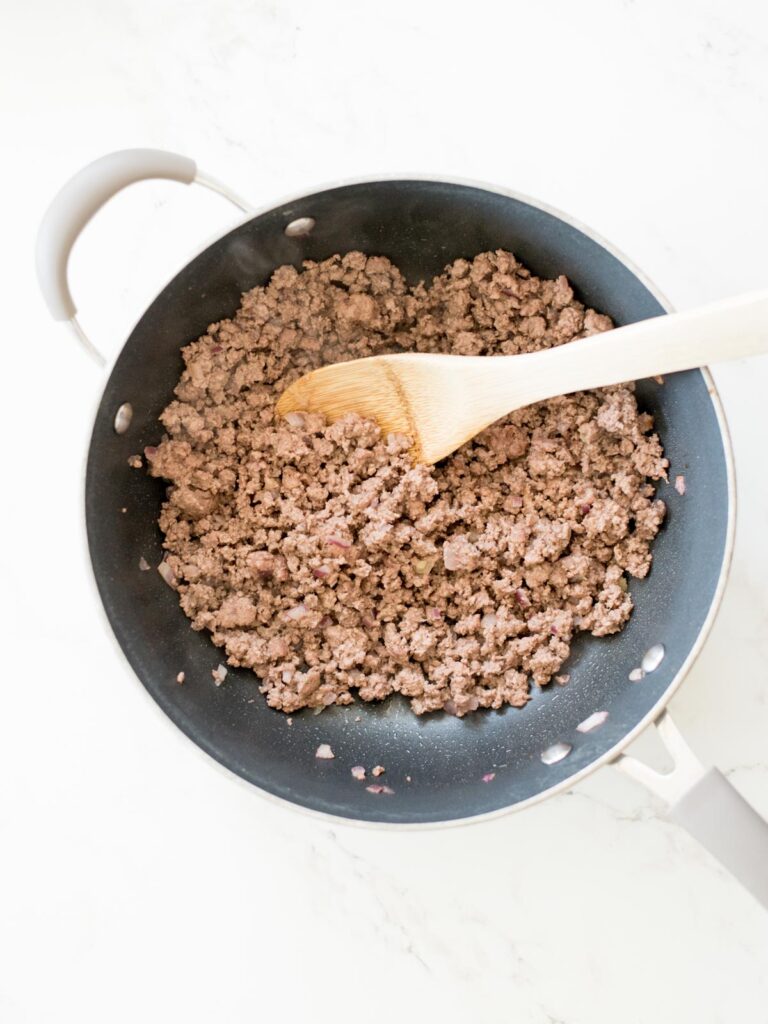 How to Make a Korean Ground Beef Bowl
Begin by browning your meat in the skillet over medium-high heat.
Add in your chopped shallot, garlic powder, onion powder, and salt. Cook until shallot is softened and meat is browned.
Add in your ginger paste and allow it to cook for a few minutes, stirring frequently.
Once cooked, stir in the coconut aminos and fish sauce (if using). Remove from heat and set aside.
In a small bowl, add the mayo and sriracha. Mix until combined and set aside.
In a serving bowl, add your chopped lettuce mix and top with your beef mixture.
Add your rice and drizzle with the spicy mayo sauce. Enjoy!
Tips and Tricks for this Korean Beef Bowl Recipe
I've added the fish sauce as an "optional" item. If you aren't used to the taste or haven't used it before, I'd recommend leaving it out on your first go with the recipe.
The fish sauce adds a traditional Asian flare, but it definitely can turn someone off of the recipe entirely. I don't mind a dash in mine, but actually prefer it without while a friend that made this recipe preferred it with fish sauce. It's made from anchovies so it does add a bit of salt and a fishy taste in my opinion.
If you aren't on a specific diet, you can replace the coconut aminos with soy sauce. I actually prefer coconut aminos in this, but soy sauce works great as well.
Feel free to omit the rice entirely if your diet calls for it. It doesn't make or break the dish.
For a low-carb option, you can omit the rice or substitute it with cauliflower rice.
You could also add shredded carrots as a crunchy addition.
Korean Beef Bowl FAQ
What kind of greens pair well with Korean Beef and Rice?
I particularly like using baby spinach in these bowls, but any sort of dark, leafy green works perfectly.

Some good options would be arugula, baby spinach, and spring mix.
What Rice should I use with my Korean Beef and Rice Bowls?
– Jasmine rice
– Basmati rice

I don't recommend using standard long-grain white rice. It has a lot of starch content and can become sticky. Especially if you're meal prepping and reheating them.

Jasmine and Basmati rice keep their texture and don't become sticky when reheated.

You can use brown rice for a whole grain version, but it may still get a bit sticky when reheated. It also will not give the same aromatic flavor as jasmine rice.

You could also swap the rice for quinoa or noodles.
Can I make Ground Beef Bulgogi with another type of ground meat?
Yes. While I haven't tried them myself, I think this recipe would go well with ground turkey, ground chicken, and ground pork.
What kind of ground beef do you use for Bulgogi?
I personally use grass fed, grass finished ground beef from Butcher Box. To keep calories low, I also like using 97% lean ground beef from HEB. Either one tastes great in this recipe!
What to serve with Korean Ground Beef?
Some great options to serve with Korean Ground Beef are:
– Sauteed spinach
– Rice
– Roasted Broccoli
– Stir fried veggies
What is Korean Beef Called?
Korean beef is often called bulgogi. It often refers to thin slices of beef, but in this case is a ground beef version.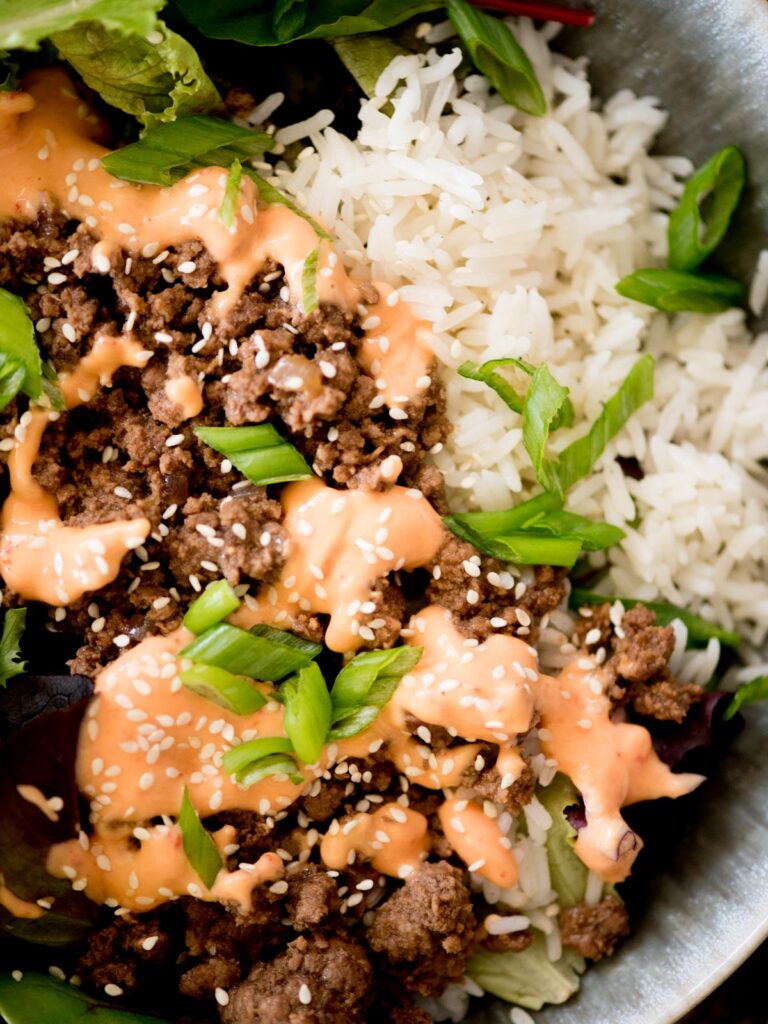 Toppings for Korean Beef Bowl with Rice
sesame seeds
green onion/scallions
sliced avocado
cilantro – even cilantro makes a great topping
cucumbers – cool cucumbers add really great contrast to the spicy mayo
Bulgogi Beef Bowl Substitutions
Make it spicy – if you want yours extra spicy, you can add garlic chili sauce or red chili paste. You can also double the sauce.
Lighten it up – to lower the calories, you can swap ground beef with ground turkey, ground venison, or ground elk.
Ditch the greens – If you don't like eating it over greens, you can eat it in a rice bowl. You could also serve them over broccoli.
Ginger paste – if you can't find ginger paste (I find mine in the produce section), you can use freshly grated ginger instead.
Rice Vinegar – you can also add a splash of rice vinegar to your ground beef bowls to add a kick.
other dinner recipes you might like
other recipes you might like
If you make this recipe and love it, we would love a 5 ⭐️⭐️⭐️⭐️⭐️ rating! It helps us continue to provide free recipes.
Korean Ground Beef Bulgogi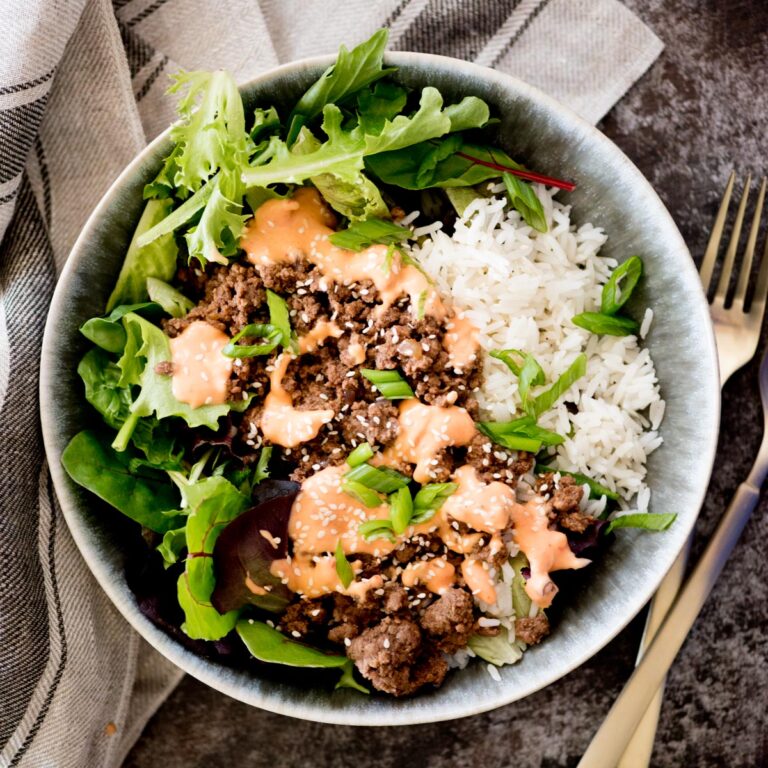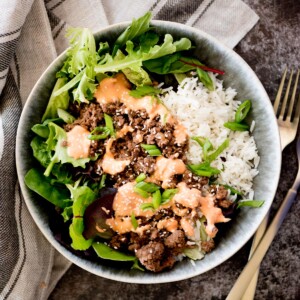 Korean Ground Beef Rice Bowls are a quick and easy recipe that's ready in less than 20 minutes. Ground beef is spiced with garlic and ginger over greens and rice, topped with a spicy mayo sauce. A great recipe for meal prepping.
Ingredients
Spicy Mayo:
4

tbsp

mayo

homemade or compliant version

4

tsp

sriracha
Bowl Base:
8

cups

lettuce mix

chopped

2

cups

rice

cooked
Instructions
Add beef to skillet and begin to brown.

While beef is browning, add in shallot, garlic powder, onion powder, salt, and ginger paste.

Cook until shallot is softened and beef is browned.

Add in coconut aminos and fish sauce if using. Set aside.

In a separate small bowl, combine mayo and sriracha. Mix until combined. Set aside.

In your serving bowl (or equally divided among 4 individual bowls), add your lettuce mix and rice.

Top with beef mixture and drizzle with your spicy mayo sauce.
Notes
Fish sauce is strong. If you've never tried it before, skip it on the first round or start small. It can be overpowering if you use too much.
Feel free to use soy sauce if you aren't on any specific diet.
You can omit the rice entirely if your diet does not allow it.
Nutrition
Serving:
1
serving
,
Calories:
340
kcal
,
Carbohydrates:
36
g
,
Protein:
30
g
,
Fat:
8
g
,
Saturated Fat:
1
g
,
Polyunsaturated Fat:
3
g
,
Trans Fat:
0
g
,
Cholesterol:
70
mg
,
Sodium:
1142
mg
,
Fiber:
4
g
,
Sugar:
7
g
Nutrition information is automatically calculated, so should only be used as an approximation.
Nutritional information is provided as a courtesy. It should only be used for estimation purposes and is not a guarantee of any kind. Nutritional information varies widely between brands and types of ingredients used. It is recommended that you calculate the nutritional information based on your own ingredients and brands used. Sweetly Splendid, LLC makes no guarantees as to the exact nutrition information.