Homemade Italian Seasoning adds so much flavor to your homemade dishes. This Italian seasoning mix is an easy substitute for the store-bought variety. From pasta sauce to meatballs to pizza, a sprinkle of this blend of herbs will transport you right to Italy.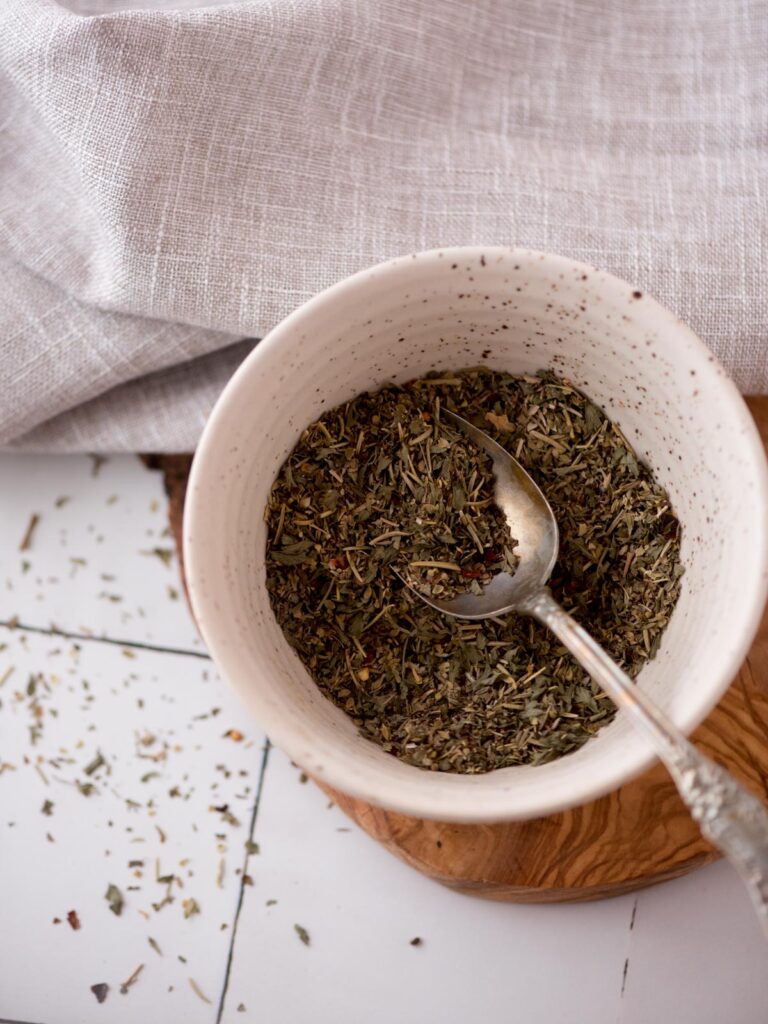 ​​This post may contain affiliate links. This means if you decide to purchase through my link, I may earn a very small commission at no additional cost to you.
The best Italian seasoning recipe
There's nothing worse than cooking a recipe and realizing your spice cabinet doesn't have a certain spice blend you need.
But did you know you can make most homemade spice mixes at home, with herbs and spices you already have on hand? Making your own spice blends is a great way to save money at the grocery store.
If you need an alternative to Italian herb seasoning, this homemade herb mix comes in handy when you're making classic Italian dishes like meatballs, spaghetti, lasagna and garlic bread.
It is filled with the flavors of fresh herbs from dried basil, oregano, and rosemary, to name a few of the delicious herbs in this seasoning mix.
Pour it into a mason jar or refill your spice jar to keep this perfect spice mix in your pantry all the time. You can take a tablespoon of Italian seasoning out anytime you need it!
Love Italian food? You're going to want to whip up this homemade Tuscan Seasoning Blend too.
Why you'll love this homemade Italian seasoning recipe
Homemade seasonings are the perfect addition to your spice rack. This is the best Italian seasoning substitute and here's why:
This Italian herbs mix is super easy to make. Just stir all the ingredients together and you're ready to go.
There's no salt added, so you can salt your dishes to your liking instead of being stuck with a salty mixture.
It's absolutely packed with flavor and Italian aromas, thanks to the eight herbs and spices mixed in.
The key ingredients for your own blend come from basic herbs most likely already in your spice cabinet.
What is Italian Seasoning?
Italian seasoning is a dry herb and spice mixture that is used to flavor Italian dishes ranging from pasta sauces to salad dressings. It can even be used as a pizza seasoning.
It usually contains a combination of dried herbs. The main herbs are commonly basil, oregano, parsley, thyme, and rosemary. It can also include marjoram and sage, as well as red pepper flakes or cayenne pepper for added spice.
Herbs de Provence vs Italian Seasoning
While Herbes de Provence and Italian seasoning are both dried herb blends, they differ in origin, flavor, and usage.
Italian seasoning blends are based on Italian cuisine and Italian cooking and prominently feature pungent herbs such as basil, oregano, parsley, thyme, and rosemary, as well as marjoram and sage. It can also contain red chili flakes and bay leaves (or bay leaf powder).
Herbes de Provence, on the other hand, is used in French cuisine. This herb blend usually contains lavender, savory, marjoram, rosemary, thyme, and oregano.
They each have a distinct flavor with aromatic herbs. Italian seasoning has more of a savory flavor while Herbes de Provence has a floral flavor from the lavender flowers.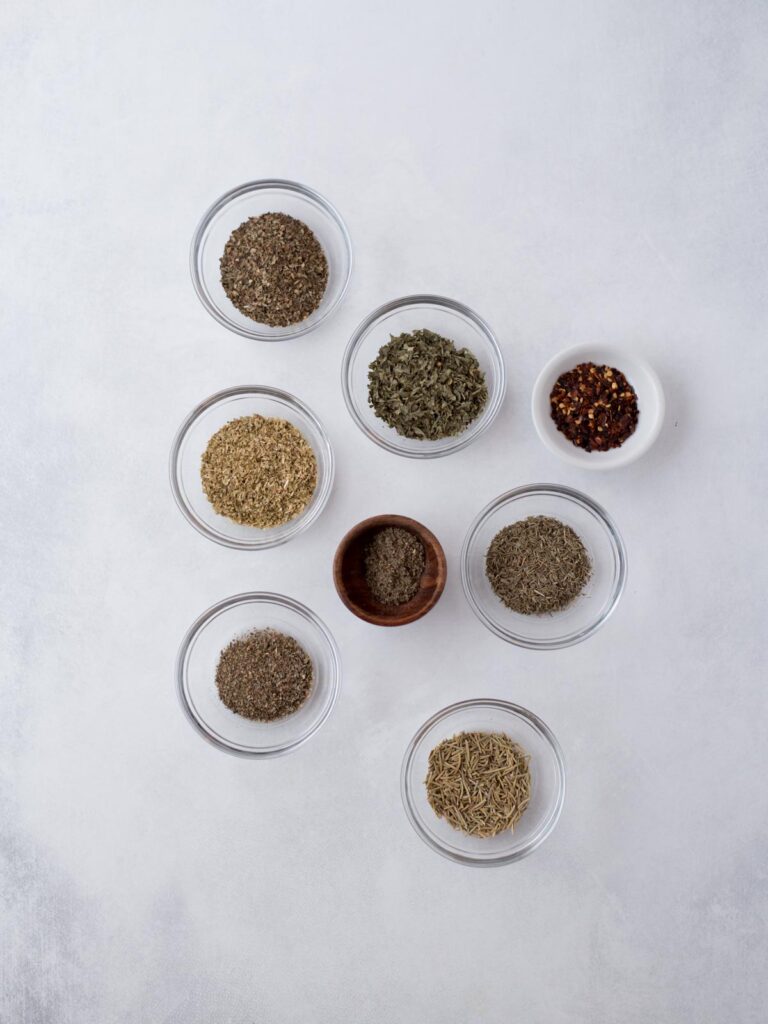 Italian Seasoning ingredients
If you want to make your own Italian seasoning at home, you can with a few ingredients that may already be on your spice rack. You'll need these dried herbs:
basil
oregano
parsley
thyme
rosemary
marjoram
sage
red pepper flakes (optional)
If you are in a pinch and don't have one or two of the ingredients, don't sweat it. It will still taste great.
This recipe doesn't contain salt or black pepper — I prefer to season each dish individually to taste, but feel free to add them if you like. White pepper is great in this.
You can also add a small amount of garlic powder or onion powder to the mixture for added flavor, if you like.
Only have fresh herbs on hand? Fresh basil is easy to grow and usually results in a lot of extras! You green thumb, you! Try drying herbs in the microwave to use in your homemade spice blends.
How to Make Italian Seasoning
A full, printable recipe card with the exact measurements and detailed instructions is at the bottom of this post.
Homemade seasoning blends are so easy to put together. This Italian blend is the best substitute for Italian seasoning.
First, get out a mixing bowl or a large jar (so there's enough room to shake the mixture around).
Next, add all of the herbs to the container. Mix it well with a spoon or shake it up well if you're using the jar.
Store sealed in an airtight container in a cool, dry place. I like to use a spice jar so it fits in nicely with the others in my collection.
These spice funnels are super handy for getting the mixture into a small jar without making a mess.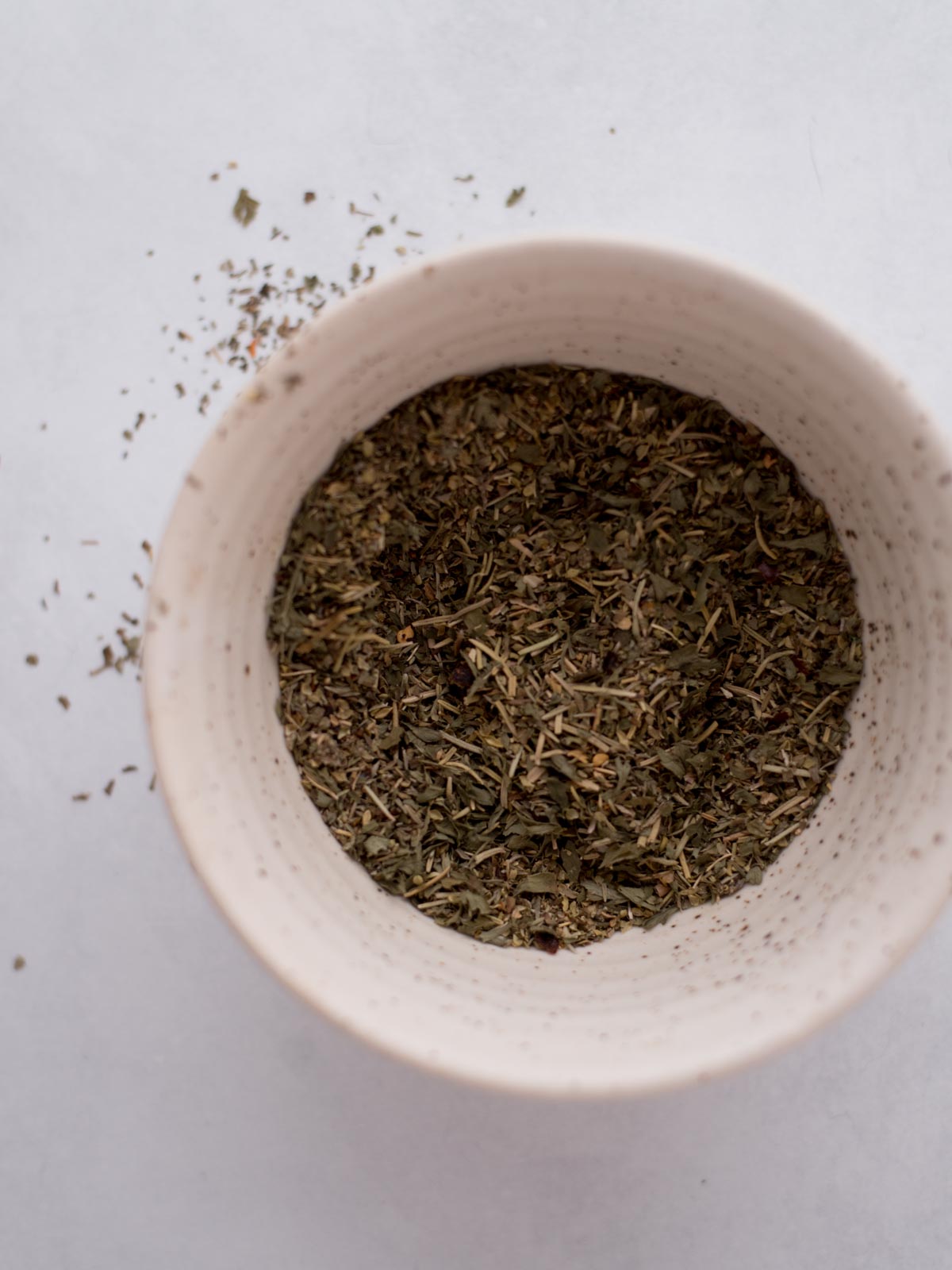 Tips & tricks for a good Italian seasoning substitute
Did you know that herbs and spices don't last forever? They can lose flavor over time or even go rancid (yuck!). Check the expiration dates to be sure that your spices aren't expired for the best taste. (I make a point to check mine twice a year.)
Feel free to use less or more of each individual ingredient to tailor it to your taste. Although not traditionally in Italian seasoning, you can add garlic powder for added flavor.
Store your herbs in an airtight container in a cool, dry place to preserve the flavor.
A delicious flavor to add to Italian Seasoning that isn't normally in traditional Italian seasoning blends is fennel seed. It's a distinct earthy flavor that is excellent in a variety of dishes.
This is your own version, so if there's a flavor you like more than others, add that to your homemade Italian seasoning blend.
Add some tablespoons of homemade Italian seasoning to a big jar of store-bought marinara sauce to get it even more of those Italian flavors.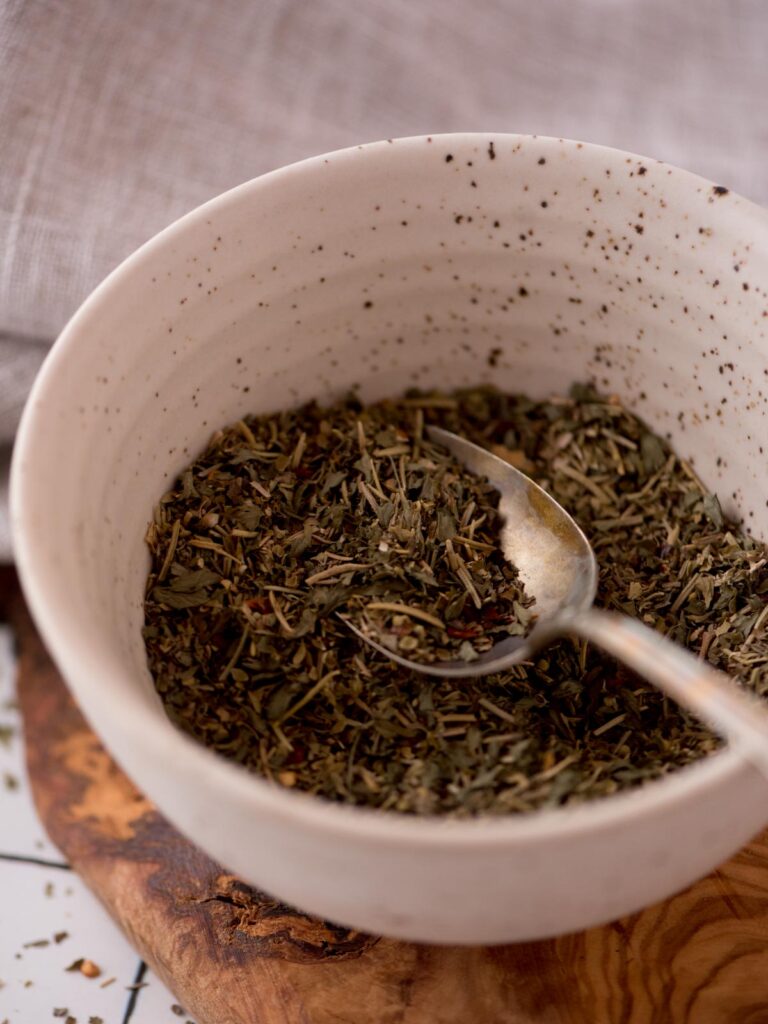 How to use Italian Seasoning
Italian seasoning is a common ingredient and is so good in so many Italian recipes! You're most likely to use it in pasta dishes with meatballs, meat sauce, or marinara sauce.
Chicken cacciatore and lasagna soup are on regular rotation at my house in the winter. In the summer, I like to make Italian Pasta Salad for barbecues.
Sprinkle it on homemade pizza or even on frozen pizza to jazz it up. It's great on breadsticks too!
Adding Italian seasoning is a great way to make a simple dish like green beans taste a little more like you're eating them in Rome, Venice, or Florence.
You can also use it as a good substitute for Greek seasoning in a pinch.
products used to make homemade Italian seasoning
Is Italian seasoning gluten free?
Yes. Always check labels if there is a concern, but typically Italian seasoning does not contain flour or gluten.
What are the spices in Italian seasoning?
The main ingredients in Italian seasoning are dried basil, oregano, parsley, thyme, rosemary, marjoram, sage, and sometimes red pepper flakes for a kick of spice.
How to store homemade spice mix
A pro tip for making sure your homemade version of spice mixes stays fresh is to keep them stored in an airtight jar at room temperature. This will ensure that they stay fresh for a long time.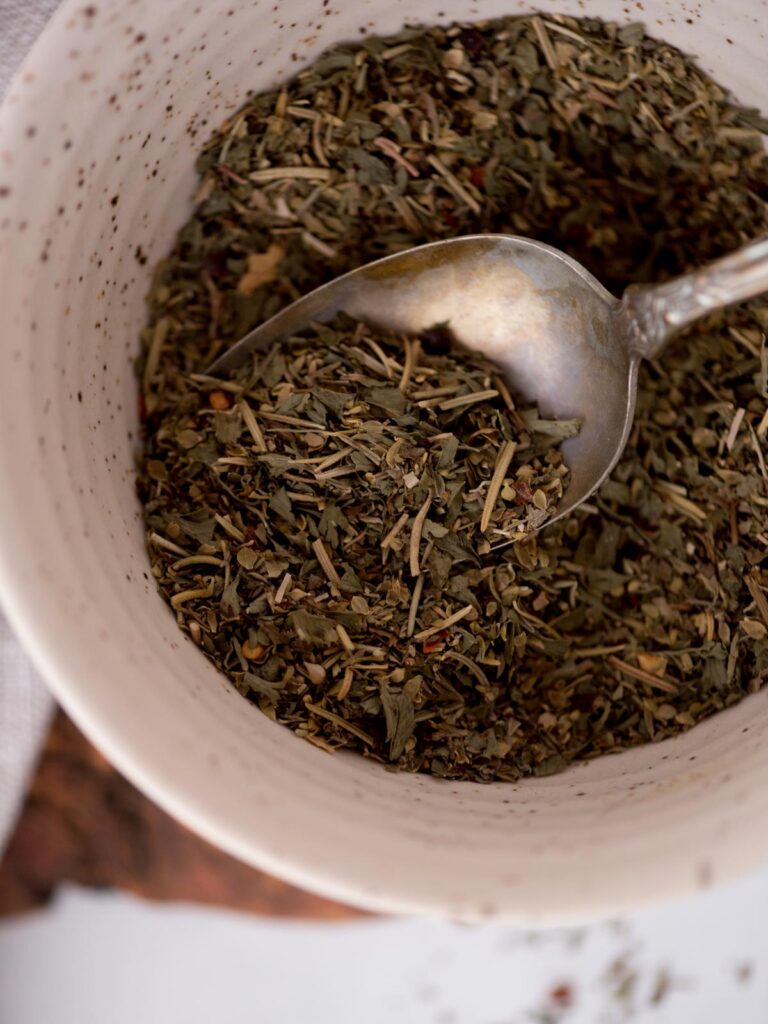 More homemade seasoning recipes
Try adding these homemade seasonings to your collection to use in your favorite recipes!
Italian Seasoning Substitute Recipe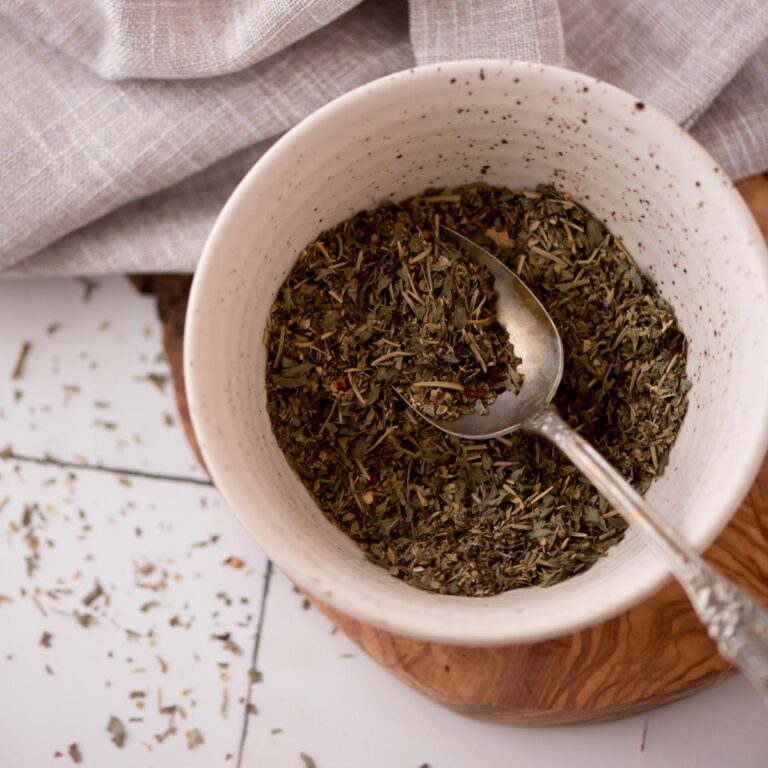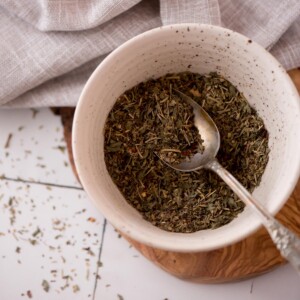 Homemade Italian Seasoning adds so much flavor to your homemade dishes. This Italian seasoning mix is an easy substitute for the store-bought variety. From pasta sauce to meatballs to pizza, a sprinkle of this blend of herbs will transport you right to Italy.
Instructions
Add all of the herbs to a mixing bowl or jar. Mix to combine.

Store sealed in a cool, dry place.
Nutrition
Serving:
1
serving
,
Calories:
80
kcal
,
Carbohydrates:
18
g
,
Protein:
5
g
,
Fat:
2
g
,
Saturated Fat:
1
g
,
Polyunsaturated Fat:
1
g
,
Monounsaturated Fat:
0.3
g
,
Sodium:
47
mg
,
Potassium:
531
mg
,
Fiber:
11
g
,
Sugar:
1
g
,
Vitamin A:
905
IU
,
Vitamin C:
9
mg
,
Calcium:
511
mg
,
Iron:
18
mg
Nutrition information is automatically calculated, so should only be used as an approximation.
Nutritional information is provided as a courtesy. It should only be used for estimation purposes and is not a guarantee of any kind. Nutritional information varies widely between brands and types of ingredients used. It is recommended that you calculate the nutritional information based on your own ingredients and brands used. Sweetly Splendid, LLC makes no guarantees as to the exact nutrition information.